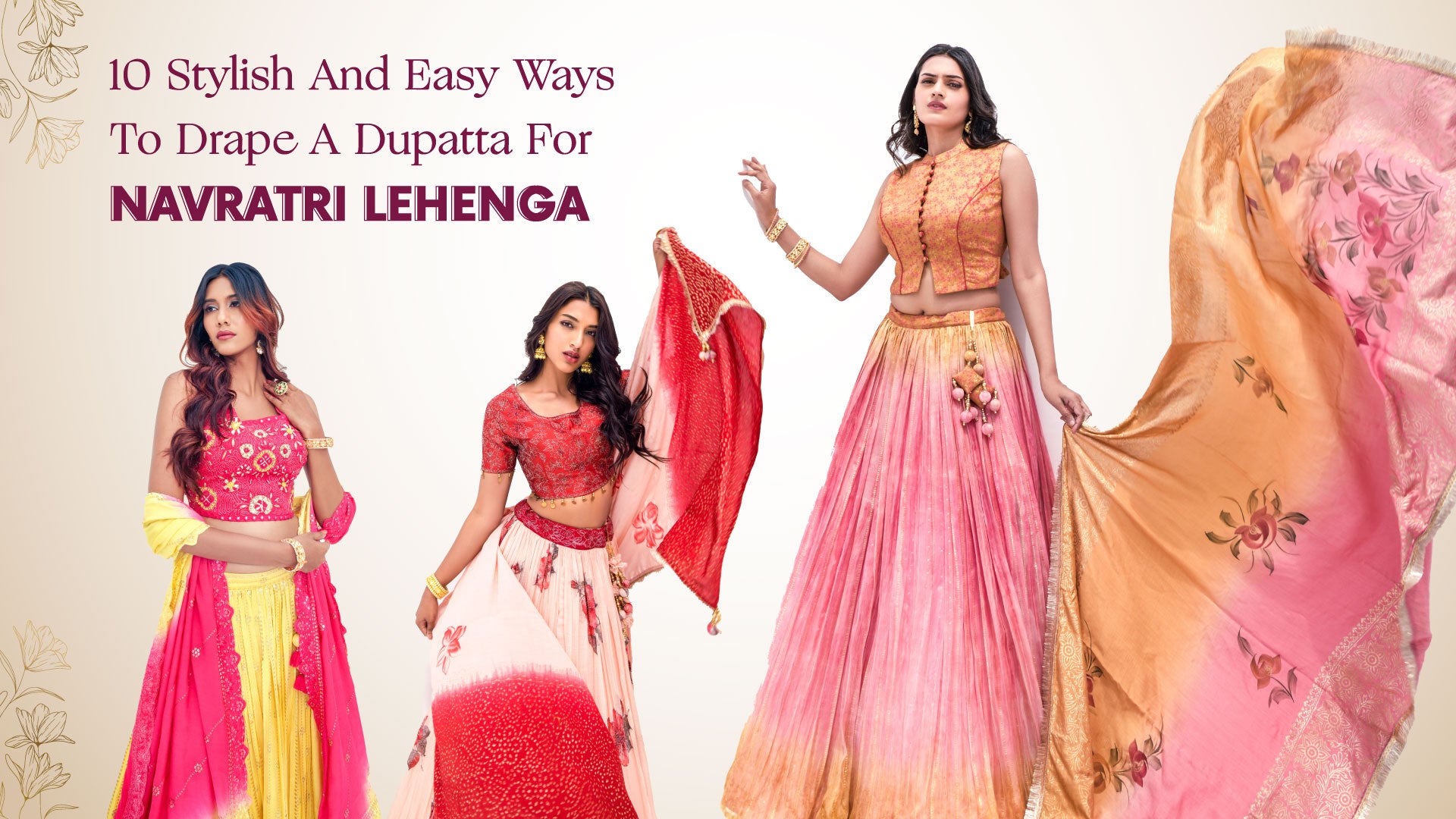 10 Stylish And Easy Ways To Drape A Dupatta For Navratri Lehenga
Hey there, fashion enthusiasts! With Navratri just around the corner, we can sense the excitement building up as you plan for the upcoming nine days of festivities and, of course, some serious shopping. Among the key additions to your Navratri wardrobe, we're pretty sure the Navratri lehenga has secured its spot, ready to help you shine during Garba nights and the entire festive season. But, there's one essential element that can take your Navratri lehenga to the next level – the dupatta.
At Raisin, we've got your back with some last-minute styling tips that will elevate your Navratri lehenga choli game. Discover five stylish and easy ways to drape your dupatta, enhancing the overall allure of your Navratri ensemble. Get ready to dance, dazzle, and make a statement with your Navratri look!
How To Drape Dupatta On Navratri Lehenga?
Here we present some of the latest and most fashionable dupatta draping styles that perfectly complement your Lehenga for Navratri!
1. Classic Shoulder Drape
For a timeless and elegant look, opt for the classic shoulder drape. Simply drape your dupatta over one shoulder and secure it with a pin at your waist. This style allows you to flaunt the intricate work on your Navratri Lehenga choli while adding a touch of grace with the dupatta.
2. Front And Back Twist
Create a unique and eye-catching look by draping your dupatta both in the front and back. Start by pleating the dupatta and placing it on one shoulder, then take it around your back and bring it to the front again. This style not only showcases your Navratri special lehenga's design but also adds a playful twist to your outfit.
3. Butterfly Style Dupatta
To make a bold fashion statement, go for the butterfly style dupatta. Pin one corner of the dupatta at your shoulder and let the rest flow freely. This style resembles butterfly wings and adds a touch of drama to your designer Lehenga for Navratri.
4. Cape-Style Drape
For a trendy and modern look, opt for the cape-style drape. Drape the dupatta like a cape, allowing it to fall gracefully over your shoulders and back. Secure it at the front with a stylish brooch or pin. This style not only keeps you comfortable but also gives your Navratri lehenga a fashion-forward edge.
5. Cowl Drape
The cowl drape is a classic choice that exudes elegance and sophistication. Start by pleating the dupatta neatly and then draping it over one shoulder. Allow the pleats to fall gracefully in folds, creating a cowl-like effect. This style adds a touch of drama to your Navratri lehenga while keeping you comfortable throughout the festivities.
6. Double Dupatta
For a regal and opulent look, consider the double dupatta style. Begin by draping one dupatta in a conventional manner over your shoulders. Then, take a second dupatta and drape it around your waist, creating a chic waist belt. This layered approach not only adds visual interest but also helps you stand out in the crowd.
7. Gujarati Style Drape
Embrace the traditional Gujarati style drape to pay homage to the roots of Navratri. This involves pleating the dupatta and draping it from the back to the front, securing it with a keychain or brooch. This style is known for its grace and is perfect for twirling during Garba.
8. Saree-Inspired Drape
If you want a unique twist to your Navratri lehenga, try the saree-inspired drape. Take one end of the dupatta and tuck it at the back of your waist, similar to how you would with a saree pallu. Let the other end flow freely over your shoulder. This fusion style adds a touch of contemporary charm to your traditional attire.
9. Lehenga Skirt Wrap
For a chic and modern appearance, try the lehenga skirt wrap. Simply wrap the dupatta around your waist like a skirt, letting it flow freely. This style is not only comfortable but also allows you to dance freely during Garba nights without worrying about your dupatta.
10. Neck Drape
For a modern and minimalist appearance, the neck style drape is a winner. Instead of draping a dupatta over your shoulders, wrap it around your neck like a scarf. This style keeps your dupatta in place and allows you to move freely without constant adjustments.
These Navratri lehenga dupatta draping styles are bound to captivate your attention! However, our blog doesn't stop here. Don't miss out on the rest ! We're about to unveil our exquisite collection of Navratri special lehengas!
Look Gorgeous With Raisin's Navratri Special Lehenga Choli
When you're looking to purchase Navratri Lehenga online, why not consider Raisin? We offer a wide variety of stylish and comfortable lehenga choli collections. During the 9 days of Navratri, when you're embracing different colours and seeking a diverse range of lehengas, we've got you covered. From the regal Royal Blue Lehenga Choli for Navratri Day 1 to the ethereal Sky Blue Embroidered Lehenga Choli for Day 8, and concluding with the vibrant Pink Embroidered Lehenga Choli for the 9th Day, we have an array of options. Our lehengas are meticulously hand-embroidered and crafted from comfortable viscose material, making them perfect for both daytime and Navratri Garba looks.
If you're looking for more in-depth styling tips for each day of Navratri, be sure to explore the links below:
Summing Up!
We hope that draping a dupatta for Navratri Lehenga will no longer pose a challenge for you. With these ten easy and stylish draping techniques at your fingertips, you're all set to shine during the festive season. Remember, Navratri is not just about dance and music; it's also a celebration of colours, traditions, and style. So, go ahead, experiment, and make each day of Navratri a fashion statement with your unique dupatta draping style. Enjoy the festivities and stay fabulous!
Trending Blogs:
Diwali Party Outfits| Traditional Diwali Dress For 2023| Bhai Dooj Gift Ideas For Sister| Styling Tips For Durga Puja Outfits| Traditional Chhath Puja Dress| Navratri Garba Dresses| Gorgeous Party Wear Gown | Traditional Dress For Ganesh Chaturthi| Types of maxi dresses | Birthday Outfit Ideas| Kitty party dress | Karwa chauth look ideas | Bollywood look to recreate | Teej dress ideas | Office wear kurta set | Valentines day dress code | Airport look for plus size

Popular Products:
Kurta Set | Kurta Set Dupatta | Blazer set for women | Crop top and skirts | Festive kurta sets |
Plus size dresses | Cocktail party dress | Anniversary party dress | Co-ord sets women | Bhumi pednekar dress | Velvet kurta set | Printed velvet suit | Banarasi brocade suit | Festive Dresses |
Sharara set | Monochrome outfit | Resort wear for women | Pleated dress |