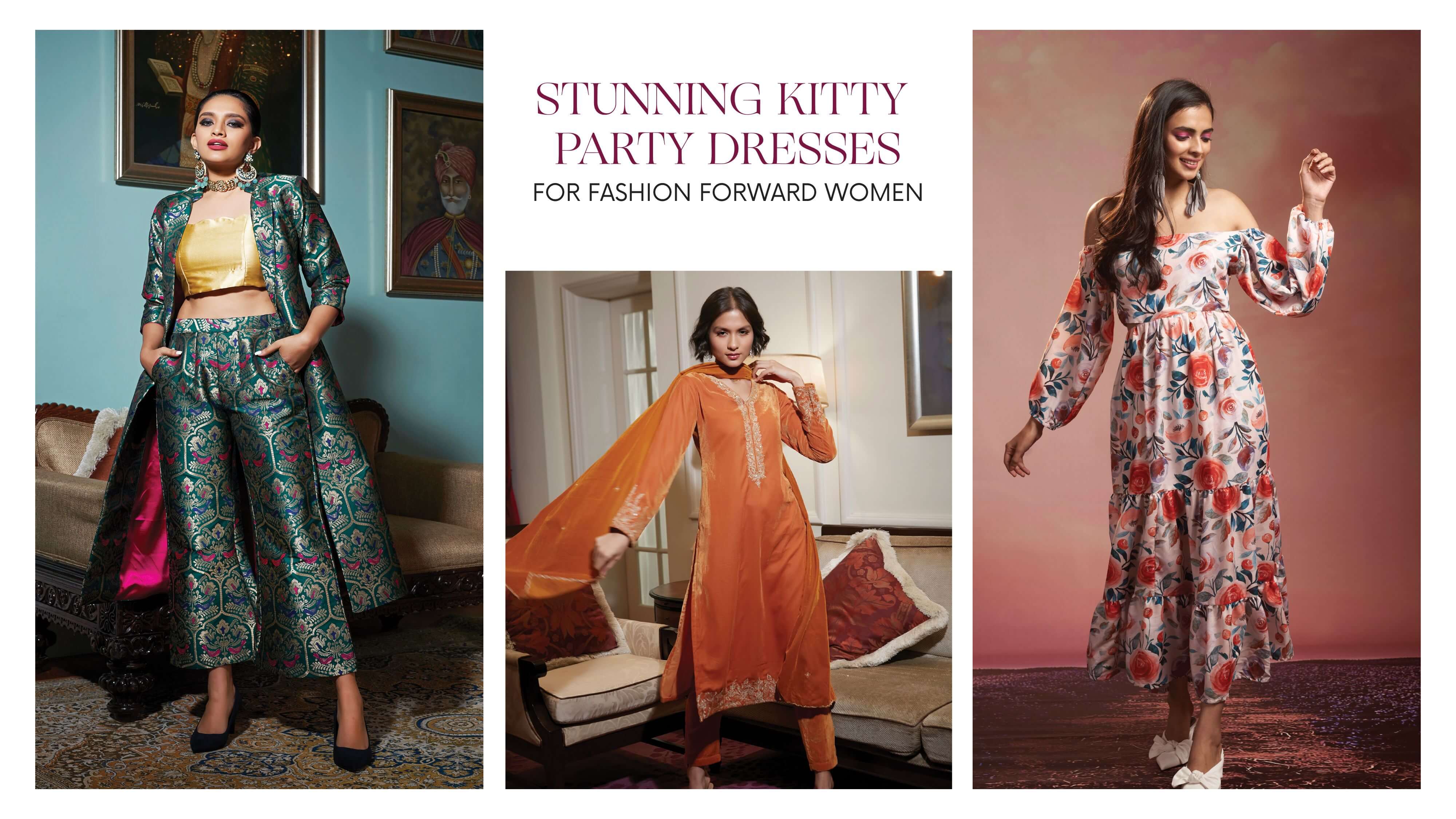 Stunning Kitty Party Dresses For Fashion Forward Women
Are you ready to unleash your inner fashionista and make heads turn at the next kitty party you attend? Imagine: You walk into a beautifully decorated venue, surrounded by laughter, games, and a group of fabulous women dressed to the nines. As the spotlight shines on you, all eyes are drawn to your stunning ensemble that perfectly captures the essence of the party theme.
But here's the burning question: Do you have the perfect kitty party dress that will make you the epitome of style and grace?
Continue reading as we dive into the captivating world of kitty party fashion and discover the most exquisite kitty party dresses from Raisin that will make you the talk of the town.
Get ready to embrace your fashion-forward side and prepare to be amazed by the endless possibilities that await you!
Unveiling The Trendy Kitty Party Dresses For Every Themes
As a true party enthusiast, you are well aware that kitty parties are not just ordinary gatherings. They are extraordinary events where every detail is carefully planned to ensure maximum fun and engagement. One of the key elements that make these parties truly memorable is the themed atmosphere that adds an extra layer of excitement. Whether you find yourself immersed in a formal affair, a casual get-together, or a Bollywood or retro extravaganza, there's no need to fret about finding the perfect kitty party theme dress!
So, now it's time to discover the perfect kitty party dress to unleash your inner fashionista!
Elevate Your Formal Kitty Party Look With Exquisite Blazer Set
Are you looking for something that effortlessly combines sophistication, style, and a touch of glamour for your next formal-themed kitty party? Nothing would be perfect than a stunning blazer set!
Try our green jacquard Banarasi blazer set for a touch of traditional charm with a contemporary twist. The jacquard Banarasi blazer set beautifully blends traditional artistry with modern design, creating a captivating look.
Alternatively, opt for the navy blue velvet blazer set or maroon velvet straight blazer set for a regal and sophisticated look.
The plush velvet fabric adds an element of opulence, perfect for a formal affair. These blazer sets effortlessly combine style and grace, making them the ideal choice for a formal-themed kitty party.
The Perfect Maxi Dress For Your Floral Themed Kitty Party Soiree
Indulge in the epitome of effortless elegance with a stunning maxi dress, the go-to choice for your upcoming floral themed casual kitty party. This versatile dress exudes grace and charm, making it suitable for a variety of themes.
For a dreamy and feminine ambiance, opt for a white floral print maxi dress, allowing you to channel a garden party or a romantic affair.
The delicate floral patterns will add a touch of ethereal beauty to your ensemble, making you the belle of the event.
Alternatively, if you're in the mood to showcase vibrant energy and playful vibes, the multicoloured floral print maxi dress is the way to go.
This lively and eye-catching dress will set the tone for a tropical or bohemian-themed kitty party, infusing the gathering with a sense of joyful celebration.
With its flowing silhouette and timeless appeal, the maxi dress is the perfect choice for expressing your style and elegance, no matter the theme.
Step into the limelight with confidence and embrace the enchantment of the maxi dress at your next kitty party!
Effortlessly Style For A Fun-Filled Casual Themed Kitty Party With Co Ord Sets And Jumpsuits
When it comes to a casual-themed kitty party, why not embrace the perfect blend of comfort and style with our trendy jumpsuits and co-ord sets?
Introducing our stunning collection that will make you the centre of attention at any gathering. Try our dark green georgette stylish crop top and skirt co-ord set, designed to effortlessly showcase your fashion-forward side.
The combination of the crop top and skirt creates a chic ensemble that exudes sophistication and playfulness.
Alternatively, opt for our abstract print crepe fabric solid coloured jumpsuit, offering a sleek and modern look.
The vibrant pink colour and contemporary design will make a statement and ensure you stand out from the crowd.
With our jumpsuits and co-ord sets, you can embrace comfort without compromising on style, making them the perfect choice for a casual-themed kitty party dress.
Stand Out At Ethnic-Themed Kitty Party With Velvet Embroidered Kurta Set
Do you find yourself in a wardrobe dilemma when you receive an invitation for an ethnic-themed kitty party, only to realise that your collection is dominated by western party dresses? Fret not, for we have the perfect solution to help you make a grand entrance at the party while embracing ethnic elegance. Introducing our exquisite collection of embroidered velvet kurta sets that will effortlessly elevate your style quotient.
Try our stunning mustard-coloured embroidered straight kurta set for a bold and vibrant look that is sure to make heads turn.
The intricate embroidery and luxurious velvet fabric add a touch of opulence, perfect for the occasion.
Alternatively, opt for the timeless black plain velvet kurta set with delicate embroidery, exuding sophistication and charm.
These kurta sets effortlessly blend comfort with style, allowing you to embrace the ethnic theme while making a bold fashion statement.
So, why wait? Step into the realm of ethnic elegance and let your outfit speak volumes about your impeccable taste and love for traditional fashion!
Rock Your Upcoming Kitty Party With Raisin
We hope that with our impeccable selection of kitty party dresses, you'll feel absolutely complete. Our aim is to make you the centre of attention, ensuring that you shine brightly at your gathering.
So why wait any longer?
Embrace the elegance and style that Raisin brings to the table, and let your inner fashionista take centre stage. Get ready to dazzle and leave a lasting impression on your friends with our trendy and glamorous outfits. It's time to elevate your kitty party experience to a whole new level with Raisin!