Embrace The Energising Effect Of Red Outfits On Navratri Day 7
Navratri, the nine-night festival celebrating the divine feminine, is not just a time for devotion but also a time for fashion enthusiasts to shine. Each day of Navratri is associated with a specific colour, and on the 7th day, the colour to embrace is red. Red, the colour of passion and energy, holds great significance in this festival, signifying the power of Goddess Kaalratri. It's a colour that radiates strength and confidence. In this blog, Raisin has got you covered with some stunning red Navratri outfits to make your Day 7 celebrations even more vibrant and memorable.
Before we dive into the Navratri Day 7 fashion guide, make sure to explore our exquisite blue outfits for Navratri Day 1, Charming Yellow Outfits For Navratri Day 2, Elegant green dresses for Navratri Day 3, stylish Grey outfits for Navratri Day 4, Charming Orange outfit for Navratri Day 5, and White outfits for Navratri Day 6 ! Don't miss out!
Which Colour To Wear On 7th Day Of Navratri?
Before we dive into the red outfit options, let's clarify why the 7th day of Navratri is dedicated to red. You can wear red traditional dress such as kurtis, kurta sets, sharara sets or for garba night you can also opt for red chaniya choli!
What Is The Significance Of Wearing A Red Colour Dress On Navratri Day 7?
Wearing a red dress on Navratri Day 7 holds profound significance as it pays homage to Goddess Kaalratri. This day is dedicated to worshipping her fierce and protective aspect, symbolising the elimination of all negativities from our lives. Red, the colour of strength and passion, is chosen to represent the goddess's powerful qualities. By wearing red on this day, devotees not only seek her protection but also embody her energy and confidence, making it a spiritually and symbolically significant choice for Navratri Day 7.
Exploring Fabulous Red Colour Navratri Outfits From Raisin
We are here to reveal the stunning red dress for women for Navratri Day 7! Check out now!
1. Red Zari Thread Work Kurta Pant Set
This traditional red kurta for women, adorned with intricate zari thread work, is a timeless choice.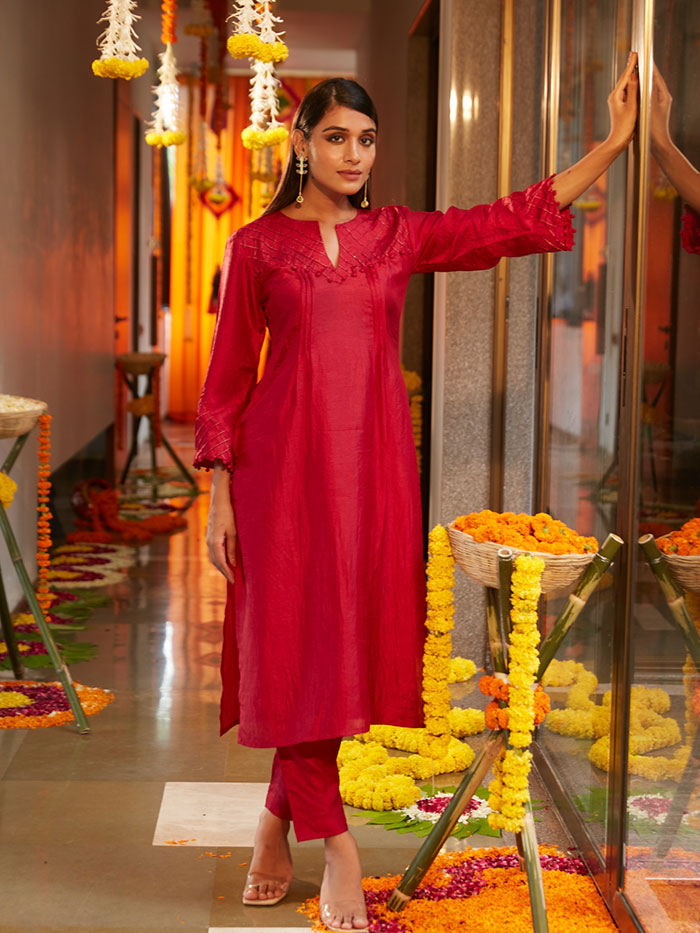 It beautifully combines the elegance of traditional Indian wear with the vibrant energy of red. Pair it with statement earrings and bangles to complete the look.
2. Red Silk Printed Kurta Pant Set
If you're looking for a perfect daytime look, this Red silk printed kurta pant set is an ideal choice.
It's comfortable, elegant, and the red hue ensures you stand out in the crowd during your daytime Navratri Day 7 celebrations.
3. Red Velvet Embroidered Kurta Dupatta Set
For a more glamorous evening look on Navratri Day 7, consider this Red velvet embroidered kurta dupatta set.
The richness of velvet combined with intricate embroidery makes it a stunning choice for your evening Garba or Puja. Add some dazzling jewellery for extra allure.
4. Red Georgette Gown
If you prefer a modern yet contemporary look on Navratri Day 7 while outing with family members, this red georgette gown is perfect.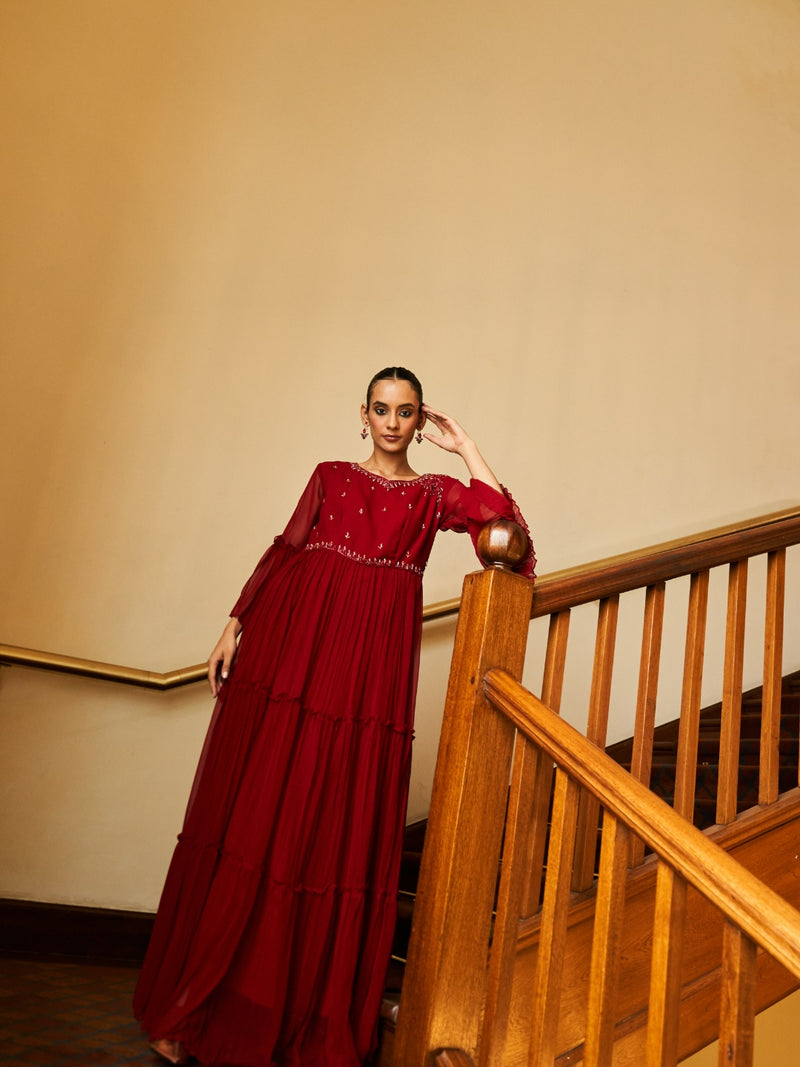 The embroidered detailing adds a touch of tradition to the gown, while the flowing silhouette ensures comfort and style.
What Jewellery Goes Best With Your Red Colour Dress For A Stunning Navratri Day 7 Look?
When choosing jewellery to compliment your red Navratri outfit, consider gold or antique pieces. These can add a touch of elegance and tradition to your look. Statement necklaces, chandbali earrings, and chunky bangles are all excellent choices. Don't forget to add a red bindi to complete your Red colour Navratri outfits!
Summing Up!
Embracing the energising effect of red outfits on Navratri Day 7 is a wonderful way to connect with the divine feminine energy and showcase your inner strength and confidence. Whether you opt for a traditional kurta, a glamorous gown, or a comfortable pant set, make sure to choose jewellery that compliments your outfit and adds to the festive spirit. With the right outfit and accessories, you'll be ready to dance the night away in style during the 7th day of Navratri celebrations.
Let's enjoy the festivities and keep styling with Raisin!
Trending Blogs:
Gorgeous Party Wear Gown | Traditional Dress For Ganesh Chaturthi| Types of maxi dresses | Birthday Outfit Ideas| Kitty party dress | Karwa chauth look ideas | Bollywood look to recreate | Teej dress ideas | Office wear kurta set | Valentines day dress code | Airport look for plus size

Popular Products:
Kurta Set | Kurta Set Dupatta | Blazer set for women | Crop top and skirts | Festive kurta sets |
Plus size dresses | Cocktail party dress | Anniversary party dress | Co-ord sets women | Bhumi pednekar dress | Velvet kurta set | Printed velvet suit | Banarasi brocade suit | Festive Dresses |
Sharara set | Monochrome outfit | Resort wear for women | Pleated dress |