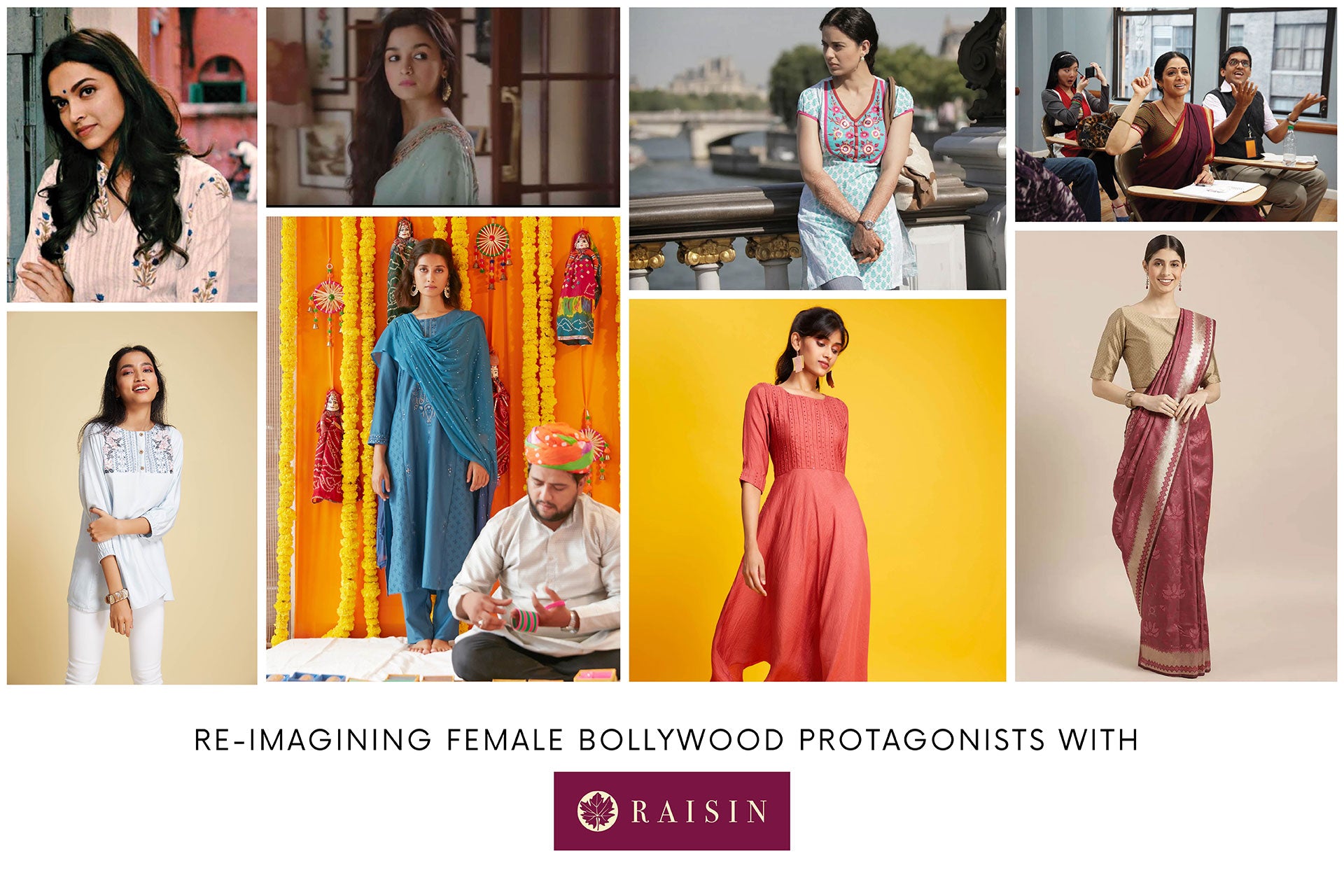 Re-Imagining Female Bollywood Protagonists With Raisin
Quite a lot of female-centric films in Bollywood showed their mantle on the big screen. While we thoroughly enjoyed them walking through the challenges and coming out as braver and stronger than before, we just couldn't stop ourselves from visualising the protagonists in Raisin.
Imagining all these characters as a real life people, we wonder whether they search "ethinic wear for women" on the internet like we do?
Maybe if they were real people, and got their women's ethnic wear online, their favourite brand would have been Raisin because Raisin provides trendy fashionable and comfortable clothes for women of all style types, age and tastes.
Characters We Have Loved!
From Piku and her father's relationship that touched our hearts through our stomachs,
To the story of Rani from the film Queen, who musters the courage to live her dreams,

From Shashi's determination to gain respect in her family members' eyes by learning english,

To the courage of Sehmat during her spy mission in Pakistan,


Bollywood has beautifully portrayed these protagonists' lives.

In The Raisin Style

The ethnic wear costumes that the actors wear to do justice to the character they play have a very important role, and the indo-western, traditional ethnic or western clothes that the actresses wore truly suited the characters.
So let us dress these protagonists in Raisin!
Let's give this a shot.
Piku from Piku-
A multitasking woman, Piku chooses the ethnic kurtis that are literally the most comfortable ones. A kurti, palazzos, and denims are what her wardrobe must be filled with.
We appreciate her clothing style and would like to dress her up in Embroidered viscose rayon peplum tunic .
Moving on to our very own Queen, Rani, Her style was also very much like Piku's, the same short ethnic kurti and denim girl style, but after she met Vijaylaxmi, her style totally changed.
To dress up Rani in her evolved style, we would like to recommend her this outfit Rust solid silk a-line dress.
We are sure that Rani would look equally lovely in a Raisin ethnic dress for women.
Shashi from English Vinglish-
Shashi's choices in ethnic sarees were as unique as her personality. She has already changed a lot for her family. Therefore, we would not like to change her style and would recommend this saree to her - Maroon woven art silk saree.
Indian ethnic wear for women is very much inspired by Shashi's style as her style is the typical style of most of the Indian women.
Sehmat from Raazi-
Sehmat focused on her spy-mission and therefore she dressed very casually in a simple ethnic suit. Therefore, without posing any hindrance to her super important mission for her country, we would like to dress her up in this suit -Sapphire blue straight kurta pant set with dupatta
Sehmat would look fantastic in designer kurtis from Raisin and why only her, you could carry off this style too with the best kurtis from Raisin.
There Is Something For Everybody
Such different characters, and such different fashion senses and styles of their own, but Raisin could dress them all up.

Due to the wide range of products, Raisin will provide you too with a lot of different styles.

Check out the wide range of collections and categories of products on our website and dress yourself up in your unique way by taking inspiration from all of these headstrong female protagonists.

Also check out : Festive collection for women | Sharara Set | Velvet dresses for women | Banarasi Brocade Pant suit | Casual Looks for Women | Must have Maxi dresses for women