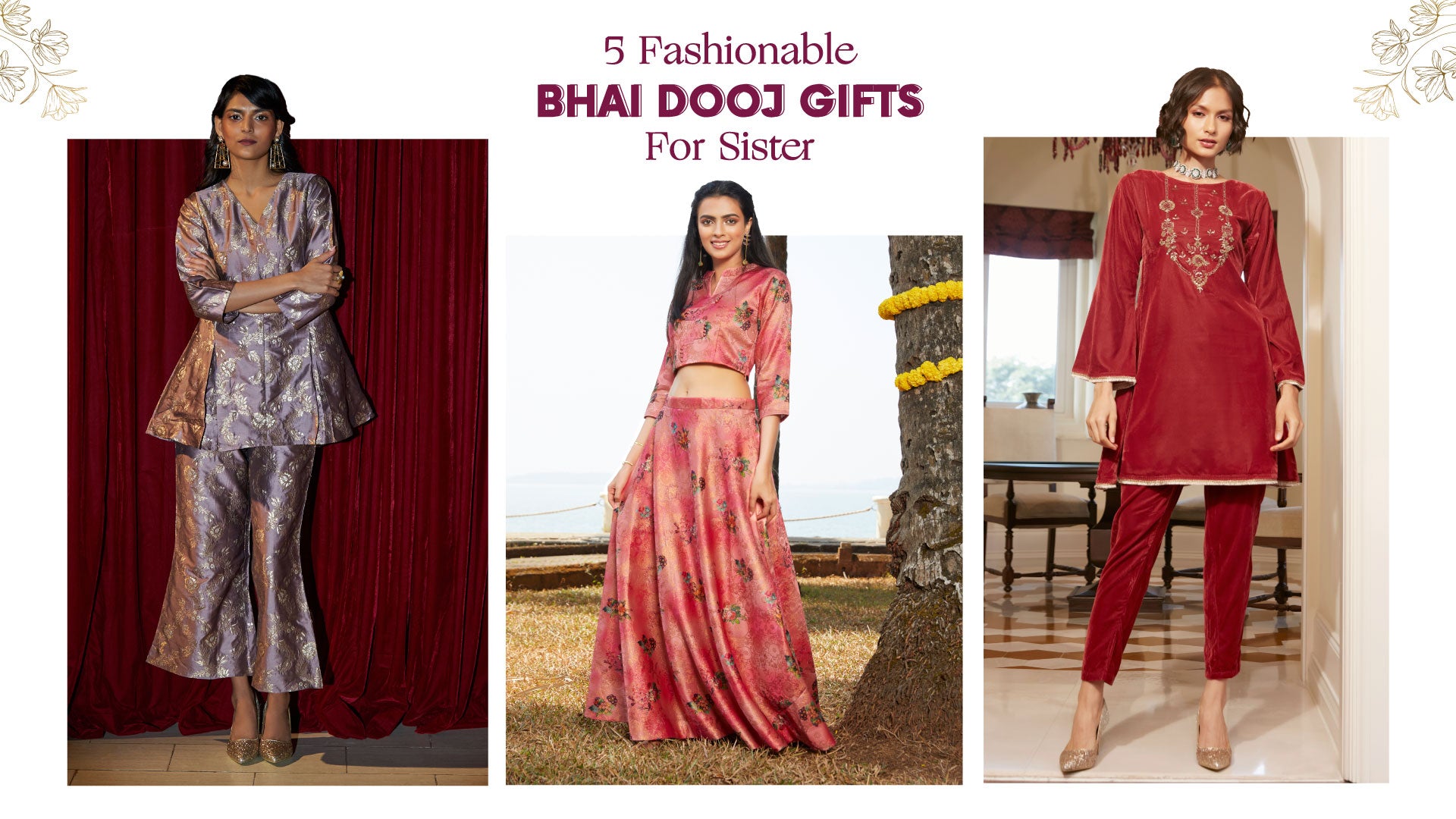 Bhai Dooj Gift For Sister: 5 Fashionable Picks To Upgrade Her Wardrobe
Bhai Dooj, a truly auspicious and emotionally charged occasion, holds a special place in our hearts. It's a time when we come together to celebrate the well-being of our brothers, and at the heart of this celebration lies the tradition of gift-giving. If you've been on the hunt for the best Bhai Dooj gift for sister, you're not alone. The challenge lies in finding a gift that will both surprise and delight her, something that's not just meaningful but also useful.
This year, why not elevate the excitement by adding a touch of fashion to your sister's life? We're talking about stylish and fashionable clothing gifts that will make her wardrobe shine. And when it comes to finding the best fashion gift for Bhai dooj for sister, there's no place quite like Raisin. With its wide range of ethnic, western, and fusion wear, Raisin caters to every fashion preference. So, join us on this journey as we explore the top Bhai Dooj gift ideas for sisters!
Why Is Fashionable Clothing The Best Bhai Dooj Gift For Sister?
When you're looking for the perfect Bhai Dooj gift ideas for sisters, clothing that aligns with her personal style is a surefire winner.
Firstly, clothing is a deeply personal and expressive form of self-presentation. Choosing the right outfit can boost one's confidence and make them feel more beautiful and empowered. When you gift your sister fashionable clothing, you're not just giving her a physical item; you're also expressing your love and appreciation for her unique style.
Additionally, clothing is versatile and suits various occasions. Whether your sister prefers the grace of ethnic wear or loves to make a style statement with western attire, you can find clothing options to match her taste and lifestyle. This versatility ensures that this Bhai Dooj gift for sister will be both thoughtful and practical, as she can wear it on special occasions or in her daily life.
Furthermore, fashion trends are ever-evolving, and updating one's wardrobe can be an ongoing pursuit. By gifting your sister fashionable clothing, you contribute to her fashion journey and help her stay trendy and chic.
5 Stylish Clothings Options For Bhai Dooj Gift For Sister
Raisin brings you a curated list of top 5 stylish clothing options that are sure to elevate her wardrobe and make this Bhai Dooj truly special.
Velvet Kurta Sets
For the sister who adores ethnic wear, there's nothing quite like a luxurious velvet kurta set. The opulent charm and exquisite craftsmanship of these sets make them perfect for every festive occasion. Consider gifting your sister our stunning yellow embroidered velvet kurta set with a dupatta or the rust velvet embroidered kurta set dupatta for an unforgettable Bhai Dooj gift for sister!
Ethnic Dresses
If your sister's heart beats for traditional and contemporary fusion, our ethnic dresses with flared silhouettes and intricate embroidery patterns are the way to go. These versatile pieces can double as her Bhai Dooj outfit. Our top picks include the Mustard mini silk A-line dress and the dark grey printed embroidered dress.
Banarasi Brocade Co Ord Set
Does your sister have a penchant for party looks with a touch of retro style? Consider gifting her a Banarasi Brocade Co Ord Set. It's a fusion of the timeless charm of Banarasi material with contemporary co-ord fashion. Check out our exclusive collections like the silver banarasi brocade co ord set and the blush pink brocade co ord set. It is one of the most meaningful Bhai Dooj gift ideas for sister!
Jacquard Crop Top Skirt Set
For a trendy and stylish Bhai Dooj gift for sister, look no further than the Jacquard Crop Top Skirt Set. It's perfect for sisters who love to flaunt their style during festivals in Western wear. Our pink printed jacquard crop top skirt set and the pista printed jacquard crop top skirt set are excellent choices that she'll adore.
Party Wear Gown
To add a touch of glamour to her party wear wardrobe, consider gifting our Khamaaj Gown which is the epitome of elegance. Elevate her style with options like the Blue pure georgette embroidered gown or the red pure georgette embroidered gown.
So, don't you be mesmerised with the stunning Bhai Dooj gift ideas for sister? Hopefully Yes!
Summing Up!
When it comes to celebrating Bhai Dooj and showing your love and appreciation for your sister, there's no better way than gifting her stylish and fashionable clothing. The top 5 clothing options we've explored from Raisin cater to a range of tastes and preferences, ensuring that you can find the perfect Bhai Dooj gift that not only elevates her wardrobe but also warms her heart. Whether it's the opulence of velvet kurta sets, the fusion of ethnic dresses, the retro charm of Banarasi brocade co-ord sets, the trendy Jacquard Crop Top Skirt Sets, or the sheer elegance of party wear gowns, these choices are designed to make her feel special and cherished.
So, this Bhai Dooj, makes the occasion memorable by gifting her the gift of style and grace, and witnessing the joy it brings to her eyes as she steps into a world of fashion and celebration.
Trending Blogs:
Traditional And Trendy Durga Puja Outfits| Traditional Chhath Puja Dress| Navratri Garba Dresses| Gorgeous Party Wear Gown | Traditional Dress For Ganesh Chaturthi| Types of maxi dresses | Birthday Outfit Ideas| Kitty party dress | Karwa chauth look ideas | Bollywood look to recreate | Teej dress ideas | Office wear kurta set | Valentines day dress code | Airport look for plus size

Popular Products:
Kurta Set | Kurta Set Dupatta | Blazer set for women | Crop top and skirts | Festive kurta sets |
Plus size dresses | Cocktail party dress | Anniversary party dress | Co-ord sets women | Bhumi pednekar dress | Velvet kurta set | Printed velvet suit | Banarasi brocade suit | Festive Dresses |
Sharara set | Monochrome outfit | Resort wear for women | Pleated dress |