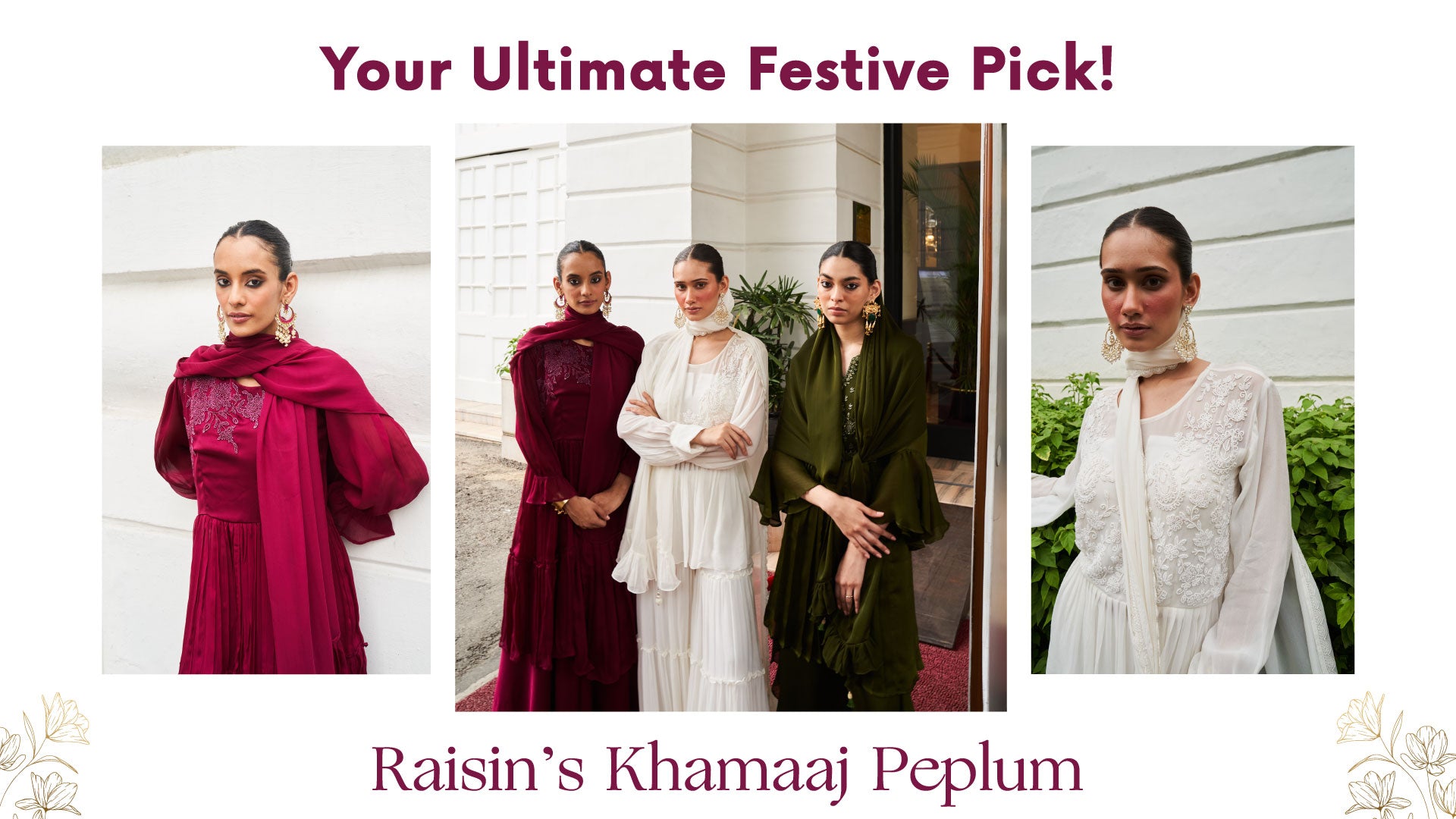 Why Should Raisin's Khamaaj Peplum Suits Be Your Next Festive Purchase?
With the festive season just around the corner, the excitement is palpable, and the preparations are in full swing. From perfecting those yoga poses to hitting the gym for that radiant glow, the checklist seems never-ending. But one thing that truly sets the mood for the festivities is choosing the perfect outfit. In the whirlwind of fashion trends for 2023 and the vibrant Puja vibes, modern women like you are always on the lookout for something unique. Well, Raisin has heard your fashion-forward heart's desires and has unveiled its latest masterpiece – the Khamaaj Peplum collection. If you're the kind of person who loves experimenting with style, whether it's for Navratri, Durga Puja, or Diwali, then you simply can't afford to miss out on this.
5 Irresistible Reasons To Choose Khamaaj Peplum Sharara Set For Your Festive Wardrobe
Our Khamaaj Peplum suits consist of a Peplum top paired with a Sharara, offering a contemporary twist to traditional wear. This Peplum sharara set ensures you stand out in the crowd while staying true to your cultural roots. Here are the five compelling reasons to choose Khamaaj peplum sharara set for your festive wardrobe: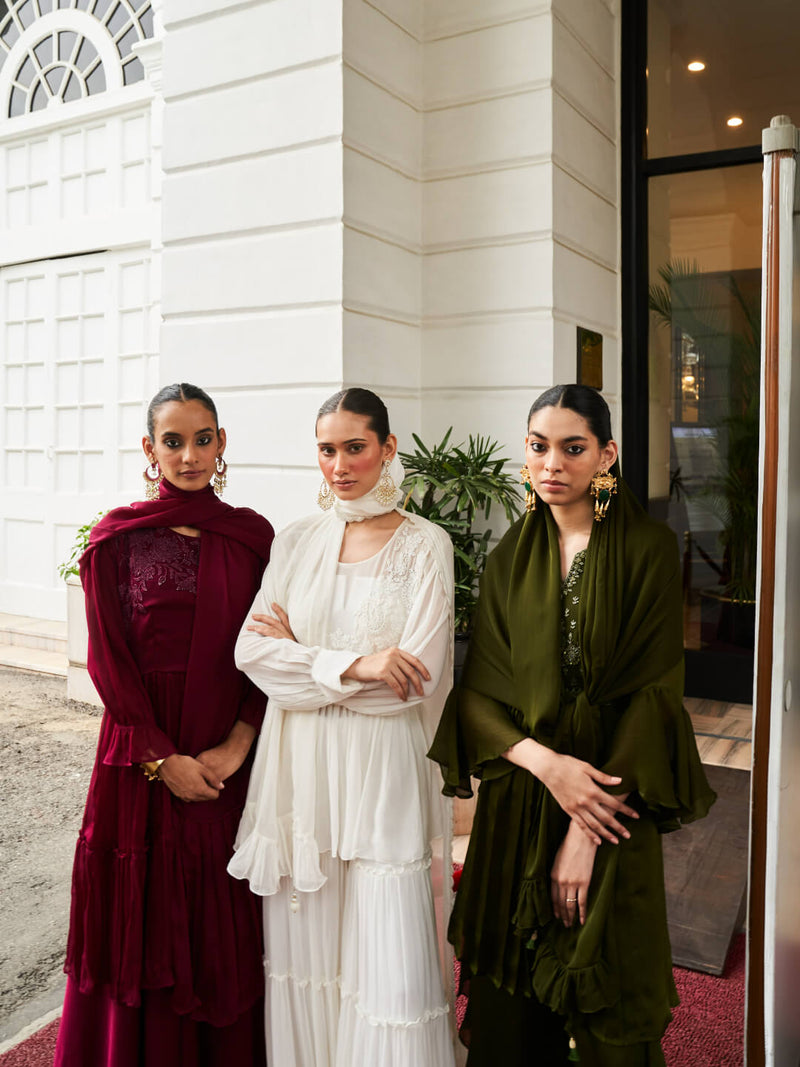 1. Exquisite Handwork Embroidery
Our Khamaaj peplum sharara set showcases exquisite handwork embroidery that adds a touch of artistry and elegance to each piece. The intricate detailing sets it apart, making it the perfect choice for those who appreciate fine craftsmanship.
2. Chic Sophistication
These peplum sharara suits exude a sense of chic sophistication. The fusion of the peplum style with sharara bottoms creates a unique and fashionable look that's ideal for festive occasions where you want to stand out.
3. Pure Georgette Luxury
Crafted from pure georgette material, these peplum sharara sets offer a luxurious and comfortable feel. Georgette drapes beautifully and adds an element of grace to your festive ensemble, ensuring you look and feel your best.
4. Versatile For Various Occasions
Khamaaj peplum Sharara suits are incredibly versatile. Whether it's a traditional festival celebration or a contemporary party, these suits can be styled to suit the occasion, making them a versatile addition to your festive wardrobe.
5. Timeless Appeal
The timeless appeal of these peplum suits ensures that your investment goes a long way. They won't go out of style, allowing you to wear them not just this season but for many festive seasons to come.
Exploring The Versatile Peplum Sharara Sets
Now, the most awaited time has arrived as we unveil the versatile peplum suits, each uniquely tailored for specific festive occasions.
Wine Wrinkle Peplum Sharara Set
Crafted from georgette embroidery, this wine-coloured peplum sharara set is the epitome of elegance. Its rich hue makes it an excellent choice for Durga Puja pandal hopping, adding a touch of sophistication to your Navratri evening look, or being the centre of attention at any festive event.
White Pure Georgette Peplum Sharara Set
Embrace the purity of white with this white pure georgette peplum sharara set. Perfect for your morning festive look, it exudes grace and charm, making it an ideal outfit for religious ceremonies and daytime celebrations.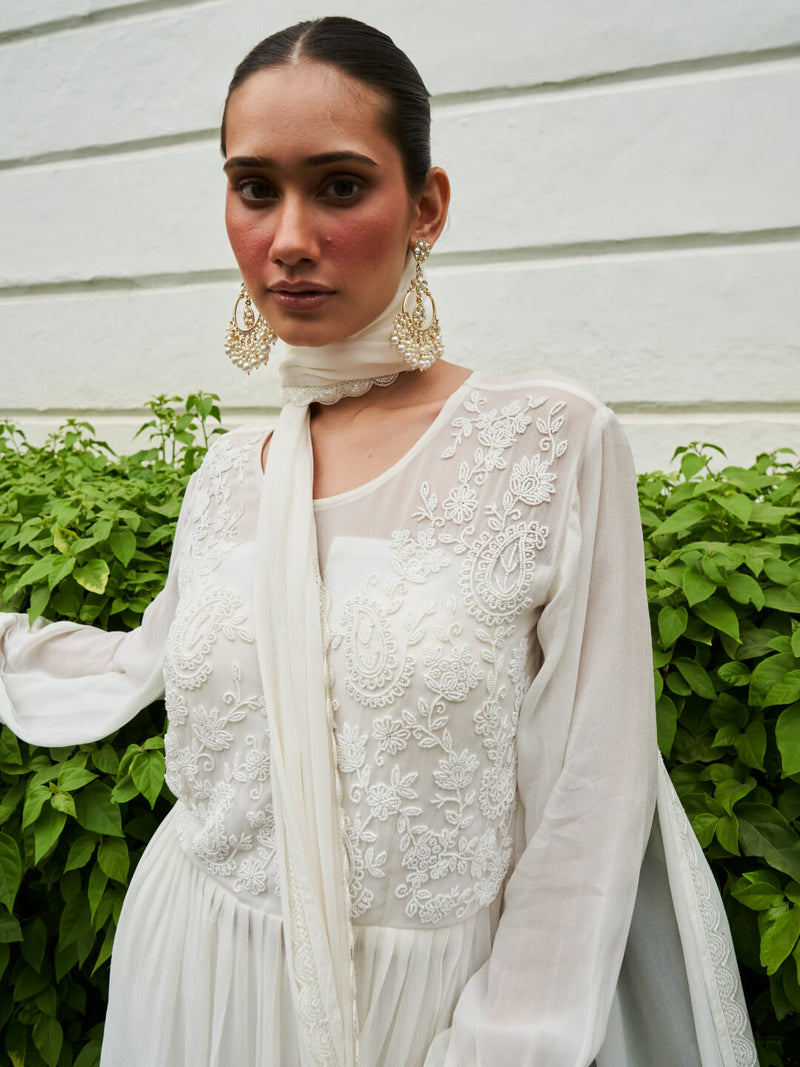 Black Pure Georgette Sharara Set
For those enchanting Diwali nights or glamorous cocktail parties during the festive season, the black pure georgette sharara set is a showstopper. Its deep black shade adds a touch of allure and mystique, making you stand out at any evening gathering.
Olive Wrinkle Peplum Sharara Set
The olive wrinkle peplum sharara set brings a unique twist to your festive wardrobe. Its earthy olive tone, coupled with the peplum style, makes it versatile for a variety of occasions, from family gatherings to festive outings.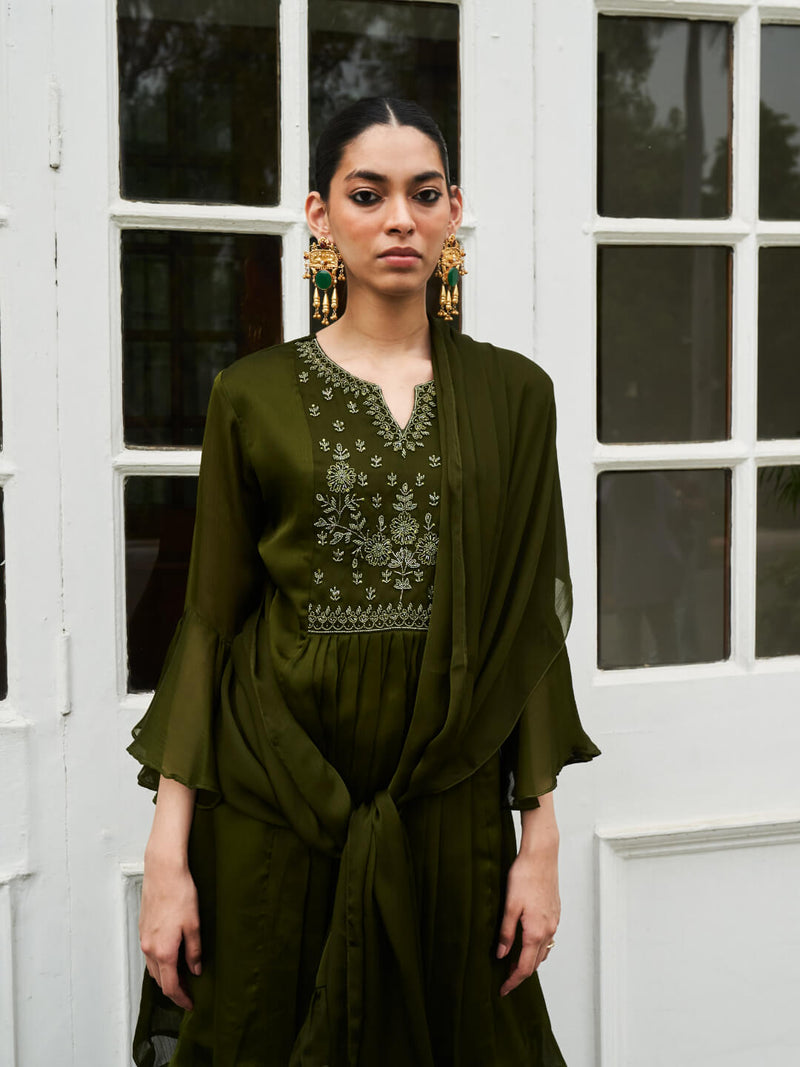 Are you captivated by these stunning peplum sharara suits? If so, why wait any longer? Ensure these exquisite ensembles find a place in your wardrobe without delay!
How To Accessorise Peplum Sharara Sets For A Stunning Festive Look?
Accessorising peplum sharara sets for a stunning festive look is all about striking a harmonious balance.
Begin by choosing statement jewellery pieces that complement the outfit's colours and embroidery. Consider long, intricate earrings or chunky bangles for an added touch of elegance.
A stylish clutch or potli bag can enhance your ensemble while being practical.

Opt for footwear that matches the overall theme, whether it's delicate juttis for a traditional feel or heels for a contemporary edge.

Lastly, don't forget to play with your hairstyle; a chic updo or cascading curls can make all the difference, ensuring your peplum sharara set shines as the star of your festive look.
Summing Up!
The journey through Raisin's exquisite peplum sharara sets has been nothing short of mesmerising. With their rich colours, intricate embroidery, and versatile designs, these outfits are the epitome of festive elegance. Whether you're gearing up for Durga Puja, Navratri, Diwali, or any other celebratory occasion, the peplum sharara sets have proven to be the perfect choice. Remember, it's not just about the outfit; it's how you adorn it. So, explore your creativity, mix and match accessories, and let your unique style shine through.
With Raisin, your festive fashion journey is bound to be a memorable one. Keep styling with Raisin this festive season and make every moment a celebration of your impeccable style.
Trending Blogs:
Traditional And Trendy Durga Puja Outfits | Traditional Chhath Puja Dress | Navratri Garba Dresses | Gorgeous Party Wear Gown | Traditional Dress For Ganesh Chaturthi| Types of maxi dresses | Birthday Outfit Ideas| Kitty party dress | Karwa chauth look ideas | Bollywood look to recreate | Teej dress ideas | Office wear kurta set | Valentines day dress code | Airport look for plus size

Popular Products:
Kurta Set | Kurta Set Dupatta | Blazer set for women | Crop top and skirts | Festive kurta sets |
Plus size dresses | Cocktail party dress | Anniversary party dress | Co-ord sets women | Bhumi pednekar dress | Velvet kurta set | Printed velvet suit | Banarasi brocade suit | Festive Dresses |
Sharara set | Monochrome outfit | Resort wear for women | Pleated dress |