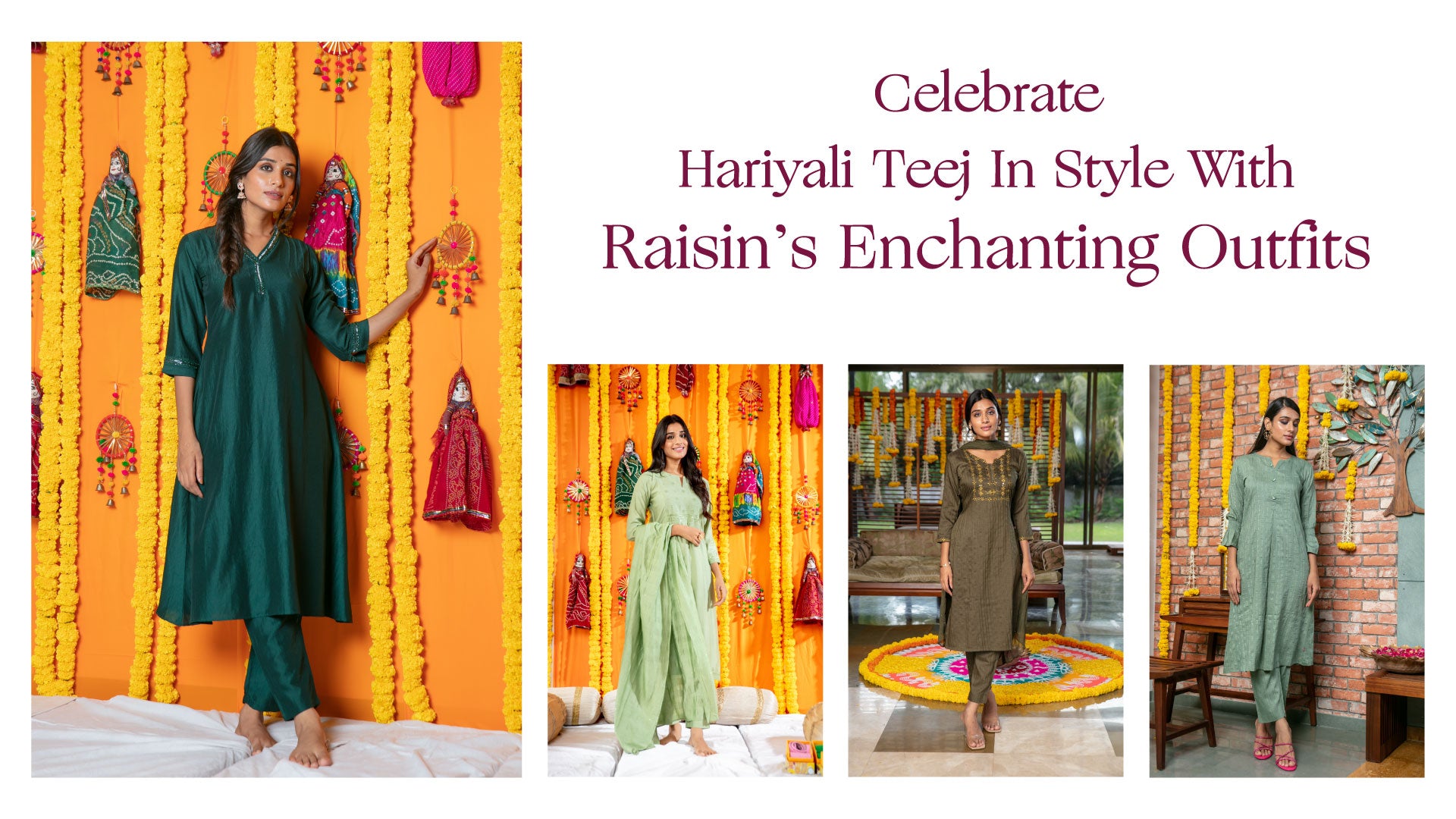 Celebrate Hariyali Teej In Style With Raisin's Enchanting Outfits
As the monsoon rain rejuvenates the earth, the vibrant festival of Hariyali Teej approaches embracing the essence of love, beauty, and togetherness.
Hariyali Teej, also known as the "Green Teej," is a joyous festival celebrated with fervour and enthusiasm by women across India. It marks the arrival of the monsoon season and is dedicated to the worship of Lord Shiva and Goddess Parvati.
It's that time of the year again when women across the country adorn themselves in dazzling traditional Teej attire to celebrate the festivity!
Are you ready to embrace the spirit of Teej in style? Why not celebrate this auspicious occasion by adorning yourself in the most enchanting outfits from Raisin?
Yes! Raisin brings you some stunning Teej dresses that are the perfect blend of tradition and contemporary fashion, designed to make you feel like royalty.
So, why wait? Let's explore the stunning Teej outfit ideas and find the perfect green dress for Teej!
What Do You Wear On Teej?
When it comes to style on Hariyali Teej, traditional ethnic wear is considered the best choice for Hariyali Teej outfit ! You can opt for a beautiful kurta set with a dupatta, a graceful saree, Teej special suit or a stunning Lehenga Choli. Embrace outfits embellished with intricate embroidery, dazzling sequins, and other traditional designs to capture the essence of the festival and radiate elegance and charm throughout the celebrations!
Which Colour Is Worn On Teej?
On Teej, women traditionally wear vibrant and auspicious colours, with green being the most prominent. The festival of Hariyali Teej, also known as the green Teej, celebrates the arrival of the monsoon season and the lush greenery it brings. Hence, women often opt for green-coloured outfits. However, you can also add other bright colours in your Teej dress like red, yellow, or orange.
Why Wear Green On Teej?
Wearing green on Hariyali Teej holds deep cultural and symbolic significance. The festival celebrates the onset of the monsoon season, which brings new life and rejuvenates nature, turning it into a lush green paradise. Therefore, green is considered the most auspicious and traditional colour for Teej outfits. It represents fertility, growth, prosperity, and the abundance of nature. By adorning themselves in green attire, women symbolise their desire for a harmonious and fruitful life, just as nature flourishes during this season. Additionally, green also holds religious significance, as it is associated with Lord Shiva and Goddess Parvati, whose divine union is celebrated during Teej. Thus, wearing green on this joyous occasion is not only a fashion choice but a way to connect with nature and embrace the blessings of the divine.
Different Shades Of Green Dress For Teej By Raisin
Looking for a diverse selection of green dresses for Teej? Look no further than Raisin! We've got you covered with a wide range of shades, from light Pista green and refreshing mint green to dark olive green. Embrace the spirit of Hariyali Teej in style and discover the perfect shade of green that suits you best. Don't wait any longer, explore our collection of Teej dresses for women!
Green Glass Chanderi Kurta Pant Set Dupatta
Our Green Glass Chanderi kurta and pant set, complemented by an intricately embroidered pattern and tie-dye dupatta.
The combination of traditional craftsmanship and contemporary design makes it a perfect choice for Teej festival dress.
Green Grizzly Silk Straight Kurta Pant Set
Elevate your style with this elegant Grizzly silk straight kurta pant set in a refreshing shade of green.
The outfit's simplicity is its charm, making it suitable for both formal and casual occasions during the Teej festival.
Olive Green Embroidered Straight Kurta Pant Set
Crafted with luxurious Aston silk, this olive green kurta pant set exudes sophistication and grace.
The intricate embroidery adds a touch of finesse to the outfit, making it a standout choice for Teej outfit.
Dark Pista Green Embroidered Kurta Pant Set Dupatta
Made with Pollina silk, this Dark Pista Green Kurta Pant set comes with a matching dupatta adorned with exquisite embroidery.
The rich colour and intricate detailing make it a fabulous ensemble for Hariyali Teej festivities.
Moss Green Inox Silk Embroidered Kurta Set Dupatta
This Moss Green Kurta set, crafted with Inox silk, showcases delicate embroidery that adds an element of charm.
The accompanying dupatta complements the ensemble perfectly, creating a delightful look for Teej celebrations.
Mint Green A-Line Kurta Pant Set
Crafted from comfortable and chic Chinon material, this Mint Green A-line kurta pant set is ideal for those who prefer a modern and fuss-free style.
The refreshing colour and flattering silhouette make it a great choice for Hariyali Teej attire.
How To Accessorise Hariyali Teej Outfits For A Perfect Festive Look?
Accessorising your green Hariyali Teej attire can elevate your festive look and add that extra charm to your ensemble. Here are some tips to help you achieve a stunning look:
Statement Jewellery
Opt for statement jewellery pieces that complement the shade of green in your outfit. A beautiful Kundan necklace, chandelier earrings, or a Maang tikka can instantly enhance your look and add a touch of regal elegance.
Colourful Bangles
Stack up on vibrant and colourful bangles or traditional choodas to accentuate your wrists. Mix and match different shades of green, gold, and other contrasting colours to create a striking contrast.
Embroidered Clutch or Potli Bag
Choose an intricately embroidered clutch or a traditional potli bag that matches the detailing on your outfit. This will not only add functionality but also bring a sense of completeness to your overall Hariyali Teej look.
Footwear
Go for traditional juttis, Mojaris, or embellished sandals in coordinating colours with your green Teej dress. These traditional footwear options will complement your attire and keep you comfortable during the celebrations.
Nose Ring or Nath
If you're feeling bold, adorn your look with a traditional nose ring or nath. These pieces of jewellery add a distinct charm and are sure to make you stand out during the festivities.
Bindi and Mehndi
Don't forget to wear a matching bindi that compliments your outfit. Additionally, applying mehndi on your hands and feet is an essential part of the Teej celebrations and adds a traditional touch to your overall look.
Ending Note!
As the vibrant festivities of Hariyali Teej draw near, Raisin's enchanting collection emerges as the perfect fusion of tradition and contemporary fashion, allowing you to celebrate in style. With the radiant greens and vibrant colours mirroring the essence of the season, Raisin's outfits pay homage to the festival's spirit.
Let Raisin be your companion in turning this Teej into an extraordinary fashion statement, as you revel in the love, joy, and togetherness that this auspicious occasion brings.
Frequently Asked Questions On Haryali Teej Outfit
1. Can I wear traditional attire other than green?
Absolutely! While green is traditional, you can also opt for other bright colours or even experiment with fusion wear that combines modern and traditional elements.
2. Are floral prints a good option for Teej outfits?
Yes, floral prints align well with the theme of nature and the monsoon season. They can add a touch of elegance to your ensemble.
3. Can I wear lightweight fabrics for Teej celebrations?
Absolutely. Lightweight fabrics like chiffon, georgette, and cotton are comfortable choices for the summer season and the festivities.
3. Can I wear lightweight fabrics for Teej celebrations?
Absolutely. Lightweight fabrics like chiffon, georgette, and cotton are comfortable choices for the summer season and the festivities.
4. Can I mix traditional and contemporary elements in my Teej outfit?
Yes, fusion wear is a trendy choice. Consider pairing traditional bottoms with a modern top or vice versa to create a unique and stylish look.
5. Is it important to incorporate green into my Teej outfit?
While green is traditional and holds symbolic value, it's not mandatory. You can celebrate the essence of Teej by opting for other bright colours that resonate with the festive spirit.
Trending Blogs:
Raksha bandhan outfit ideas | Types of maxi dresses | Kitty party dress | Karwa chauth look ideas | Bollywood look to recreate | Bollywood day ideas | Birthday outfit for women | Office wear kurta set | Fashion trends 2022 | Valentines day dress code | Airport look for plus size

Popular Products:
Kurta Set | Kurta Set Dupatta | Blazer set for women | Crop top and skirts | Festive kurta sets |
Plus size dresses | Cocktail party dress | Anniversary party dress | Co-ord sets women | Bhumi pednekar dress | Velvet kurta set | Printed velvet suit | Banarasi brocade suit | Festive Dresses |
Sharara set | Monochrome outfit | Resort wear for women | Pleated dress |