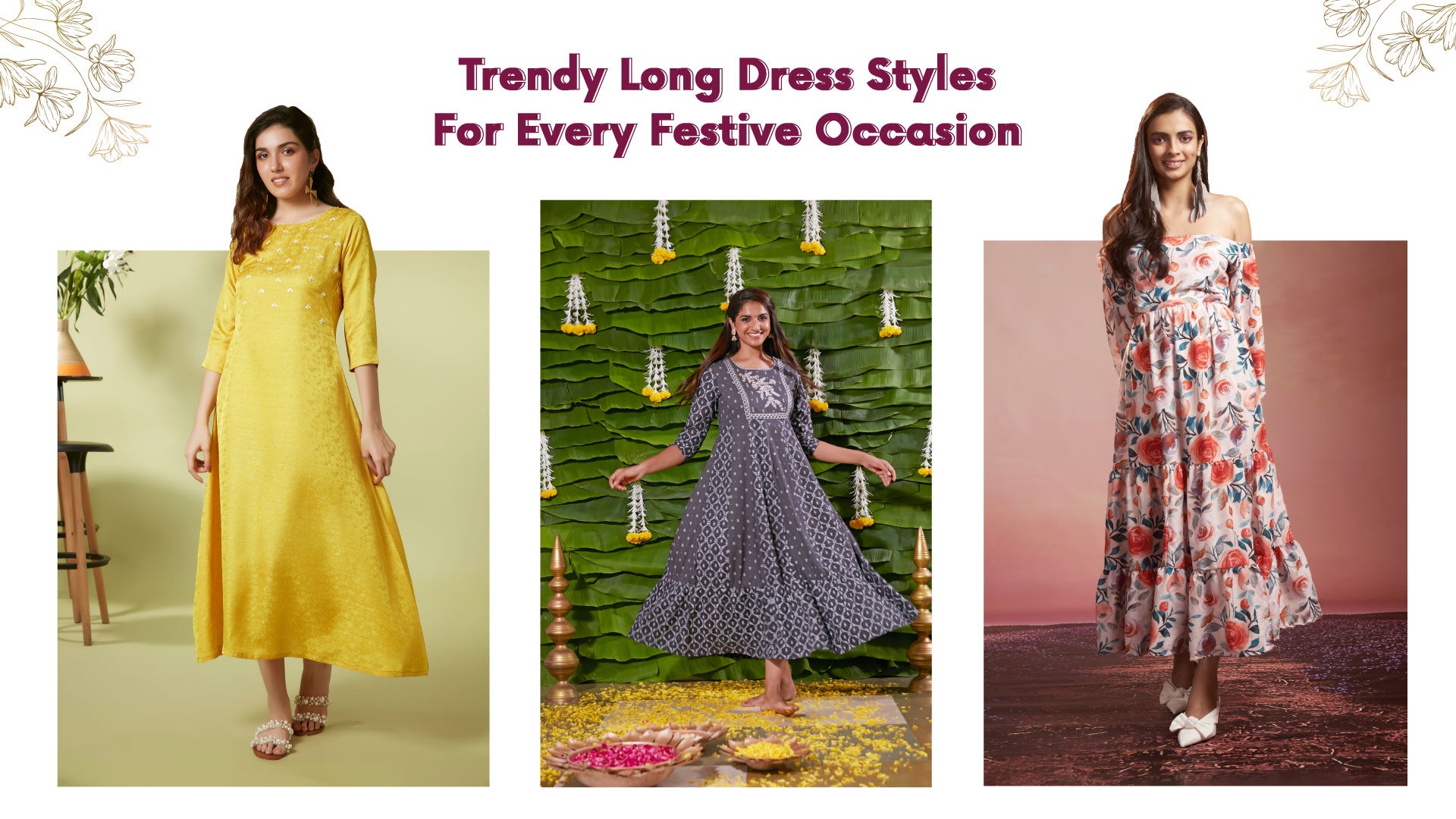 Trendy Long Dress Styles For Every Festive Occasion
Are you ready to turn heads at every festive event this season? Wondering how to stay effortlessly stylish while celebrating in style? Look no further! In our latest blog, we've got you covered with a dazzling array of trendy styles of long dress for women for every festive occasion. Whether it's a glamorous party, a family gathering, or a cultural festival, we'll show you how to make a lasting impression with your fashion choices. So, why settle for ordinary when you can shine brightly in Raisin's extraordinarily long dresses? Let's explore the variety of styles!
Are Long Dresses In Fashion?
Yes, long dresses are definitely in fashion. From long maxi dresses, maxi dress with sleeves to long gowns, they have been a popular and versatile choice in the fashion world for quite some time, and they continue to be a stylish option for various occasions. Whether it's a formal event, a casual outing, or a festive celebration, a long dress for women offers a timeless and elegant look that is always in vogue.
Are Long Dresses Classy?
Yes, long dresses can be incredibly classy. Their elegant and flowing design often exudes sophistication and timeless style, making them a popular choice for formal events, evening wear, and upscale occasions. However, the level of classiness can vary depending on the specific dress, its fabric, cut, and how it's accessorised. Overall, long dresses for ladies have the potential to achieve a classy and refined look when chosen and styled appropriately.
Explore The Different Styles Of Long Dress For Women
Raisin offers an extensive selection of long dresses for women with diverse styles. Don't miss the opportunity to discover these styles; let's explore them together without delay!
Printed Cotton Flared Maxi Dress
Printed cotton flared maxi dresses are the go-to choice for creating a stylish yet casual daytime look. Whether you choose our Blue printed cotton flared maxi dress or the green printed cotton flared dress, you'll embrace timeless elegance. These traditional long dresses for women offer comfort and style for various occasions, making them versatile additions to your wardrobe.
A-Line Long Dress
A-line maxi dress is another fabulous style of long dress for women. For special occasions, consider our stunning Yellow silk A-line long dress or the charming peach printed rayon A-line long dress. This style of long maxi dress with sleeves are perfect for chic morning outings, brunches, or casual gatherings with friends, showcasing the perfect blend of style and comfort.
Embroidered Flared Maxi Dress
Embroidered flared long dresses are ideal for any festive occasion. For a morning festive look, our Dark grey printed embroidered cotton maxi dress is a great choice. Alternatively, if you're attending a festive party, our black embroidered flared dress is a chic option. These long dresses for ladies feature intricate embroidery, adding a touch of elegance to your festive wardrobe.
Long Floral Dress
Long floral dresses offer a unique and vibrant style, and Raisin has a delightful selection to explore. Our White floral print flared maxi dress is a top pick, perfect for creating a stylish western look during Pandal hopping at Durga Puja or a casual Diwali brunch outing. This long floral dress brings a touch of floral charm to your wardrobe, making them perfect for various festive occasions.
Long Sleeve Maxi Dress
Long sleeve maxi dresses are favoured by fashion enthusiasts aiming for a sophisticated look. If you have office parties or festive family gatherings on your agenda, consider our green solid viscose long sleeve maxi dress or the elegant pink printed long sleeve maxi dress..
These dresses with long sleeves offer both style and coverage, suitable for formal and semi-formal events.
Long Gowns
Long gowns for women are the ultimate choice of long dresses, and we're excited to introduce our Khamaaj Gown collection. These gowns feature intricate handwork embroidery and are crafted from pure georgette material, ensuring a luxurious and elegant appearance.
These long gowns are the ultimate choice for those seeking timeless elegance and sophistication for festive occasions.
Furthermore, our Khamaaj Gowns are ideal for party occasions. If you're interested in learning how to elegantly style these long gowns for parties, be sure to visit our blog: "Tips for Slaying at Parties with Stylish Party Wear Gowns!"
Summing Up!
We hope that with our guide to trendy long dress styles for every festive occasion, you're well-equipped to make a fashion statement and stand out at any event. Remember, the key is to choose a dress that suits your personal style and the event's vibe. Whether you prefer a classic, elegant look or something more contemporary and bold, long dresses have the versatility to elevate your appearance.
Keep styling with Raisin and let your inner fashionista shine!
Frequently Asked Questions On Long Dress For Women
1. What Is A Floor Length Dress Called?
Ans: A floor-length dress is commonly called a "gown" or simply a "long dress."
2. Is A Long Dress Formal?
Ans: Long dresses are often considered formal attire, but it depends on the dress's design, fabric, and the event's dress code.
3. Why Wear A Maxi Dress?
Ans: People wear maxi dresses for their comfort, style, and versatility, making them suitable for various occasions from casual to formal.
4. How To Wear Saree As A Maxi Dress?
Ans: To wear a saree as a maxi dress, drape the saree over a fitted bodysuit or blouse and pair it with a maxi skirt, creating a fusion look.
5. Do Maxi Dress Suit Everyone?
Ans: Maxi dresses come in various styles, so they can suit a wide range of body types. Finding the right fit and style is key to making them work for everyone.
6. How Do You Look Slim In A Maxi Dress?
Ans: To appear slimmer in a maxi dress, choose one with a defined waist, opt for vertical stripes or patterns, and consider wearing heels to create a longer silhouette.
7. Can You Wear Leggings With A Maxi Dress?
Ans: Yes, you can wear leggings with a maxi dress for added warmth or modesty, especially in cooler weather or if the dress has a high slit.
8. Do Long Dresses Make You Look Thinner?
Ans: Long dresses can create a slimming effect by elongating the body and emphasising height, but the overall effect depends on the dress's design, fit, and styling.
Trending Blogs:
Diwali Party Outfits| Traditional Diwali Dress For 2023| Bhai Dooj Gift Ideas For Sister| Styling Tips For Durga Puja Outfits| Traditional Chhath Puja Dress| Navratri Garba Dresses| Gorgeous Party Wear Gown | Traditional Dress For Ganesh Chaturthi| Types of maxi dresses | Birthday Outfit Ideas| Kitty party dress | Karwa chauth look ideas | Bollywood look to recreate | Teej dress ideas | Office wear kurta set | Valentines day dress code | Airport look for plus size

Popular Products:
Kurta Set | Kurta Set Dupatta | Blazer set for women | Crop top and skirts | Festive kurta sets |
Plus size dresses | Cocktail party dress | Anniversary party dress | Co-ord sets women | Bhumi pednekar dress | Velvet kurta set | Printed velvet suit | Banarasi brocade suit | Festive Dresses |
Sharara set | Monochrome outfit | Resort wear for women | Pleated dress |