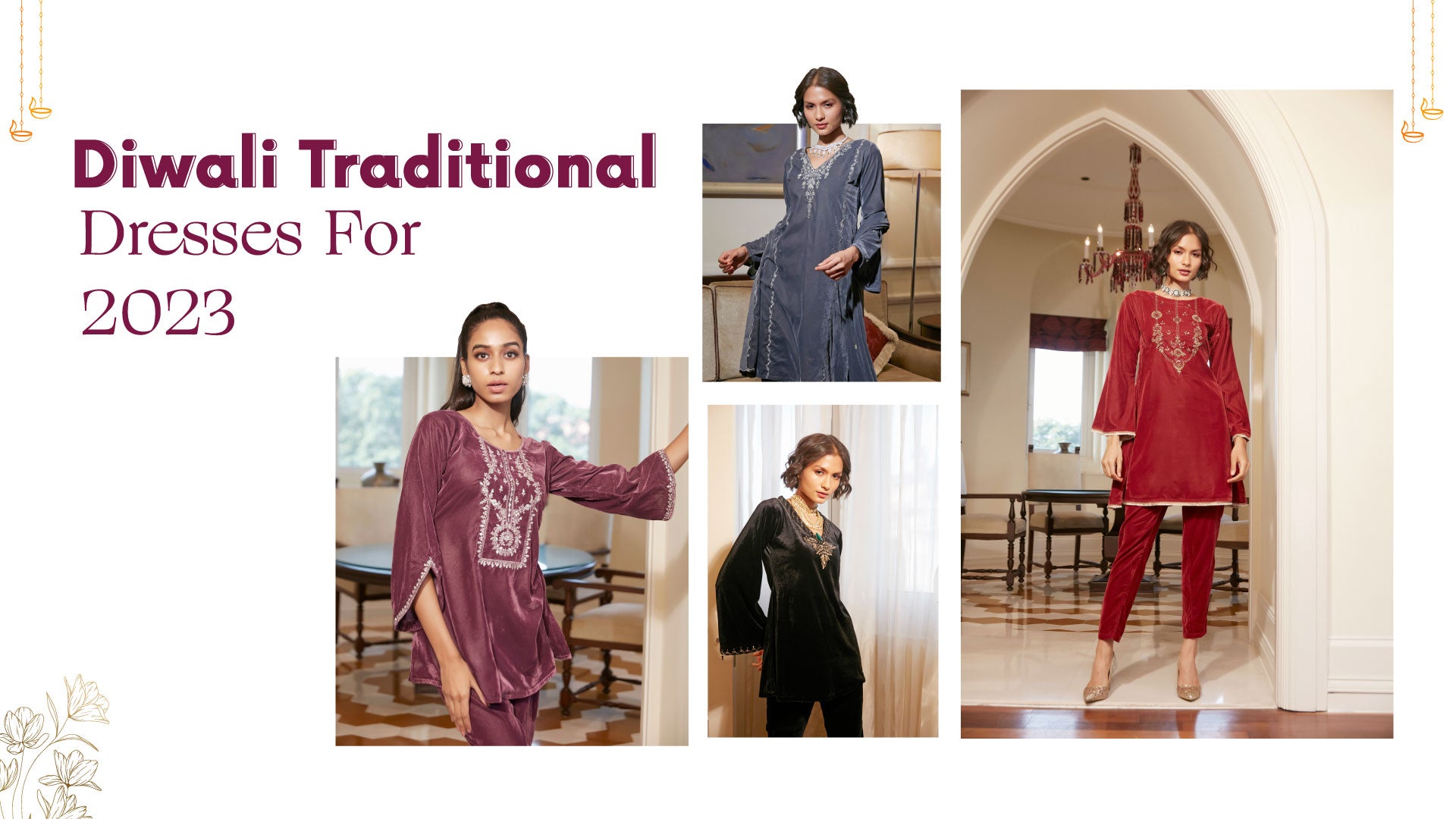 Discover Your Perfect Diwali Traditional Dress For 2023
When the festive season dawns upon India, a delightful buzz fills the air as women and girls of all ages eagerly set out to rejuvenate their wardrobes. While the fashion world may be constantly evolving with the latest trends of 2023, there's a timeless allure that ethnic traditional dresses hold in our hearts. And when it comes to Diwali, this charm takes centre stage.
If you find yourself still pondering over the latest trends in Diwali traditional dress, worry not, because Raisin is here to guide you. In this blog, we will unveil the most sought-after styles of Diwali traditional dresses and present top picks from Raisin's exquisite collection. Get ready to discover the perfect Diwali ethnic wear that will make you shine this festive season!
Why Do We Wear Traditional Dresses On Diwali?
Wearing traditional dresses on Diwali connects you with the rich cultural heritage and symbolism of the festival. These attires hold a special significance as they reflect the traditional values, customs, and rituals that Diwali represents. By adorning Diwali traditional dress like kurtis, kurta sets, sharara sets, sarees, lehengas you not only pay homage to your roots but also join in the collective celebration of light, prosperity, and the triumph of good over evil. It's a way of showing respect to your culture and embracing the festive spirit with elegance and grace. So, put on your traditional Diwali dress and let it symbolise the essence of this festival as you celebrate this auspicious occasion with your loved ones.
Top 5 Diwali Traditional Dress Styles For 2023
Now, it's time to explore the trending traditional dresses for Diwali that are taking the festive season by storm!
1. Kurtis
Kurtis are undeniably one of the best Diwali traditional dresses, and their timeless appeal never goes out of style. For Diwali you can wear Kurtis of bright and bold colours such as blue, brown, black, and grey, which effortlessly evoke the festive spirit. Whether you're heading to the office during Diwali or embarking on a journey, Kurtis allow you to stay comfortable while exuding sophistication. For a chic Diwali look, consider options like our night blue printed straight kurti or the green printed rayon straight kurti. Pair them with jeans or straight pants to achieve a refined and elegant appearance that perfectly captures the essence of the festival.
2. Kurta Set
Kurta Sets are a standout choice for Diwali traditional dress, offering both elegance and comfort. Raisin's velvet kurta sets add a touch of opulence that's always on-trend, making them perfect for your evening Diwali look. The velvety texture exudes luxury and complements the festive ambiance beautifully. Consider our Navy blue plain velvet embroidered kurta pant set or the black plain velvet embroidered kurta pant set to elevate your Diwali style, adding a touch of glamour to the festivities.
3. Kurta Set Dupatta
For those who want a more authentic traditional look, Kurta Set Dupattas are an excellent choice. These outfits come with matching pants and a dupatta, enhancing the overall appeal. Explore Raisin's Kurta Set Dupatta collection for stunning Diwali traditional dress options. Opt for our bottle green velvet kurta set dupatta or the light grey velvet embroidered kurta set dupatta to make a graceful and striking statement during this festival of lights. These outfits strike the perfect balance between tradition and contemporary fashion, making them ideal for celebrating Diwali in style.
4. Sharara Set
The Sharara Set is the epitome of elegance and grace, making it a perfect choice for Diwali traditional dress. It consists of a flowing, wide-legged bottom paired with a beautifully embroidered top. Our Navy blue printed embroidered sharara set exudes a regal charm with its intricate embroidery and rich colour, making it the best traditional dress for Diwali parties. On the other hand, the brown embroidered printed sharara set offers a fusion of tradition and contemporary design, allowing you to stand out with sophistication during the festival.
5. Lehenga
Last but not the least Lehenga is one of the most trending traditional dresses for Diwali! It typically comprises a flared skirt, a matching blouse, and a dupatta. Whether you opt for our Royal Blue Lehenga or cute Pink Lehenga, each and every piece allows you to express your style while honouring the festival's traditions. Their twirl-worthy skirts and exquisite craftsmanship make them a must-have choice for creating a memorable Diwali look.
Ready to dive deeper into the world of Diwali fashion? Make sure not to miss our latest collection of traditional and trendy Diwali outfits!
Choose The Perfect Jewellery To Wear With Your Diwali Traditional Dress
We're here to present you with a selection of jewellery options that can elevate and complete the overall look of your Diwali traditional dress.
Diamond Choker Necklace
Elevate your Diwali look with the timeless elegance of a Diamond Choker Necklace, perfect for adding a touch of sophistication to your traditional dress.
Diamond Pendant Necklace
A Diamond Pendant Necklace is a versatile choice, offering a subtle yet sparkling charm that beautifully complements your traditional dress for Diwali.
Pearl Necklace
Enhance your traditional dress with the classic grace of a Pearl Necklace, imparting a touch of tradition and sophistication to your Diwali ensemble.
Chandelier Earrings
Make a statement with Chandelier Earrings that dangle elegantly, adding a touch of glamour and grandeur to your traditional dress for Diwali.
Drop Earrings
Opt for Drop Earrings for a chic and contemporary appearance, bringing a blend of style and tradition to your Diwali outfit.
Summing Up!
We hope that you are truly mesmerised by the traditional outfits we've showcased for Diwali 2023. Embracing the cultural richness and elegance of these attires can make your festival of lights even more radiant. Remember, Diwali is not just about lighting lamps; it's about illuminating your spirit and style. So, as you prepare to celebrate this joyous occasion, make sure you choose a traditional dress that resonates with your personality and heritage.
For the finest collection of Diwali traditional dresses, explore Raisin's exquisite range and let your attire shine as brightly as your festive spirit. Don't miss out on the chance to make this Diwali truly special with Raisin!
Trending Blogs:
Traditional And Trendy Durga Puja Outfits| Traditional Chhath Puja Dress| Navratri Garba Dresses| Gorgeous Party Wear Gown | Traditional Dress For Ganesh Chaturthi| Types of maxi dresses | Birthday Outfit Ideas| Kitty party dress | Karwa chauth look ideas | Bollywood look to recreate | Teej dress ideas | Office wear kurta set | Valentines day dress code | Airport look for plus size

Popular Products:
Kurta Set | Kurta Set Dupatta | Blazer set for women | Crop top and skirts | Festive kurta sets |
Plus size dresses | Cocktail party dress | Anniversary party dress | Co-ord sets women | Bhumi pednekar dress | Velvet kurta set | Printed velvet suit | Banarasi brocade suit | Festive Dresses |
Sharara set | Monochrome outfit | Resort wear for women | Pleated dress |