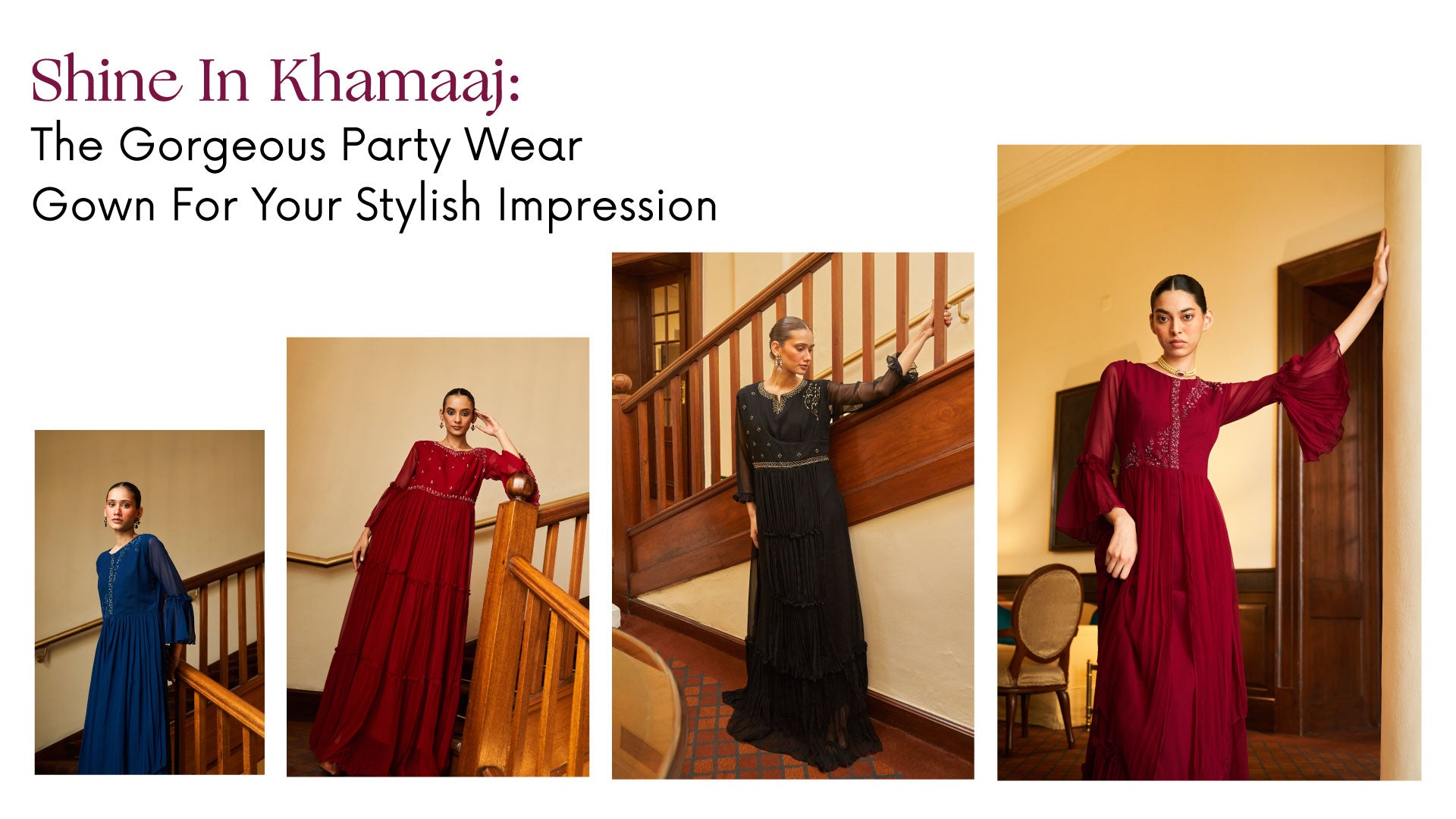 Shine In Khamaaj: The Gorgeous Party Wear Gown For Your Stylish Impression
Hey fashionistas! Have you received an invitation to a wedding event from your friend, or perhaps you're gearing up for a grand formal gala? The quest for the perfect party wear begins! You're undoubtedly seeking that impeccable blend of tradition and contemporary flair, and what better way to achieve it than with a stunning party wear gown?
Enter the world of elegance and charm as Raisin proudly unveils its latest collection, Khamaaj – a celebration of grace and style. Our Khamaj collection boasts an exquisite designer long gown for women that capture the essence of sophistication.
So, why wait? Explore our stylish gown for women and prepare to make an unforgettable statement at your next soirée. It's time to shine in Khamaj and leave a lasting impression!
Why are long gowns the ultimate choice for party wear?
Long gowns for women exude an undeniable aura of elegance and glamour, making them the ultimate choice for party wear. The flowing silhouette not only elongates the figure but also lends a sense of sophistication to any occasion.
Their versatility allows for a seamless transition from formal galas to upscale weddings, ensuring you're appropriately dressed for every event. With a touch of regal charm and the opportunity to play with various fabrics, embellishments, and designs, long gowns effortlessly capture attention and radiate a timeless allure, making them a flawless option to make a style statement at any party.
Why should you choose the Khamaj collection for your next special occasion?
While the market offers a plethora of party wear gowns, including designer long gowns and wedding gowns for women, it's the distinctiveness of our Khamaj collection that truly stands out. Here's why our collection sets itself apart when it comes to providing stylish gowns for women, including exquisite wedding gowns.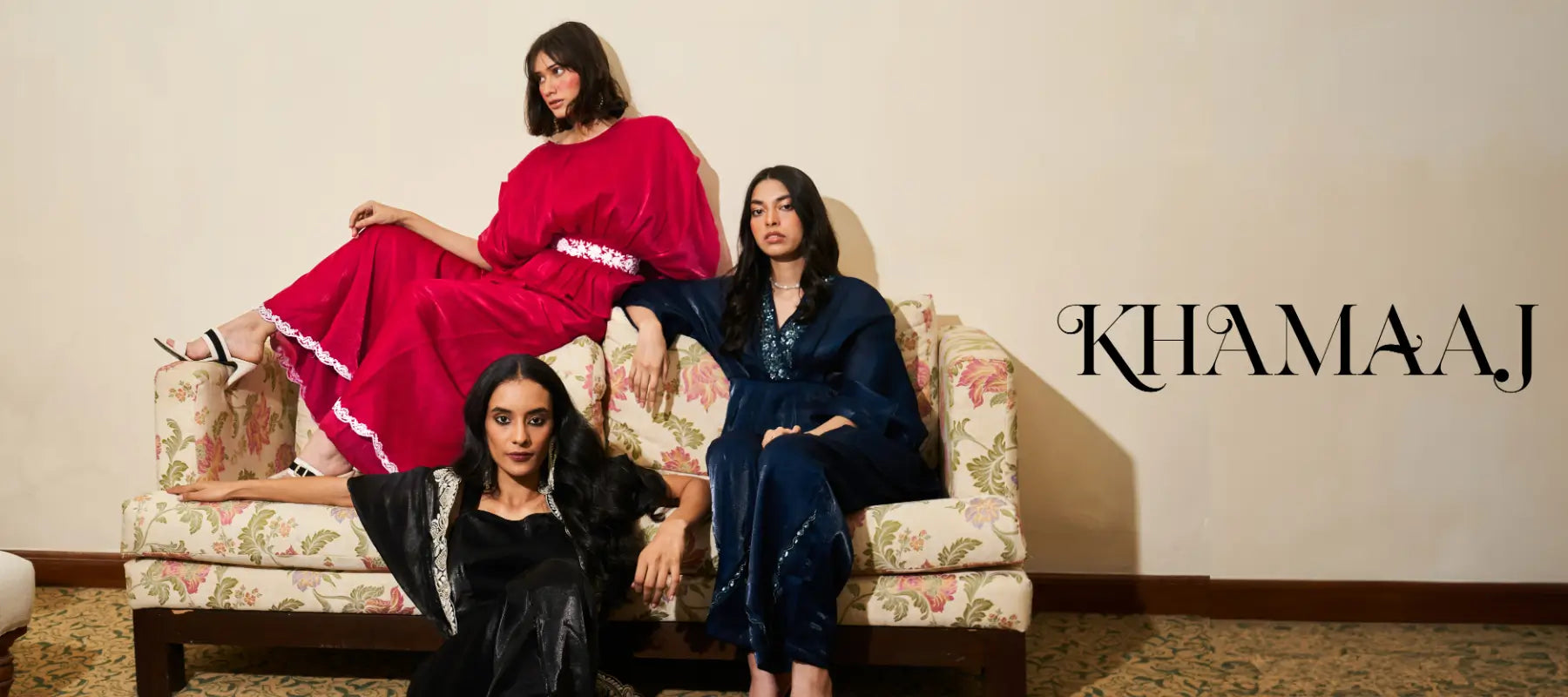 Unparalleled Design Fusion

The Khamaj collection embodies a flawless fusion of classic heritage and modern artistic expression, resulting in an impeccable blend of traditional essence and contemporary aesthetics.

Intricate Handwork Embroidery

Our each and every gown for women party wear proudly features intricate handwork embroidery, meticulously crafted on each and every piece, adding a touch of artistry and charm.

Flowing Silhouette

The flowing silhouette of our each and every designer gown for women enhances their grace and elegance, ensuring you exude an aura of sophistication and allure.

Quality Craftsmanship

Our unwavering commitment to quality remains uncompromised. Every gown in our women's party wear collection is thoughtfully designed for comfort, guaranteeing a luxurious experience that complements your style.

Versatility

Embracing the modern demand for versatility, our gowns effortlessly transition between occasions. Whether gracing a grand wedding, a formal gala, or an elegant soirée, these ensembles eliminate the hassle of finding the perfect outfit, saving you valuable time and effort.
Find the Perfect Gown for Your Wedding, Gala, Anniversary, or Cocktail Party
Are you excited? Let's explore our assortment for a range of occasions and select the one that suits you the most!
Dazzle At Wedding Event In A Stunning Magenta Pink Georgette Gown
Our Magenta pink pure georgette gown is the best choice for a wedding gown for women.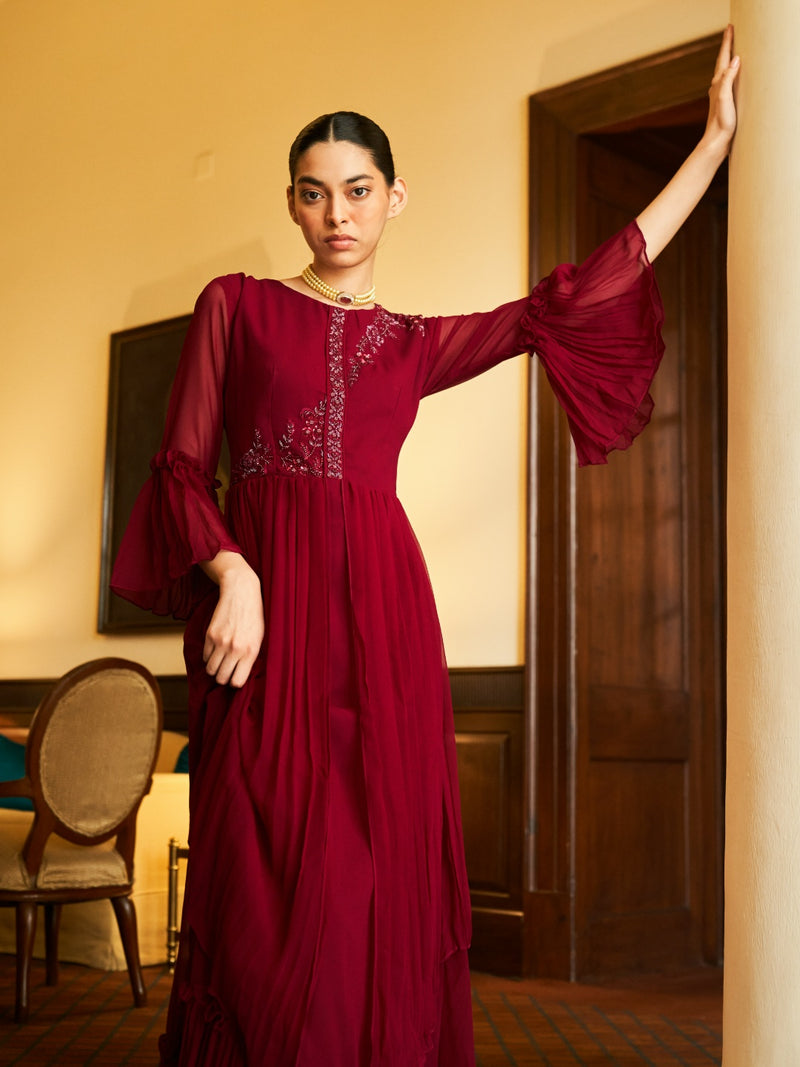 The alluring magenta pink hue imparts a captivating allure, complemented by intricate hand-embroidered designs that exude an air of elegance. Moreover, the use of pure georgette fabric ensures a comfortable experience that will last throughout the entire event.
Shine In Formal Gala Night With Black Pure Georgette Gown
Looking for a bold black gown for women to slay your next gala event? Radiate elegance at a formal gala night by donning our black pure georgette gown.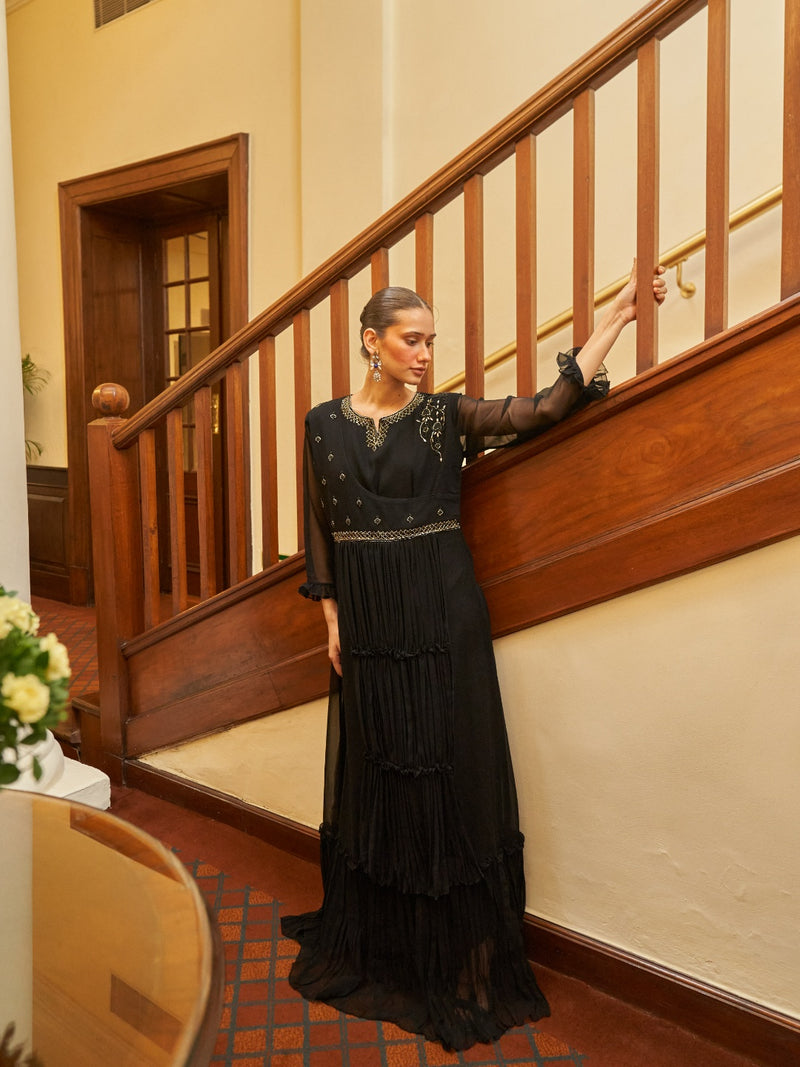 The boldness of the black hue commands attention, enhanced by exquisite hand-embroidered detailing on the body, sleeves, and hemline. Crafted from pure georgette fabric, this gown ensures both style and comfort.
Celebrate Your Anniversary In Style With Our Red Pure Georgette Gown
Elevate your anniversary evening with the timeless allure of our Red Georgette Gown. Designed to make you the queen of your special occasion!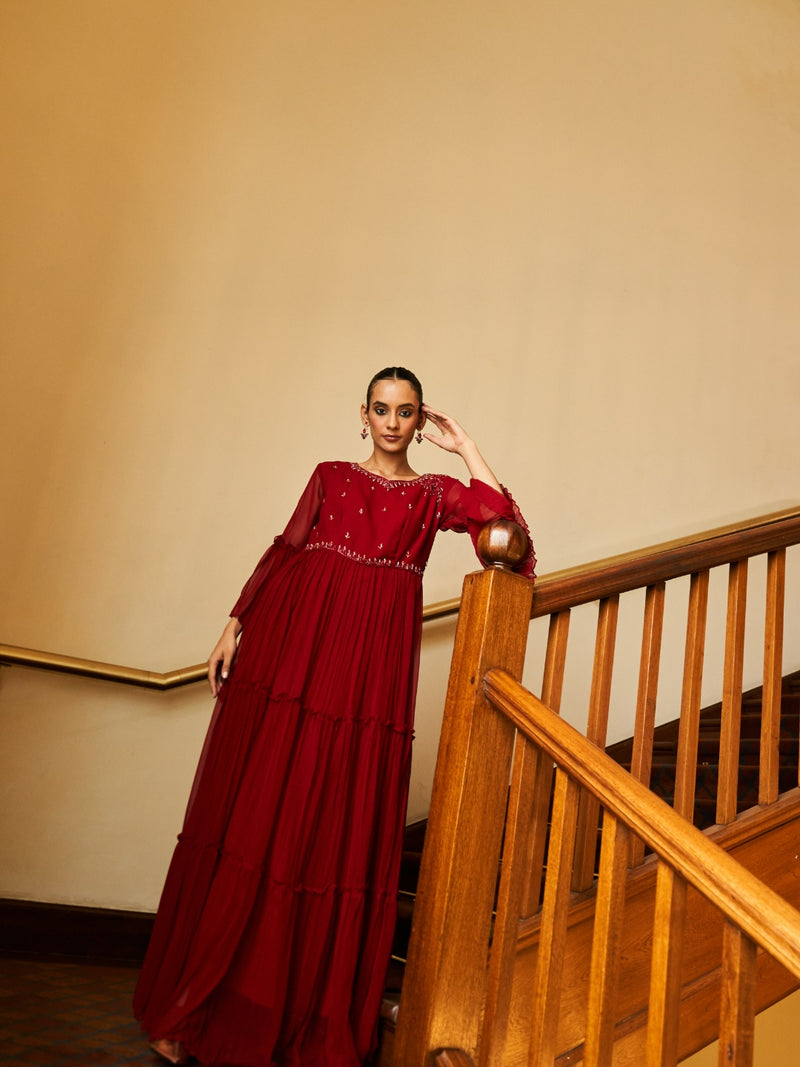 This gown is adorned with exquisite handwork embroidery that beautifully complements the romantic red hues. The flowing silhouette adds an extra touch of grace, ensuring you shine with elegance throughout your celebratory evening. Make your anniversary unforgettable with this captivating ensemble.
If you want to get more stylish outfits for your anniversary evening don't forget to check out our special Anniversary collection!
Turn Heads At The Cocktail Party With Royal Blue Gown
Searching for an elegant or designer gown for women to grace your upcoming cocktail party? Look no further than our Royal Blue Pure Georgette Gown.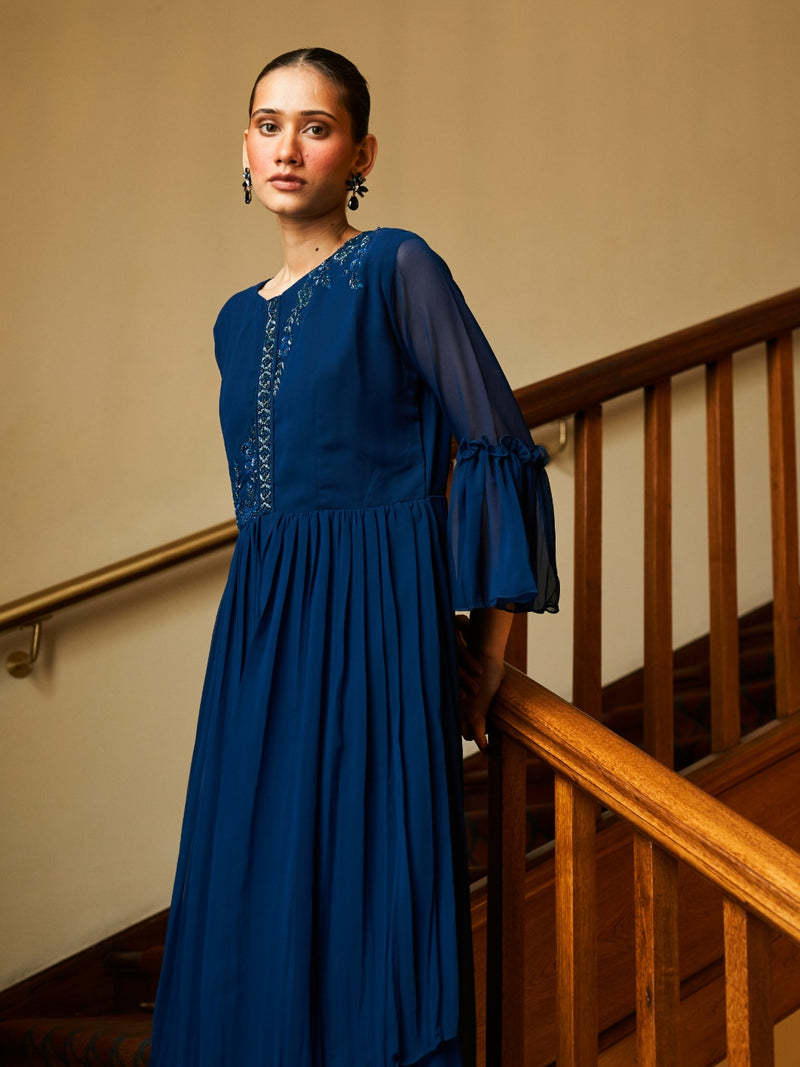 The captivating blue shades, the graceful georgette flow, and the intricate embroidery across the gown collectively render it an impeccable selection, especially tailored for such semi-formal occasions.
Furthermore, you can also explore our Cocktail Party Wear Collection for a range of stylish ethnic and contemporary outfits, perfect for making a statement at cocktail parties!
So, are you truly captivated by our designer gowns right? Hopefully you are!
What Jewellery Complement Khamaj Gowns?
Creating a wedding event ensemble with a magenta pink gown calls for elegant pieces that enhance the look. Opt for silver or gold jewellery with gemstone accents in shades like ruby or amethyst for a harmonious and radiant appeal.
For a bold appearance at a gala night with a black gown, consider statement jewellery. Chunky necklaces, sparkling earrings, and ornate bracelets in silver or gold can amplify the glamour of the ensemble, imparting a touch of extravagance.
Crafting a sweet and charming look for an anniversary celebration with a red gown requires dainty jewellery. Delicate pieces like pearl studs, a simple pendant necklace, and a slender bracelet can add a subtle touch of elegance, accentuating the romantic vibe.
When preparing for a cocktail party look with a blue gown, opt for modern and chic jewellery. Consider sleek metallic pieces, geometric earrings, and layered bracelets to infuse a contemporary flair into your ensemble, ensuring you stand out effortlessly.
How To Take Care Of Your Hand Work Embroidered Gown?
Since you've noticed that the Khamaj collection gowns feature intricate hand-embroidery, preserving their shine for the years ahead requires dedicated care. Here are some essential tips to maintain the beauty of your embroidered gown!
Proper Storage

Absolutely! While green is traditional, you can also opt for other bright colours or even experiment with fusion wear that combines modern and traditional elements.

Gentle Handling

When wearing or handling the gown, be gentle to avoid snagging or pulling the embroidery. Remove jewellery that could catch on the embroidery.

Dry Cleaning

Opt for dry-cleaning to preserve the intricate details and fabric. Inform your dry cleaner about the gown's delicate nature and handwork.

Avoid Perfumes and Lotions

Apply perfumes, lotions, and makeup before putting on your gown. These products can contain chemicals that might harm the fabric and embroidery.

Folding

If you need to fold the gown, use acid-free tissue paper to cushion the embroidery and minimise creasing. Fold along natural lines to reduce stress on the fabric.
Summing Up!
In the realm of party wear fashion, the Khamaj Collection stands as an undeniable beacon of elegance and charm. Why settle for the ordinary when you can embrace the extraordinary? With its seamless blend of tradition and contemporary aesthetics, the Khamaj Collection offers an array of stunning gowns that redefine style. From intricate handwork embroidery to flowing silhouettes, every detail has been meticulously crafted to ensure you shine with a truly remarkable impression.