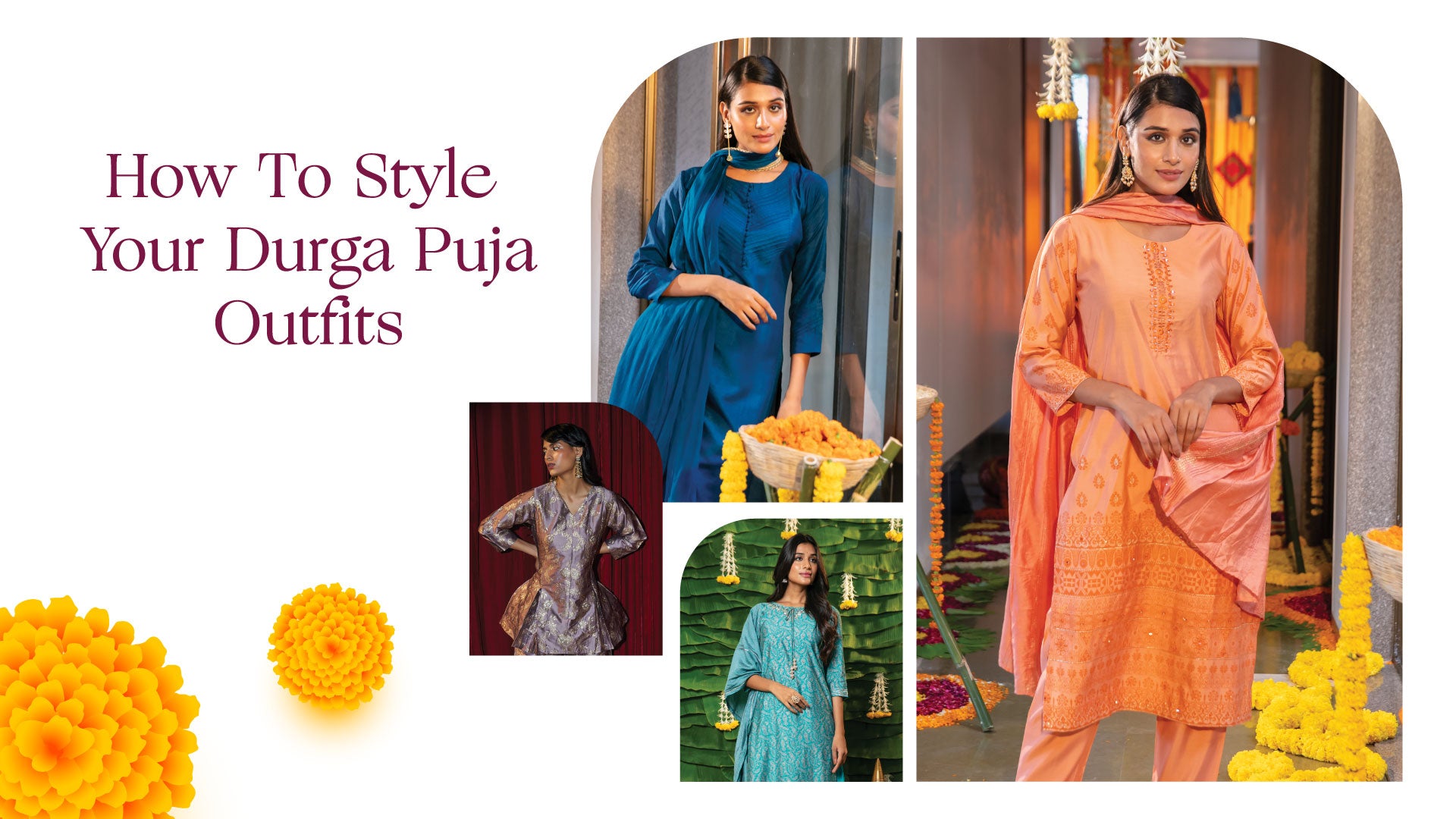 How To Style Your Durga Puja Outfits?
Durga Puja, the grand celebration of auspiciousness, brings with it not only the joy of festivities but also the excitement of adorning new outfits. The thrill of shopping for trending Durga Puja dresses is unmistakable. With Raisin already having you covered with 15 trendy and traditional Durga Puja outfit ideas, our mission now is to guide you on the art of styling. Whether you choose an ethnic kurta set with a dupatta or opt for the elegance of an Indo-Western gown, we're here to help you strike the perfect balance between tradition and contemporary style. From matching the right jewellery to each outfit to creating a stunning overall look, our tips and insights will ensure you step out in style this Durga Puja season!
Styling Tips For Traditional Durga Puja Outfits
When it comes to Durga Puja, the quest for stunning traditional outfits is on everyone's mind. From the timeless elegance of sarees to the charm of kurta sets and the grace of shalwar kameez, there's a multitude of choices to explore. But how do you elevate these traditional outfits into a trendy Durga Puja look? Keep reading, and we'll unravel the art of styling traditional Durga Puja outfits with finesse.
Play With Statement Jewellery
As Sasthi dawns, the excitement of Durga Puja reaches new heights, and selecting the perfect outfit is essential to fully immerse yourself in the festivities.
For a traditional morning look, consider the exquisite sky blue embroidered kurta sharara set. This traditional dress for Durga puja captures the essence of the occasion beautifully.
Drape Your Saree With Flair
If you've chosen a saree for the occasion, the draping style can make all the difference. Experiment with various saree draping styles like the classic Nivi, Bengali, or the modern dhoti drape. Each style adds a distinct charm to your overall appearance and can be customised to suit your comfort and style preferences.
Drape Your Dupatta Perfectly 
For kurta sets and kurta set dupattas, the way you drape the dupatta can redefine your look. You can go for a classic front drape or experiment with creative draping styles like the cape-style or shoulder drape. The choice of dupatta can also make a significant impact, so opt for one that complements or contrasts with your outfit.
Footwear Matters
Don't forget the importance of footwear in completing your traditional look. For sarees and salwar kameez, traditional juttis or mojaris can add an authentic touch. For kurta sets, you can explore options like Kolhapuri chappals or embroidered sandals that match the colours and patterns of your outfit.
Hairstyling And Makeup 
The right hairstyle and makeup can enhance your traditional look. Experiment with hairstyles like braids, bun, or loose waves, depending on your outfit and personal style. For makeup, a classic winged eyeliner and bold red lips often work wonders, but feel free to adapt your makeup to match your attire.
Accessorise With A Clutch 
A traditional clutch or potli bag can be a stylish addition to your outfit. Choose one that complements the colour palette of your attire and allows you to carry your essentials in style.
Styling Tips For Western Durga Puja Outfits
Durga Puja is that time of the year when you can infuse your Western outfits with a touch of elegance and panache. Whether you're leaning towards a flared maxi dress, a chic midi dress, a simple jeans and top ensemble, or even a glamorous gown, here are some styling tips to ensure you stand out in the crowd:
Elegant Jewellery 
Elevate your Western outfit with eye-catching jewellery. A chunky necklace, statement earrings like simple stud earrings, or a stack of bangles can transform your look from casual to stylishly festive.
Experiment With Scarves
A colourful or printed scarf can instantly enhance the visual appeal of your outfit. Drape it over your shoulders, knot it around your neck, or even use it as a belt for a trendy twist.
Footwear Matters
Choose your footwear wisely. Opt for comfortable yet stylish shoes or sandals that complement your outfit. Metallic sandals or block heels can add a touch of glamour to your look.
Belt It Up
If you're wearing a maxi dress or a loose-fitting gown, consider adding a belt to cinch your waist. This not only accentuates your figure but also adds a touch of sophistication to your ensemble.
Play With Layers
Depending on the weather, layering can be your friend. A denim jacket, a lightweight cardigan, or a stylish blazer can make your outfit more versatile and suitable for varying temperatures.
Hair Styling 
Experiment with different hairstyles that suit your outfit's neckline and overall style. Whether it's a sleek ponytail, loose waves, or a chic updo, the right hairstyle can enhance your entire appearance.
Ending Note!
In conclusion, whether you choose to embrace the timeless elegance of traditional attire or opt for the chic and contemporary appeal of western-inspired outfits, these styling tips for Durga Puja are your go-to guide to crafting a truly stunning look. With the right combination of colours, accessories, and personal flair, you can celebrate this auspicious occasion with confidence and grace, making a memorable impression that honours the spirit of Durga Puja.
Trending Blogs:
Traditional Chhath Puja Dress| Navratri Garba Dresses| Gorgeous Party Wear Gown | Traditional Dress For Ganesh Chaturthi| Types of maxi dresses | Birthday Outfit Ideas| Kitty party dress | Karwa chauth look ideas | Bollywood look to recreate | Teej dress ideas | Office wear kurta set | Valentines day dress code | Airport look for plus size

Popular Products:
Kurta Set | Kurta Set Dupatta | Blazer set for women | Crop top and skirts | Festive kurta sets | Plus size dresses | Cocktail party dress | Anniversary party dress | Co-ord sets women | Bhumi pednekar dress | Velvet kurta set | Printed velvet suit | Banarasi brocade suit | Festive Dresses | Sharara set | Monochrome outfit | Resort wear for women | Pleated dress |