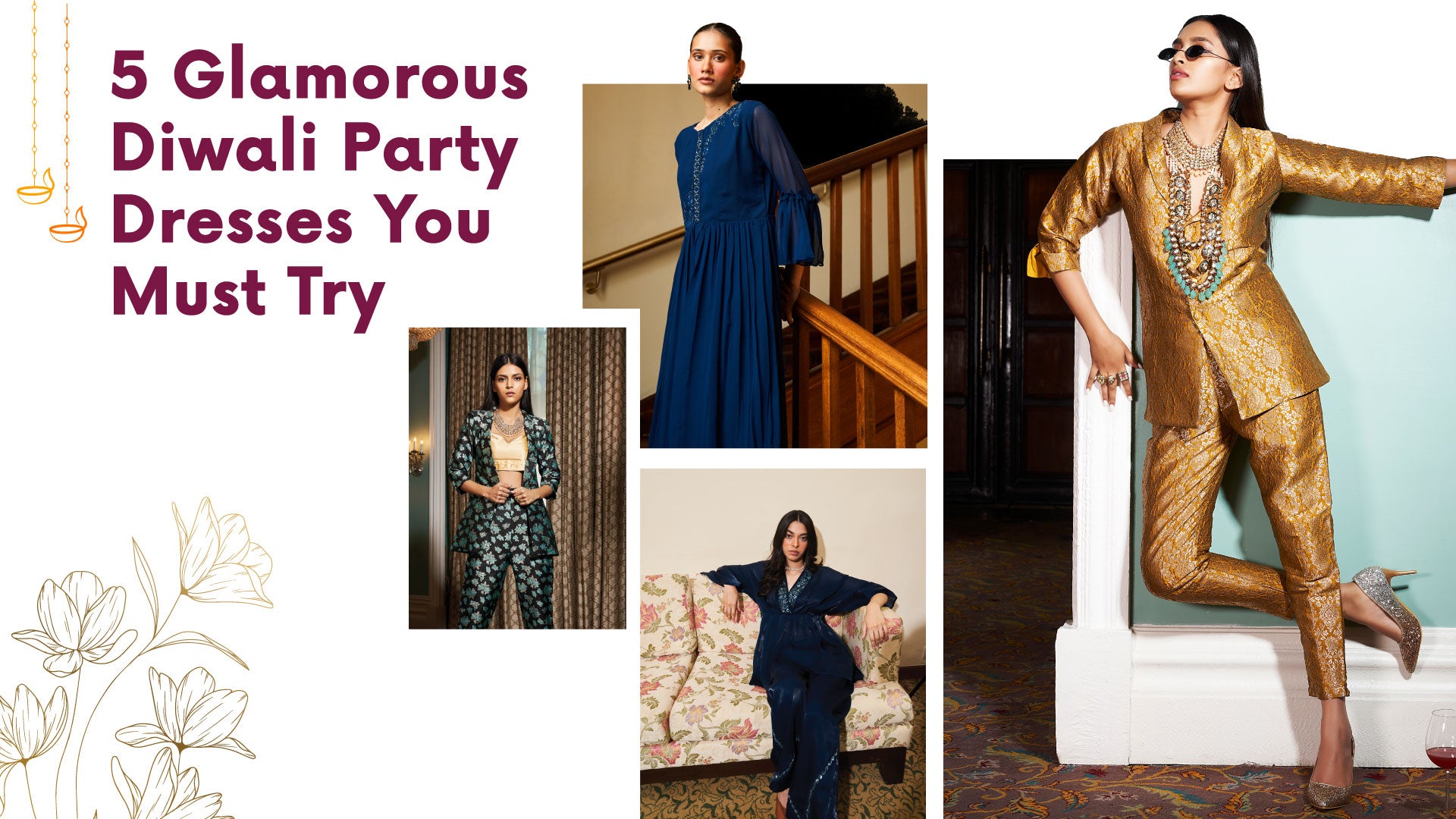 5 Glamorous Diwali Party Dresses You Must Try
As the dates on the calendar continue to fly by, the grand festive season approaches with its promise of joy and celebration. For fashion enthusiasts like you, it's a time for revamping your wardrobe for various occasions, be it the elegant ethnic dresses for Durga Puja or the perfect Navratri Garba outfit to dazzle under the festival lights.
And now, with the festival of lights, Diwali, just around the corner, excitement is undoubtedly increasing. Many of you may already have started planning for Diwali parties – whether it's an office Diwali party, a family get-together, or a lively soirée with friends. If you're in search of the ideal Diwali party dress, fret not, for Raisin is here to guide you!
In this blog, we present five stunning Diwali party dress ideas tailored to the latest fashion trends in 2023. Join us as we embark on a journey to explore your next show-stopping Diwali party look!
What Do You Wear To A Diwali Party?
When it comes to Diwali party dress ideas, few options can rival the timeless elegance of fabrics like Banarasi, brocade, georgette, velvet, and organza. Whether you're leaning towards a traditional, Western, or fusion look, choosing outfits crafted from these materials can perfectly complement the festive vibe. For those seeking ethnic Diwali party dresses, velvet kurta sets and Organza sarees make excellent choices. If you prefer Western Diwali party outfits, consider options like Banarasi brocade co-ords, Jacquard skirts and top sets, and Georgette gowns to ensure you're dressed to impress at the celebration.
So, now let's explore the five gorgeous Diwali party dress ideas by Raisin!
1. Golden Jacquard Banarasi Brocade Jacket Pant Set
If you're planning to celebrate Diwali with friends at a cafe or pub, this golden jacquard banarasi brocade jacket pant set is an excellent choice. The dazzling golden colour and intricate Jacquard Banarasi brocade make it a stunning Diwali party dress! The jacket adds a touch of sophistication to the ensemble, ensuring you shine bright at your Diwali evening gathering.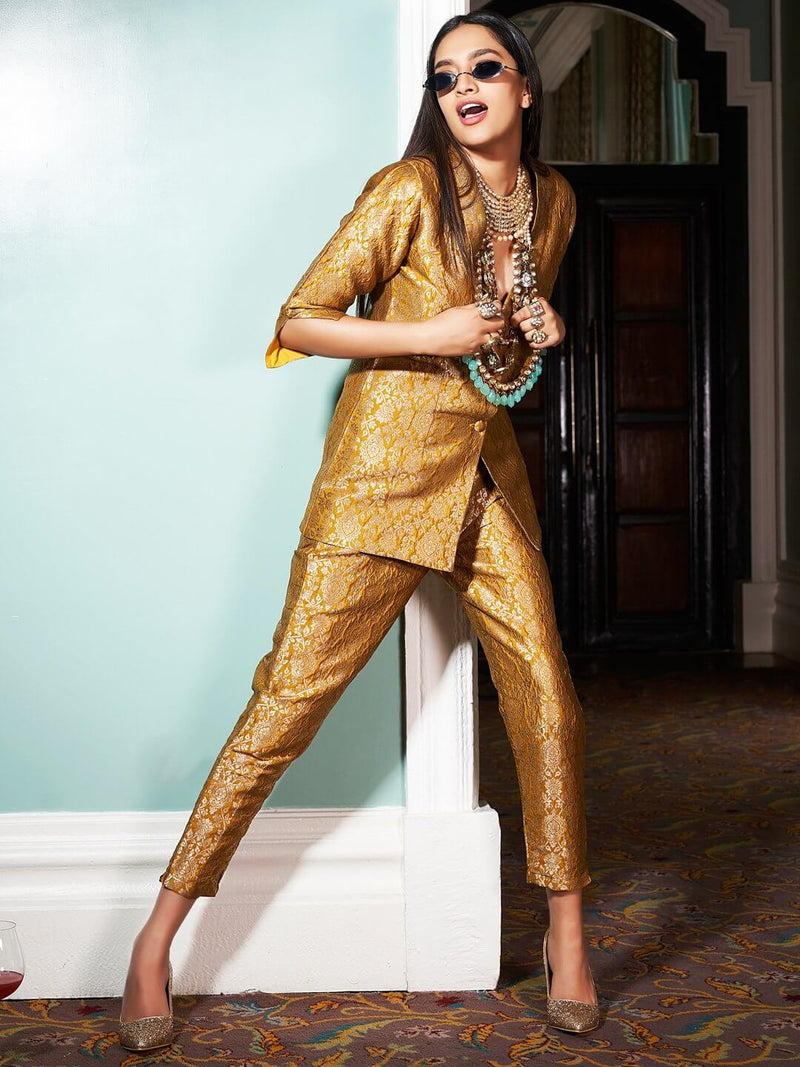 2. Blue Glass Tissue Embroidered Co Ord Set
For those hosting a Diwali party filled with fireworks and lights, this blue embroidered co-ord set in glass tissue material is the perfect choice. This co ord set is suitable for enjoying bursting crackers or watching fireworks. This Diwali party dress combines style and convenience, ensuring you have a blast at your Diwali celebration.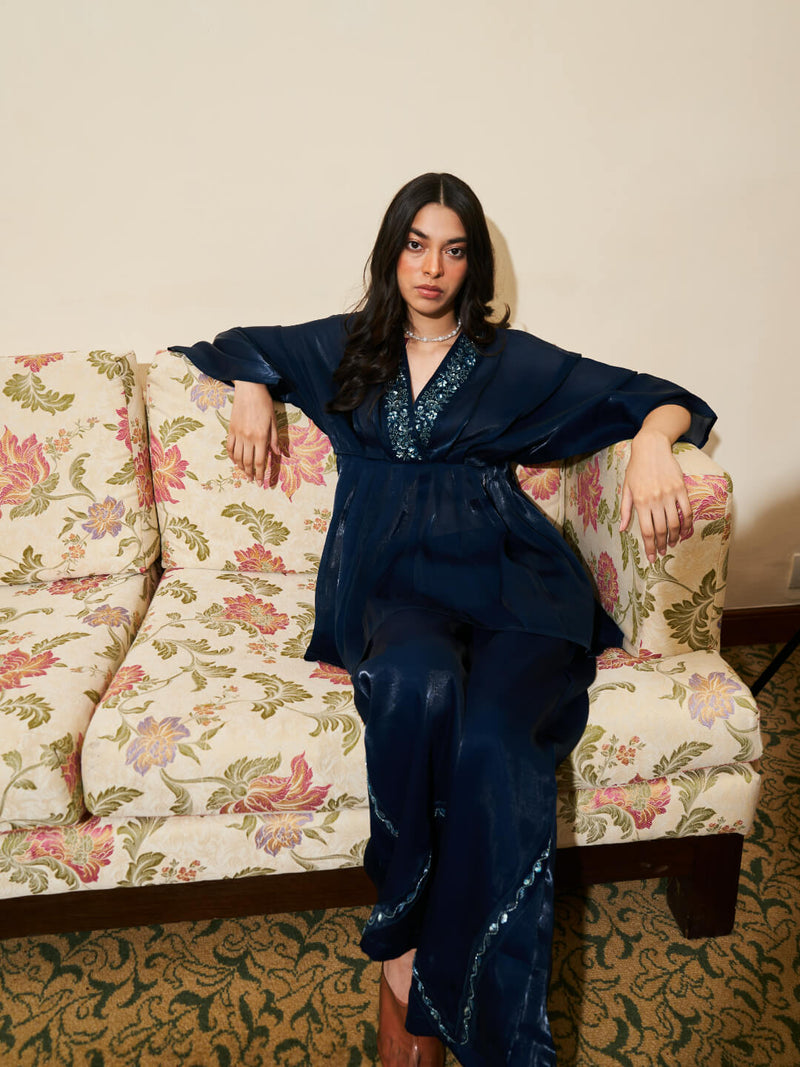 3. Royal Blue Georgette Embroidered Gown
When you need a gorgeous yet sophisticated outfit for your office Diwali party, nothing beats a gown. Our royal blue pure georgette gown is one of the best Diwali party outfits for the office. The rich royal blue colour, intricate embroidery, and flowing georgette fabric is perfect for making a statement at your office's Diwali celebration.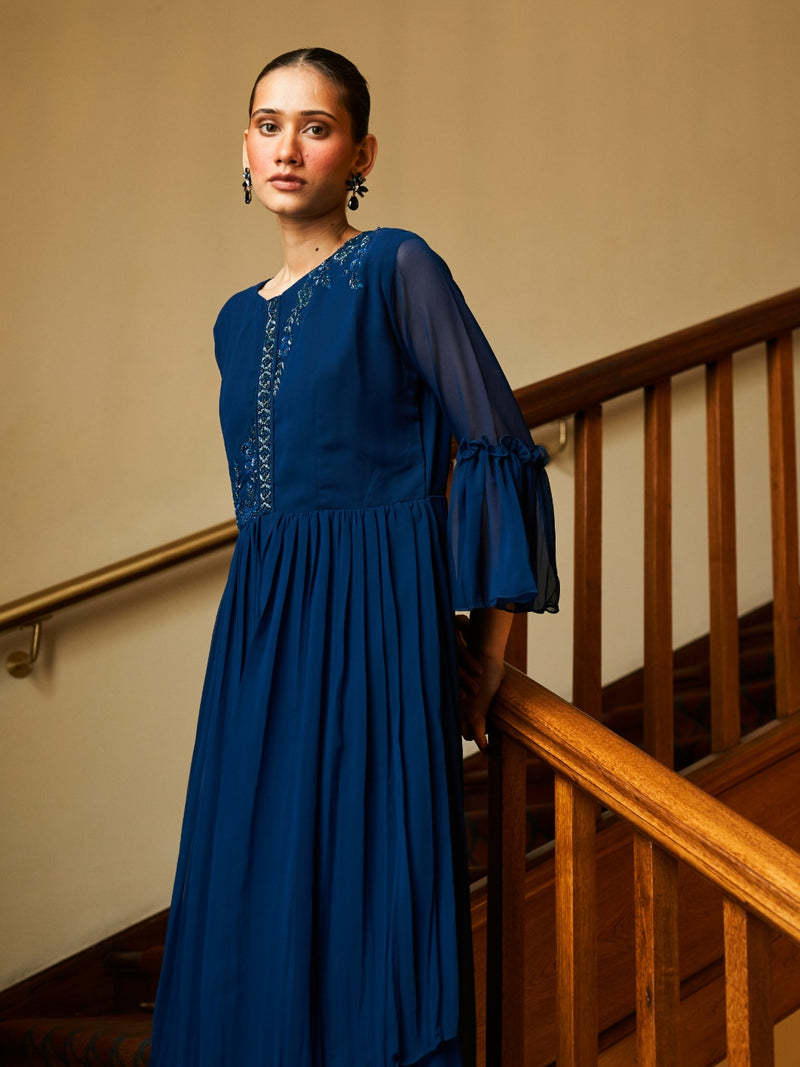 4. Grey Plain Velvet Embroidered Kurta Set
Another excellent option for an office Diwali party is this gorgeous grey plain velvet embroidered kurta set. The grey colour exudes sophistication, and the velvety opulence adds a touch of luxury to this Diwali party dress. The intricate embroidery pattern enhances the overall appeal, making it a top choice for a stylish and festive office party look.
5. Banarasi Brocade Top And Straight Pant Set
Last but not least, for family gatherings and celebrations with friends, the banarasi brocade top and straight pant set is the ultimate Diwali party dress. This ensemble combines traditional charm with contemporary style, making it a versatile choice for various Diwali festivities. The Banarasi brocade fabric adds a touch of cultural richness to your look, ensuring you stand out with elegance and grace.
Are you eager to explore even more Diwali party dress ideas? Be sure not to miss out on discovering 10 Special Diwali Outfits by Raisin!
Summing Up!
As the festival of lights approaches, it's time to embrace the spirit of Diwali with style and grace. Whether you're celebrating with friends, family, or colleagues, your outfit can truly elevate the festive experience. We hope these Diwali party dress ideas have inspired you to shine even brighter this year.
To explore our full range of special Diwali outfits and find the perfect attire for your celebration, visit Raisin today. Wishing you a joyous and luminous Diwali filled with laughter, love, and unforgettable moments!
Trending Blogs:
Styling Tips For Durga Puja Outfits| Traditional Chhath Puja Dress| Navratri Garba Dresses| Gorgeous Party Wear Gown | Traditional Dress For Ganesh Chaturthi| Types of maxi dresses | Birthday Outfit Ideas| Kitty party dress | Karwa chauth look ideas | Bollywood look to recreate | Teej dress ideas | Office wear kurta set | Valentines day dress code | Airport look for plus size

Popular Products:
Kurta Set | Kurta Set Dupatta | Blazer set for women | Crop top and skirts | Festive kurta sets |
Plus size dresses | Cocktail party dress | Anniversary party dress | Co-ord sets women | Bhumi pednekar dress | Velvet kurta set | Printed velvet suit | Banarasi brocade suit | Festive Dresses |
Sharara set | Monochrome outfit | Resort wear for women | Pleated dress |