Exploring Elegant White Traditional Outfits For Navratri Day 6
Navratri, the vibrant and enchanting festival dedicated to the goddess Durga, is celebrated with immense fervour and joy all across India. Each of the 9 days of Navratri holds a unique significance and is celebrated with distinct colours and traditions. On the Navratri Day 6, it's time to embrace the purity and elegance of white. In this blog, we will delve into the world of white Navratri outfits, exploring their significance and some stunning options for Navratri Day 6 from Raisin.
So, keep reading to explore elegant white colour Navratri outfits for women!
Before we dive into the Day 6 fashion guide, make sure to explore our exquisite blue outfits for Navratri Day 1, Charming Yellow Outfits For Navratri Day 2, Elegant green dresses for Navratri Day 3, stylish Grey outfits for Navratri Day 4 ! and Charming Orange outfit for Navratri Day 5! Don't miss out!
Which Colour To Wear On Navratri Day 6?
Navratri is not just a festival of dance and music; it's also an occasion to showcase your vibrant and culturally rich wardrobe. Each day of Navratri is associated with a specific colour, and on Navratri Day 6, it's all about the pristine charm of white. White represents purity, peace, and spirituality, making it a perfect choice for this day's celebrations.
What Is The Significance Of Wearing White Colour Dress On Navratri Day 6?
On Navratri Day 6, the colour white holds great significance as it represents the Goddess Katyayani, the sixth manifestation of Devi Durga. White symbolises purity, peace, and the divine energy associated with this form of the goddess. Katyayani is revered as a fierce warrior who emerged to annihilate the demon Mahishasura, and her white attire symbolises her divine strength and righteousness. Devotees often wear white clothing on this day as an expression of their devotion to Goddess Katyayani and to seek her blessings for courage and protection. It is believed that adorning white attire during Day 6 of Navratri helps individuals tap into the divine energy of this powerful goddess, purify their thoughts, and enhance their inner strength.
Buy Elegant White Colour Navratri Dress For Women From Raisin
We at Raisin understand the significance of wearing white on Navratri Day 6. Let's explore some elegant white traditional outfits that will make you shine during the festivities.
1. White Embroidered Kurta Set
For those who prefer a sophisticated yet casual look in the morning, this embroidered white kurta set for women is an excellent choice.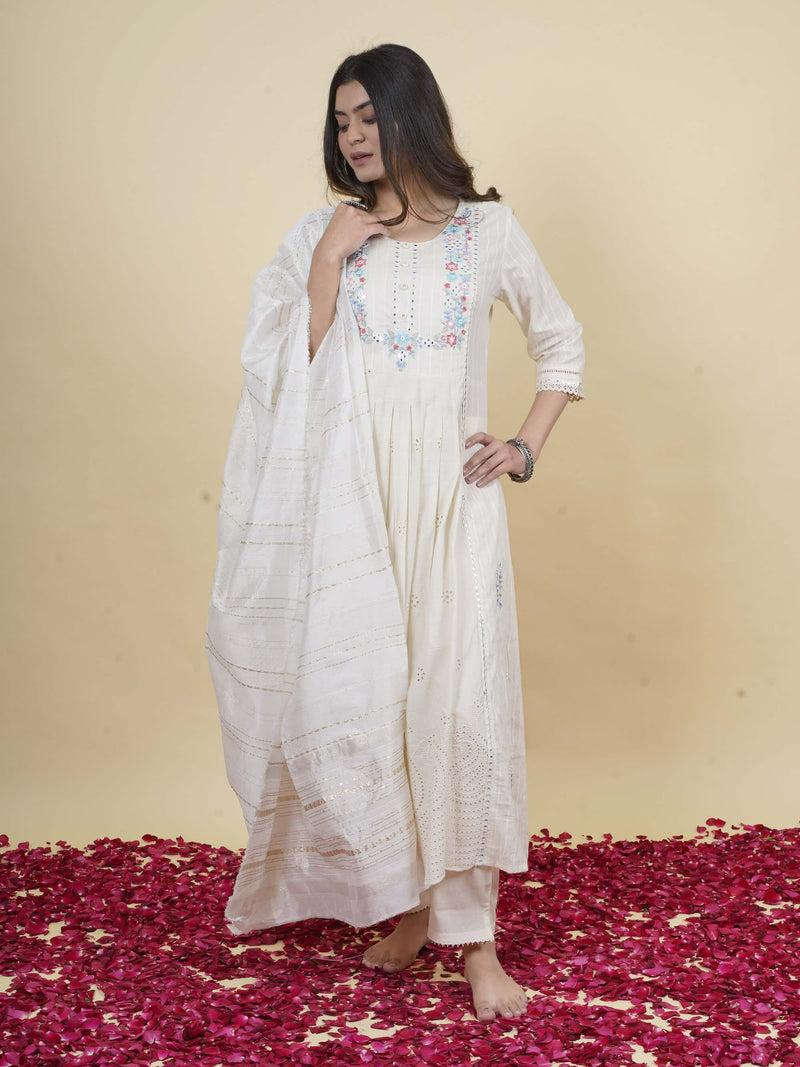 Made from comfortable cotton, the entire kurta is beautifully embroidered, adding a touch of elegance to your appearance.
2. Off White Embroidered Kurta Sharara Set
It's another stunning white colour Navratri dress for women! If you want to create a sophisticated yet modern look during the Garba dance, this off-white embroidered kurta sharara set is perfect. The delicate embroidery and graceful sharara pants make it a stunning choice. Grab this beautiful white traditional outfit now!
3. White Printed Cotton Flared Dress
For those who adore stylish white colour Navratri dresses, a white printed cotton flared dress is an excellent option. It offers both style and comfort, making it ideal for the energetic Garba and Dandiya dances. So, why wait? Buy your stylish white garba dress for Navratri Day 6!
Perfect Jewellery For Your Navratri White Traditional Dress
When donning a beautiful white traditional dress for Navratri Day 6 to pay homage to Goddess Katyayani, it's essential to choose the right jewellery that enhances your overall appearance and radiates elegance. Here are some exquisite jewellery options to make your outfit shine:
1. Pearl Necklace
Pearls are a timeless choice that pairs perfectly with white attire. A delicate pearl necklace can add a touch of sophistication to your look. Opt for a single strand or multiple layers for a more opulent feel.
2. Kundan Earrings
Kundan jewellery, known for its intricate designs and use of colourful gemstones, can be an excellent choice. Look for Kundan earrings with white stones or pearls to match your attire and bring out the regal charm.
3. Silver Bangles or Kadas
Silver jewellery complements white beautifully. Consider wearing a stack of silver bangles or kadas on your wrists. These can be engraved or adorned with intricate designs that resonate with the traditional theme of Navratri.
4. Nose Ring (Nath)
If you have a nose piercing, a subtle white stone or pearl-studded nose ring can be a stunning addition to white colour Navratri look. It symbolises traditional Indian beauty and adds a touch of authenticity to your ensemble.
5. Anklets (Payal)
Don't forget your feet! Anklets with small bells or delicate silver chains can create a melodious sound as you dance to celebrate the festival.
6. Statement Ring
A statement ring with a white gemstone or a floral design can be the perfect finishing touch for your Navratri Day 6 look. It adds a dash of glamour without overpowering your white colour Navratri dress!
Ending Note!
In conclusion, as you prepare for Navratri Day 6, keep in mind the significance of wearing white and choose an outfit that not only makes you look elegant but also connects you with the spiritual essence of the festival. With the right white Navratri dress, you can shine brightly on this special day of celebration.
Trending Blogs:
Gorgeous Party Wear Gown | Traditional Dress For Ganesh Chaturthi| Types of maxi dresses | Birthday Outfit Ideas| Kitty party dress | Karwa chauth look ideas | Bollywood look to recreate | Teej dress ideas | Office wear kurta set | Valentines day dress code | Airport look for plus size

Popular Products:
Kurta Set | Kurta Set Dupatta | Blazer set for women | Crop top and skirts | Festive kurta sets |
Plus size dresses | Cocktail party dress | Anniversary party dress | Co-ord sets women | Bhumi pednekar dress | Velvet kurta set | Printed velvet suit | Banarasi brocade suit | Festive Dresses |
Sharara set | Monochrome outfit | Resort wear for women | Pleated dress |