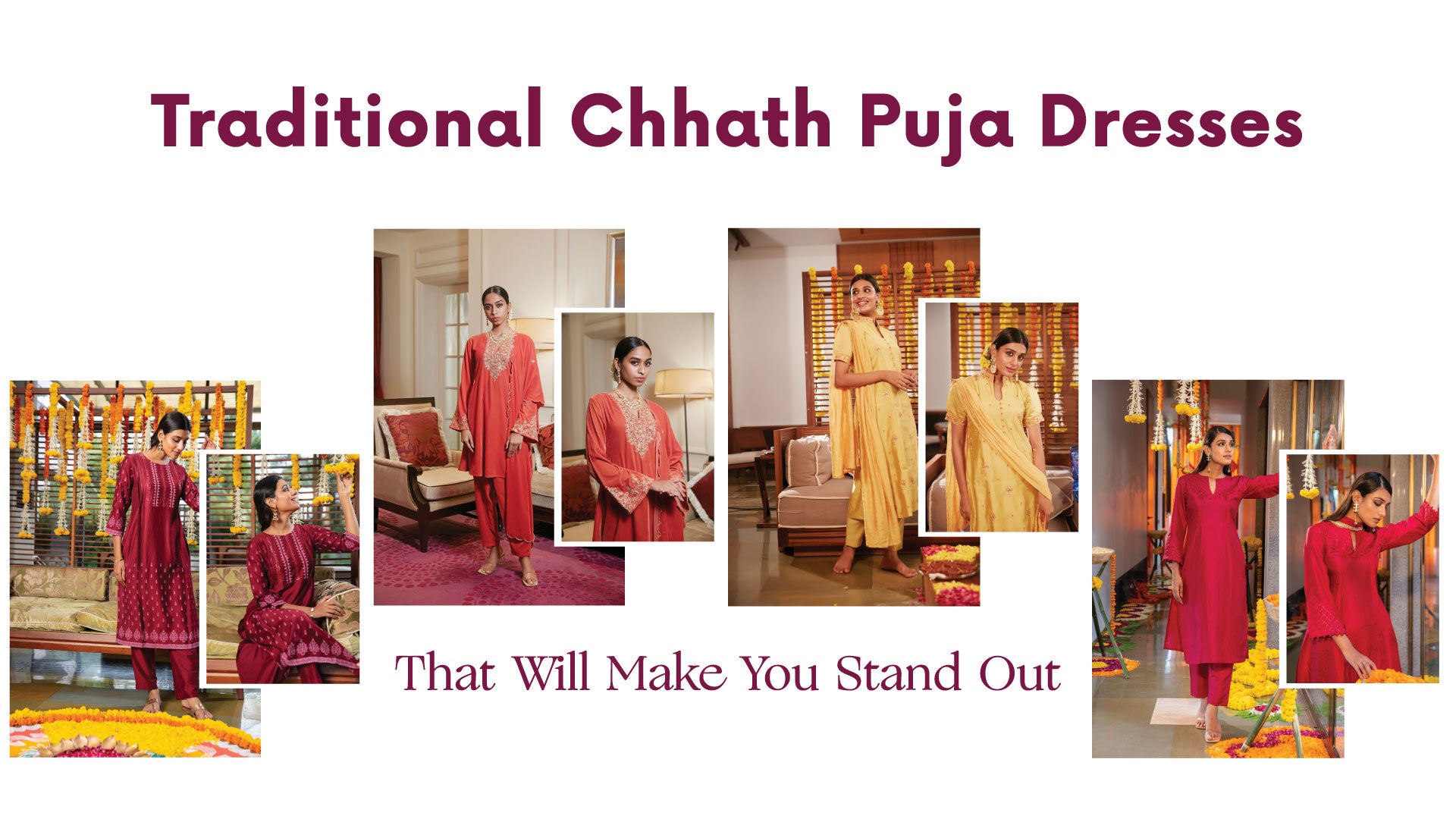 Traditional Chhath Puja Dresses That Will Make You Stand Out
Chhath Puja, a deeply revered and ancient Hindu festival, celebrates the worship of the sun god and the expression of gratitude for the blessings of life. As this auspicious occasion draws near, you find yourself contemplating something truly special to honour the vibrant atmosphere of Chhath Puja. Amidst the colourful rituals and fervent devotion, what better way to stand out than by adorning yourself in exquisite traditional Chhat Puja dresses? Raisin, your go-to destination for ethnic wear, offers a captivating array of attire that encapsulates the spirit and grandeur of this cherished festival, ensuring that you shine as bright as the sun itself on this remarkable day.
What Colour To Wear In Chhath Puja?
In Chhat Puja, the choice of colours for your Chhath puja outfit carries deep cultural and spiritual significance, as each colour holds a special place in the hearts of devotees. Here are the three main colours traditionally associated with Chhat Puja and their respective meanings:
Red: Red is a vibrant and essential colour during Chhath Puja. It symbolises purity and is believed to invoke the blessings of the sun god, Surya. Red is also associated with the fervent devotion of Chhat devotees. It represents the energy and warmth of the sun, which is central to this festival, as it is primarily a sun-worshipping ritual.

Yellow: Yellow is another prominent colour you can opt for your traditional Chhath puja dress. It signifies hope and positivity. Devotees believe that wearing yellow attire helps purify the body and soul, preparing them for the rigorous fasting and rituals of the puja.

Saffron or Orange: In the context of Chhat Puja, saffron or orange represents the deep spiritual connection between devotees and the sun god. It reflects the desire for divine blessings and a strong bond with Surya, who is considered the source of life and vitality.
What Dress To Wear In Chhath Puja?
The traditional dress for Chhat Puja, especially favoured by women, is the saree. Sarees for Chhat Puja are the quintessential choice, and they come in various vibrant colours, with red, yellow, and saffron being the most popular. However, if you prefer an alternative to sarees, you can opt for any kind of ethnic wear in these auspicious colours. Kurtis, kurta sets with dupattas, and even salwar kameez can beautifully complement the Chhat Puja vibe.
Radiant Red Traditional Outfit For Chhath Puja
Now, let's unveil Raisin's exquisite collection of traditional dresses for Chhath Puja. For a truly captivating morning Chhat Puja look, explore our premium Red mini silk printed kurta set! The silk fabric, intricate prints, and vibrant red hue come together perfectly to enhance your morning ritual attire.
Conversely, if you're planning for evening gatherings and wish to make a remarkable statement, consider our Red zari thread work kurta set. This traditional red ensemble for Chhath Puja boasts intricate thread work meticulously crafted from Russian silk, ensuring you stand out gracefully from the crowd.
Vibrant Yellow Traditional Dress For Chhath Puja
Embrace the vibrancy of Chhath Puja with our stunning collection of yellow traditional dresses. Our Yellow Silk Embroidered Kurta Set with Dupatta is a radiant choice, featuring intricate embroidery that adds a touch of elegance to your Chhath Puja attire.
For a more contemporary twist, explore our Yellow Embroidered Kurta Sharara Set, which combines tradition with modern style. This outfit exudes grace and charm, making it an excellent choice for celebrating this auspicious occasion.
In these vibrant yellow Chhath puja outfits, you'll not only look radiant but also honour the spirit and significance of Chhath Puja with your attire.
Bright Orange Traditional Dress For Chhath Puja
Embrace the radiant hues of bright orange this Chhath Puja with our exquisite traditional dress collection. For a subtle yet elegant look, consider our light orange chanderi kurta set paired with a mesmerising tie-dye dupatta. The combination exudes grace and sophistication, perfect for the auspicious occasion.
If you're aiming for a more opulent and regal appearance, our burnt orange velvet A-line kurta set with a matching dupatta is an excellent choice. This ensemble not only showcases the vibrancy of the colour but also adds a touch of luxury to your Chhath Puja attire. Discover the beauty of orange as you celebrate this sacred festival in style.
How To Style Your Traditional Chhath Puja Dress?
Styling your traditional Chhath Puja dress is all about accentuating the vibrant and cultural essence of the occasion. For sarees, drape them gracefully and choose traditional jewellery like statement necklaces, bangles, and earrings to complement the look. With kurtas or kurta sets, opt for matching or contrasting bottoms, and don't forget to add a touch of elegance with dupattas. Bindis and sindoor can add a traditional touch to your makeup. Men can style their outfits with turbans or scarves in coordinating colours. Overall, the key is to keep it traditional and reflective of the festive spirit while paying homage to the vibrant hues of Chhath Puja.
Summing Up!
The beauty of Chhat Puja lies not only in its spiritual significance but also in the rich traditions that surround it. Your choice of attire for this cherished festival plays a vital role in expressing your reverence and enthusiasm. Whether you opt for the classic elegance of a saree or the grace of a kurta set, remember that the vibrant colours of red, yellow, and saffron symbolise devotion, purity, and spirituality. At Raisin, we understand the importance of celebrating Chhath Puja in style, which is why we offer a stunning collection of traditional dresses crafted to make you stand out and shine as bright as the sun itself.
So, why wait? Explore our Chhat Puja collection today and make this festival truly unforgettable. Shop now and radiate the spirit of Chhat Puja with confidence!
Trending Blogs:
Durga Puja Outfit Ideas| Navratri Garba Dresses| Gorgeous Party Wear Gown | Traditional Dress For Ganesh Chaturthi| Types of maxi dresses | Birthday Outfit Ideas| Kitty party dress | Karwa chauth look ideas | Bollywood look to recreate | Teej dress ideas | Office wear kurta set | Valentines day dress code | Airport look for plus size

Popular Products:
Kurta Set | Kurta Set Dupatta | Blazer set for women | Crop top and skirts | Festive kurta sets |
Plus size dresses | Cocktail party dress | Anniversary party dress | Co-ord sets women | Bhumi pednekar dress | Velvet kurta set | Printed velvet suit | Banarasi brocade suit | Festive Dresses |
Sharara set | Monochrome outfit | Resort wear for women | Pleated dress |