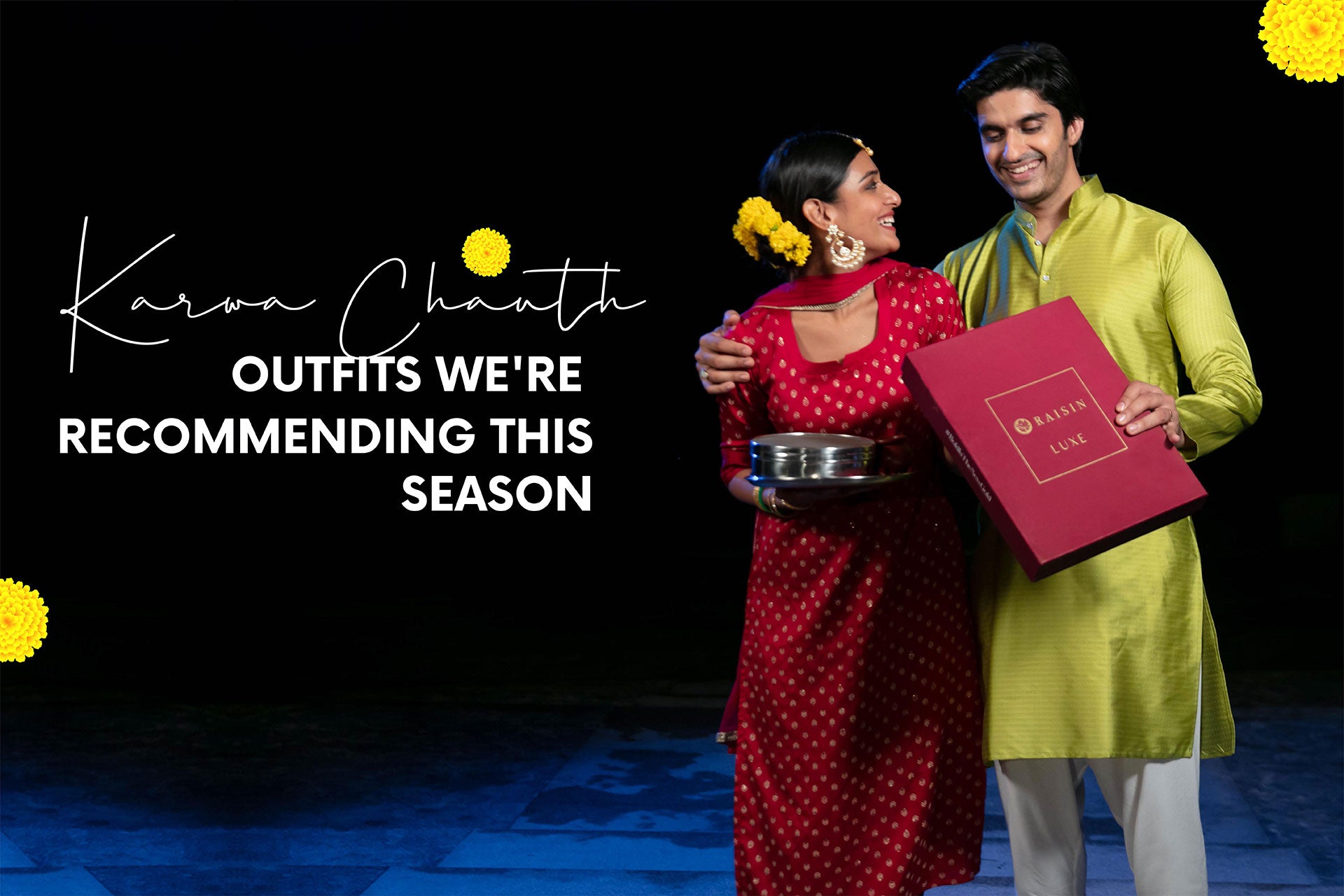 The 3 Karwa Chauth Outfits We're Recommending This Season
Karwa Chauth is probably one of the most awaited festivals for a newly married woman. Well, not because of the fast, but to celebrate the spirit of getting married by observing fast for a festival which demonstrates the beautiful bond of marriage.
In this blog you will recommend,
3 dresses from the Raisin's latest collection that you could wear on the day of karwa chauth
Let us get started.
Are you ready for your first Karwa Chauth dress up?
If you are someone who has just got married then the first karwa chauth dress up would be a big thing for you as the first festivals after marriages are always more special. Your karwa chauth look should represent your newly started life of marriage.

For your first karwa chauth dress up we recommend you trying an outfit like this -

This mustard embroidered velvet kurta pant set with dupatta is the perfect match for a newly wed woman. The colour of the outfit is bright and compliments the young energy. The velvet cloth makes it look expensive and chic.
Looking for a Karwa Chauth Special Dress?
For a woman who has the experience of keeping fast, a suit for karwa chauth would be perfect.

Even though she has the experience but the excitement of doing everything with equal enthusiasm all day needs a reward and the reward could be the pleasure of wearing new clothes like this -
The Navy blue colour is the trendiest colour this season. While you will be observing the fast in the most traditional way, you could be excited to get ready in the evening in the most trendiest way with this navy blue plain embroidered velvet kurta pant set by Raisin.
Trending Karwa Chauth Dress Ideas
Karwa chauth special suits are not restricted to only the newly wedded woman or the ones who just have a few years of experience. The woman who has been observing fasts for years at the end now, maybe a decade or two, could also find inspiration on karwa chauth outfits through this blog.

This dress by Raisin -
Would be perfect for a well-experienced woman. To keep the spirits high even after years of observing this fast, one can be excited about wearing a trendy pants set with dupatta in the most loved violet colour.

When the festivals require you to dress up in pretty attires like these, who wouldn't want to perform them year after year, right?

All of these suits for karwa chauth, and many more could be yours. Just check out Raisin's official website, www.raisinglobal.com and see our latest collection HEER. You could also go and check out our vast collection of contemporary and western outfits.

Karwa chauth is the festival of celebrating the power of a woman to bring back her husband's life, and to celebrate this festival with you, we present the link of the most recent collection of Raisin.
Bonus Outfit for you Ladies!
A bonus recommendation from this collection -
Check out this oh-so-karwa-chauth-appropriate-outfit right now!
& Wishing You A Very Happy Karwa Chauth!