Pretty In Pink: Navratri Day 9 Outfit Ideas
So, it's the final day of Navratri! After eight days of vibrant and colourful celebrations, we've arrived at Navratri Day 9. If you've been following the tradition of wearing a different colour each day, you might be wondering, "Which colour to wear on the 9th day of Navratri?" Well, the colour of choice for the 9th day is pink. In this blog , we'll explore the significance of wearing pink on Navratri Day 9 and share some stunning Navratri outfit ideas to help you look absolutely gorgeous as you conclude this auspicious festival.
What Is The Significance Of Wearing Pink On Navratri Day 9?
Pink is a colour that represents love, beauty, and positivity. On the 9th day of Navratri, devotees celebrate and worship Goddess Siddhidatri, who is believed to bestow blessings of knowledge, wisdom, and ultimate bliss. Pink is associated with the heart chakra, symbolising compassion and purity, making it a perfect choice to seek the Goddess's blessings on this day. Wearing pink also signifies a fresh start and the hope of a brighter tomorrow.
Exploring Pink Traditional Dress For A Stunning 9th Day Navratri Look
Now, let's dive into some fabulous pink outfit ideas to make your Navratri Day 9 look absolutely breathtaking.
1. Light Pink Chanderi Embroidered Kurta Se
This elegant chanderi embroidered kurta set is perfect for a daytime Navratri look. The delicate embroidery adds a touch of sophistication, making it an ideal choice for those who prefer understated elegance.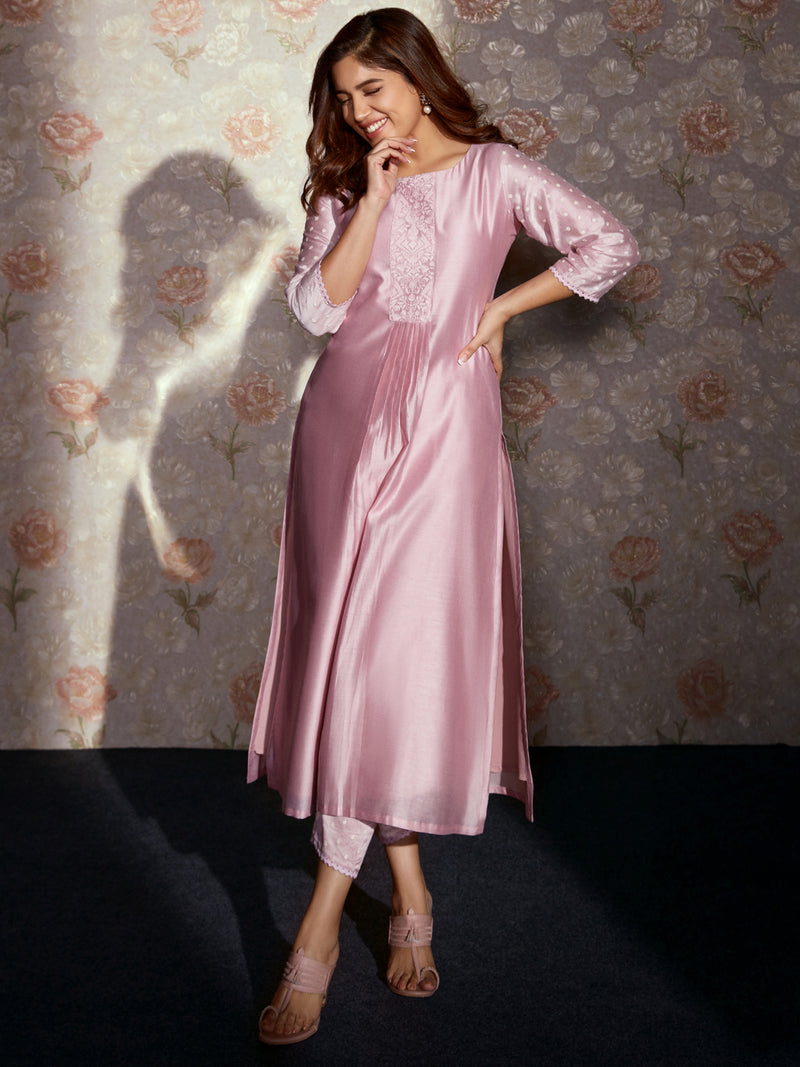 2. Pink Printed Jacquard Flared Skirt Top
For the young and trendy, a stylish pink skirt top made from jacquard fabric is a fantastic choice. The flared skirt adds a playful twist to your Navratri attire, ensuring you stand out in the crowd.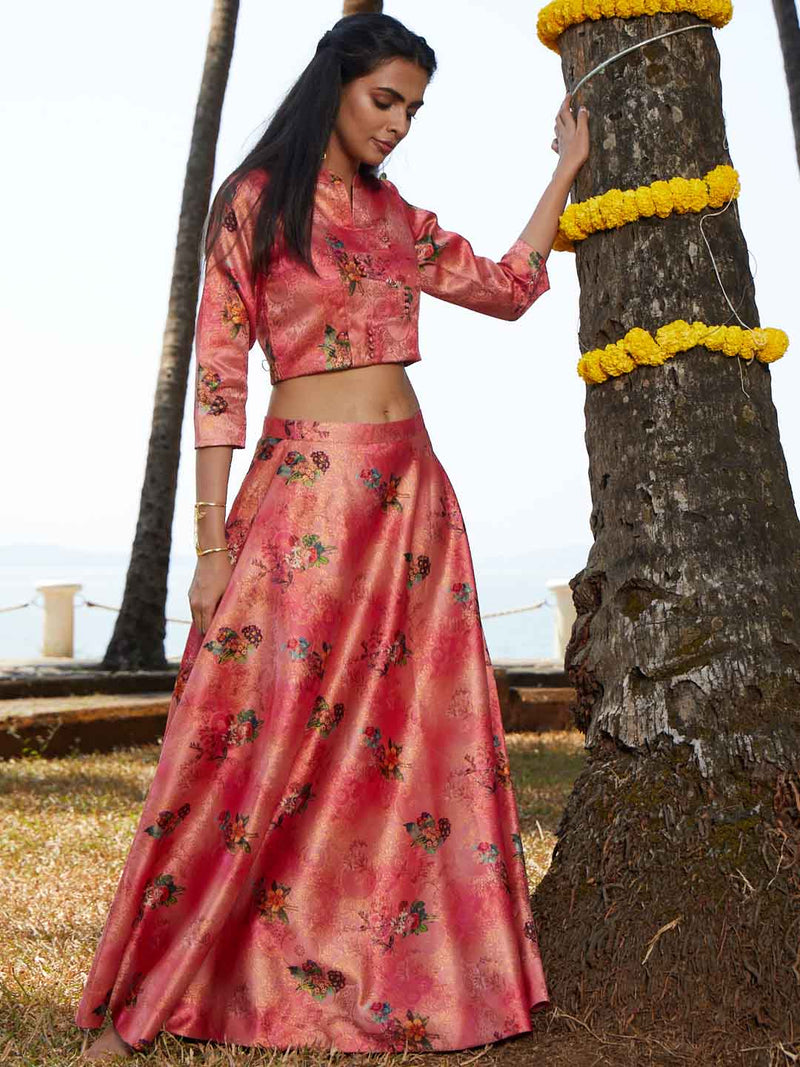 3. Pink And Brown Organza Chaniya Choli
If you're looking for the perfect last-day Garba dress, this pink and brown organza chaniya choli is a showstopper. The vibrant colours and intricate design make it a traditional yet fashionable option for the grand finale.
4. Pink A-Line Anarkali Kurta Set with Dupatta
Planning an outing with friends and family after the Navratri celebrations? This pink A-line anarkali kurta set with a dupatta is just what you need. It's comfortable, stylish, and perfect for social gatherings.
5. Dark Pink Velvet Kurta Pant Set
For those looking to make a grand entrance on Navratri Day 9's evening celebrations, a Dark Pink Velvet Kurta Pant Set with Dupatta is the epitome of sophistication and style. Velvet exudes luxury and elegance, making it a perfect choice for a special evening. The dark pink hue symbolises love and grace, aligning perfectly with the essence of the occasion. What truly sets this kurta apart is its intricate embroidery.
What Jewellery Goes Best With Your Pink Dress For Navratri Day 9?
Accessorising your pink Navratri outfit is essential to complete the look. Here are some jewellery options to enhance your Day 9 appearance:
1. Silver or Gold Earrings
Both silver and gold earrings work well with pink dresses. If you want a classic and timeless look, go for simple studs or small hoops. For a more dramatic effect, consider dangly or statement earrings in silver or gold.
2. Pearl Jewellery
Pearls have a soft, elegant, and timeless appeal that pairs beautifully with pink. A delicate pearl necklace or a set of pearl studs can add a touch of sophistication to your outfit.
3. Gemstone Jewellery
Depending on the shade of pink, you can choose gemstone jewellery that complements it. For light pink dresses, consider pink sapphire or morganite jewellery. For darker shades, amethyst or even emerald can provide a striking contrast.
Ending Note!
In conclusion, Navratri Day 9 is a day to radiate love, positivity, and beauty, and what better way to do it than by wearing the enchanting colour pink? Whether you prefer a traditional chaniya choli, a trendy skirt top, or a comfortable kurta set, there's a perfect pink outfit waiting for you to make this Navratri memorable. Don't forget to accessorise with stunning jewellery to complete your look.
Happy Navratri, and may Goddess Siddhidatri bless you with all the knowledge and wisdom you seek!
Trending Blogs:
Gorgeous Party Wear Gown | Traditional Dress For Ganesh Chaturthi| Types of maxi dresses | Birthday Outfit Ideas| Kitty party dress | Karwa chauth look ideas | Bollywood look to recreate | Teej dress ideas | Office wear kurta set | Valentines day dress code | Airport look for plus size

Popular Products:
Kurta Set | Kurta Set Dupatta | Blazer set for women | Crop top and skirts | Festive kurta sets |
Plus size dresses | Cocktail party dress | Anniversary party dress | Co-ord sets women | Bhumi pednekar dress | Velvet kurta set | Printed velvet suit | Banarasi brocade suit | Festive Dresses |
Sharara set | Monochrome outfit | Resort wear for women | Pleated dress |