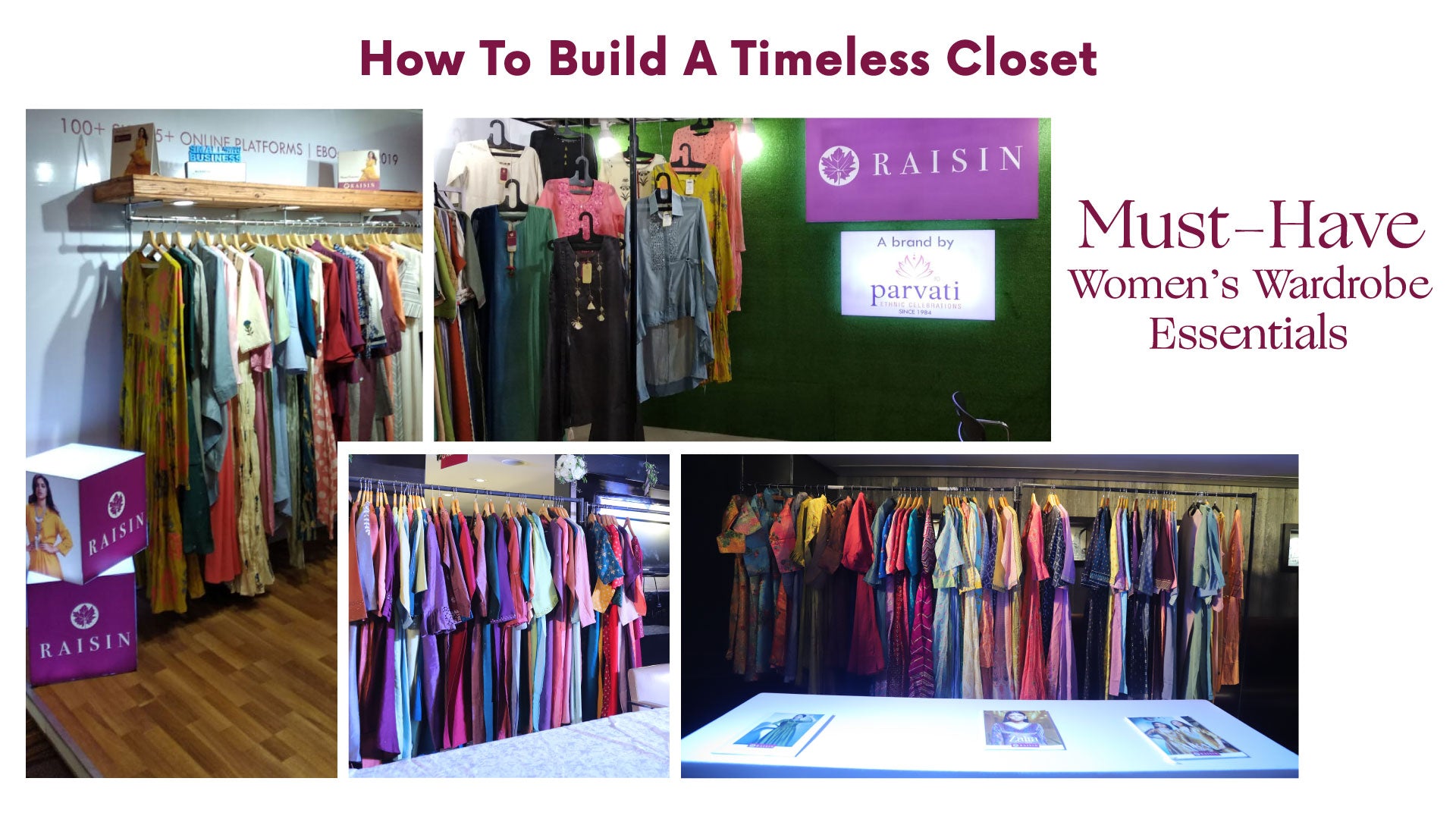 How To Build A Timeless Closet: Must-Have Women's Wardrobe Essentials
Are you tired of standing in front of your closet, filled with trendy but ultimately fleeting fashion pieces, and thinking, "I have nothing to wear"? We've all been there, but fear not - it's time to transform your wardrobe into a curated collection of timeless essentials that will effortlessly take you from season to season with style and sophistication.
Whether you're aiming to perfect your ethnic wardrobe, embrace the classics of western fashion, or curate the ultimate capsule wardrobe, you're in the right place. Raisin has got you covered, and in this blog, we'll guide you through the women's basic wardrobe essentials that every woman should have in her closet for a chic, versatile, and enduring wardrobe.
What Are Women's Basic Wardrobe Essentials?
Every woman's closet should boast a foundation of essential items that serve as the building blocks of her style. The key pieces of female wardrobe essentials, including
a crisp white button-down shirt

a well-fitting pair of jeans

a classic blazer

versatile black trousers

a little black dress

comfortable flats

a timeless handbag
Mixing and matching these wardrobe dresses can create countless stylish outfits for any occasion, making them indispensable for any fashion-conscious woman. Whether you're dressing up for a special event or opting for a casual, everyday look, these women's wardrobe essentials are your go-to pieces that will never go out of style.
10 Must Have Wardrobe Dresses For Every Occasion
When it comes to building a versatile capsule wardrobe women, having the right dresses is essential. Whether it's a casual brunch, a formal dinner, or a special event, having a well-rounded collection of dresses can save you time and ensure you're dressed appropriately for any occasion. From timeless classics to trendy must-haves, these dresses are the key to effortlessly elevating your style and making a statement with your fashion choices.
1. Kurtis

When it comes to women's wardrobe essentials, kurtis are the epitome of comfort and style. Among a wide variety and types of ethnic wear, kurtis can be dressed up or down and are perfect for casual outings, office wear, or even festive occasions. With a wide variety of patterns, colors, and fabrics, they are a must-have to achieve that perfect blend of comfort and elegance in your ethnic wardrobe.

2. Kurta Sets

Among different types of ethnic wear for ladies, Kurta sets are a complete package for those looking for a traditional and timeless look. Comprising a long kurta paired with churidar, palazzo pants, or a skirt, they offer a balanced mix of ethnicity and style. Whether it's a family gathering, religious ceremony, or an ethnic-themed event, kurta sets are your go-to choice.

3. Tops

Tops are the foundation of your female wardrobe essential collection. These versatile pieces come in various styles, such as tank tops, t-shirts, blouses, and more, suitable for both casual and semi-formal occasions. Pair them with jeans, skirts, or trousers for an effortlessly chic look.

4. Shirts

A classic shirt is one of the most significant women's wardrobe essentials. Whether you prefer a crisp white button-down or a stylish printed blouse, shirts can be dressed up for work or worn casually for a polished look. They're incredibly versatile and can be combined with various bottom-wear options.

5. Pants

A well-fitting pair of pants is the backbone of women's wardrobe essentials. Opt for classic black or neutral-colored trousers, as they can be dressed up with a blouse or dressed down with a t-shirt, making them suitable for work, formal events, and everyday wear.

6. Maxi Dress

Maxi dresses are a staple for achieving a comfortable and stylish look. They come in a range of designs and fabrics, making them perfect for a casual day out, a beach vacation, or even a summer party. Their floor-length style adds a touch of elegance to your wardrobe dresses.

7. Midi Dress

Midi dresses are a sweet spot between the mini and maxi, offering versatility and a touch of sophistication. Suitable for both formal and casual events, these dresses can be paired with heels or flats, making them a versatile choice for any occasion.

8. Skirt Set

A crop top and skirt set brings out the feminine charm in a capsule wardrobe women. It's perfect for those times when you want to embrace a more elegant and playful look. Mix and match tops and skirts to create various outfits for special gatherings and festive celebrations.

9. Blazers

A well-tailored blazer adds a touch of professionalism and structure to your wardrobe. Pair it with trousers, skirts, or jeans for a business meeting, job interview, or a polished evening look. A blazer is the epitome of versatility and elegance in your wardrobe dresses.

10. Co Ord Set

Co ord sets take the guesswork out of matching your outfit. These matching top and bottom combinations are designed to create a cohesive and stylish look effortlessly. They're perfect for when you want to make a statement and ensure that every element of your outfit harmonizes seamlessly.

At Raisin, we offer a diverse range of co ord sets, from banarasi brocade Co ord sets and the comfort of printed casual co ords. Make sure to include at least one in your essential wardrobe dresses collection for an instant, fashionable outfit.
What Should Be In A Woman's Capsule Wardrobe?
A capsule wardrobe is a brilliant concept that simplifies your closet by curating a collection of essential pieces that seamlessly mix and match, ensuring you always have something to wear while minimizing clutter. Here are the essential items that should be in capsule wardrobe women:
Neutral Colored Tops

Classic White Button-Down Shirt

Tailored Trousers

Little Black Dress

Jeans

Blazer

Trench Coat

Comfortable Flats

Heels

Versatile Bag

Statement Accessory

Sneakers
A well-curated capsule wardrobe women not only simplifies your daily choices but also ensures that you always look chic and put-together.
How To Maintain Your Capsule Wardrobe?
Maintaining a capsule wardrobe women is not just about having the right items; it's about caring for them and ensuring your closet remains a well-oiled, stylish machine. Here are some key considerations to keep women's wardrobe essentials in top shape:
Wardrobe Essentials Care: Quality Over Quantity
In a capsule wardrobe, quality reigns supreme. Invest in well-made pieces that can withstand the test of time. Opt for fabrics and materials that not only look good but also age gracefully. Regularly clean and care for your clothes to extend their lifespan, from gentle laundering to storing them in breathable bags.
Seasonal Rotation And Organization
Adapting your capsule wardrobe to the seasons is vital for staying fashionable year-round. Store off-season items in a separate space or under-the-bed storage to declutter your closet. When a new season approaches, swap out your wardrobe dresses strategically. Rotate warm-weather favorites for cold-weather essentials and vice versa. This keeps your closet versatile and ensures you're prepared for any weather.
Sustainable Fashion Practices
Incorporate sustainable fashion practices into your capsule wardrobe maintenance. Repurpose, upcycle, or donate items you no longer need. When expanding your wardrobe dresses, prioritize eco-friendly and ethically produced clothing. Embrace the philosophy of "buy less, choose well" to minimize your impact on the environment and support responsible fashion brands.
With these tips, you'll not only maintain the functionality and elegance of your capsule wardrobe but also contribute to a more sustainable and environmentally friendly approach to fashion.
Summing Up!
So, there you have it! We've walked you through the art of building a versatile and timeless wardrobe for women that caters to every occasion and every season. With the right wardrobe essentials, you can confidently step out with style, no matter the event.
And when you have Raisin at your side, your fashion journey becomes a breeze, offering an array of choices that perfectly complement your personal style. It's time to embrace the simplicity and elegance of a thoughtfully curated wardrobe, leaving behind the chaos of cluttered closets.
So go ahead, build your perfect capsule wardrobe and let your style shine through every season, effortlessly.
Trending Blogs:
Ethnic Wear Trends
|
Office Party Dress Ideas
|
Festive Sleeveless Dress
|
Diwali Party Outfits
|
Traditional Diwali Dress For 2023
|
Bhai Dooj Gift Ideas For Sister
|
Styling Tips For Durga Puja Outfits
|
Traditional Chhath Puja Dress
|
Navratri Garba Dresses
|
Gorgeous Party Wear Gown
|
Traditional Dress For Ganesh Chaturthi
|
Types of maxi dresses
|
Birthday Outfit Ideas
|
Kitty party dress
|
Karwa chauth look ideas
|
Bollywood look to recreate
|
Teej dress ideas
|
Office wear kurta set
|
Valentines day dress code
|
Airport look for plus size
Popular Products:
Kurta Set
|
Kurta Set Dupatta
|
Blazer set for women
|
Crop top and skirts
|
Festive kurta sets
|
Plus size dresses
|
Cocktail party dress
|
Anniversary party dress
|
Co-ord sets women
|
Bhumi pednekar dress
|
Velvet kurta set
|
Printed velvet suit
|
Banarasi brocade suit
|
Festive Dresses
|
Sharara set
|
Monochrome outfit
|
Resort wear for women
|
Pleated dress
|