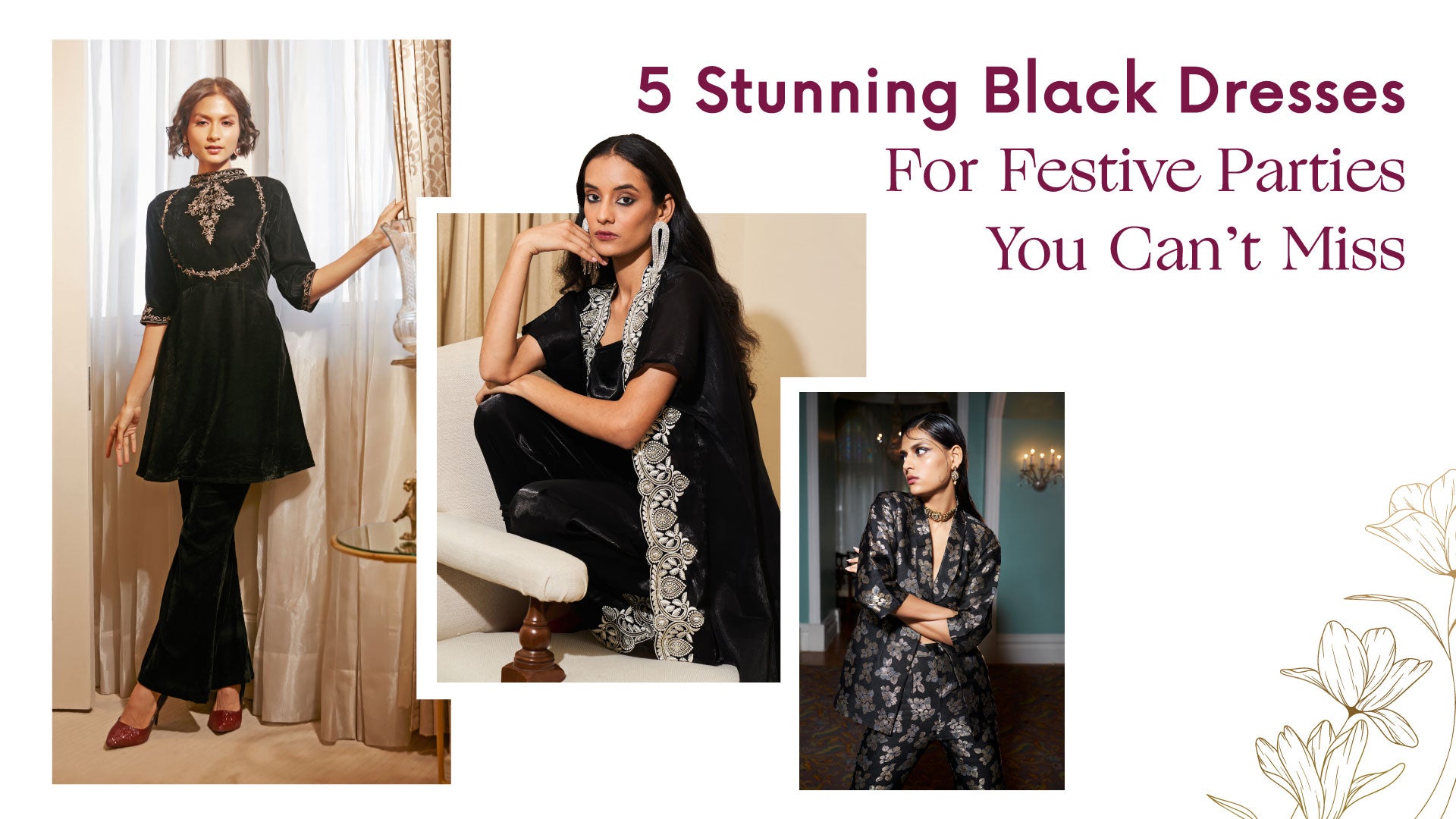 5 Stunning Black Dresses For Festive Parties You Can't Miss
With the festive season right around the corner, your calendar is likely filling up with gatherings, celebrations, and parties. As a dedicated fashion enthusiast, you're on the hunt for the perfect party attire that will make you stand out. Whether it's chic cocktail party outfits or glamorous Diwali party dresses, have you considered the timeless elegance of a stunning black dress for your party look this year?
Raisin has you covered with a dazzling array of black party dresses! From elegant black gowns and stylish black maxi dresses to sophisticated black long dresses and various other enchanting black festival outfits, we have it all. Plus, we're here to share some invaluable tips on how to rock your black party dress and exude confidence at every festive event. So, keep reading to discover our five stunning black dresses for women!
Can You Wear Black Dress To A Party?
Absolutely! Wearing a black dress to a party is not just acceptable; it's a timeless and versatile choice that's sure to turn heads. Black outfits exude elegance and sophistication, making them a perfect go-to option for various types of gatherings, from formal affairs to casual soirées. The beauty of a black party dress lies in its ability to serve as a blank canvas, allowing you to accessorise and style it in countless ways to suit the tone and theme of the party.
Is It Good To Wear Black Dress To A Festive Party?
Wearing a black dress to a festive party is not only good but often an excellent choice. While it's true that on auspicious festivals like Diwali, Dussehra, or Navratri, some people avoid wearing black due to cultural or superstitious beliefs, festive parties usually have a more relaxed dress code. In fact, black outfits can be one of the best choices for festive parties. They exude elegance and can be styled to suit the occasion, whether it's a Diwali party, Christmas celebration, New Year's Eve bash, or any other festive event.
Explore Black Party Dresses For Women By Raisin
Your wait has come to an end! It's time to present our diverse range of black women's outfits!
1. Black Velvet Embroidered Kurta Set
A timeless favourite for festive occasions, our Black Velvet Embroidered Kurta Set is the epitome of elegance for your festive party look. Crafted from luxurious velvet, this traditional black dress is adorned with intricate embroidery, making it the perfect choice to grace any celebratory gathering.
2. Black Pure Georgette Gown
For music festivals and events during this year's festivities, our Black Pure Georgette Gown is the ultimate choice of your black long dress. Made from ethereal georgette fabric, this black party dress exudes grace and style. Its delicate embroidery complements the flowing silhouette, ensuring you stand out at any musical celebration.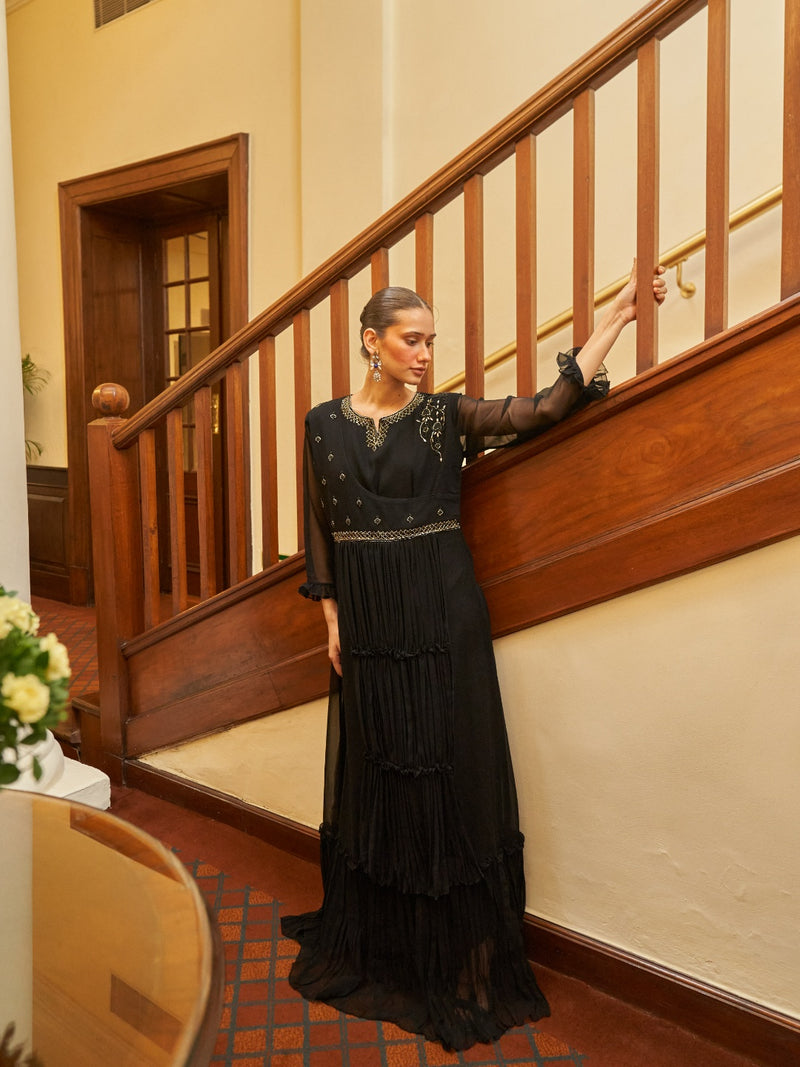 3. Black Jacquard Banarasi Brocade Blazer Pant Set
If you're seeking a bold and stylish look for cocktail parties, our Black Jacquard Banarasi Brocade Blazer Pant Set is the perfect choice. This black party dress is elevated by the luxurious Banarasi brocade fabric and exquisite jacquard detailing. Whether it's a glamorous soirée or an upscale event, this ensemble is designed to make a statement and turn heads.
4. Black Peplum Sharara Set
Introducing our newest festive black dress for women! The Black Peplum Sharara Set is a standout addition to your black party dress collection. This exquisite black long dress features intricate handwork embroidery that adds a touch of grandeur to your festive look. Be prepared to captivate the crowd with your unique style.
5. Black Flared Maxi Dress
Last but certainly not least, the classic black party dress takes the form of a stunning Black Flared Maxi Dress. This dress is all about creating a flowing silhouette that exudes elegance. What sets it apart is the included belt, which not only adds an extra layer of charm to this black outfit but also allows you to customise the fit to your liking. Whether it's a formal gathering or a chic soirée, this maxi dress is the epitome of grace and style.
To add an extra dash of motivation, it's worth mentioning that our Black Maxi Dress has won the admiration of Bollywood celebrity Bhumi Pednekar. If it can capture the attention and style of a Bollywood star like her, imagine the stunning look you can create for yourself! So, why wait? Try it now and look like a Bollywood star at the next party!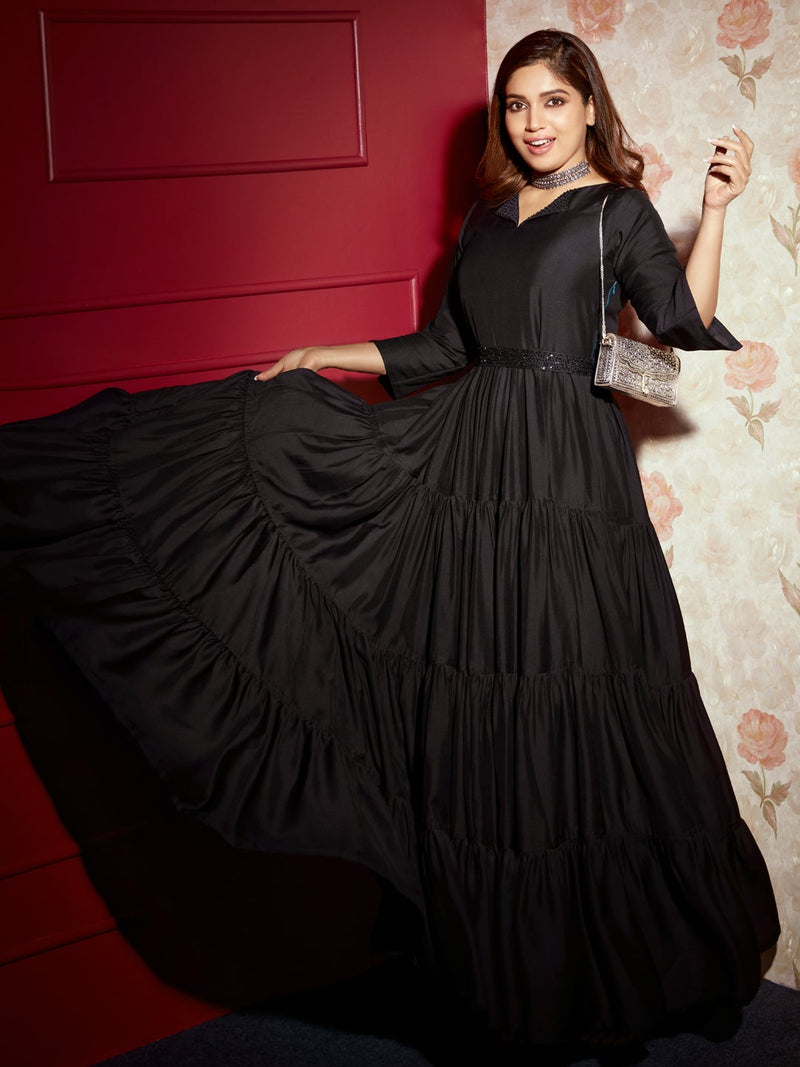 Now You May Be Wondering- " How Can I Look Pretty In Black Dress?"
We've got you covered with some valuable styling tips, accessory suggestions, hairstyle ideas, and makeup tips to help you achieve that perfect look with your black party dress:
Accessorize Wisely
Opt for statement jewellery like chandelier earrings, a chunky necklace, or bold bracelets to add some sparkle and contrast to your black dress

Consider a stylish belt to cinch your waist and create a flattering silhouette
Shoes Matter
Nude or metallic heels elongate your legs and keep the focus on your dress

Black heels or ankle boots can create a sleek and sophisticated look
Hairstyle
A sleek updo like a bun or a ponytail can emphasise the elegance of your black party dress

Loose waves or beachy curls can add a touch of romance and soften the overall look

Consider a classic Hollywood-inspired hairstyle with glamorous waves for a timeless appeal
Makeup
A classic red lip can make a bold statement against a black party dress

Smokey eye makeup can add drama and depth to your look.

Balance a strong eye or lip with neutral tones on the rest of your face for a polished appearance
It should be mentioned that the key to looking pretty in a black dress is to make it your canvas and express your unique style.
Summing Up!
A black party dress is not just a fashion choice; it's a statement of timeless elegance and versatility. The five stunning black dresses we've showcased are designed to elevate your festive party look, whether it's a casual gathering or an upscale soirée. From embroidered kurta sets to peplum sharara ensembles and classic black maxi dresses, there's a black dress for every occasion. With the right styling tips, accessories, and confidence, you can turn heads and create a lasting impression at your next festive party. So, embrace the allure of black, unleash your inner fashionista, and get ready to shine!
Frequently Asked Questions On Black Party Dress
1. Is A Black Dress Classy?

Ans: Yes, a black dress is inherently classy and timeless, making it a versatile choice for various occasions.

2. How Do You Style A Plain Black Dress For A Party?

Ans: To style a plain black dress for a party, consider adding statement jewellery, choosing bold accessories, styling your hair elegantly, and opting for glamorous makeup.

3. What Jewelry Goes Best With A Black Dress?

Ans: Jewellery that goes best with a black dress includes statement necklaces, bold earrings, and intricate bracelets to add contrast and sophistication.

4. Which Lipstick Goes With Black Dress?

Ans: A classic red lipstick can make a striking contrast with a black dress, while nude or deep berry shades also work well, depending on the occasion and your personal style.

5. Which Makeup Goes With Black Dress?

Ans: Makeup for a black dress can include a smokey eye, well-defined brows, and a polished complexion. Tailor your makeup to the formality of the event and your desired look.

6. How Do You Make A Black Dress Look Less Formal?

Ans: To make a black dress look less formal, consider adding a casual denim jacket, wearing casual shoes like sneakers or ankle boots, or opting for minimal accessories for a relaxed vibe.

7. What Looks Good With A Black Dress?

Ans: Several things look good with a black dress, including statement heels, a stylish clutch, a tailored blazer, or a colourful scarf to add personality and style to your outfit.
 Trending Blogs:
Diwali Party Outfits| Traditional Diwali Dress For 2023| Bhai Dooj Gift Ideas For Sister| Styling Tips For Durga Puja Outfits| Traditional Chhath Puja Dress| Navratri Garba Dresses| Gorgeous Party Wear Gown | Traditional Dress For Ganesh Chaturthi| Types of maxi dresses | Birthday Outfit Ideas| Kitty party dress | Karwa chauth look ideas | Bollywood look to recreate | Teej dress ideas | Office wear kurta set | Valentines day dress code | Airport look for plus size

Popular Products:
Kurta Set | Kurta Set Dupatta | Blazer set for women | Crop top and skirts | Festive kurta sets |
Plus size dresses | Cocktail party dress | Anniversary party dress | Co-ord sets women | Bhumi pednekar dress | Velvet kurta set | Printed velvet suit | Banarasi brocade suit | Festive Dresses |
Sharara set | Monochrome outfit | Resort wear for women | Pleated dress |