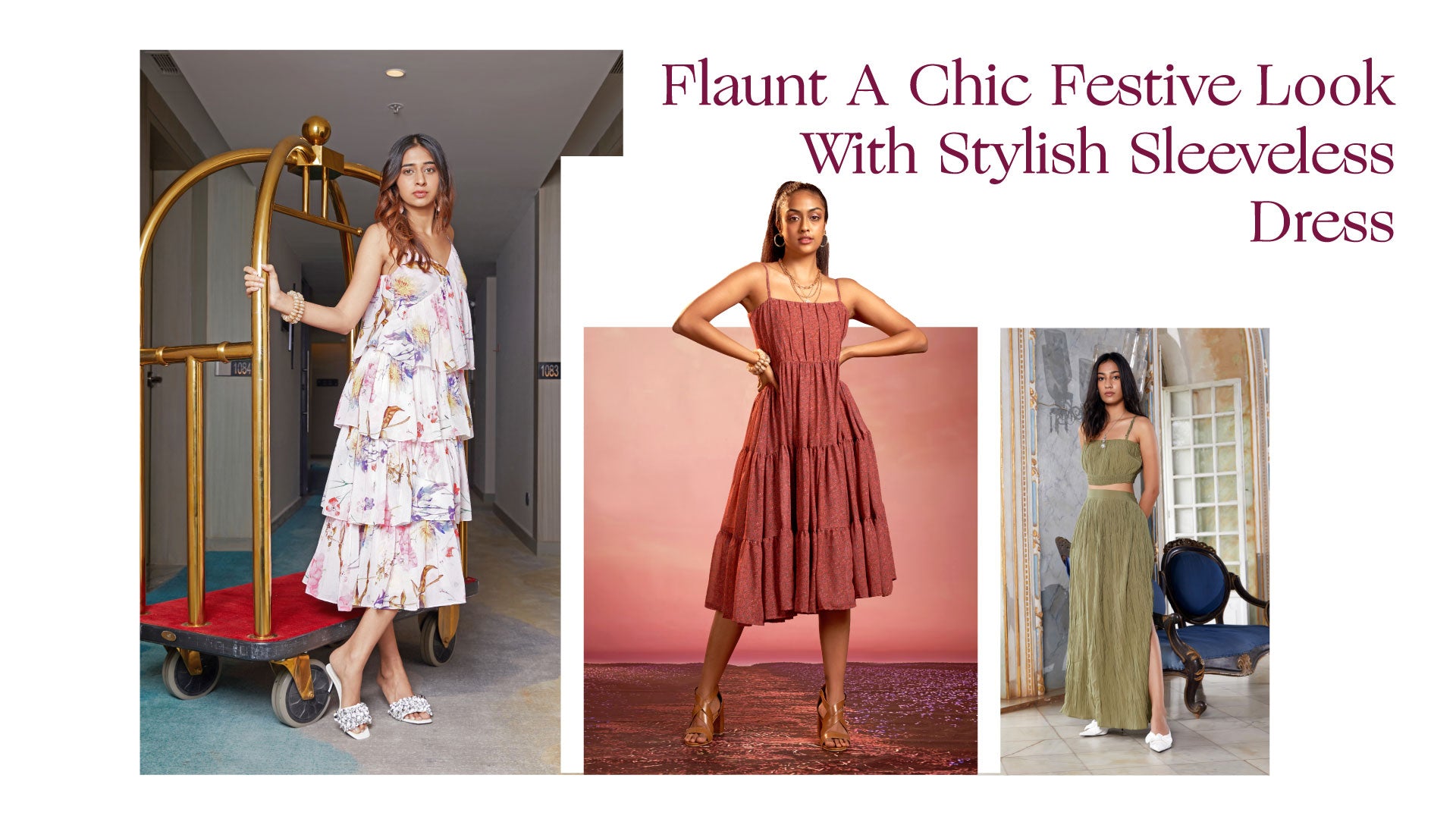 Flaunt A Chic Festive Look With Stylish Sleeveless Dress
As the festive season approaches, it's time to start planning for the days filled with joy, laughter, and celebration! Whether you're gathering with family and friends for a brunch, embarking on a romantic dinner date, attending a chic cocktail party, or simply enjoying casual outings with loved ones, one thing is for sure – you'll want the perfect outfit that makes you stand out.
If you're aiming for a modern chic look, there's nothing quite like the allure of an edgy sleeveless dress. In this blog, we're here to guide you on how to style sleeveless dresses, whether it's a sleeveless mini dress, sleeveless knee length dress, or a vibrant sleeveless sharara dress. We've got you covered! Plus, we'll unveil the top 5 sleeveless dresses for women to wear this festive season, courtesy of Raisin, that are ideal for transitioning seamlessly from daytime brunch to enchanting dinner affairs. So, let's dive in and elevate your festive style to a whole new level!
From Festive Brunch To Dinner: Find The Variety Of Sleeveless Dresses For Every Occasion
At Raisin, where fashion meets versatility, we offer a treasure trove of clothing options for the modern woman. Whether you're in the mood for ethnic kurta sets, dazzling dupattas, or chic western maxi dresses and co-ord sets, we've got it all! Today, we're here to captivate your style senses with our enchanting collection of sleeveless dress for women, perfect for every festive occasion.
Sleeveless Dress For Women For A Festive Daytime Look
Here are the five stylish sleeveless dress for women that are perfect for daytime:
1. Yellow Sleeveless A Line Dress
Crafted from luxurious silk material, this sleeveless A line dress effortlessly combines elegance and comfort. With its sunny yellow hue and flowing silhouette, it's the epitome of daytime chic.
2. Dusty Mint Sleeveless Mini Dress
For a stylish yet carefree look, our flared sleeveless mini dress in dusty mint is a perfect choice. Made from a poly-viscose blend, it exudes an understated charm that's ideal for brunches and casual gatherings.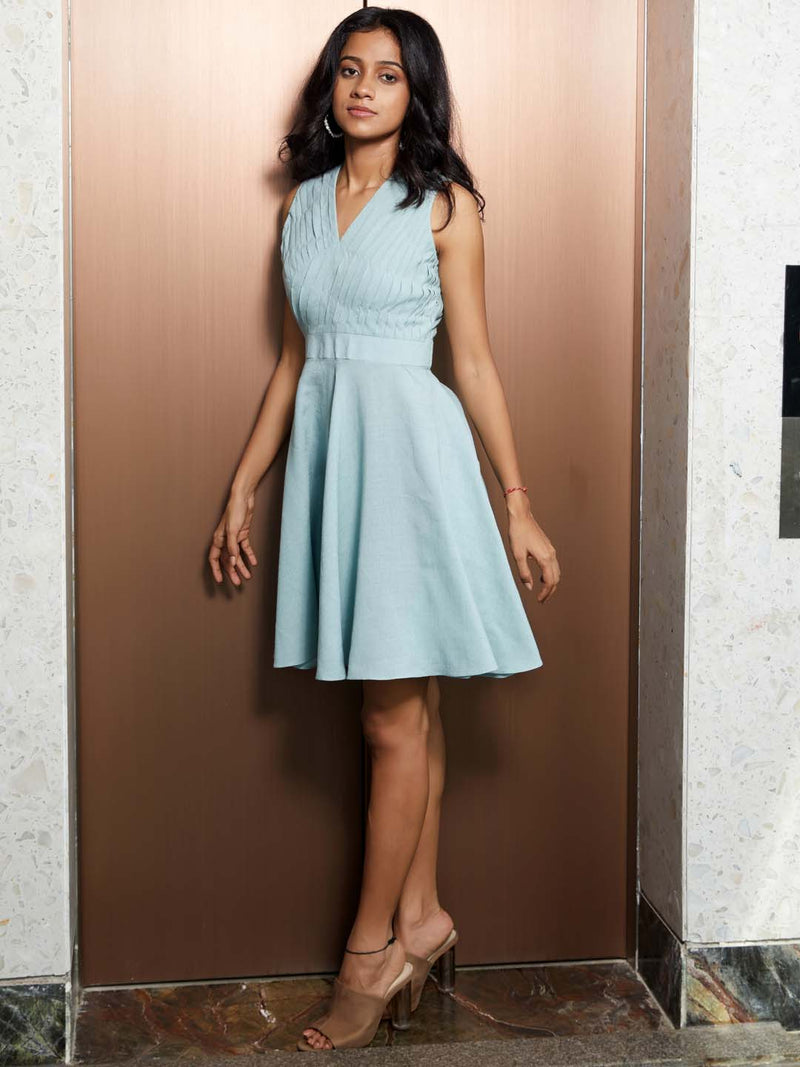 3. Brown Sleeveless Floral Dress
Embrace the beauty of nature with our georgette sleeveless maxi dress for women adorned with delicate floral prints. Its flared design adds a touch of grace to your daytime attire.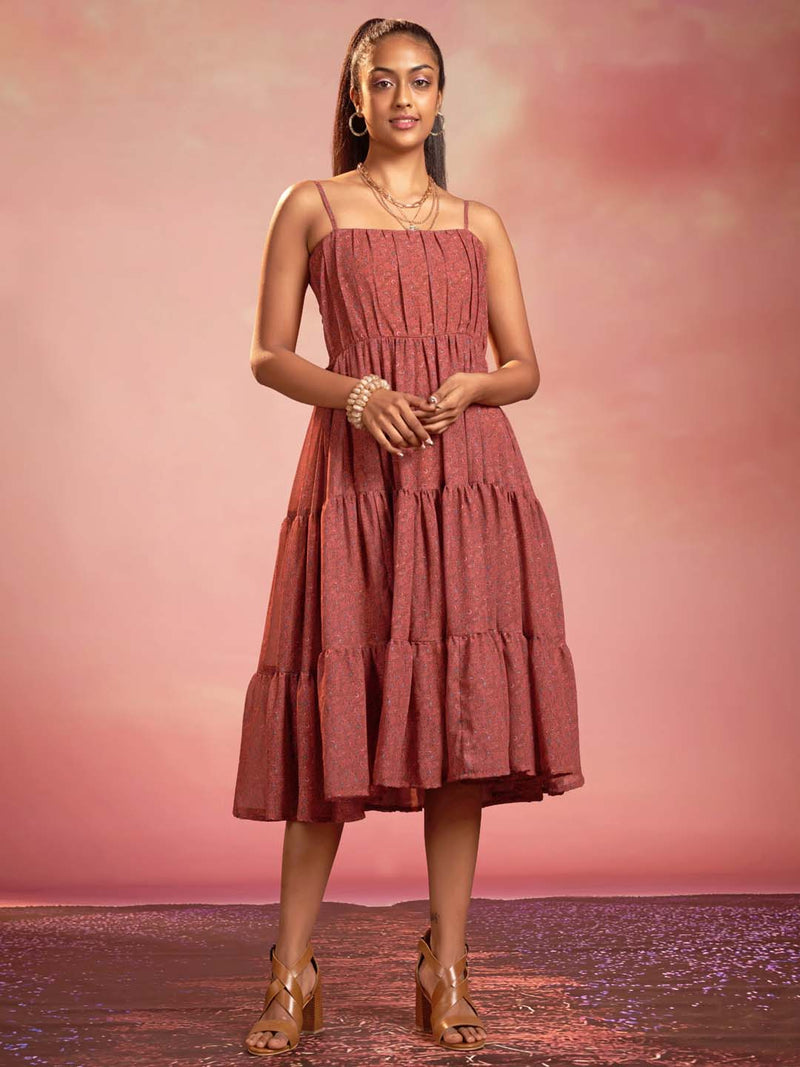 4. Olive Sleeveless Top Skirt Set
Elevate your festive style game with this olive sleeveless crop top and ankle-length skirt set. The side slit in the skirt adds a playful element, making it a versatile sleeveless dress for women for various daytime occasions.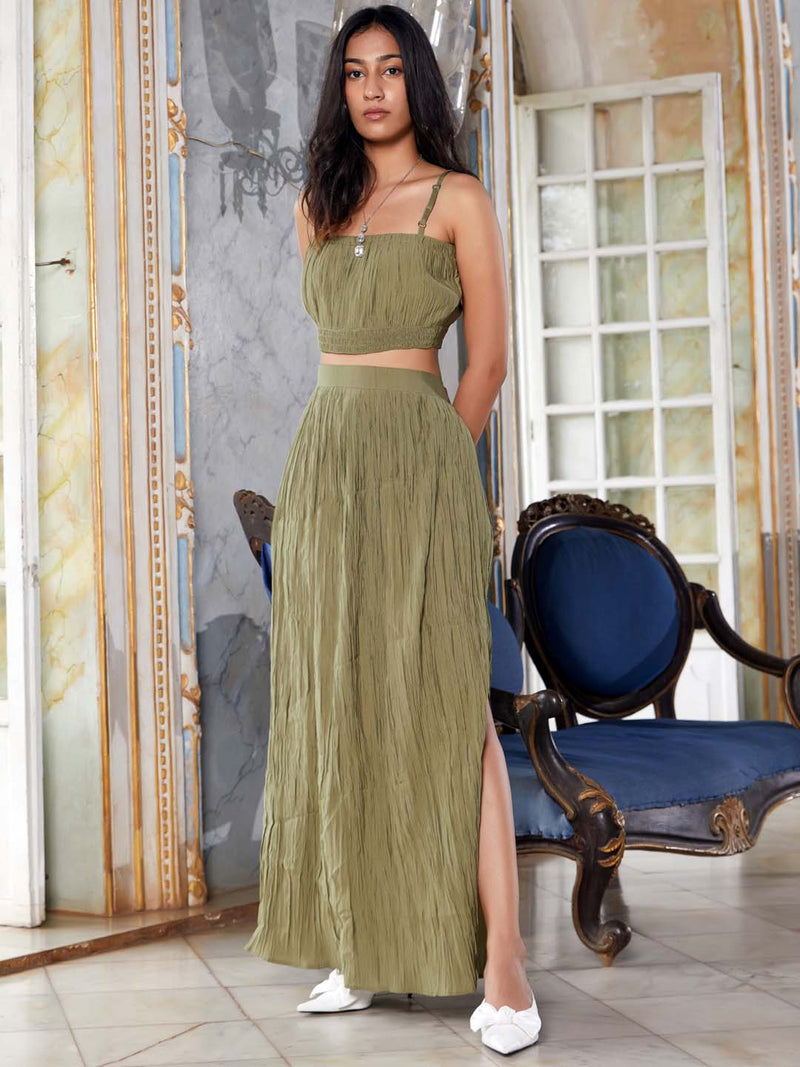 5. Off White Sleeveless Maxi Dress
Make a statement with our off-white sleeveless maxi dress featuring vibrant floral prints. Made from georgette material, it's a charming and comfortable pick for daytime affairs.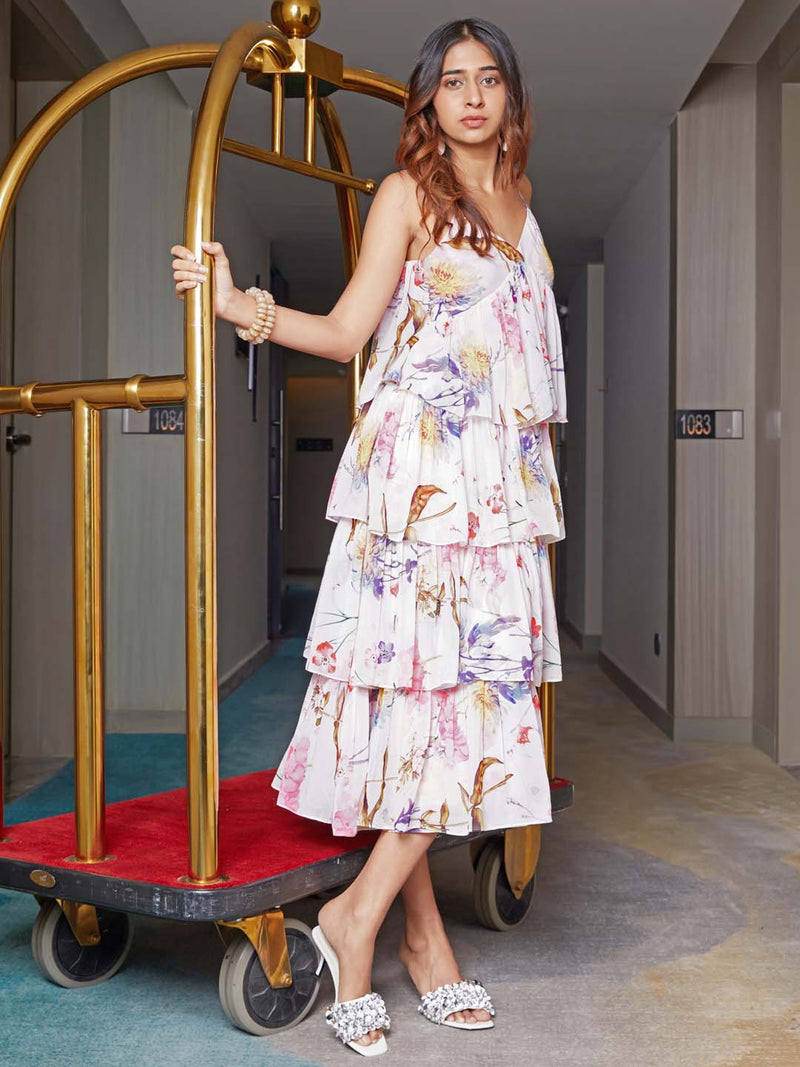 Sleeveless Dress For Women For A Festive Evening Look
If you're looking to elevate your style for festive evenings and prefer something more on-trend than a womens sleeveless maxi dress, here are some chic and gorgeous sleeveless dress options for you.
1. Banarasi Brocade Sleeveless Suit
Our latest collection blends traditional charm with a modern twist. The Banarasi brocade sleeveless suit set is perfect for festive evenings, radiating a timeless appeal.
2. Jacquard Sleeveless Jacket And Pant Set
Slay the festive night with sophistication in our jacquard sleeveless jacket and pant set. Its intricate design and flattering silhouette ensure you shine at any festive night outings or a festive time dinner date.
Styling Tips To Achieve A Chic Festive Look With Sleeveless Dresses
When it comes to styling a ladies sleeveless dress for a festive look, attention to detail is key. Here are some essential tips to help you create a stunning ensemble:
1. Accessorise Wisely
Accessories can make or break your outfit. When wearing a sleeveless dress, consider statement jewellery such as chunky necklaces or bold earrings to draw attention to your neckline and shoulders. A wide-brimmed hat or a stylish clutch can also add a touch of elegance to your look.
2. Footwear Matters
The right pair of shoes can elevate your outfit. For a daytime look with a sleeveless mini dress or sleeveless knee length dress, opt for comfortable sandals or espadrilles. In the evening, high heels or ankle boots can add sophistication and elongate your silhouette.
3. Outerwear Options
Depending on the weather, womens sleeveless maxi dresses can be paired with a stylish outerwear piece. A tailored blazer or denim jacket can provide a chic and casual touch, while a shawl or kimono adds a bohemian flair. For formal occasions, consider a tailored coat or a structured cardigan.
4. Belts For Definition
If your sleeveless dress has a loose or shift-style silhouette, consider adding a belt to cinch the waist and create an hourglass shape. A statement belt can also add a pop of colour or texture to your outfit.
5. Hair And Makeup
Consider your hairstyle and makeup to complement your sleeveless dress. An updo can showcase your shoulders and neckline, while bold makeup choices can enhance your overall festive look.
Summing Up!
We hope that this blog has provided you with valuable insights on how to flaunt a chic festive look with stylish sleeveless dresses. From daytime brunch gatherings to elegant evening affairs, sleeveless dresses offer endless possibilities for creating a stunning and fashionable ensemble.
So, why wait? Elevate your festive wardrobe, embrace your inner fashionista, and make a statement with Raisin's stunning sleeveless dress collection. Your perfect festive look awaits – seize the opportunity to shine!
Frequently Asked Questions On Sleeveless Dress
1. How do you style a plain sleeveless dress?
Ans: To style a plain sleeveless dress, consider adding accessories like a statement belt to define your waist, layering with a lightweight cardigan or jacket, and selecting the right footwear, such as sandals for a casual look or heels for a more dressed-up appearance. Experiment with jewellery and hairstyles to personalise your outfit further.
2. Why are sleeveless dresses so popular?
Ans: Sleeveless dresses are popular for their versatility, comfort, and ability to showcase the shoulders and arms. They can be easily dressed up or down for various occasions, making them a go-to choice for both casual and formal events. Additionally, sleeveless dresses are often chosen in warm weather for their breathability and ability to keep the wearer cool and comfortable.
Trending Blogs:
Diwali Party Outfits| Traditional Diwali Dress For 2023| Bhai Dooj Gift Ideas For Sister| Styling Tips For Durga Puja Outfits| Traditional Chhath Puja Dress| Navratri Garba Dresses| Gorgeous Party Wear Gown | Traditional Dress For Ganesh Chaturthi| Types of maxi dresses | Birthday Outfit Ideas| Kitty party dress | Karwa chauth look ideas | Bollywood look to recreate | Teej dress ideas | Office wear kurta set | Valentines day dress code | Airport look for plus size

Popular Products:
Kurta Set | Kurta Set Dupatta | Blazer set for women | Crop top and skirts | Festive kurta sets |
Plus size dresses | Cocktail party dress | Anniversary party dress | Co-ord sets women | Bhumi