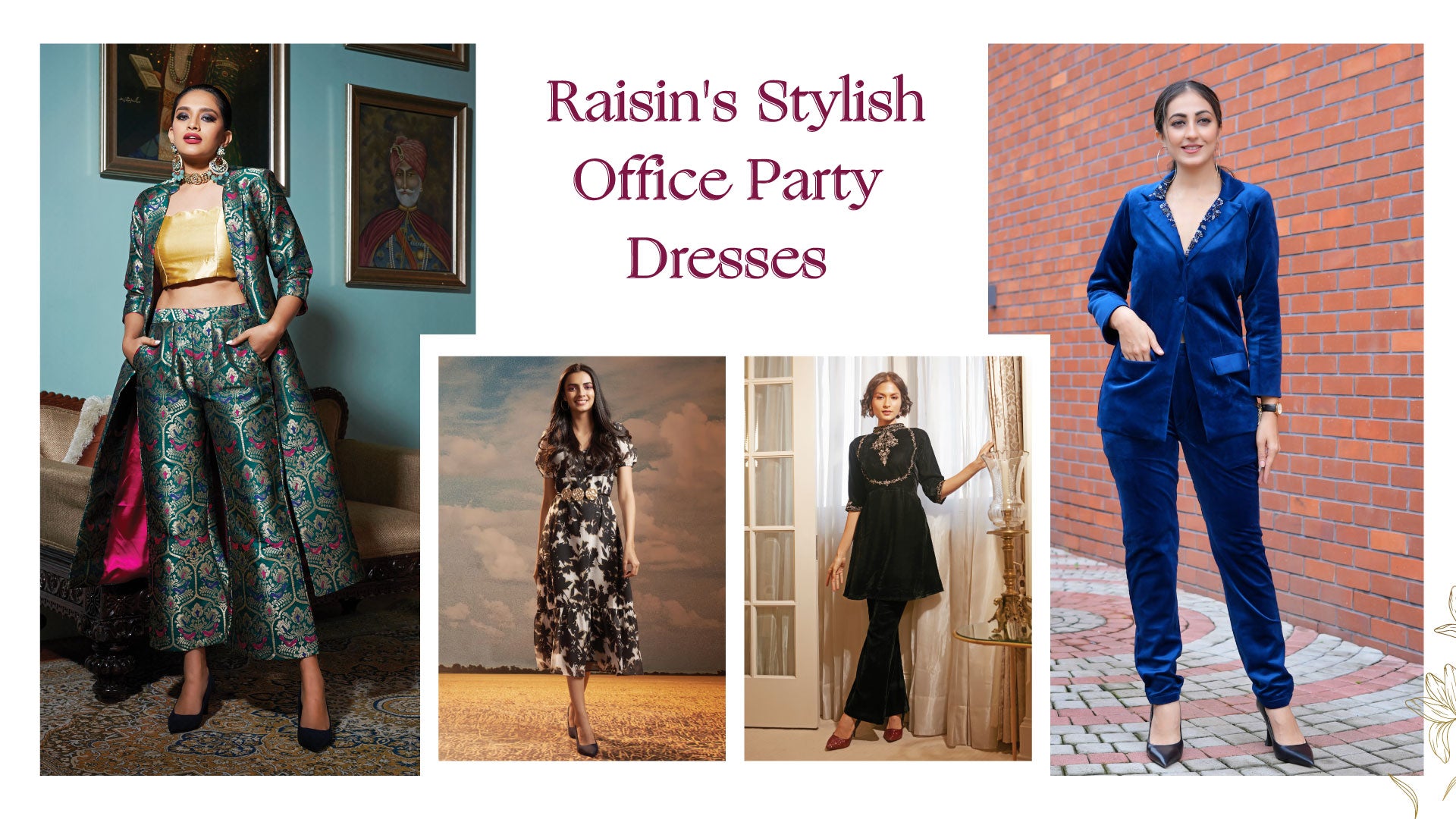 Office Party Dress Ideas: How To Shine At Your Workplace Celebration?
Are you ready to dazzle and make a lasting impression at your next office party? It's that time of year again when colleagues come together to celebrate, and you want to stand out in style. But the big question is: What should you wear?
Fret not, because Raisin has got you covered! In this blog, we'll explore some fantastic office party dress ideas and share valuable tips on how to create the perfect office party look that will have everyone talking. So, let's get ready to shine at your workplace celebration like never before!
What To Wear In Office Party?
When it comes to office party wear for ladies there are a plethora of options to choose from, depending on the desired style and atmosphere. If you're looking to create a more traditional and elegant look, consider opting for an office party wear sarees, classic midi dress or flared maxi dress in a solid colour, paired with understated accessories and comfortable heels. On the other hand, if you want to infuse a contemporary flair into your office party wear, you can experiment with chic jumpsuits, stylish party wear co ord sets, or even a well-tailored blazer dress.
Discover Raisin's Office Party Dresses: Where Professionalism Meets Glamour!
From festive celebrations to cocktail parties and corporate gatherings, Raisin has you covered with its exquisite collection of office party dresses for women. Here are five office party outfit ideas that strike the perfect balance between style and professionalism!
1. Mustard Solid Midi Dress

A classic midi dress is the ultimate choice for office party wear, and our Mustard Solid Midi Dress is designed to make you shine at daytime events. Featuring a collar that adds a touch of sophistication, an A-line cut for a perfect blend of professionalism and style, and comfortable crepe fabric that keeps you at ease throughout the day, this dress is a must-have in your office party wardrobe.
2. Black Flared Maxi Dress

For those who love making a bold statement at office parties, our Black Flared Embroidered Maxi Dress is the perfect pick. With a flattering belt that enhances the overall look, this muslin office party attire boasts an embroidered pattern that exudes elegance and charm. It should be mentioned that you can also consider it as your cocktail dress for a work event!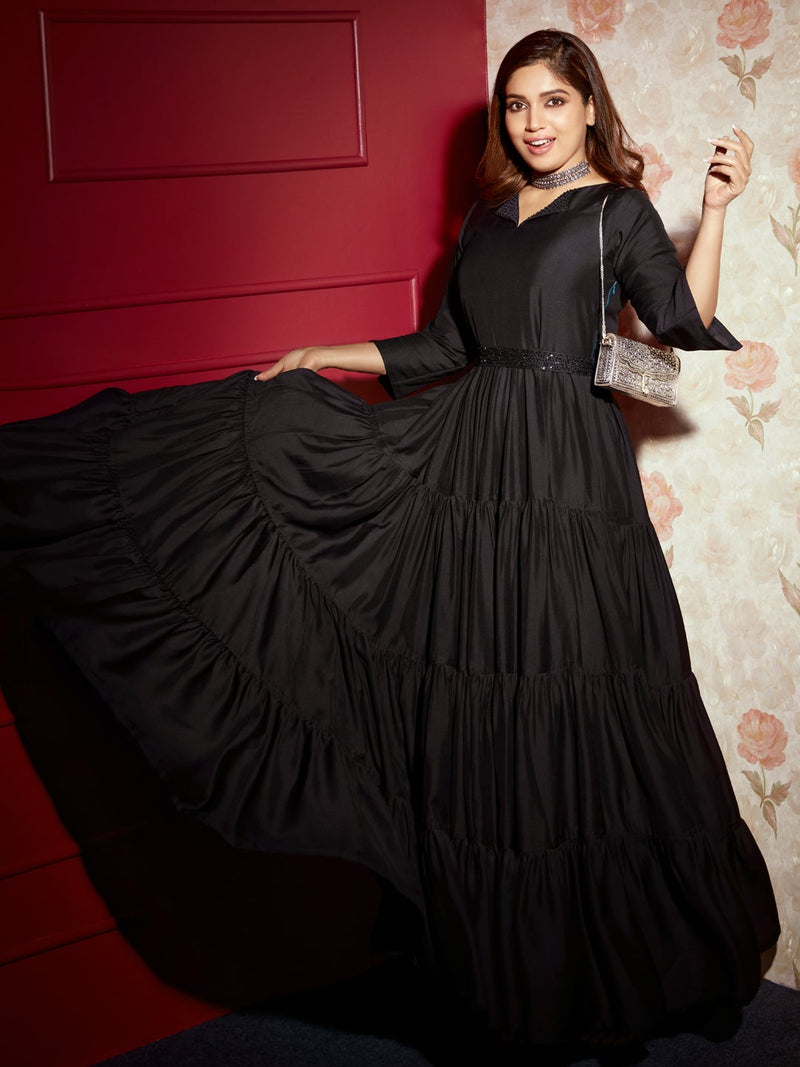 3. Green Jacquard Banarasi Brocade Jacket Pant Set

For a standout appearance that combines contemporary style with traditional elegance, opt for our Green Jacquard Banarasi Brocade Jacket Pant Set. Crafted from luxurious Banarasi brocade material, this office party dress is sure to make you the centre of attention.

Be sure to explore our Aika collection for more stunning Jacquard Banarasi Brocade Pant Suits!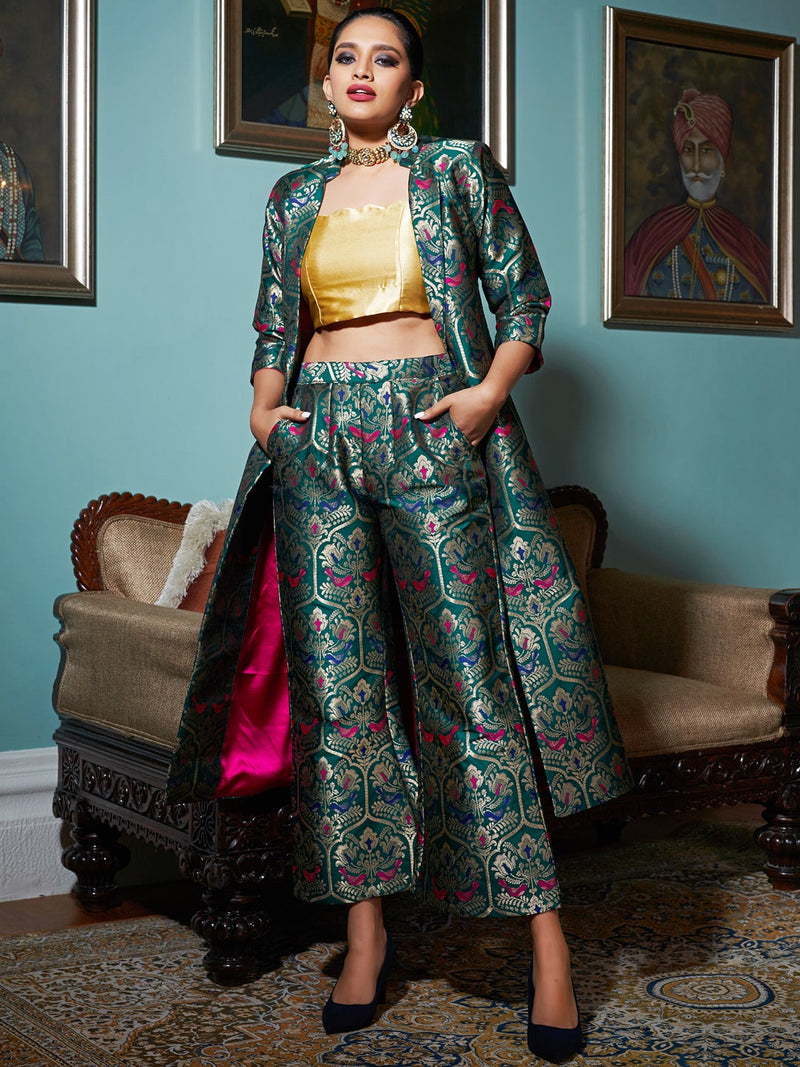 4. Blue Velvet Blazer Set

When it comes to a perfect corporate party dress, nothing quite matches the elegance of a Velvet Blazer Set. Our Blue Velvet Blazer Set, with its rich blue colour, velvety opulence, and straight blazer cut, exudes sophistication and professionalism that's perfect for your next office soirée.
5. Black Velvet Embroidered Kurta Set

If you're aiming for a gorgeous traditional office party look, there's nothing like a stunning kurta set. Our Black Velvet Kurta Pant Set is the ideal choice for a traditional office party wear dress. Made from luxurious velvet material and featuring intricate embroidered patterns, this set will make you the epitome of grace and beauty.
With Raisin's office party dresses, you can effortlessly strike the balance between professionalism and glamour, ensuring you look and feel your best at every workplace celebration.
To discover more captivating options in women's corporate party wear, don't forget to explore our selection of cocktail party dresses!
Styling Tips To Create A Perfect Office Party Look
Your choice of office party attire is crucial, as it allows you to express your personality while maintaining a professional demeanour. Here are some essential styling tips to help you create the perfect office party look:
1. Accessorise Thoughtfully

Elevate your office party dress with the right accessories. A statement necklace, elegant earrings, or a chic belt can instantly transform your outfit. However, avoid going overboard; less is often more when it comes to accessories.

2. Choose The Right Footwear

Your choice of shoes can make or break your look. Opt for comfortable yet stylish footwear. Heels can add sophistication, but make sure you can comfortably walk and stand in them for an extended period.

3. Experiment With Hairstyles

Consider changing up your hairstyle to match the occasion. A sleek updo or soft curls can add a touch of glamour to your overall appearance. Experiment with different hairstyles to find one that complements your outfit.

4. Play With Makeup

Makeup can enhance your features and tie your look together. With a daytime corporate party dress, go for a more natural look with neutral tones. For evening events, don't hesitate to add a touch of bold lipstick or eyeshadow for added drama.

5. Balance Comfort And Style

It's crucial to feel comfortable in your outfit, especially if the party lasts for hours. Choose fabrics that breathe and allow for movement, ensuring you can enjoy the celebration without constantly adjusting your attire.

6. Consider The Dress Code

Always adhere to the corporate party dress code. If it's a formal affair, opt for a classic cocktail dress or a tailored suit. For more casual gatherings, a smart-casual dress or separates can be ideal.

7. Express Your Personal Style

While it's essential to adhere to your company party dress guidelines, don't forget to incorporate your unique style. Add a personal touch, whether it's through your choice of colours, patterns, or accessories.
By following these styling tips, you'll have the tools to create a perfect office party look that balances professionalism with your unique flair, ensuring you make a lasting impression at every office gathering.
Summing Up!
It's true that the ideal office party look is all about striking that perfect balance between professionalism and personal style. Whether it's a daytime celebration or an evening cocktail party, your office party outfit can speak volumes about your confidence and fashion sense. With the right choices in accessories, footwear, and makeup, you can truly shine at your workplace festivities.And with Raisin's office party dresses, you're sure to stand out in the crowd! So, go ahead, embrace these styling tips, and make your next office party a memorable one.
Frequently Asked Questions On Office Party Dress For Women
1. What To Wear In Office Party For Ladies?

Ans: It depends on the dress code, but a classic cocktail dress or a stylish pant suit can be a great choice.

2. Which Dress Is Best For an Office Party?

Ans: A versatile choice is a knee-length dress, but the best dress depends on the formality and theme of the office party.

3. What Do You Wear To An Indian Office Party?

Ans: Traditional Indian attire like sarees or salwar kameez for women and formal ethnic wear for men is typically suitable for Indian office parties.

4. What Do You Wear To A Corporate Party?

Ans: For a corporate party, opt for a tailored suit, a sophisticated cocktail dress, or business formal attire depending on the event's dress code.
Trending Blogs:
Festive Sleeveless Dress | Diwali Party Outfits | Traditional Diwali Dress For 2023 | Bhai Dooj Gift Ideas For Sister| Styling Tips For Durga Puja Outfits| Traditional Chhath Puja Dress| Navratri Garba Dresses| Gorgeous Party Wear Gown | Traditional Dress For Ganesh Chaturthi| Types of maxi dresses | Birthday Outfit Ideas| Kitty party dress | Karwa chauth look ideas | Bollywood look to recreate | Teej dress ideas | Office wear kurta set | Valentines day dress code | Airport look for plus size

Popular Products:
Kurta Set | Kurta Set Dupatta | Blazer set for women | Crop top and skirts | Festive kurta sets |Plus size dresses | Cocktail party dress | Anniversary party dress | Co-ord sets women | Bhumi pednekar dress | Velvet kurta set | Printed velvet suit | Banarasi brocade suit | Festive Dresses |Sharara set | Monochrome outfit | Resort wear for women | Pleated dress |