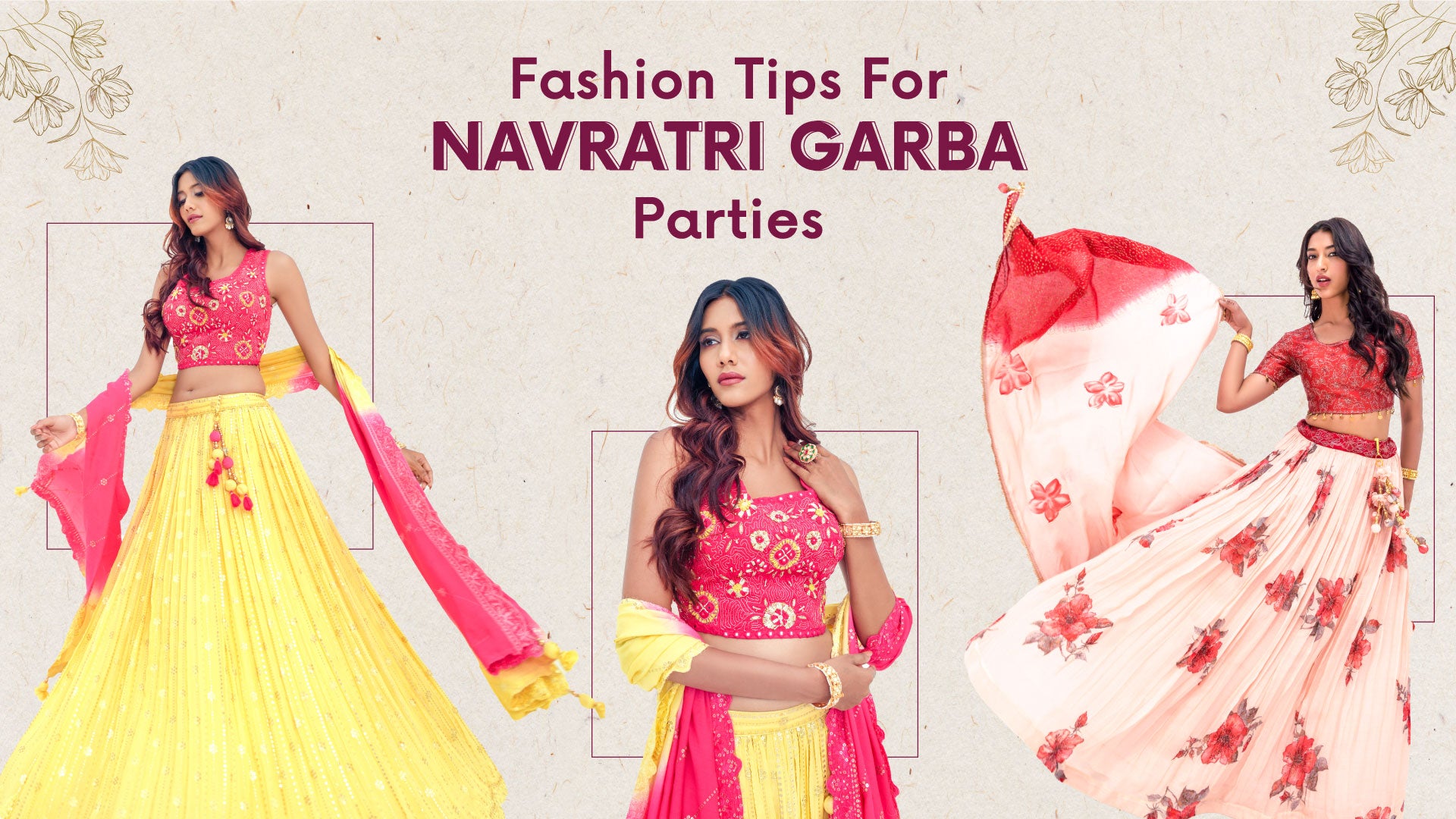 Fashion Tips For Navratri Garba Parties
Are you ready to dazzle on the dance floor this Navratri? Look no further, because Raisin has got you covered with everything you need to make a statement at Navratri Garba parties! From trendy Navratri Garba dress ideas to essential styling tips for your Navratri Chaniya Choli or Lehenga, we've got it all. We'll even show you the must-have accessories to elevate your Navratri garba look and suggest fabulous hairstyles that you can easily pull off. So, let's explore the tips and tricks to stand out in your upcoming Navratri Garba parties!
What To Wear On Navratri Garba?
When it comes to celebrating the vibrant festival of Navratri, embracing tradition is a timeless choice. Traditional Navratri Garba dresses are a beautiful blend of culture and elegance. You can often opt for the classic Navratri Chaniya Choli, a three-piece ensemble consisting of a flared skirt, a fitted blouse (Choli), and a colorful dupatta.
If you're looking to put a modern twist on your Navratri Garba dress, contemporary options offer a fresh take on festive fashion. Contemporary Navratri Garba dress ideas often include fusion outfits like Lehenga-style skirts paired with crop tops or trendy blouses.
Do you want to get more Navratri Garba dress ideas? Don't forget to check out our gorgeous outfits for the Navratri Garba look!
How To Style A Dupatta For Your Navratri Chaniya Choli Or Lehenga For Garba parties?
To achieve an enchanting Garba party appearance, remember to incorporate a dupatta when styling your traditional Garba dress, whether it's a Chaniya Choli or Lehenga. Here are some well-received tips for dupatta styling at Navratri Garba celebrations.
1. The Graceful Shoulder Drape

To exude elegance on the dance floor, drape your dupatta over one shoulder and secure it with a decorative pin or brooch. This classic style allows for easy movement while adding a touch of traditional charm. Let the dupatta flow freely down your back for a graceful look that complements your Chaniya Choli or Lehenga.

2. The Bohemian Twist

For a more bohemian and playful vibe, opt for a side-swept drape. Take one end of the dupatta and pleat it neatly, then casually toss it over one shoulder. This carefree style not only keeps you comfortable during Garba dance but also adds a contemporary flair to your ensemble.

3. The Regal Choker Drape

Elevate your Garba look with a choker-style dupatta drape. Fold the dupatta into a narrow strip and wrap it around your neck like a choker. Let the ends fall gracefully over your shoulders and back. This chic style not only highlights your neck piece but also keeps the dupatta from hindering your dance moves.
For more dupatta draping and styling tips check out our blog- 10 simple and easy ways to drape dupatta for Navratri Lehenga And Chaniya Choli!
What Are The Ideal Accessories To Compliment Your Navratri Garba Dress?
To achieve an enchanting Garba party appearance, remember to incorporate a dupatta when styling your traditional Garba dress, whether it's a Chaniya Choli or Lehenga. Here are some well-received tips for dupatta styling at Navratri Garba celebrations.
1. Oxidized Jewelry

Oxidized silver or metal jewelry is a perennial favorite during Navratri. Statement necklaces, chunky bangles, and intricate earrings can elevate your traditional look. These pieces often feature tribal and geometric designs, adding an ethnic charm to your ensemble.

2. Waist Belt

A waist belt or kamarband can cinch your waist and accentuate your curves when wearing a Chaniya Choli or Lehenga. These belts are often adorned with bells or coins, producing delightful jingles as you dance.

3. Maang Tikka

A maang tikka, worn on the forehead, adds a touch of regal elegance. Choose one that compliments your outfit's color and design, and let it shine as you twirl.

4. Nose Ring (Nath)

If you're feeling bold, consider adorning your nose with a nath. These ornate nose rings come in various sizes and styles, and they can be a stunning addition to your Garba look.

5. Bangles (Chooda or Kangan)

Stack up bangles on your wrists for a melodious accompaniment to your Garba dance. Traditional glass bangles, wooden bangles, or metal kangan can all be fabulous choices.

6. Payal (Anklets)

The gentle tinkling of payals as you move is not only mesmerizing but also a sign of a true Garba enthusiast. Choose anklets with bells or intricate designs for that extra touch of festivity.
Which Hairstyle Suits Best With Your Navratri Garba Dress?
The right hairstyle can complement your Navratri Garba dress beautifully. Here are some hairstyles that suit best with your Garba party look:
1. Braid With Gajra
A classic Indian hairstyle, a simple braid adorned with fragrant gajra (jasmine flowers) is a timeless choice. It exudes elegance and pairs exceptionally well with traditional Garba outfits like Chaniya Choli or Lehenga.
2. Messy Bun With Maang Tikka
For a chic yet traditional look, opt for a messy bun adorned with a maang tikka. This hairstyle keeps your hair off your face, allowing you to dance freely, while the maang tikka adds a touch of sophistication.
3. Half-Up Half-Down
This versatile hairstyle combines the best of both worlds. You can leave your hair loose and flowing while also pinning back the top section. This style is comfortable for dancing and can be adorned with accessories like hairpins or a maang tikka.
4. Side-Swept Curls
For a romantic and glamorous look, consider side-swept curls. Let your hair fall gracefully over one shoulder, and you can even add some hairpins or decorative clips for extra flair.
5. Fishtail Braid
The fishtail braid is a stylish choice that adds a modern twist to your Navratri Garba look. It's a bit more intricate than a regular braid, making it an eye-catching option.
6. Traditional Bun With Floral Accessories
A neatly tied bun at the nape of your neck, adorned with fresh or artificial flowers, is a traditional and graceful choice. It complements the intricate details of your Navratri Garba outfit.
Ending Note!
We've taken you through a comprehensive guide of fashion tips for Navratri Garba parties. From traditional to contemporary Navratri Garba dress ideas, dupatta styling, accessories, and hairstyle suggestions, we've covered it all to ensure you're well-prepared to make a statement on the dance floor. We hope these tips will serve as your go-to resource for creating the perfect Navratri Garba look.
If you're seeking more pro tips, styling ideas, or stunning outfits for upcoming festivals, keep an eye on Raisin's Blog for all your fashion needs.
Trending Blogs:
Diwali Party Outfits| Traditional Diwali Dress For 2023| Bhai Dooj Gift Ideas For Sister| Styling Tips For Durga Puja Outfits| Traditional Chhath Puja Dress| Navratri Garba Dresses| Gorgeous Party Wear Gown | Traditional Dress For Ganesh Chaturthi| Types of maxi dresses | Birthday Outfit Ideas| Kitty party dress | Karwa chauth look ideas | Bollywood look to recreate | Teej dress ideas | Office wear kurta set | Valentines day dress code | Airport look for plus size

Popular Products:
Kurta Set | Kurta Set Dupatta | Blazer set for women | Crop top and skirts | Festive kurta sets |
Plus size dresses | Cocktail party dress | Anniversary party dress | Co-ord sets women | Bhumi