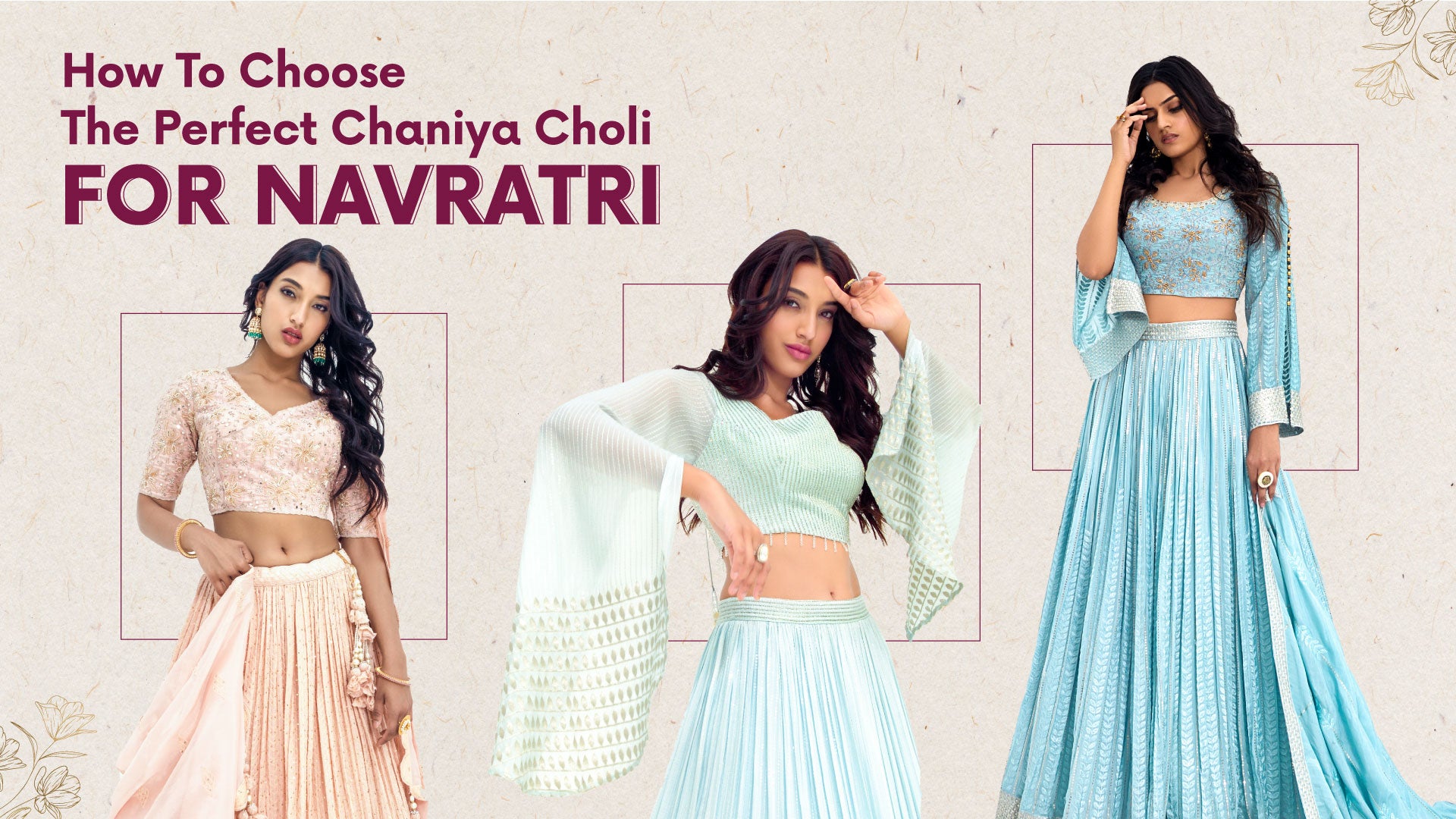 How To Choose The Perfect Chaniya Choli For Navratri?
When it comes to Navratri, the outfit that must-have in every fashionista's wardrobe is a gorgeous Navratri Chaniya Choli. Among a wide variety of options, it's surely very confusing for you, which one will be your perfect fit. In this blog, we are here to guide you about the colours of Chaniya choli to wear on each day of Navratri, the fabric you should choose, the style that suits you best, and the right size and length for your Navratri Chaniya Choli. So, let's get started on the journey to finding your perfect Chaniya Choli for Navratri!
The Factors To Consider While Buying Chaniya Choli For Navratri
Here are 4 important factors and tips for you to choose the right Navratri Chaniya Choli
1. Colour
The vibrant and diverse colours of your Navratri Chaniya Choli play a significant role in celebrating each day of this festive occasion. Here's a breakdown of the colours for each day and their associated significance:
Royal Blue (Day 1)
Royal blue represents calmness and serenity. It's a perfect choice for the first day when you want to begin the celebration on a tranquil note. Start your day with our Royal Blue Chaniya Choli for Navratri!
Yellow (Day 2)
Yellow symbolises joy and happiness. This cheerful coloured traditional Chaniya Choli is worn on the second day to bring positivity and energy to your celebrations. For a stunning look you can wear our Yellow Organza Chaniya Choli!
Green (Day 3)
Green is the colour of nature and symbolises growth and harmony. Wearing a green simple Chaniya choli for Navratri on the third day signifies a connection to the Earth and the environment.
Grey (Day 4)
Grey represents detachment and introspection. On the fourth day, it's a reminder to look inward and reflect on your spiritual journey.
Orange (Day 5)
Orange signifies enthusiasm and creativity. It's a colour that exudes energy, perfect for the midpoint of the festivities.
White (Day 6)
White represents purity and spirituality. Wearing white Chaniya choli for Navratri on the sixth day signifies a focus on inner peace and divine connection.
Red (Day 7)
Red is the colour of power and passion. It's traditionally worn on the seventh day, symbolising strength and determination.
Sky Blue (Day 8)
Sky blue is a soothing colour, representing tranquillity and serenity. It's worn on the eighth day to prepare for the grand finale.
Pink (Day 9)
Pink signifies love and compassion. On the ninth day, wear a pink coloured Navratri Chaniya Choli to celebrate the love and devotion towards the Goddess. Explore our Pink Embroidered Chaniya Choli!
Moreover, to create a stunning Garba look, be sure to choose the ideal Chaniya Choli for Navratri Garba celebrations!
2. Fabrics
The choice of fabric is crucial to your comfort and the overall look of your Navratri Chaniya Choli. While there are various fabrics available, consider the climate and your personal preferences:
Cotton
Ideal for warm weather, cotton Chaniya Choli for Navratri are breathable and comfortable.
Silk
For a touch of luxury and sheen, silk Chaniya Choli for Navratri are perfect, especially for cooler evenings.
Chiffon/Georgette
These lightweight fabrics drape beautifully and add an elegant flair to your ensemble.
3. Styles
Another important factor in choosing the perfect Chaniya Choli for Navratri is its style. Navratri Chaniya Cholis come in an array of styles to suit your taste and body type:
A-line
Flattering for most body shapes, the A-line style flares out from the waist, creating an elegant silhouette.
Lehenga Choli
This traditional style features a flared skirt with a matching blouse and dupatta, perfect for a classic look.
Garba Chaniya Choli
Specifically designed for Garba and Dandiya dances, these styles often have intricate mirror work and vibrant colours.
Crop Top Choli
A modern twist on the traditional Chaniya Choli, crop tops with high-waisted skirts are trendy and chic.
4. Length and Size
Ensure your Chaniya Choli fits you perfectly by considering the length and size. The length can vary from ankle-length to knee-length, so choose what suits your style.
Ankle-Length (Full-Length)
Ankle-length Chaniya Cholis are the most traditional choice. They typically reach the ankles or slightly brush the floor. This length suits almost all body types and heights, as it offers an elegant and timeless look. It's particularly ideal for taller individuals, as it complements their height without making them look disproportionate.
Calf-Length (Mid-Calf)
Calf-length Chaniya Cholis, which fall between the knee and ankle, are versatile and flattering for various body types and heights. They provide a balance between traditional and modern styles. Shorter individuals may find this length particularly appealing, as it elongates the legs.
Knee-Length
Knee-length Chaniya Cholis are a trendy choice for those who prefer a contemporary look. They suit shorter individuals exceptionally well, as they create the illusion of height. However, they may not be the best choice for taller individuals, as they can appear too short on them.
Asymmetrical Hemline
Some Chaniya Cholis feature an asymmetrical hemline, where the front is shorter than the back. This style adds a playful touch to your outfit and is suitable for those who want to stand out. It works well for various heights and body types.
In addition to lengths, also pay attention to your size and measurements to ensure a comfortable and flattering fit. Remember, a well-fitted Chaniya Choli will make you feel confident and ready to celebrate Navratri in style!
Ending Note!
Choosing the perfect Chaniya Choli for Navratri involves a delightful blend of colours, fabrics, styles, and sizing considerations. By understanding the significance of each colour, opting for the right fabric, choosing a style that resonates with you, and ensuring the perfect length and size, you can embrace the Navratri festivities with both elegance and comfort. So, follow these tips, trust your instincts, and get ready to dazzle in your chosen ensemble during this vibrant and joyous celebration of Navratri.
Frequently Asked Questions On Navratri Chaniya Choli
1. How To Wear Chaniya Choli?
Ans:To wear a Chaniya Choli for Navratri:
Start by wearing the Choli (blouse) and secure it properly

Put on the Chaniya (skirt) and tie it around your waist

Accessorise with jewellery, such as bangles, necklace, and earrings

You can also drape a dupatta (scarf) gracefully over your shoulders

Complete the look with appropriate footwear, like mojdis or sandals
2. How To Wear Chaniya Choli In Different Styles?
Ans: You can style a Chaniya Choli in various ways:
Experiment with different drapes for the Chaniya, like the mermaid style or A-line

Customise your Choli with different necklines, sleeve lengths, and back designs

Use contrasting or complementary colours for the Choli and Chaniya

Add a belt to accentuate your waist

Play with hairstyles and makeup to match the occasion and style
Trending Blogs:
Diwali Party Outfits| Traditional Diwali Dress For 2023| Bhai Dooj Gift Ideas For Sister| Styling Tips For Durga Puja Outfits| Traditional Chhath Puja Dress| Navratri Garba Dresses| Gorgeous Party Wear Gown | Traditional Dress For Ganesh Chaturthi| Types of maxi dresses | Birthday Outfit Ideas| Kitty party dress | Karwa chauth look ideas | Bollywood look to recreate | Teej dress ideas | Office wear kurta set | Valentines day dress code | Airport look for plus size

Popular Products:
Kurta Set | Kurta Set Dupatta | Blazer set for women | Crop top and skirts | Festive kurta sets |
Plus size dresses | Cocktail party dress | Anniversary party dress | Co-ord sets women | Bhumi pednekar dress | Velvet kurta set | Printed velvet suit | Banarasi brocade suit | Festive Dresses |
Sharara set | Monochrome outfit | Resort wear for women | Pleated dress |