Top 10 Dussehra Outfits To Wear In 2023
Dussehra, also known as Vijayadashami, is a vibrant and culturally rich festival celebrated with great fervour in India. It marks the victory of good over evil and symbolises the triumph of Lord Rama over the demon king Ravana. As you gear up to celebrate this auspicious occasion in 2023, one aspect that adds to the festive spirit is choosing the perfect dresses for Dussehra.
Whether you're planning to attend a Dussehra puja, go pandal hopping, or celebrate with a family get-together, a vibrant Dussehra outfit plays a crucial role in setting the festive mood. To help you make a stylish statement this Dussehra, Raisin has curated a list of the top 10 Dussehra outfits to wear in 2023. From traditional classics to contemporary trends, this list has something for everyone.
Do We Wear New Clothes On Dussehra?
Yes, it is a common tradition to wear new clothes on Dussehra. Wearing new Dussehra outfits symbolises a fresh start and the victory of good over evil. It is believed that wearing new clothes signifies a clean and positive beginning, and it is considered a way to seek the blessings of the divine during this festival.
Many women take this opportunity to purchase new outfits for Dussehra, often in vibrant and festive colours. These new clothes are often worn for special prayers, visits to temples, and gatherings with family and friends to celebrate the occasion.
The tradition of wearing new clothes on Dussehra is not only a way to honour the festival's significance but also adds to the overall festive spirit and joyous atmosphere of the celebration.
You May Be Wondering- " What Should I Wear On Dussehra?"
Dresses for Dussehra predominantly centre around ethnic attire. Traditional dress for Dussehra festivities typically includes kurta sets, kurta set dupatta, sharara sets, and for a chic yet classic touch, Banarasi Brocade suit sets.
An essential aspect to consider when selecting the ideal Dussehra outfits is the colour palette. Dussehra dress colors typically lean towards bright and vibrant hues such as red, orange, and bright pink. These lively colours are chosen to infuse the attire with the spirit of the festival and add to the celebratory ambiance.
Here are the 10 gorgeous Dussehra outfits for you!
1. Light Orange Pollina Silk Embroidered Kurta Set Dupatta
This light orange silk embroidered kurta set with a matching dupatta is a perfect choice for traditional Dussehra outfits. The intricate embroidery and the silk material add an elegant touch to this ensemble.
2. Dark Pink Velvet Embroidered Kurta Set Dupatta
For a luxurious and traditional Dussehra outfit, consider this dark pink velvet embroidered kurta set. The opulent charm of velvet and the intricate embroidery make it a standout choice.
3. Red Russian Silk Zari Thread Work Kurta Pant Set
This Red Russian Silk Kurta Set with exquisite zari thread work is a stunning option for Dussehra outfit. The rich red colour and intricate thread work create a regal look.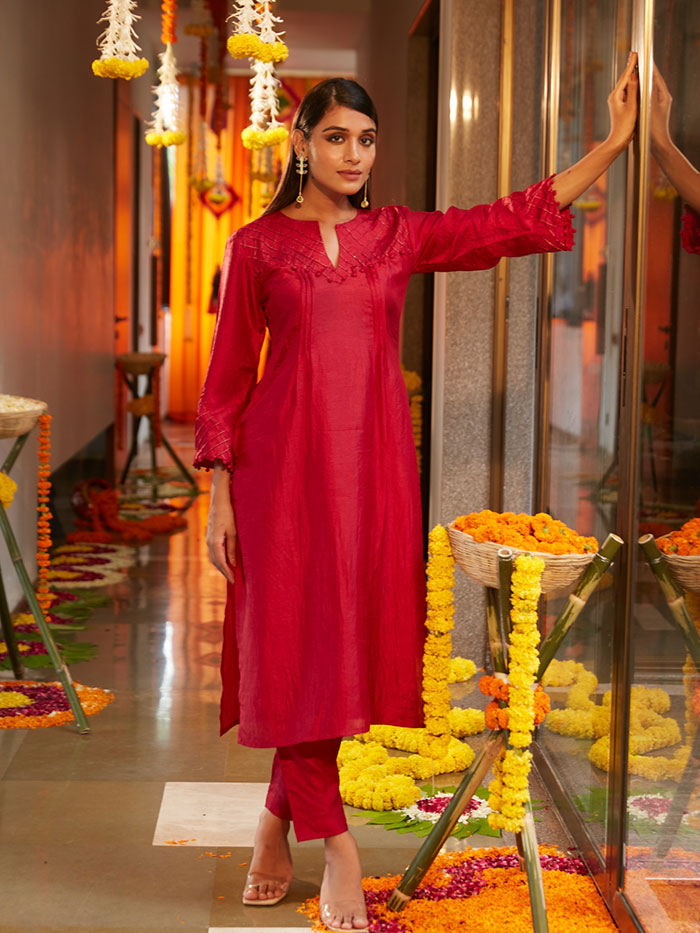 4. Onion Pink Chinon Silk Kurta Pant Set
Opt for an onion pink Chinon silk kurta pant set for a graceful and traditional dress for Dussehra. The soft silk fabric and delicate colour make it a delightful choice.
5. Light Rust Printed Embroidered Kurta Sharara Set
This light rust printed embroidered kurta sharara set offers a blend of style and tradition. The printed design and embroidery add a touch of sophistication to your Dussehra look.
6. Off-White Printed Embroidered Kurta Sharara Set
For a classic and elegant Dussehra outfit, choose this off-white printed embroidered kurta sharara set. The off-white colour and intricate embroidery make it a timeless choice.
7. Mustard Printed Jacquard Flared Skirt Crop Top Set
Embrace a trendy yet traditional look with this mustard printed jacquard flared skirt crop top set. The vibrant mustard colour and the flared skirt add a contemporary twist to your Dussehra outfit.
8. Pink Printed Jacquard Flared Skirt Crop Top Set
This pink printed jacquard flared skirt crop top set is perfect for those who want a blend of tradition and contemporary. The pink colour and the flared skirt create a fashionable Dussehra outfit.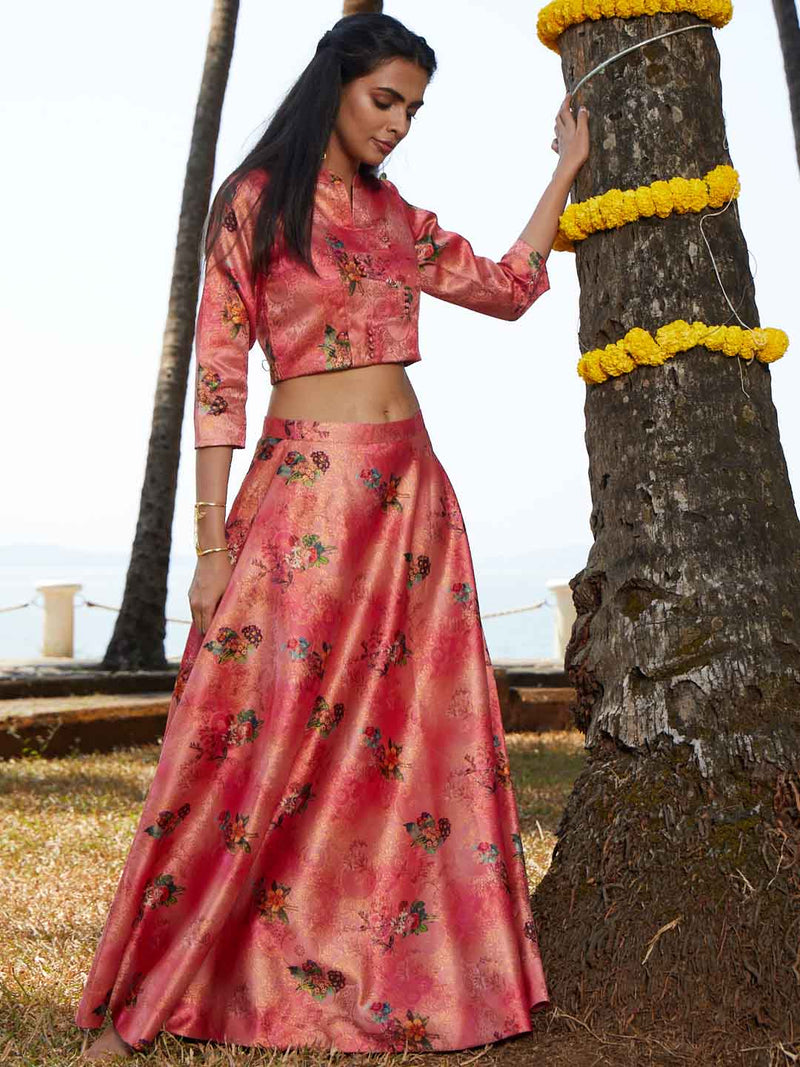 9. Light Pink And Mustard Organza Lehenga Choli
Elevate your Dussehra style with this light pink and mustard organza lehenga choli. The combination of colours and the organza fabric make it a delightful choice for the traditional dress for Dussehra festival.
10. Maroon Organza Lehenga Choli
Make a bold statement with this maroon organza lehenga choli as your Dussehra outfit. The rich maroon colour and the organza fabric create a striking and traditional look.
Radiate Your Elegance This Dussehra With Raisin!
So, what do you think? Don't these dresses for Dussehra perfectly satisfy your style needs? We believe our diverse range of Dussehra outfits caters to various style preferences and requirements, whether you're looking for traditional dresses like kurta sets or contemporary and stylish skirt and crop top sets. Why wait any longer? Start your Dussehra outfit shopping journey now and step into the festivities with grace and panache.
Trending Blogs:
Diwali Party Outfits| Traditional Diwali Dress For 2023| Bhai Dooj Gift Ideas For Sister| Styling Tips For Durga Puja Outfits| Traditional Chhath Puja Dress| Navratri Garba Dresses| Gorgeous Party Wear Gown | Traditional Dress For Ganesh Chaturthi| Types of maxi dresses | Birthday Outfit Ideas| Kitty party dress | Karwa chauth look ideas | Bollywood look to recreate | Teej dress ideas | Office wear kurta set | Valentines day dress code | Airport look for plus size

Popular Products:
Kurta Set | Kurta Set Dupatta | Blazer set for women | Crop top and skirts | Festive kurta sets |
Plus size dresses | Cocktail party dress | Anniversary party dress | Co-ord sets women | Bhumi pednekar dress | Velvet kurta set | Printed velvet suit | Banarasi brocade suit | Festive Dresses |
Sharara set | Monochrome outfit | Resort wear for women | Pleated dress |