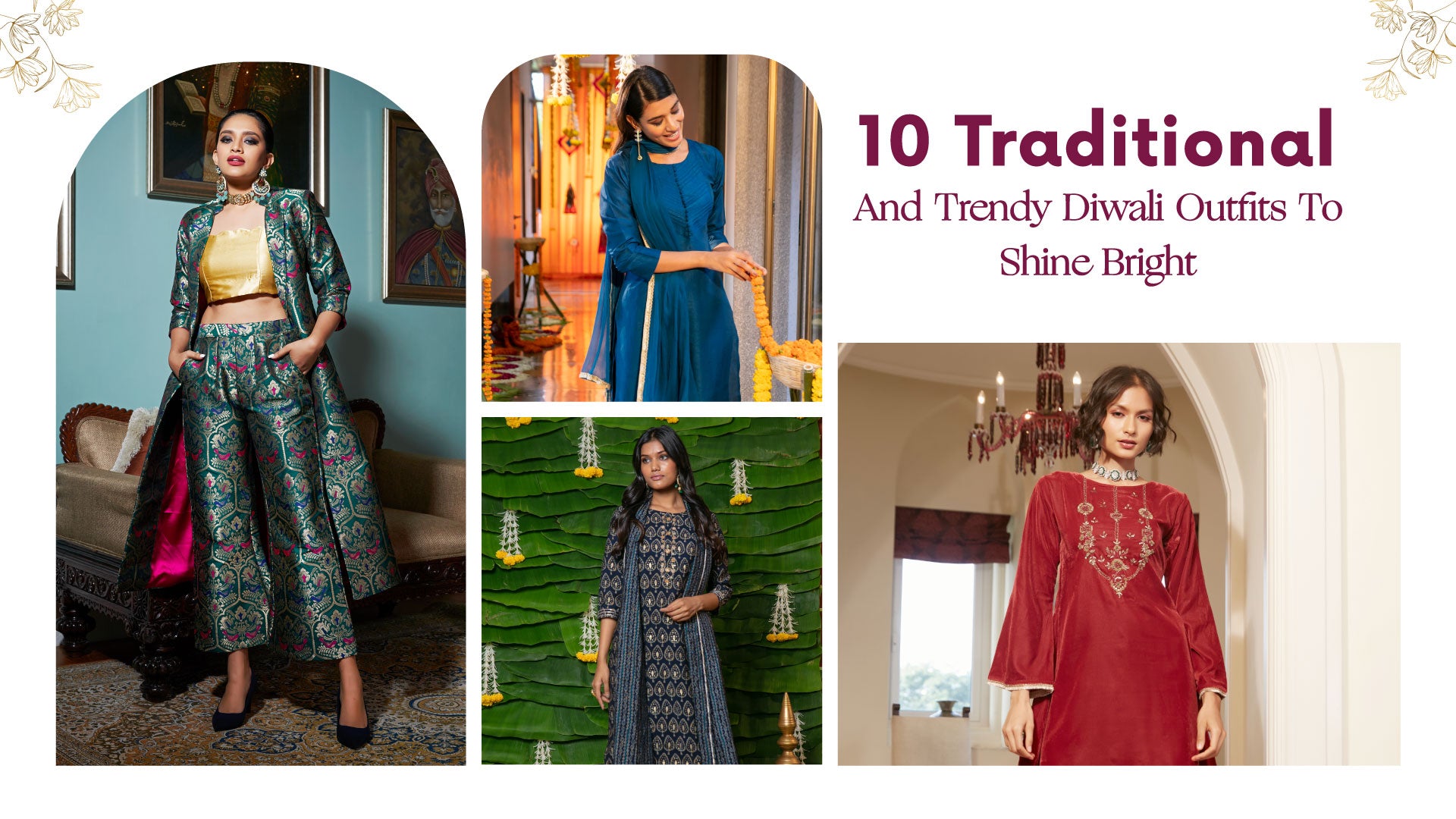 10 Traditional And Trendy Diwali Outfits To Shine Bright
Hey there! It's that time of the year again—the festive season is in full swing. We've just bid farewell to Navratri and Durga Puja, and now, the grand celebration of Diwali is right around the corner! Diwali, the festival of lights, bursting crackers, and pure unadulterated fun, is a date circled with anticipation on every calendar. Some of you might be gearing up for traditional pujas, while others could be planning exciting vacation getaways. No matter your plans, one thing's for sure: you're on the hunt for Diwali outfits that strike the perfect balance between sophistication, style, and festive spirit.
Whether you're in search of the perfect ethnic Diwali dress or trendy Western Diwali outfits, look no further—Raisin is your one-stop destination for all things fabulous. Raisin has curated an exclusive collection of Diwali outfits for women, catering to a wide array of choices and preferences. Don't miss out!
So, don't wait for any longer! Let's explore 10 best Diwali outfit ideas that will help you shine bright this festive season!
What Do You Wear On Diwali?
When it comes to Diwali outfits for women, there's a wide spectrum of styles to choose from. Traditionally, most women opt for ethnic wear, including colourful sarees, elegant kurta sets, and classic salwar kameez, all adorned with the vibrant hues that symbolise the festival of lights. These ethnic Diwali outfits not only pay homage to our cultural heritage but also infuse an air of grace and elegance into the festivities.
However, modern women have diversified their wardrobes, embracing Western and Indo-Western attire. Western Diwali outfits, like flared maxi dresses, trendy mini dresses, and co-ord sets, offer a fusion of style and comfort, catering to a more contemporary taste. The choices are as diverse as the celebrations themselves, allowing everyone to find their perfect Diwali look.
What Colours To Wear On Diwali?
Choosing the right colours to wear on Diwali can enhance the festive spirit. Traditional choices include vibrant reds, deep blues, rich greens, and bright yellows, symbolising prosperity and joy. Gold and silver accents also add a touch of opulence. However, contemporary Diwali fashion welcomes a wide spectrum of colours, allowing you to express your personal style while radiating positivity and happiness during the celebrations.
Stunning Diwali Outfits For Women By Raisin
The moment you've been waiting for is here! It's time to unveil the most stunning Diwali outfits for women, curated by Raisin, that will make you shine bright this festive season.
1. Dark Rust Velvet Embroidered A-line Kurta Set
For an opulent and regal look, consider this exquisite dark rust velvet A-line kurta set. Adorned with intricate embroidery, this Diwali ethnic wear exudes elegance and is perfect for those who want to make a statement at Diwali gatherings.
2. Black Plain Velvet Embroidered Kurta Set
Black is timeless, and this black plain velvet kurta set with delicate embroidery adds a touch of sophistication to your Diwali outfit. It's a versatile choice that can be dressed up or down, making it suitable for various celebrations.
3. Blue Russian Silk Straight Kurta Set
If you're looking for a fusion of tradition and modernity, the blue Russian silk straight kurta set is one of the best Diwali outfits. Its rich colour and graceful design strike a balance between classic and contemporary, allowing you to dazzle during Diwali festivities.
4. Light Pink Chanderi Kurta Set
Embrace the softness and charm of light pink with this Chanderi kurta set. It's one of the most subtle yet elegant ethnic Diwali outfits for women that radiates a graceful aura, making it ideal for those who prefer understated beauty.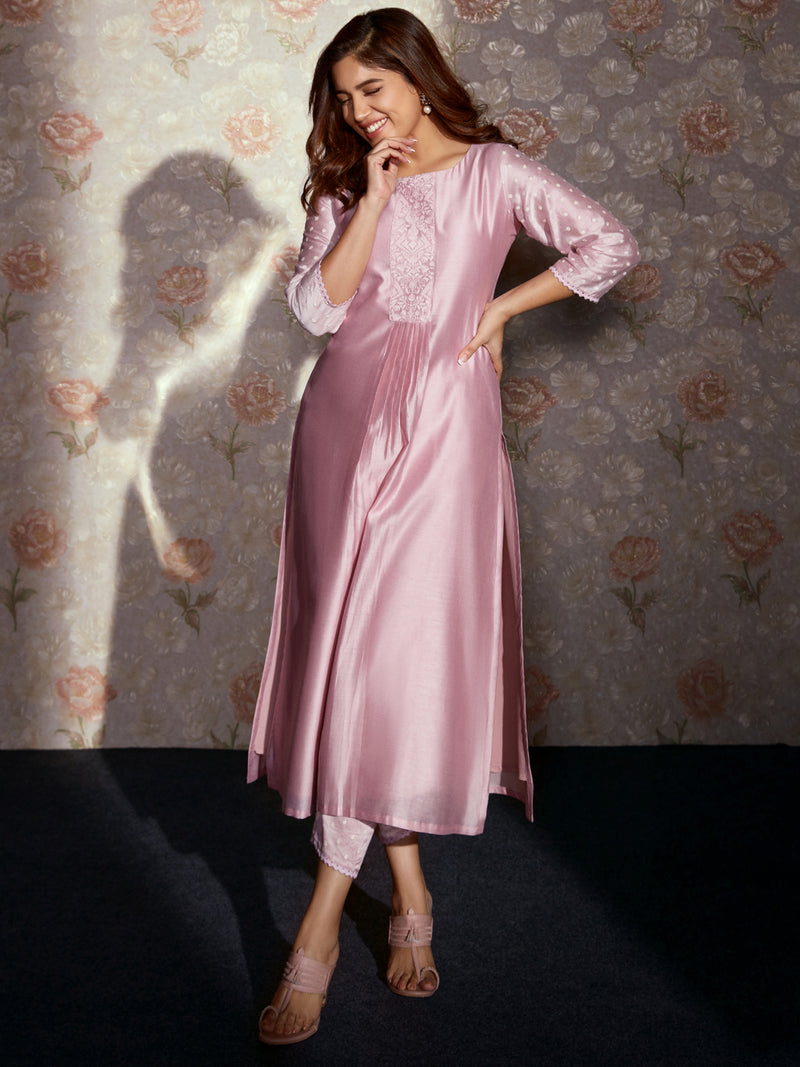 5. Navy Blue Kurta Sharara Set
If you want to embrace a fusion of traditional and contemporary styles, the navy blue printed embroidered sharara set is a standout choice for your trendy Diwali outfits . The playful prints and stylish silhouette make it an ideal outfit for those looking to make a bold statement this Diwali.
6. Maroon Glass Tissue Handwork Co Ord
This exquisite Maroon Co Ord set is a true showstopper. Crafted with intricate glass tissue handwork, it exudes elegance and sophistication. The rich maroon colour symbolises festivity, and the meticulous detailing adds a touch of luxury, making it a perfect choice for your stylish Diwali party outfits.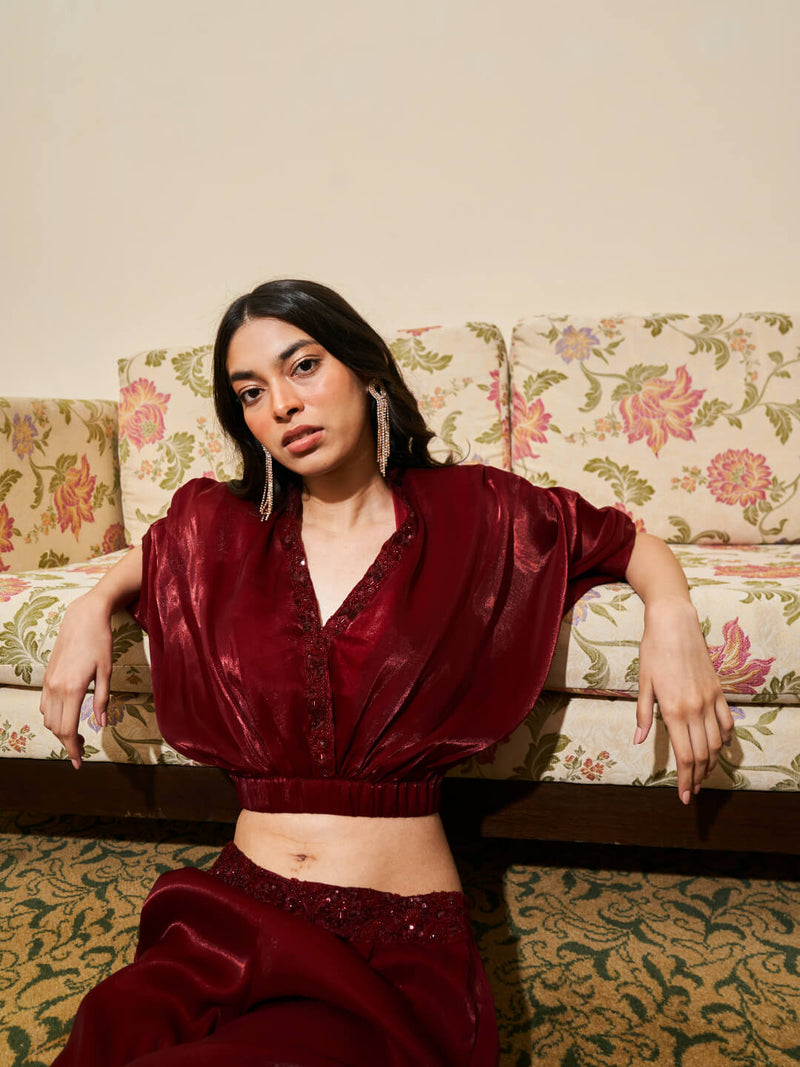 7. Green Jacquard Banarasi Brocade Jacket Pant Set
This Green Jacquard Jacket Pant Set showcases the timeless charm of Banarasi brocade. The rich green hue reflects prosperity and new beginnings, making it an auspicious choice for Diwali. The jacquard fabric adds texture and depth, while the set exudes a traditional yet contemporary vibe, perfect for those who appreciate a blend of heritage and style.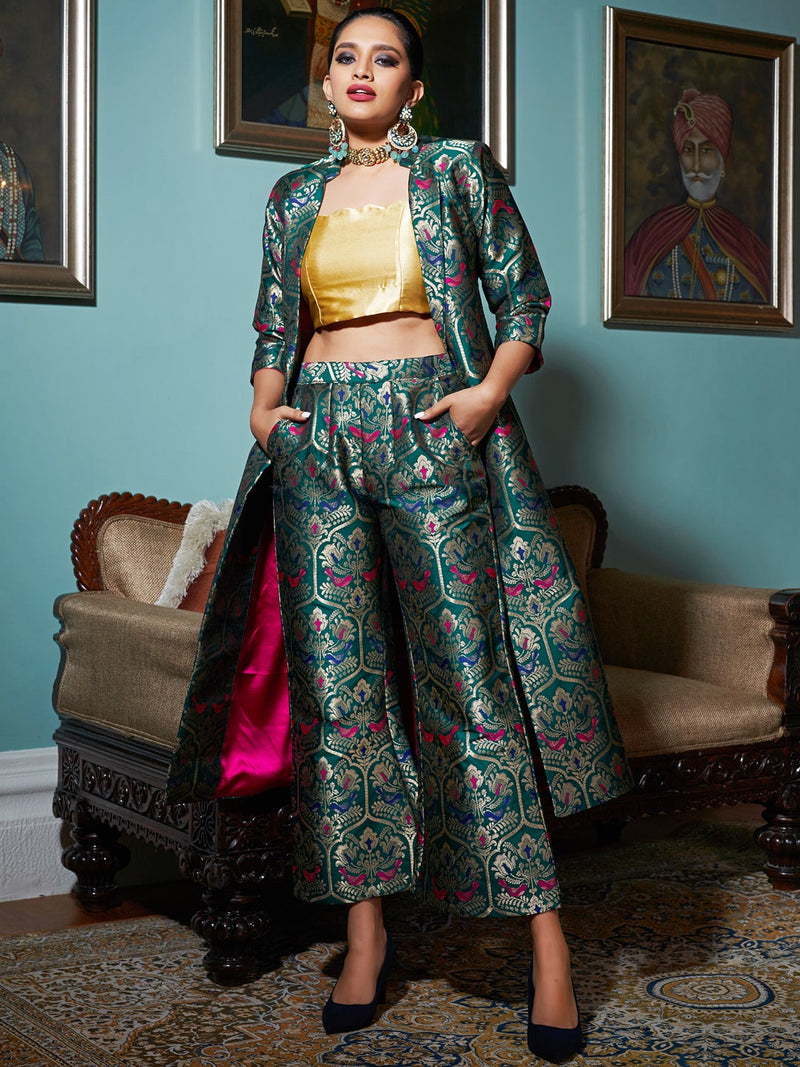 8. Silver Banarasi Brocade Co Ord
The Silver Banarasi Brocade Co Ord set is the latest addition to our collection of Diwali outfits for women. The intricate Banarasi brocade work adds a touch of opulence, making this outfit ideal for those who want to shine bright during the festivities.
9. Magenta Pink Georgette Gown
The Magenta Pink Georgette Gown is a blend of sophistication and femininity. The vibrant magenta colour exudes energy and enthusiasm, perfectly capturing the festive spirit of Diwali. The georgette fabric adds flow and grace to the gown, making it a comfortable and best outfit for Diwali!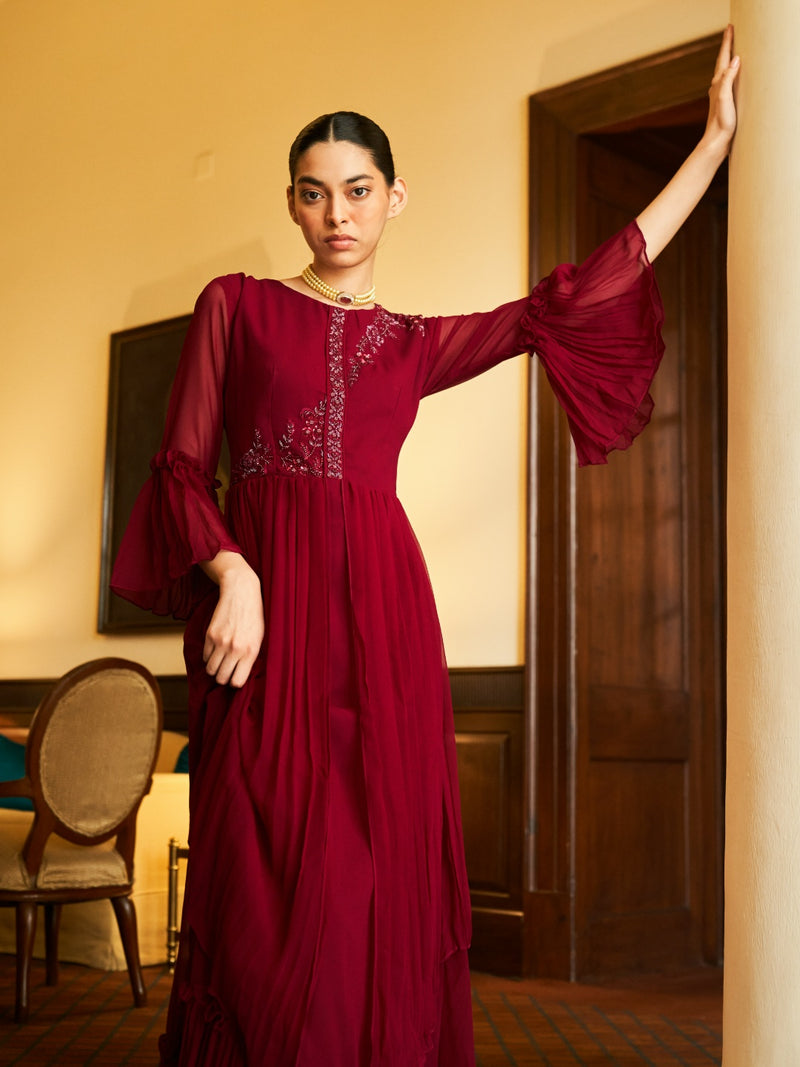 10. Pink Printed Maxi Dress
For a more casual outing or a stylish Western look during Diwali, the Pink Printed Maxi Dress is a fantastic choice. The soft pink hue represents love and happiness. This dress is versatile, suitable for brunch with family or a relaxed Diwali gathering. Its printed design adds a playful touch to your festive attire while ensuring comfort and style.
Summing Up!
So, are you mesmerised by the variety of Diwali outfits? With options ranging from the traditional to the contemporary, there's something to suit every taste and style preference. Now that you've explored these stunning Diwali outfits, why wait any longer? It's time to dive into the world of fashion and start shopping for your perfect Diwali ensemble from Raisin's exclusive collection of Diwali outfits for women.
Embrace the festive spirit, radiate positivity, and shine bright during the Festival of Lights with your impeccable style. Happy Diwali and happy shopping!
Trending Blogs:
Durga Puja Outfit Ideas| Styling Tips For Durga Puja Outfits| Traditional Chhath Puja Dress| Navratri Garba Dresses| Gorgeous Party Wear Gown | Traditional Dress For Ganesh Chaturthi| Types of maxi dresses | Birthday Outfit Ideas| Kitty party dress | Karwa chauth look ideas | Bollywood look to recreate | Teej dress ideas | Office wear kurta set | Valentines day dress code | Airport look for plus size

Popular Products:
Kurta Set | Kurta Set Dupatta | Blazer set for women | Crop top and skirts | Festive kurta sets |
Plus size dresses | Cocktail party dress | Anniversary party dress | Co-ord sets women | Bhumi pednekar dress | Velvet kurta set | Printed velvet suit | Banarasi brocade suit | Festive Dresses |
Sharara set | Monochrome outfit | Resort wear for women | Pleated dress |