5 Gorgeous Karwa Chauth Dresses To Glam Up Your Look
Karwa Chauth, the special occasion for Hindu women, is a day of love, devotion, and fasting. On this cherished day, women put in extra effort to look their absolute best, aiming to mesmerize their partners when the moon rises. If you're planning to observe Karwa Chauth and are on the lookout for Karwa Chauth dress ideas to create a stunning and unforgettable look, you've come to the right place.
This year, let's dive into Raisin's exquisite collection of Karwa Chauth dresses. In this blog, we'll not only showcase five gorgeous Karwa Chauth dresses but also provide you with invaluable styling tips and Karwa Chauth dress ideas 2023 to ensure you shine like a star on this special occasion!
You May Be Wondering- " What Should I Wear On Karwa Chauth?"
When it comes to choosing the perfect dress for Karwa Chauth, the timeless elegance of Indian ethnic wear stands out as the ultimate choice. The rich tapestry of options available allows you to express your style and devotion in a myriad of ways. From the regal allure of Anarkali suits to the classic charm of lehenga sets, the grace of traditional salwar kameez, the contemporary flair of sharara sets, to the understated sophistication of kurta sets paired with a beautiful dupatta – the choices are truly endless. Each Karwa Chauth special dress holds its own unique charm and significance, reflecting the cultural diversity and tradition that make this festival so special.
5 Karwa Chauth Special Dresses By Raisin
Now, the moment you've been waiting for - let's dive into five exquisite Karwa Chauth dress ideas by Raisin that are sure to leave you spellbound.
1. Red Zari Thread Work Kurta Set Dupatta
The Red suits for Karwa Chauth combine the richness of red with intricate zari thread work. The kurta, paired with a matching dupatta, exudes traditional charm and elegance. It's the perfect choice if you want to embrace the classic red hue for your Karwa Chauth dress.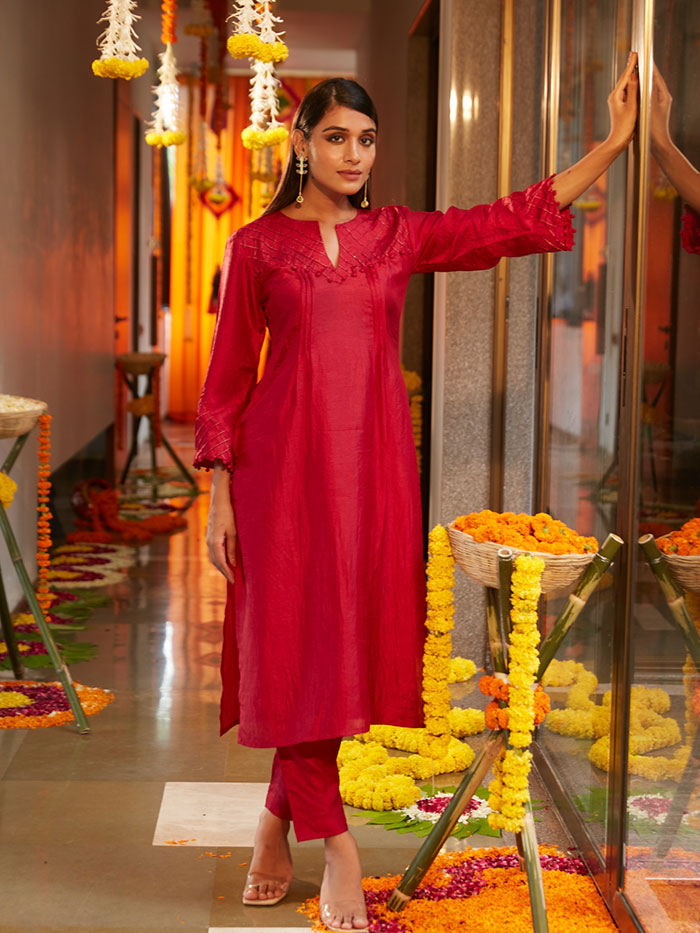 2. Magenta Mini Silk Printed Kurta Set
For those who prefer a touch of contemporary flair, the Magenta Mini Silk Printed Kurta Set is a delightful choice. The vibrant magenta color and subtle print add a modern twist to the traditional kurta set, making it an ideal dress for Karwa Chauth.
3. Dark Pink Velvet Embroidered Kurta Set
Velvet exudes opulence, and this Dark Pink Velvet Embroidered Kurta Set does just that. The intricate embroidery work on the kurta adds a touch of regal charm, making it a standout Karwa Chauth special dress.
4. Light Rust Kurta Sharara Set
If you're looking for something unique and trendy, the Light Rust Kurta Sharara Set is a fabulous option. The combination of a rust-colored kurta and sharara pants creates a stylish and comfortable ensemble that's perfect for the occasion.
5. Dark Lavender Embroidered Kurta Set
For those who love pastel hues, the Dark Lavender Embroidered Kurta Set is a dream come true. The soft lavender color combined with intricate embroidery makes this dress a true reflection of grace and sophistication.
These five Karwa Chauth dresses by Raisin offer a diverse range of choices to suit different tastes and preferences. Whether you're drawn to the traditional, contemporary, or opulent, there's a perfect dress for Karwa Chauth waiting for you in this collection.
How To Create A Stunning Karwa Chauth Look?
Creating a stunning Karwa Chauth look is all about combining elegance and tradition. Start by choosing the perfect Karwa Chauth dress that resonates with your style and the occasion's significance, like the ones mentioned above.
Complement it with exquisite jewelry, including bangles, earrings, and a statement necklace, to enhance your overall appeal.

Pay attention to intricate mehndi designs on your hands and add a touch of glam with subtle makeup that highlights your features.

Finally, complete the look with a neatly tied hairdo and a vibrant sindoor to symbolize the essence of Karwa Chauth.
With these steps, you'll radiate beauty and devotion on this auspicious day.
Summing Up!
Your Karwa Chauth look can be nothing short of breathtaking with the right attire and accessories. Raisin's exquisite collection of Karwa Chauth special dresses offers a range of choices to suit every taste and style. Whether you opt for the traditional charm of zari thread work or the contemporary elegance of silk prints, Raisin has you covered.
So, don't wait any longer; explore our collection, pick your favorite Karwa Chauth dress, and get ready to make this occasion truly memorable.
Elevate your style, embrace tradition, and celebrate love with Raisin today! Visit our website now and discover the perfect outfit for your Karwa Chauth celebration.
Trending Blogs:
Traditional And Trendy Durga Puja Outfits| Traditional Chhath Puja Dress| Navratri Garba Dresses| Gorgeous Party Wear Gown | Traditional Dress For Ganesh Chaturthi| Types of maxi dresses | Birthday Outfit Ideas| Kitty party dress | Karwa chauth look ideas | Bollywood look to recreate | Teej dress ideas | Office wear kurta set | Valentines day dress code | Airport look for plus size

Popular Products:
Kurta Set | Kurta Set Dupatta | Blazer set for women | Crop top and skirts | Festive kurta sets |
Plus size dresses | Cocktail party dress | Anniversary party dress | Co-ord sets women | Bhumi pednekar dress | Velvet kurta set | Printed velvet suit | Banarasi brocade suit | Festive Dresses |
Sharara set | Monochrome outfit | Resort wear for women | Pleated dress |