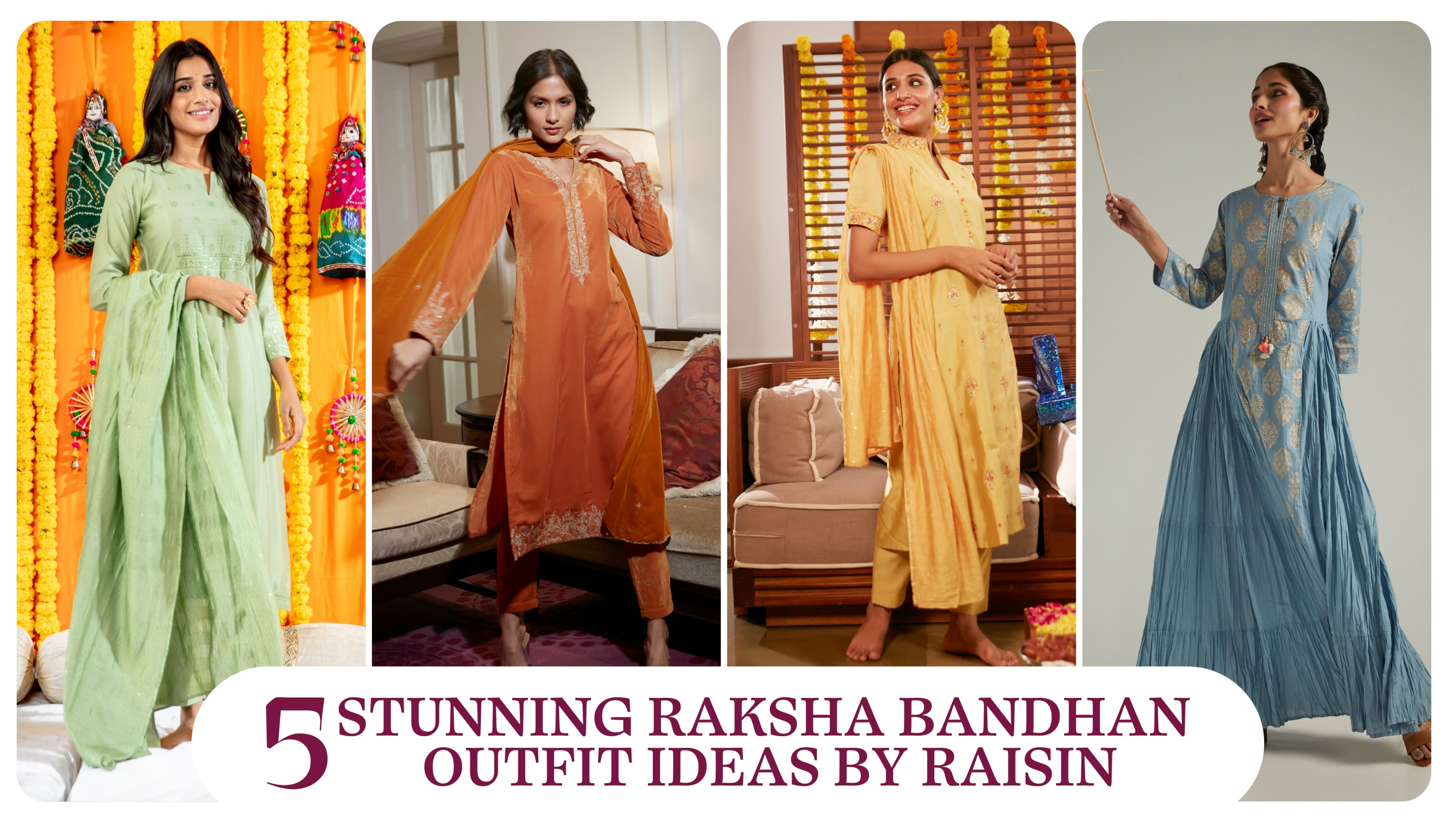 5 Stunning Raksha Bandhan Outfit Ideas By Raisin
Are you ready to dazzle this Raksha Bandhan with a perfect blend of tradition and trendiness? As the auspicious day approaches, we know you're eagerly planning for the celebrations and cherishing the bond with your beloved siblings. But amidst all the joy and excitement, there's that one important question lingering in your mind – What to wear? Fret not! Raisin is here to help you with an exquisite collection of Raksha Bandhan special dresses that will make you the centre of attention.
From timeless traditional ensembles to chic and contemporary indo-western dresses, we have handpicked a range of stunning Raksha Bandhan outfits that are sure to elevate your style game. So, if you're seeking the perfect Raksha Bandhan outfit that will leave everyone mesmerised, look no further!
Get ready to explore the finest fashion inspirations and embrace the festive spirit in style.
Which Outfit Is Best For Raksha Bandhan?
When it comes to choosing the best Raksha Bandhan outfit, there's nothing quite like traditional ethnic wear such as kurtis, kurta dupatta sets, sarees, and lehengas. These timeless pieces exude elegance and charm, making them perfect choices for this auspicious festival. 
However, in 2023, fashion has evolved, and there's a growing trend of embracing contemporary touches while still preserving a touch of traditionality. For those who wish to add a modern twist to their Raksha Bandhan outfit, mixing and matching crop tops with long flared skirts, experimenting with ethnic dresses, and exploring fusion styles can be an excellent choice. This allows you to showcase your individuality and creativity while paying homage to the festival's roots.
What Colour To Wear On Raksha Bandhan?
Traditionally, on Raksha Bandhan, there is no specific colour to wear. However, bright and festive colours like red, yellow, orange, and pink are commonly chosen to celebrate the joyful occasion.
Traditional Raksha Bandhan Outfit
The outfit ideas for Raksha Bandhan always begin with embracing the beauty of traditional attire. At Raisin, we take immense pride in curating a stunning collection of Raksha Bandhan traditional dresses that perfectly capture the essence of this auspicious festival.
So, let's explore our traditional and special dress for Raksha Bandhan now!
Magenta Silk Straight Kurta Pant Set With Dupatta
Embrace the enchanting allure of our Magenta Silk Straight Kurta Pant Set with Dupatta. Crafted from premium mini silk, this mesmerising outfit exudes luxury and sophistication. 
The captivating magenta hue adds a touch of royalty to your Raksha Bandhan ensemble, while the delicate printed patterns enhance its charm. The Straight Kurta features a flattering V-neck design and elegant 3/4 sleeves, providing a perfect blend of comfort and fashion-forward appeal. With the accompanying matching pants and a beautifully adorned dupatta, this outfit promises to make you the epitome of grace and gracefulness on this auspicious occasion.
Radiant Yellow Embroidered Kurta Dupatta Set
Radiate happiness on Raksha Bandhan with our Yellow Embroidered Kurta Pant Set With Dupatta. Crafted from luxurious inox silk, this ensemble exudes charm with its vibrant yellow hue.
The straight-cut kurta features delicate embroidery and a sophisticated mandarin collar, while the half sleeves add a touch of modernity. Paired with comfortable pants and complemented by a matching dupatta, this Rakshan Bandhan traditional dress strikes the perfect balance between traditional grace and contemporary flair.
Elegant Pista Green Embroidered Kurta Dupatta Set
Another traditional Raksha Bandhan outfit that exudes sheer elegance and sophistication is our Pista Green Embroidered Kurta Pant Set With Dupatta.
Crafted from luxurious Pollina Silk, this ensemble features a flattering round neck design and 3/4 sleeves, offering a perfect blend of comfort and style. The captivating Pista Green hue adds a refreshing touch, while the intricate embroidery elevates the outfit's allure. Paired with a matching dupatta, this ensemble is bound to make you the centre of attention and create an unforgettable impression on this auspicious occasion.
Opulent Velvet Embroidered Kurta Dupatta Set
Our Yellow Velvet Embroidered Kurta Pant Set with Dupatta is the epitome of opulent charm, making it the ultimate showstopper for your traditional Raksha Bandhan outfit!
The stunning mustard hue adds a touch of regal sophistication, while the straight kurta with a flattering V-neck accentuates your grace. The full sleeves exude a sense of elegance, and the intricate embroidery on the velvet fabric adds a touch of allure to this resplendent ensemble.
To get a more stunning traditional dress for Raksha Bandhan, don't forget to check out our Heer, Keya collection!
Indo Western Dress For Raksha Bandhan
Looking for stylish and comfortable Indo-Western dresses for Raksha Bandhan? Look no further! Check out our curated collection of Indo western Raksha Bandhan outfits for women
Mustard Flared Skirt And Crop Top
Make a fashion statement while celebrating Raksha Bandhan with your beloved siblings! Our vibrant mustard crop top and flared skirt are the perfect choice for a lunch outing or any special gathering.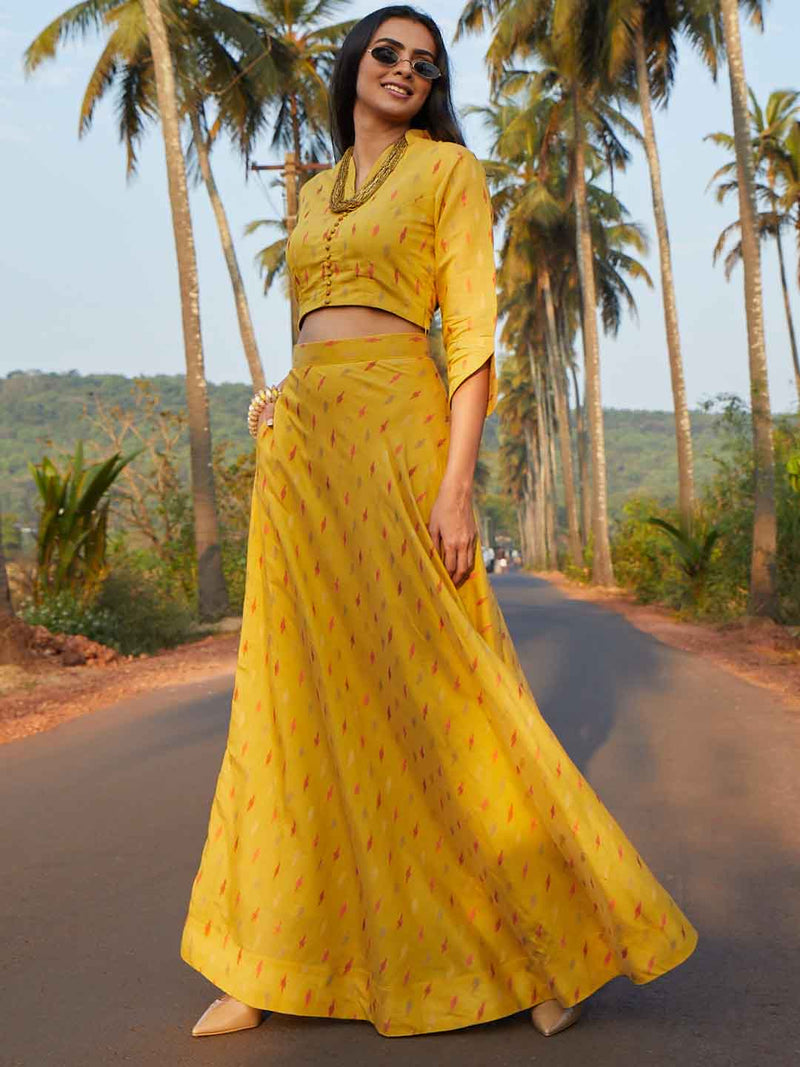 The crop top features a stylish collar and V-neck, perfectly complementing the flared pattern of the matching skirt. Both the top and skirt are made from high-quality woven fabric and designed with comfort in mind, using soft and breathable viscose.
Blue Printed Flared Maxi Dress
Add a touch of elegance to your Raksha Bandhan wardrobe with this stunning blue printed flared maxi dress.
Crafted from comfortable cotton, this dress is not only fashionable but also ideal for a day full of festivities. The round neck design adds a classic touch to the overall look, making you stand out in style.
How To Style Raksha Bandhan Outfits?
It's important to accessorise your special dress for Raksha Bandhan to create a stunning look! Whether you're wearing a Kurta Set with Dupatta, a Crop Top and Skirt ensemble, or a Flared Maxi Dress, the right accessories can elevate your outfit and make you stand out on this joyous occasion.
Styling Idea for Kurta Set with Dupatta
For a traditional yet chic look, pair your Kurta Set with a Dupatta with some statement jewellery pieces. Opt for a dazzling choker necklace or a layered necklace to add a touch of elegance to your neckline. Enhance your wrists with bangles or bracelets that complement the colours of your outfit. Complete the look with a stylish clutch or potli bag and a pair of embellished juttis or mojris for a perfect fusion of style and tradition.
Styling Idea for Crop Top and Skirt
When styling your Crop Top and Skirt outfit, focus on mixing contemporary elements with ethnic accessories. Consider adding a waist belt with intricate detailing to accentuate your waist and add a modern touch to the ensemble. Complement the outfit with trendy dangler earrings or statement studs. Don't forget to carry a stylish sling bag or a boho-chic crossbody bag to keep your essentials handy. Opt for comfortable yet fashionable block heels or wedges that will let you dance and celebrate Rakhi with ease.
Styling Idea for Flared Maxi Dress
When your Raksha Bandhan outfit is a Flared Maxi Dress, keep the accessories minimalistic yet impactful. Add a delicate long chain necklace or a pendant necklace to draw attention to the neckline of your dress. Accessorise your wrists with simple bangles or bracelets that match the colour palette of your outfit. A stylish sun hat or floppy hat can add a touch of glamour to your look while also providing protection from the sun during daytime celebrations. Complete your outfit with strappy sandals or flats for a graceful and comfortable appearance.
So, why wait? Choose accessories that resonate with your taste and preferences, and don't be afraid to experiment with different combinations until you achieve your desired look.
Summing Up!
We hope that the Raksha Bandhan Outfit Ideas presented by Raisin will surely help you create a lasting impression on this auspicious occasion. Whether you choose the vibrant Mustard Flared Skirt and Crop Top, the elegant Kurta Set with Dupatta, the chic Crop Top and Skirt ensemble, or the graceful Blue Printed Flared Maxi Dress, these outfits are designed to make you look and feel your best. Pair them with the suggested accessories to elevate your style and add a touch of glamour to your celebration. 
So, make this Rakhi more special with Raisin and create cherished memories with your loved ones as you celebrate the bond of love and protection. Happy Raksha Bandhan!
Trending Blogs:
Bollywood day ideas | Birthday outfit for women | | Types of maxi dresses | Kitty party dress | Karwa chauth look ideas | Bollywood look to recreate | Teej dress ideas | Office wear kurta set | Fashion trends 2022 | Valentines day dress code | Airport look for plus size

Popular Products:
Kurta Set | Kurta Set Dupatta | Blazer set for women | Crop top and skirts | Festive kurta sets |
Plus size dresses | Cocktail party dress | Anniversary party dress | Co-ord sets women | Bhumi pednekar dress | Velvet kurta set | Printed velvet suit | Banarasi brocade suit | Festive Dresses |
Sharara set | Monochrome outfit | Resort wear for women | Pleated dress |