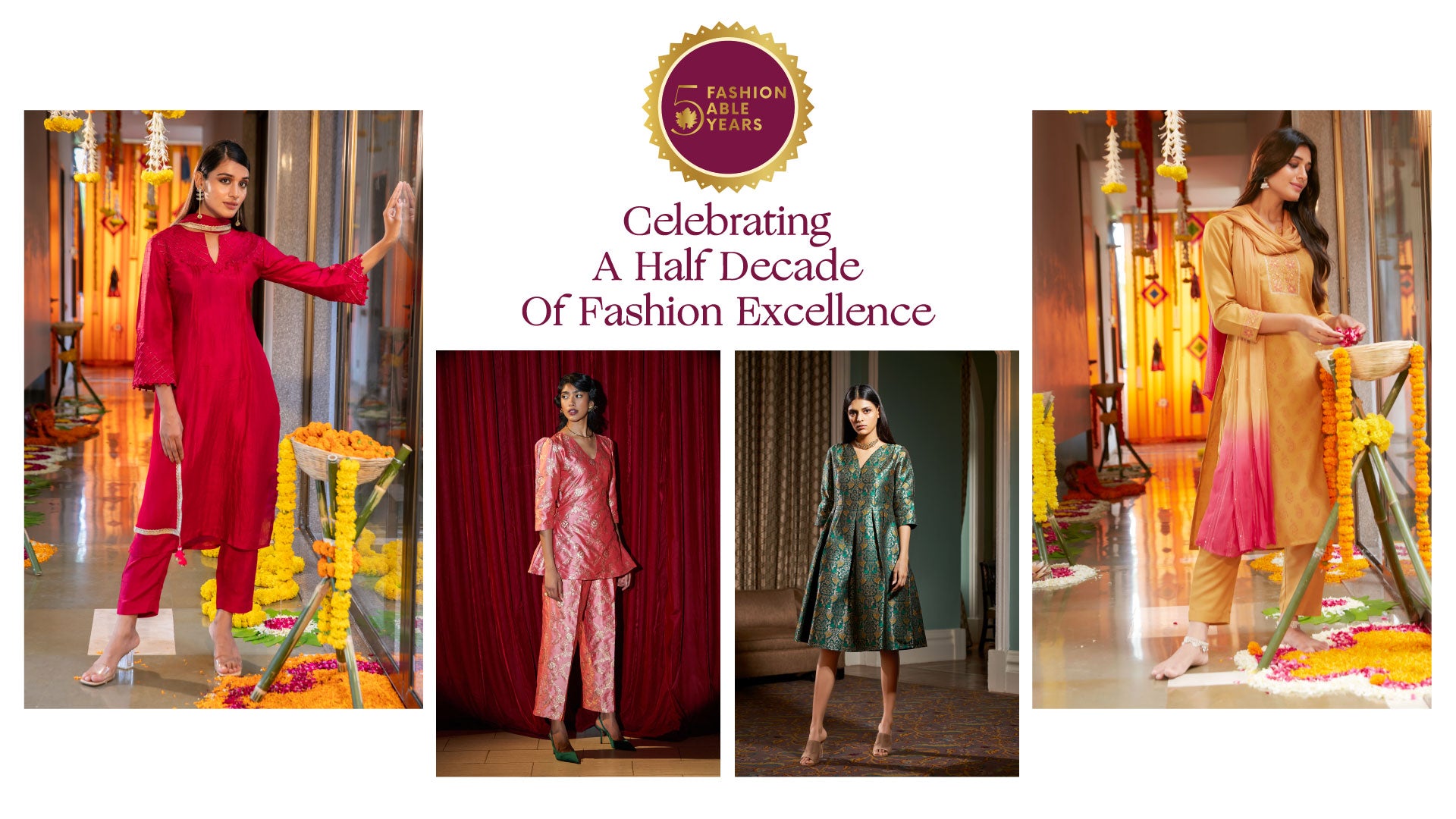 5 Years Of Raisin: Celebrating A Half Decade Of Fashion Excellence
In the world of ever-evolving fashion trends, the demand for stylish yet comfortable clothing has been escalating day by day, and in this dynamic landscape, Raisin stands as a shining beacon.
Established on the 14th of August in 2018 as a women's clothing brand in India, Raisin swiftly expanded its horizons, embracing the philosophy of inclusive fashion, and offering its versatile collections irrespective of gender.
The brand's primary mission has always been to effortlessly blend fashion trends with unparalleled comfort, and the result has been nothing short of extraordinary. Within a mere five years, Raisin has garnered the adoration of over 5 lakh women across India, leaving an unforgettable impression on the hearts and wardrobes of countless fashion enthusiasts.
Let's continue reading, to know the inspiring journey of Raisin and the achievements of the last five years!
Threads Of Diversity: Raisin's Captivating Collection Of The Last 5 Years!
From 2018 to 2023, Raisin has embarked on a remarkable journey, showcasing an impressive array of creations that transcend boundaries. From enchanting Indian ethnic wear to chic western styles, and innovative fusion ensembles, Raisin has taken the fashion world by storm, embracing every facet of the latest trends for women. Let's embark on a journey through Raisin's incredible collections that showcase a delightful blend of tradition, contemporary flair, and unmatched creativity.
Indian Ethnic Wear
Raisin's Indian ethnic wear collection has elevated traditional fashion to unprecedented heights. With a diverse range of offerings, from stunning kurta sets with dupattas to comfortable kurtis and vibrant ethnic dresses, they have redefined elegance and style in the realm of ethnic fashion.
Western Wear
Venturing beyond Indian ethnic wear, Raisin has also ventured into a diverse array of western wear, tailored to meet the demands of the modern woman. With an assortment of prints, colours, and styles, their collection caters perfectly to every occasion. From flowing maxi dresses to chic midi dresses, and sassy mini dresses to trendy tops and tunics, not to mention stylish co-ord sets and effortless jumpsuits, Raisin has it all!
Breezer
Raisin is riding the wave of the latest fashion trend, Tie Dye, which has taken the fashion world by storm. Introducing "Breezer," a captivating collection that showcases tie dye co-ord sets, tie dye mini dresses, and tie dye midi dresses for women.
Aika
Aika, a magnificent creation by Raisin, unveils a stunning array of Jacquard Banarasi Brocade Jacket pant sets and blazer pant sets. Seamlessly blending tradition and modernity, this collection promises to captivate hearts of all fashion forwards
Heer
For those seeking elegant party wear and wedding attire, Raisin presents the exquisite Heer collection. Embracing the essence of ethnic fashion, this collection features luxurious velvet kurta sets, perfect for those special occasions.
What's Your Move
Amidst the ever-evolving fashion trends, Raisin seizes the moment to captivate its fashion-forward enthusiasts with the "What's Your Move!" collection. Embracing the monochrome trend, this stunning collection showcases an array of jumpsuits, playsuits, and more, all adorned in elegant solid hues.
Isabella
In a nostalgic nod to retro styles, Raisin introduces the alluring Isabella collection. A delightful fusion of tradition and contemporary flair, this collection boasts Banarasi Brocade Co Ord Sets, making them a flawless choice for theme parties and beyond.
Backed By Bollywood Celebrity- Bhumi Pednekar- A Remarkable Achievement Of Raisin!
Undoubtedly, one of the most significant milestones that has catapulted Raisin into new heights is its remarkable collaboration with Bollywood sensation Bhumi Pednekar. The adoration and preference shown by Bhumi towards Raisin's dresses have been nothing short of extraordinary, lending the brand an exclusive and prestigious recognition. As a result, Raisin proudly introduces a special category in its collection named "Bhumi's Pick," featuring the very collections supported by the star herself. This exciting collaboration has undeniably played a pivotal role in elevating Raisin as a distinguished women's clothing brand.
Sounds exciting right? Not only Bhumi Pednekar Raisin has been supported by Bollywood celebrity Masoom Minawala, Vidya Balan and many others.
If you want to create a look like Bollywood stars don't forget to miss out the chance to check out bollywood inspired outfit ideas by Raisin!
Raisin's Mega Influencer Collaboration Reaches A Vast Audience!
Raisin, as a prominent fashion brand, wholeheartedly recognizes the influential force of social media influencers in connecting with its vast audience. The brand's exquisite collections have been a wellspring of inspiration for numerous influencers, leading to successful and meaningful collaborations with Raisin.
Here we are just mentioning some of the influencers who have joined hands with Raisin are:
Raisin Establishing Strong Presence In The World Of Fashion- Both Online & Offline
Over the past five years, Raisin has made remarkable strides in solidifying its position in the fashion industry, leaving a notable impact in both the online and offline realms. Initially starting with just five physical stores, the brand has impressively expanded its reach to encompass over 300 Multi-Brand Outlets (MBOs). Simultaneously, Raisin's online presence has been nothing short of commendable, capturing the hearts of fashion enthusiasts across the digital landscape. This outstanding growth showcases Raisin's unwavering commitment to bringing its trendy and comfortable clothing to a wide audience, establishing its prominence in the ever-evolving world of fashion.
Raisin Roars to Success: Sweeping Awards and Stealing the Spotlight in Media!
With each passing year, Raisin continues to soar in popularity, becoming a go-to destination for fashion-forward women seeking a diverse collection of Indian ethnic wear, western wear, and fusion wear. The brand's dedication to style and quality has not gone unnoticed, as it was recently awarded the prestigious Asia Fashion Award 2021-22.
Not only has Raisin's unique and trendy clothing line captivated the fashion world, but it has also caught the eye of renowned media outlets. Grazia, a top-tier women's fashion and celebrity gossip magazine with global recognition from esteemed platforms like Forbes, has given Raisin a well-deserved nod of approval. This media recognition further cements Raisin's status as a brand that effortlessly blends innovation and elegance, resonating with fashion enthusiasts worldwide.
Ending Note!
So, are you captivated by the mesmerising creation and achievement of Raisin over the last five years? Hopefully you are!
From its inception to the present day, Raisin has continuously embraced diversity, blending tradition and modernity to offer trendy, comfortable, and exquisite clothing collections to women across India. Witnessing its growth from just five stores to over 300+ MBOs, and backed by the support and recognition of Bollywood star Bhumi Pednekar, Raisin has made its place prominent in both the online and offline fashion industry.
If you haven't yet become a part of this incredible journey, join with Raisin, and if you already are, let's strengthen our bond and pave the way for an even more extraordinary voyage ahead!