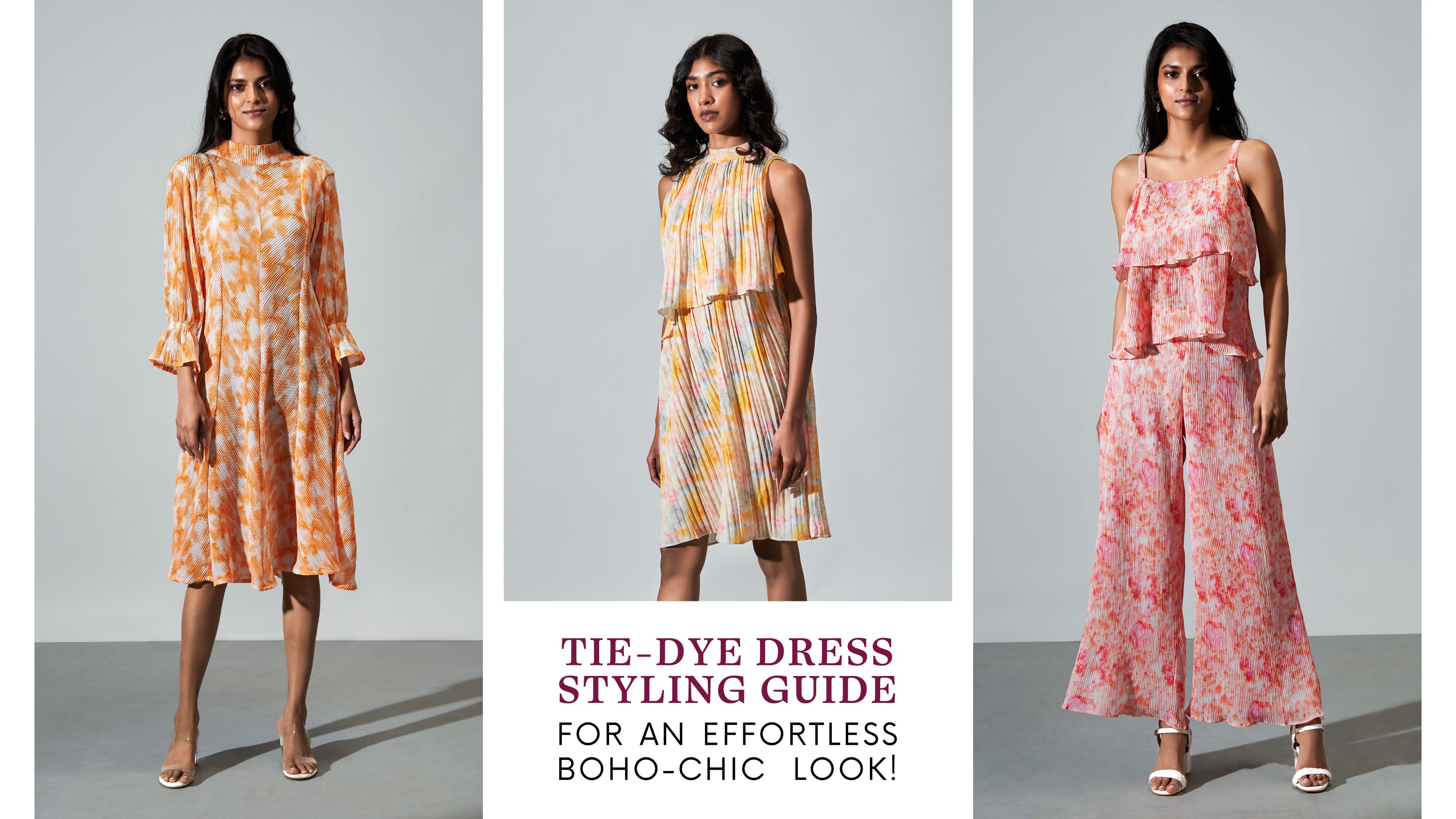 Tie-Dye Dress Styling Guide For An Effortless Boho-Chic Look!
Are you ready to become a true style maven and effortlessly embrace the mesmerising allure of boho-chic fashion? Look no further! Get ready to immerse yourself in the mesmerising world of tie dye dresses! With its vibrant bursts of colour and carefree spirit, tie dye has become the go-to trend for fashionistas seeking a unique and captivating look.
In this exhilarating blog, we will unravel the secrets behind creating an effortlessly chic boho style using tie dye dresses. From exploring the captivating features of these garments to discovering a wide range of stylish options from Raisin , we will guide you through every step of the way.
So, continue reading! 
What Is A Tie Dye Dress?
A tie dye dress is a vibrant and artistic garment that embodies the essence of bohemian fashion. It is created through a unique dyeing technique where fabric is twisted, folded, or tied in various patterns, and then immersed in dyes to create beautiful, multi-coloured designs. The result is a mesmerising blend of hues, with each dress boasting its own one-of-a-kind pattern.
Frequently Asked Questions For Tie Dye Dress
1. What Is The Best Fabric For A Tie Dye Dress?
Ans: The best fabric for a tie dye dress is generally 100% cotton. Cotton absorbs dye well, resulting in vibrant and long-lasting colours. It is also a breathable and comfortable fabric, making it ideal for summer dresses. Other natural fibres like rayon and linen can also work well for tie dyeing. Avoid synthetic fabrics like polyester, as they may not hold the dye as effectively and can result in a less desirable outcome.
2. Can I Wear A Tie Dye Dress For A Formal Occasion?
Ans: While tie dye dresses are typically associated with casual and boho-chic styles, it may be challenging to wear them for formal occasions. Formal events usually call for more traditional and sophisticated attire. However, if you're attending a less strict or unconventional formal gathering, you can experiment with a tie dye dress by opting for a more refined silhouette and pairing it with elegant accessories.
3. What Footwear Styles Should I Avoid With A Tie Dye Dress?
Ans: When it comes to pairing footwear with a tie dye dress, it's best to avoid formal or traditional styles such as dress shoes or formal heels. These types of footwear can clash with the casual and bohemian vibe of a tie dye dress. Additionally, it's advisable to steer clear of overly embellished or flashy shoes that might overpower the vibrant patterns of the dress. Instead, opt for more relaxed and laid-back options like sandals, espadrilles, sneakers, or even ankle boots for a cool and effortless look that complements your tie dye dress.
Exploring A Variety Of Stylish Tie Dye Dresses From Raisin!
Tie dye dresses embody the perfect fusion of bold fashion and carefree bohemian vibes, capturing the essence of freedom, self-expression, and individuality. They have become a go-to choice for those seeking a distinctive and eye-catching look. 
Whether you're attending a music festival, enjoying a beach party, or simply looking to infuse your everyday style with a touch of boho-chic, a tie dye dress is the ultimate wardrobe staple. 
At Raisin, we are thrilled to introduce our Breezer collection , which offers an extensive range of tie dye outfits, including flowing tie dye midi dresses and stylish tie dye co-ord sets, catering to every occasion and style preference. 
Get ready to explore our captivating collection and embrace the vibrant world of tie dye fashion!
1. Tie Dye Co Ord Set
Looking to make a statement at a music festival or have a formal party to attend? Maybe you're just planning a casual outing with friends and need the perfect tie dye dress. Look no further than our incredible selection of tie dye co ord sets!

For a casual yet stylish look, try our pink tie dye co-ord set featuring a crop top and flared pants.
This matching set creates a cohesive and fashionable ensemble that's ideal for a day out in the sun or a laid-back gathering.

If you're headed to a formal party, our Top Palazzo Co Ord Set is the perfect choice.
With its trendy round neckline, short sleeves, and bold, colourful print, the set adds a vibrant pop of colour to your outfit and ensures you stand out from the crowd.
For a summer music festival, opt for our printed top and flared pant tie dye co-ord set . 
Made with comfortable georgette fabric and featuring a flared cut pant, this set is both stylish and comfortable, allowing you to dance the night away with ease.
2. Tie Dye Midi Dress
Looking to make a lasting impression and stand out in social gatherings and casual events? Look no further than our stunning collection of tie dye midi dresses! These vibrant and boho-chic dresses are perfect for creating a head-turning look that showcases your unique style.

For casual outings with friends or a relaxed brunch date, our pleated orange tie dye midi dress is an excellent choice.
The carefully crafted pleats not only add an aesthetic touch but also create a voluminous silhouette that is both playful and flattering.

If you prefer a more serene and soothing colour, our sky blue pleated tie dye midi dress is a must-try.
The delicate tie dye patterns combined with the meticulous pleating details result in a dress that exudes elegance and grace. The voluminous effect of the pleats adds movement to the dress, ensuring you make a statement with every step you take.
3. Tie Dye Mini Dress
Are you a fashion enthusiast looking to showcase a trendy and vibrant look while strolling along the beach? Why not try a tie dye mini dress? These dresses are the perfect choice for creating a captivating and stylish ensemble that embraces the spirit of summer.

Our layered tie dye mini dress is a true showstopper, featuring a delightful blend of vibrant colours and abstract patterns.
Crafted from lightweight and flowy fabrics like cotton or rayon, this dress offers a comfortable and airy feel, allowing you to enjoy the beach breeze with ease.
So, what are you waiting for? Create an amazing boho chic look with these trendy tie dye outfits!
5 Top Styling Tips For Tie Dye Dresses
Here are 5 simple and effective ways to style your vibrant Tie dye outfits!
1. Accessories to Enhance the Look
When it comes to styling tie dye dresses, accessories play a crucial role in elevating your outfit and adding that extra touch of personality.
Statement Jewellery
Bold, eye-catching jewellery pieces can beautifully complement tie dye dresses. Opt for chunky necklaces, oversized earrings, or intricate bracelets to add a touch of glamour to your outfit. Metallic tones like gold or silver work well with most tie dye patterns, but don't shy away from experimenting with colourful gemstones or beads to create a vibrant and eclectic look.
Belts
Adding a belt to your tie dye dress can help define your waist and create a more polished silhouette. Wide belts in leather or fabric can accentuate the waistline and provide structure to flowy tie dye maxi dresses. For a more bohemian vibe, consider incorporating braided or embellished belts that complement the colours of your dress.
Scarves
You can tie a colourful scarf around your neck as a statement piece, wrap it around your head for a retro-inspired boho look, or use it as a belt to add a pop of colour and pattern. Experiment with different scarf materials, lengths, and tying techniques to find the style that best compliments your dress.
Layering And Outerwear
Layering is an art that can transform your tie dye dress into a versatile and stylish ensemble suitable for different occasions and seasons.

Jackets
Pairing a tie dye dress with a jacket can add an edgy or sophisticated element to your look, depending on the style of the jacket. A denim jacket is a classic choice that works well with almost any tie dye dress, offering a casual and laid-back vibe. Leather jackets bring a touch of rock and roll to your outfit, while blazers create a more polished and tailored appearance. 
Cardigans
Cardigans are perfect for adding a cosy and relaxed layer to your tie dye dress. Opt for long, flowy cardigans for a bohemian-inspired look or cropped cardigans to highlight the waistline. Look for cardigans in neutral tones or colours that coordinate with the hues in your tie dye dress for a balanced and harmonious ensemble.
Kimonos
Kimonos are lightweight, loose-fitting garments that effortlessly drape over tie dye dresses, adding an elegant and exotic touch. Choose kimonos with intricate patterns or delicate embroidery to enhance the boho-chic aesthetic of your tie dye dress. Kimonos with fringe or tassel details can create movement and visual interest, enhancing the overall look.
3. Footwear Choices
Selecting the right footwear is essential to complete your tie dye dress outfit.
Sandals
For a relaxed and casual vibe, opt for flat or low-heeled sandals. Strappy sandals in neutral tones or earthy colours work well with tie dye dresses, creating a balanced and effortless look. Consider metallic sandals to add a touch of glamour, or choose sandals with embellishments that match the colours of your tie dye dress.
Boots
Ankle boots or knee-high boots can add an edgy and versatile element to your tie dye dress ensemble. Pairing boots with a shorter tie dye dress creates a bohemian-inspired look, while knee-high boots with a tie dye maxi dress can exude a more dramatic and chic style. 
Wedges
Wedges are a comfortable and stylish option that can elevate your tie dye dress outfit. They provide height and elongate the legs while offering stability. Choose wedges in colours that complement your tie dye dress or opt for neutral tones for a more balanced look. Espadrille wedges can create a summery and boho-inspired aesthetic, while cork wedges offer a more classic and versatile option.
4. Hairstyles And Headwear
Your hairstyle and choice of headwear can greatly contribute to the overall boho-chic vibe of tie dye dresses. Consider these ideas to enhance your look:
Hairstyles
Loose waves are a popular choice that effortlessly complements the free-spirited feel of tie dye dresses. You can achieve this look with a curling wand or by braiding damp hair overnight for natural-looking waves. Braids, such as fishtail braids or crown braids, can add a touch of bohemian charm to your ensemble. Updos, like messy buns or top knots, can create a more polished and elegant look, perfect for special occasions.
Headbands
Headbands are a versatile accessory that can be used to enhance the boho-chic vibe of your tie dye dress. Choose wide fabric headbands with bold patterns or opt for delicate floral headbands for a romantic touch. Headbands can be worn across the forehead for a bohemian feel or placed further back for a more subtle and polished look.
Hair Accessories
Consider incorporating hair accessories, such as floral clips, feathers, or beaded pins, to enhance the bohemian aesthetic. These accessories can be strategically placed in your hairstyle to add colour, texture, and a whimsical touch that complements your tie dye dress.
5. Makeup And Nail Art
To complete your tie dye dress look, pay attention to your makeup and nail art.
Makeup
For a natural and glowing look, opt for a lightweight foundation or tinted moisturiser to even out your skin tone. Use warm, earthy tones for your eyeshadow, such as browns, coppers, or bronzes, to enhance your eyes without overpowering your overall look. Add a touch of highlighter to your cheekbones and a neutral or nude lip colour to complete the fresh and radiant aesthetic.
Nail Art
Coordinate your nail art with the patterns and colours of your tie dye dress for a cohesive and stylish look. Consider incorporating similar colour combinations, swirls, or patterns onto your nails. Alternatively, choose a single colour from your tie dye dress and make it the focus of your nail art design, creating a harmonious and balanced ensemble.
By following these styling tips, you can surely create a unique boho-chic look with your tie dye dresses.
Now You May Be Wondering : How Do I Care For My Tie Dye Dress To Prevent Fading?
To ensure that your tie dye dress retains its vibrant colours and prevents fading, here are some essential care tips:
1. Hand Wash
Hand washing is the gentlest method to clean your tie dye dress. Use cold water and a mild detergent specifically formulated for delicate fabrics.
2. Avoid Bleach
Bleaching agents can cause colours to fade quickly. It's best to avoid using bleach or harsh chemicals when washing your tie dye dress.
3. Separate Colours
When washing your tie dye dress, separate it from other garments to prevent colour bleeding. It's advisable to wash it alone or with similar colours to avoid any potential staining.
4. Turn Inside Out
Before washing, turn your tie dye dress inside out. This helps protect the vibrant colours on the outside from direct friction with other fabrics during the washing process.
5. Use Gentle Cycle
If machine washing is necessary, select a gentle cycle with cold water. This minimises the risk of colour fading or distortion.
6.
Air Dry
Allow your tie dye dress to air dry rather than using a dryer. Hang it up or lay it flat on a clean surface away from direct sunlight, as exposure to sunlight can cause colours to fade.
7.
Iron with Care
If ironing is required, use a low heat setting and place a thin cloth or towel between the iron and the dress. Avoid ironing directly on the tie dye design to prevent any damage.
8.
Store Properly ycle
When not in use, store your tie dye dress in a cool, dry place away from direct sunlight. Hanging it or folding it neatly helps maintain the shape and prevent colour fading.
By following these care tips, you can help preserve the vibrant colours and longevity of your tie dye dress, ensuring that it remains a stunning and stylish addition to your wardrobe.
Ending Note!
We hope that, with the tips and tricks, you're well on your way to mastering the art of tie dye dress styling. Whether you're attending a music festival or simply want to add a touch of boho-chic to your everyday look, the vibrant and unique patterns of tie dye will surely make you stand out from the crowd. 
So go ahead and experiment with different accessories, layering techniques, and footwear choices to create your own effortless and eye-catching style.