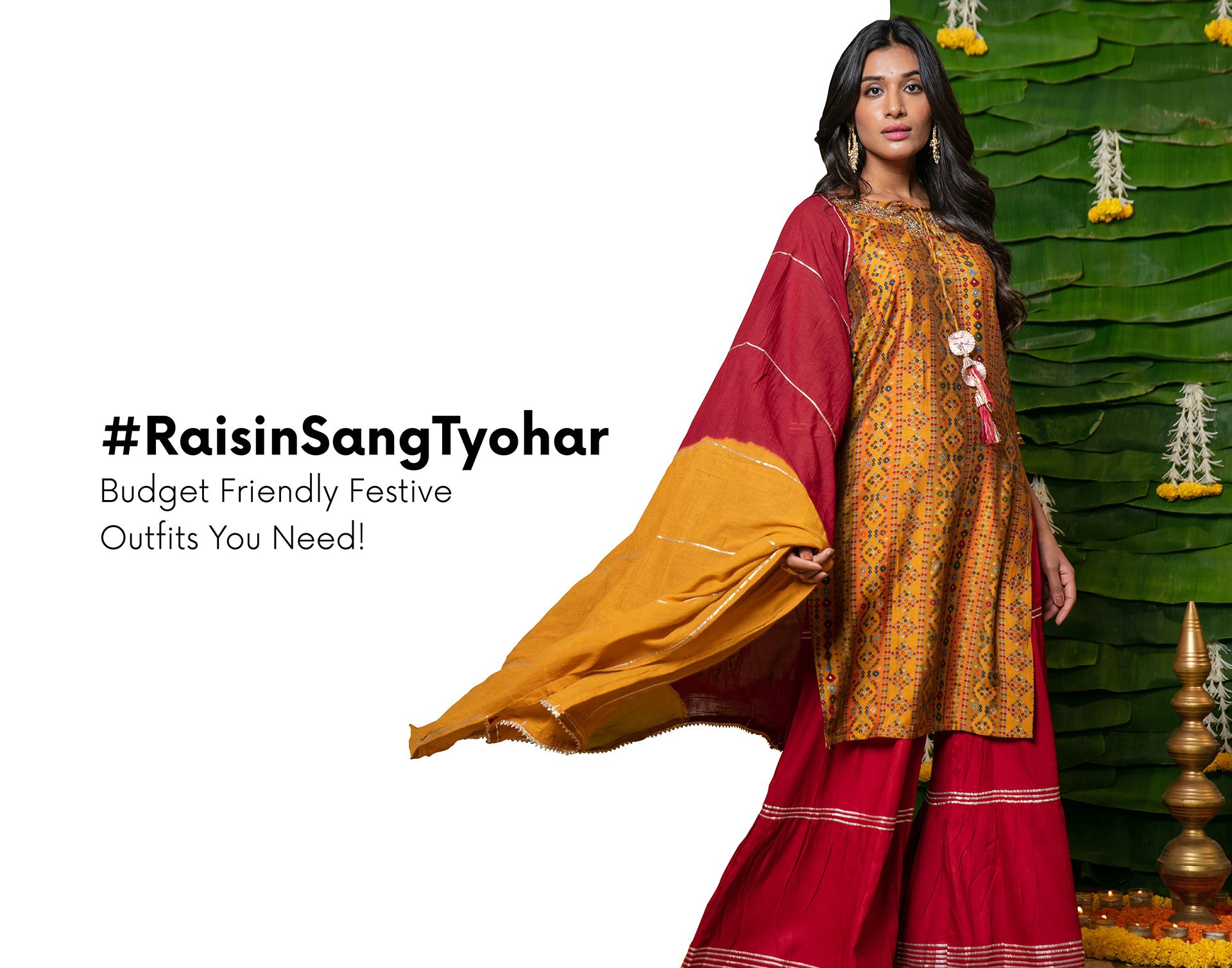 #RaisinSangTyohar: Budget Friendly Festive Outfits You Need!
Festival outfits have a charm of their own, By the way, have you decided your festival outfits for the upcoming festive season? Get festival outfit ideas through this blog by Raisin. In this blog we have compiled for you all the best festive wear. See the best picks from our latest collection of "festive arrivals," all in this blog.
Let's get you dolled up for the festivals with Raisin!
Festival outfits for women should not be constrained to only a few styles. With this ideology, Raisin brings different styles of clothing in the festival outfits women category.

Women's festival outfits can be as versatile as Raisin's collection -
1 Kurta Set With Dupatta
The first on the list had to be this category, because it is the preferred style type for a lot of women for festivals. Dupatta set but make it contemporary+comfortable is the motto and therefore you get this heart eyes collection of Indian festival kurta sets with dupatta.
Recreate the Karwa Chauth look with this amazing premium silk kurta set with dupatta.

SHOP NOW
2 Kurta Set
Best festive wear also definitely includes this category, because honestly, who does not like to style a festive kurta set in their own unique way with the help of a dupatta, cape or a shrug, whatever your style allows you. Getting this much freedom in your clothes is what makes you excited to style and dress up for festivals, isn't it? Check out the Festive kurta set collection from Raisin that is made to calm you down for festivals
Searching for the perfect eid look? Here is the latest pick for you

SHOP NOW
3 Sharara Set
One of the most trending styles today are the Sharara sets. Ever since they are back in the trends, everybody is looking forward to deck themselves up in them, and now that the festive season is near, it is sure going to be the first choice of many. What about you? If you like wearing the trends, then you need to buy yourself a good sharara set. And who better than Raisin can help you find the colour and comfort you want? Check out the Raisin Sharara Set collection we have curated for you.
Go Sharara with Raisin Sharara Set !

SHOP NOW
4 Kurtis
If you are the kind of person who is just starting to like Indian ethnic wear and want to start on a very light note, then kurtis would be the perfect pick for you. The best part is that you have the freedom to pick the bottoms yourself based on how comfortable you are and how far you would want to go with the ethnic wear. Check out the festive themed kurtis from Raisin's festive arrivals.
Get Masoom Minawala's Picked Kurti at Raisin

SHOP NOW
5 Dresses
Don't be shocked to see this category in a blog that is recommending Indian festival outfits. Who said festivals can only be enjoyed in ethnic clothing? You define your style yourself, and therefore, breaking all the barriers of typical dressing, Raisin brings to you dress for the festive season. Check out the latest ethnic dresses that you could confidently wear on the festive occasions without breaking the rules of your house or looking odd.
Dance along with your friends in comfy yet festive Raisin dresses

SHOP NOW
6 Pant Suits
Yes, you read that right. We are recommending pant suits, banarasi gown dresses, and banarasi brocade blazer sets for this festive season. This is the same collection which you gave a lot of your love and appreciation. AIKA from Raisin is a collection that is so versatile that it could be worn on literally any occasion. Check out the collection and you will know yourself by seeing the pieces. Festive co-ord sets are a thing now, and you could be the most stylish one in your group of friends with this one.
This festive season, add punk to your dressing with Raisin's

SHOP NOW
Indian Festival outfits with Raisin
Raisin has sorted your festive outfits for this year for sure. Tell us which of the above mentioned collections did you like the best and in that collection which outfit have you selected.

Click a picture and tag us on Instagram to get featured on our page.

We would love to see your unique styles. Check out www.raisinglobal.com to find a wide range of clothes, curated exclusively for you and for your unique styles.
Also, Check Out : Festive Wear For Women | Festive Dresses |  Ethinic Dresses | Casual birthday outfits | First Karwa Chauth Look