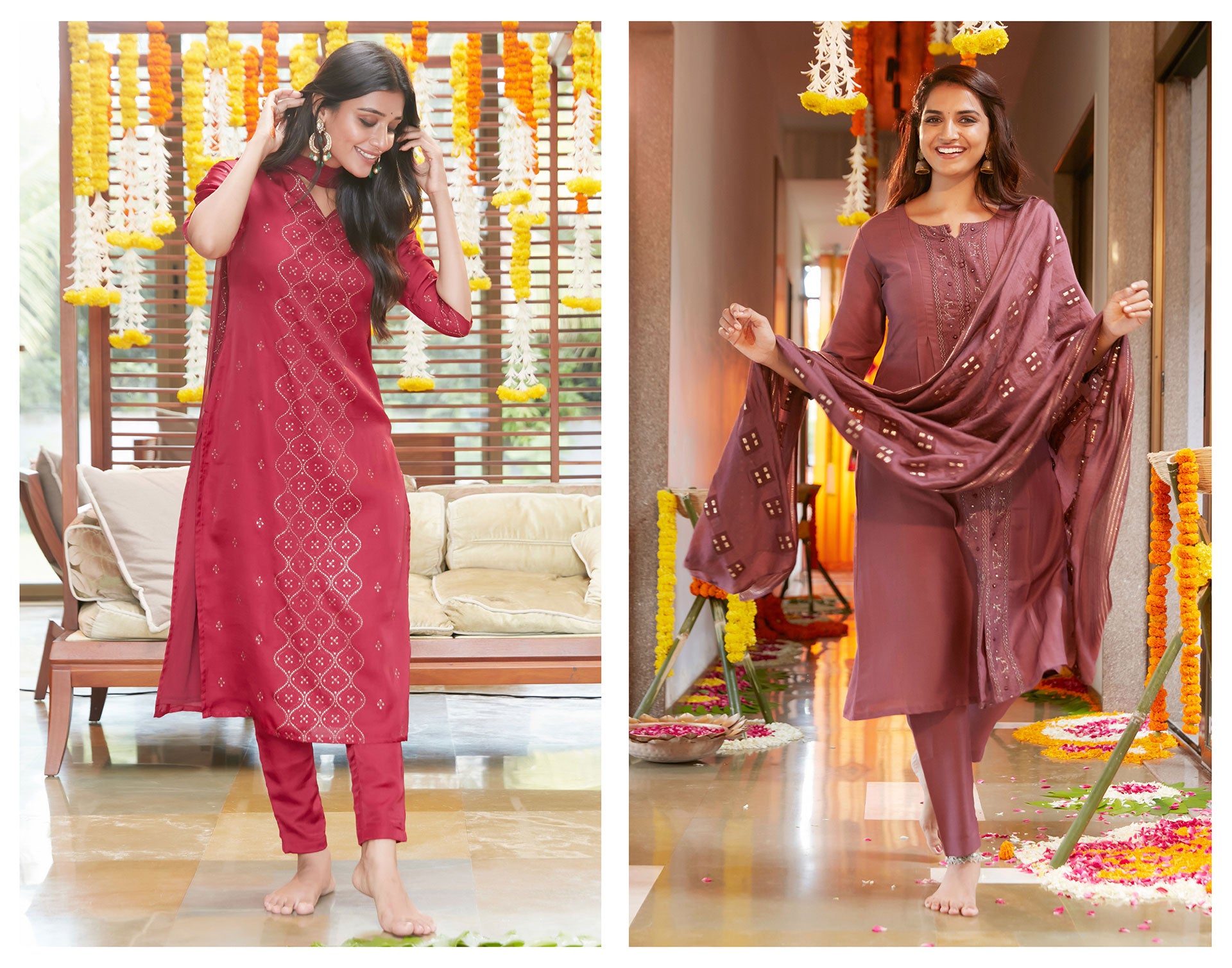 September! A Month Full Of Festivals: Raisin Got You Covered!
The festive season for the year 2022 has just rung its bell and the festivities have started with Janmashtami. There are a lot of festivals that are fast approaching in the month of September and therefore you need to select your festival outfits before it is too late.
In this blog we are going to ease all of your stress and recommend festival tops, festival co-ord sets, festival dress, basically festival outfits women. So read till the end to sort your Tyohar Ke Kapde.
Let's start -
Traditional Dress For Festival
Festivals are all about wearing new clothes. Do you know the importance of wearing new clothes at festivals? Well, let us tell you -

New festival outfits make sure that the positive vibes that are created with the prayers and the performing of rituals to the deities are all soaked up. When these clothes are worn after that, the positive vibes are passed on to the person throughout the year. Well, the elders tell us this and that is why people always wear new clothes on auspicious days and festivals.
It is so surprising that festival outfits are connected so deeply with our traditions.

So what have you planned to wear to all the upcoming festivals? Haven't you decided yet? When will you buy your new traditional dress for festivals?
See these recommendations and get festival outfits ideas.

Outfit 1 -
Yellow Embroidered Viscose Rayon Kurta Set-
Doesn't this look like a perfect diwali festival outfit? But honestly, this would also go very well on Durga Pooja.



Outfit 2 -
Sea Green Printed Muslin Embroidered Straight Kurta Sharara With Dupatta-
This sharara set gives us festive vibes. The colour and the festive print has our hearts. On which festival would you like to wear this?



Outfit 3 -
Bright Pink Jacquard Banarasi Brocade Straight Jacket With Pant-
A perfect festival co-ord set looks exactly like this. Celebrate the upcoming festivals in the style that you prefer and like.



Outfit 4 -
Wine Jacquard banarasi Brocade A-Line Dress -
A festival dress? Yes, why not? We have this dress which would be perfect even for festivals, because you are making the rules!



Outfit 5-
Green Jacquard Banarasi Brocade Straight Jacket With Pant-
What do you think of this colour and the intricate work on the fabric? Doesn't this truly suit the festive vibes?



Outfit 6 -
Dark Lavender Alexa Silk Embroidered Straight Kurta Pant Set With Dupatta -
Just imagine yourself dressed up in this kurta and pant set with dupatta and clicking pictures for your social media. Oh! You are going to get a lot of compliments for your dressing sense.



Outfit 7 -
Magenta Premium Mini Silk Printed Straight Kurta Pant Set With Dupatta -
You won't find a lot of people wearing this colour and that is why you will look the most unique and stylish. This colour truly represents festivals and its vibes.

Raisin: Your festival Outfits Partner!
BE it any festival, Raisin is here to give you the outfits you want. So stop searching pink festival outfit, diwali festival outfits, festival outfits ideas, festival outfits women, and
traditional dress for festivals on the internet, because Raisin will present you with so many options for all of these searches. So directly go on to Raisin's website, www.raisinglobal.com and start selecting, saving, and ordering your festival outfits right away.
Also Checkout :
Casual Looks for Women 2022
|
Must Have Maxi dresses
|
Festive Outfit Collection For Women