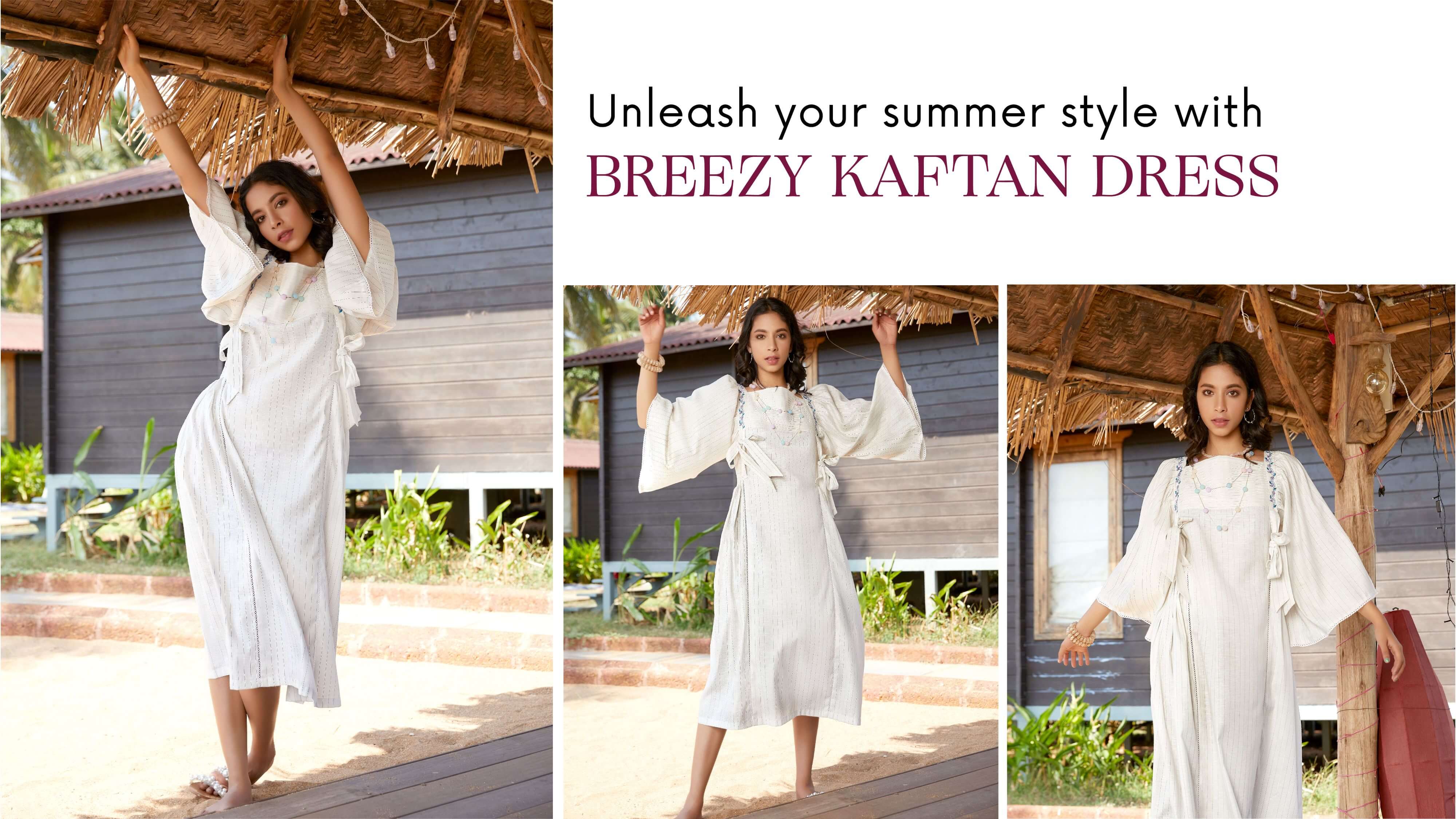 Unleash Your Summer Style With Breezy Kaftan Dresses
Are you ready to embrace the epitome of summer style and exude an air of effortless elegance? Imagine: warm golden rays kissing your skin, a gentle breeze whispering through vibrant palm trees, and you, adorned in the sheer beauty of a breezy kaftan dress.
But what makes kaftan dresses an undeniable summer staple?
Continue reading as we embark on a style adventure, exploring the art of effortlessly draping these ethereal pieces and discovering the stylish kaftan dress for women from Raisin. Get ready to unlock the secret to summer chic and infuse your wardrobe with the enchanting charm of kaftan style dresses.
Why Are Kaftan Dresses Considered As Perfect Summer Staple?
Kaftan dresses for women have long been hailed as the perfect summer staple! But what is it about these ethereal garments that makes them the ultimate go-to choice for the sunny days of the season? It's time to unravel the secrets and explore the unique characteristics that have solidified their position as the perfect summer staple.
Breathable Fabric

Kaftan style dresses are typically crafted from lightweight, breathable fabrics such as cotton, linen, or silk. This ensures optimal airflow, keeping you cool and comfortable even in the scorching summer heat.

Loose and Flowy Silhouette

The loose and flowy silhouette of kaftan dresses allows for maximum ventilation and freedom of movement. They drape effortlessly over the body, providing a relaxed and airy feel, perfect for hot summer days.

Versatile Styling Options

Kaftans offer endless versatility! From long kaftan dresses, kaftan maxi dresses to kaftan A-line midi dresses, they can be worn as a beach cover-up, paired with sandals for a casual day out, or dressed up with accessories and heels for an evening event. The relaxed fit of kaftans makes them suitable for various summer occasions

Sun Protection

The length and loose fit of kaftan dresses provide an added advantage of sun protection. They offer coverage to your arms and legs, shielding you from harmful UV rays while still allowing air to circulate, preventing overheating.

Comfort and Ease

One of the key attributes of kaftan dresses is their comfort and ease of wear. With their loose fit and relaxed design, kaftan style dresses allow your skin to breathe, prevent perspiration, and provide a sense of effortless comfort even in the hottest summer days.
So, now don't you feel that keeping a kaftan dress in your wardrobe will ease your summer styling worries? Hopefully you feel that!
Elevate Your Summer Wardrobe With Raisin's Stylish Kaftan Dress
Hey fashionistas! Are you currently on the hunt for that perfect kaftan dress online, one that truly embodies your style and provides unparalleled comfort? Look no further than Raisin! Raisin has a breathtaking selection of kaftan dresses just waiting to be explored.
So, say goodbye to the endless scrolling and hello to finding your dream kaftan dress online at Raisin!
Embrace Ethereal Elegance With A White Kaftan Dress
When it comes to beating the scorching heat of summer, nothing compares to the elegance of a white-coloured dress. At Raisin, we understand the importance of staying cool and stylish during the sunny season, which is why we offer a stunning white kaftan dress.
Imagine yourself strolling hand in hand with your loved one along the beach, enjoying a delightful brunch with friends, or simply unwinding on your terrace as the evening sun sets - our White A-line kaftan dress will effortlessly enhance your look.
The A-line silhouette of this kaftan dress effortlessly flows with every step you take. Made with the finest Liva material, this kaftan dress offers a heavenly softness against your skin, ensuring a luxurious wearing experience. The dolman sleeves add an air of relaxed sophistication, allowing for unrestricted movement and a touch of effortless glamour. With a square neck that frames your collarbones, this dress exudes a subtle allure, captivating all who lay eyes upon you.
So, why wait? Get ready to elevate your summer style game to new heights with such an exquisite white kaftan dress!
How To Style A Kaftan Dress?
It's true that a dress whether it's ethnic, western or bohemian style dress, perfect accessories will enhance the overall look of the outfit! So, it's not an exception for a kaftan dress!
Styling a kaftan dress allows you to embrace effortless elegance with a touch of bohemian flair. Start by choosing the perfect accessories to enhance your look.
A wide-brimmed hat paired with oversized sunglasses instantly adds a glamorous vibe. Consider cinching your kaftan at the waist with a statement belt to create a flattering silhouette. For a more relaxed feel, opt for a chunky beaded necklace or long pendant earrings to draw attention to the neckline. Play with contrasting textures by adding a fringe or tassel bag that complements the flowy nature of the dress. When it comes to footwear, strappy sandals or embellished flats effortlessly complete the ensemble.
Remember, the key to styling a kaftan dress is to embrace the freedom it offers and let your personal style shine through!
Redefining Your Summer Fashion Game With Kaftan Style Dresses!
Get ready to elevate your summer style to new heights with the transformative power of kaftan style dresses. These effortlessly chic and versatile garments redefine the way you dress for the season, combining comfort and trendiness flawlessly. And, when you opt for a kaftan dress from Raisin, it's a guarantee that you'll make a lasting impression wherever you go this summer.
So, why wait? Redefine your summer style with Raisin and immerse yourself in a world of sartorial excellence and boundless possibilities.