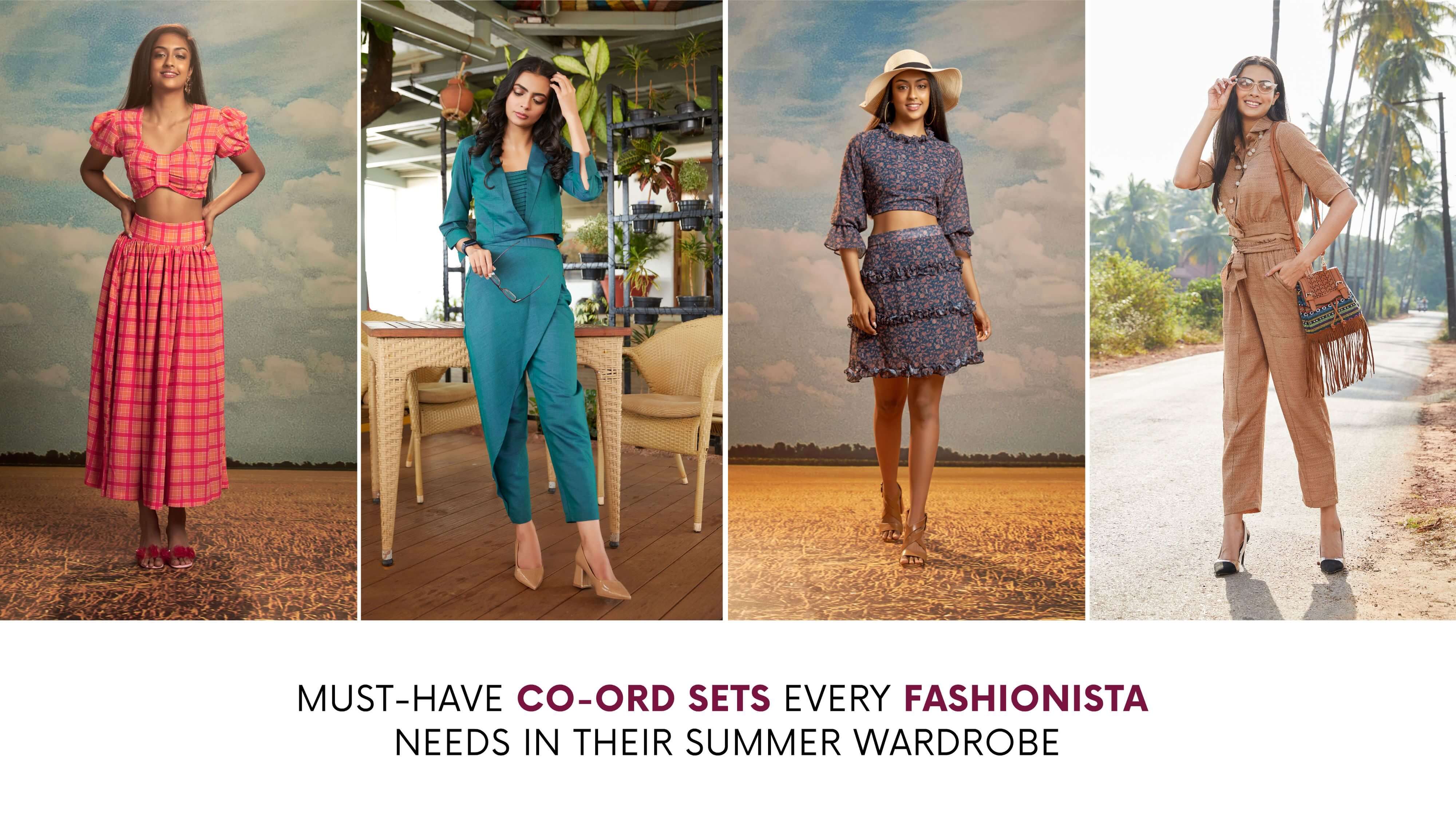 Must-Have Co Ords Set Every Fashionista Needs In Their Summer Wardrobe
Summer is in full swing, and the sizzling sunsets are calling for a wardrobe revolution! Fashionistas, have you ever wondered how to effortlessly level up your summer style game? Picture this: What if you could unlock the secret to chic coordination with just one fashion-forward ensemble? Well, get ready to bid farewell to fashion dilemmas because we've got the answer for you.
In this blog, we unveil the must-have co ords for women that will transform your summer wardrobe into a runway of stunning looks. So, get ready, fashion enthusiasts, because it's time to dive into a world of trendy twinning and discover amazing co ords for women from Raisin!
Why Are Co Ords Set Perfect For Your Summer Wardrobe?
The co ords for women are the ultimate summer wardrobe game-changers, combining style, comfort, and versatility in one stunning package.
Picture this: you wake up to a scorching summer morning, and the last thing you want is to spend hours agonizing over what to wear. That's where co ords set swoop in like fashion superheroes, saving the day with their effortless coordination. These perfectly matched top and bottom ensembles eliminate the hassle of mixing and matching, instantly giving you a polished and put-together look.
Plus, with their endless variety of prints, colors, and silhouettes, co ords sets offer a level of versatility that's unparalleled. From beach parties to brunch dates, you can easily transition from casual to chic with just a change of accessories.
Not to mention the precious time they save! No more frantic searches for the right top or bottom – just grab a co ords set, slip it on, and you're ready to conquer the day in style.
And let's not forget about comfort! Made with lightweight and breathable fabrics, summer co ord sets keep you cool and at ease during those hot summer days, allowing you to fully enjoy every adventure that comes your way.
So, fashionistas, embrace the magic of co ords set this summer and let them effortlessly elevate your style while giving you the freedom to bask in the sun with utmost comfort.
Discovering The Sizzling Summer Co ords For Women From Raisin
Summer styling just got easier with Raisin by your side! Our collection of stylish co ord sets for women is sure to leave you spoilt for choice. Whether you're looking for a printed co-ord set, co-ord trouser set, or co-ord skirt and top, we've got you covered.
Our range of summer co ord sets are carefully crafted to make you feel comfortable and chic during the hot summer months. From breezy fabrics to trendy prints, we have everything you need to stay on-trend and comfortable.
So, worry no more about summer styling! Browse through our collection of stylish co ords for women and find the perfect outfit to suit your style.
Co Ords Trouser Sets
The co ords trouser set is a fashion marvel that effortlessly blends sophistication with style. It's the ultimate choice for those seeking a chic ensemble that transcends occasions and seasons. Whether you're heading to the office in the scorching summer heat, enjoying a delightful brunch, or embarking on a fun-filled day out with friends, we have a variety of co ords trouser sets for you that complement every event!
Picture this: It's a sunny Monday morning, and as you rummage through your closet, the struggle to find a stylish yet comfortable office outfit becomes all too real. But wait! What if you stumble upon a gem hiding in the depths of your wardrobe—a stunning light brown crop top and straight pants?
In that moment, a wave of relief washes over you, knowing that you've found the ideal ensemble to tackle the day ahead. The breathable fabric and meticulously designed cuts of this co-ord set guarantee your utmost comfort and poise, even during the busiest and most demanding moments. And as you slip into this delightful co ords trouser set you will feel an instant boost of confidence!
After enduring five long and hectic workdays, the weekend finally arrives, beckoning you to unwind with a delightful brunch date with your loved ones . And fear not, for we have the perfect summer-ready co ord trouser sets to elevate your style for this joyous occasion!
Leave your partner awestruck during your upcoming brunch date with the stylish teal coloured straight crop top and pants co ords!
The woven pattern and solid teal color effortlessly elevate your look, while the comfortable cotton fabric keeps you feeling cool and at ease.
Co Ord Sets Skirt And Top
Are you on the lookout for a twinning set that's perfect for beach strolling or picnics with friends? Look no further than our fabulous co ord sets featuring a combination of skirts and tops. Whether you prefer the playful charm of a flirty mini skirt, the graceful elegance of a midi skirt, the timeless allure of an A-line skirt, or the whimsical flow of a long flared skirt, we have the ideal match for your style.
Get ready to turn heads and create unforgettable fashion moments with our Co ord sets skirt and top!
Elevate your beach strolling game with our chic and stylish navy blue high neck crop top and mini skirt co-ord set, crafted to perfection from premium georgette fabric.
Designed to hug your curves in all the right places, this ensemble boasts a flattering silhouette that's sure to turn heads. The elegant high neck crop top is paired with a playful mini skirt, perfect for basking in the sun and enjoying the ocean breeze.
If you're envisioning a delightful summer picnic, nothing could be more fitting than our solid green crop top and A-line skirt set. This skirt co ord set is the epitome of effortless style and comfort, allowing you to enjoy the sunny days with a touch of elegance.
The vibrant green hue adds a refreshing pop of color to your ensemble, while the A-line skirt provides a flattering silhouette that gracefully flows as you move. Crafted with attention to detail, this co-ord set guarantees a perfect blend of fashion and functionality, ensuring you feel cool and confident throughout your picnic adventure.
So, why wait? Embrace the charm of outdoor gatherings and create unforgettable memories in our solid green co ords set skirt and top, designed to make your summer days even more delightful.
Printed Co Ord Set
Embrace the vibrant energy of summer with our collection of comfortable printed co ord sets. We've curated a wide range of options, including floral, abstract, and chic check prints, to cater to every style preference.
If you're longing for a whimsical and flowy look, our mustard-coloured floral print crop top and straight pant co-ord set, or the multicolored floral print crop top and midi skirt co-ord set, are perfect choices.
For those seeking a chic and sophisticated vibe, our bright orange crop top paired and pleated midi skirt in a trendy check print will elevate your fashion game effortlessly.
Each ensemble is thoughtfully designed to offer both comfort and style, ensuring you stay on-trend while feeling your best.
These printed co ord sets capture the essence of summer, allowing you to express your unique personality and embrace the joyous spirit of the season. Let the bold prints become your style statement, radiating confidence and charm wherever you go.
Summing Up!
Don't you agree that these fashionable and comfortable Raisin's western co ord sets are just perfect additions to your summer wardrobe?
Imagine the endless possibilities of styling and the convenience of having a complete outfit ready to go. Whether you're drawn to playful prints or elegant designs, these ensembles effortlessly blend style and comfort, allowing you to embrace the versatility and trendiness of co-ords.
So why wait? Step into summer with confidence and flair, knowing that you've got the perfect co-ord set to make a fashion statement wherever you go!