10 Inspiring Outfit Ideas For Every Occasion
Dressing up for different occasions is not just about wearing clothes; it's a form of self-expression and an opportunity to showcase your personal style. The right outfit can boost your confidence, make a statement, and leave a lasting impression. Whether you're going for a casual hangout, a professional meeting, or a formal event, having a variety of outfit ideas for events in your fashion arsenal is essential. 
In this blog, we will help you discover 10 exciting outfit ideas for different occasions! From elegant party wear to chic casual wear, Raisin has got you covered. So, continue reading!
What To Wear Or What Not To Wear For Every Occasion?
Well, it's a very common concern that comes to mind when it comes to finding outfits for special occasions! A confusion continuously lingers about whether you should wear kurtis in the office or not, or if maxi dresses are suitable for cocktail or kitty parties. The dilemma of what to wear to every occasion or what not to wear can be overwhelming at times. But fret not! 
We are going to share with you valuable insights on amazing outfit ideas for different occasions!
Outfit Ideas For Everyday
Before going to share the outfit ideas for special occasions, let's address the first and foremost aspect of our daily lives: everyday outfits! 
Whether you're running errands at the market or enjoying a leisurely evening stroll, you can elevate your look with casual kurtis, stylish tops paired with trousers, or even a comfortable midi dress.
Outfit Ideas For Formal Occasion
Formal occasions call for special attention to dressing up, as they provide an opportunity to showcase your style and elegance. Whether you're attending an anniversary celebration, a wedding, an engagement ceremony, or a festive event, it's essential to select an outfit that exudes grace and sophistication. Here are some outfit ideas to consider for each occasion:
1. Anniversary
For an anniversary celebration, you can opt for a sophisticated kurta pant set or a flowy maxi dress.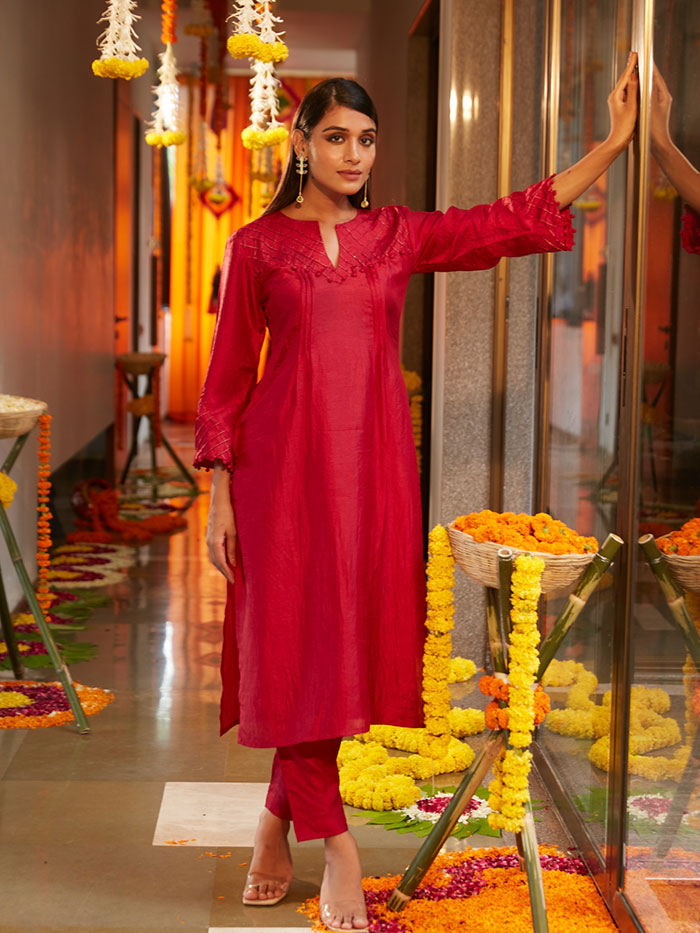 Our Red zari thread work straight kurta pant set adds a touch of traditional charm, while the multicolour floral maxi dress brings a contemporary flair to your ensemble. Pair these outfits with delicate accessories to complete the look.
2. Wedding
Weddings are grand affairs that demand an outfit that truly makes a statement. Consider our wedding collection consists of beautiful lehengas, which are traditional Indian ensembles consisting of a long skirt, a blouse, and a dupatta (scarf). Lehengas come in various designs, colours, and embellishments, allowing you to choose one that reflects your personal style and complements the overall wedding theme.
3. Festivals
During festive occasions, you can embrace the vibrancy and cultural richness by opting for a festive kurta dupatta set.
These sets usually consist of a beautifully designed kurta (a long tunic) paired with a matching dupatta (scarf) and bottoms. Festive kurta dupatta sets come in a variety of fabrics, prints, and embroideries, allowing you to celebrate the spirit of the festival in style.
What Not To Wear On Formal Occasions?
Avoid wearing overly casual attire such as jeans, t-shirts, or sneakers.

Avoid clothing with loud patterns or graphics that may be distracting or inappropriate for a formal setting.

Avoid wearing overly revealing or provocative outfits that do not adhere to the formal dress code.

Avoid excessive accessories or jewellery that can take away from the elegance and sophistication of the formal occasion.
Outfit Ideas For Casual Events
Discover a range of outfit ideas perfect for events like outings, birthday parties, and brunch dates. It's high time to dress effortlessly stylish and make a statement wherever you go!
1. Casual Outings With Friends
For casual outings with friends, you can never go wrong with the classic combination of tops and jeans.
Opt for a solid straight top for a clean and minimalist look, or experiment with a striped top or polka dot top for a touch of playfulness. Pair your top with your favourite well-fitted jeans to create a stylish and effortless ensemble. Complete the look with comfortable sneakers or sandals for a relaxed yet fashionable vibe.
2. Brunch Date
For a delightful brunch date, consider wearing our Yellow floral print A-line maxi dress or a solid purple A-line midi dress.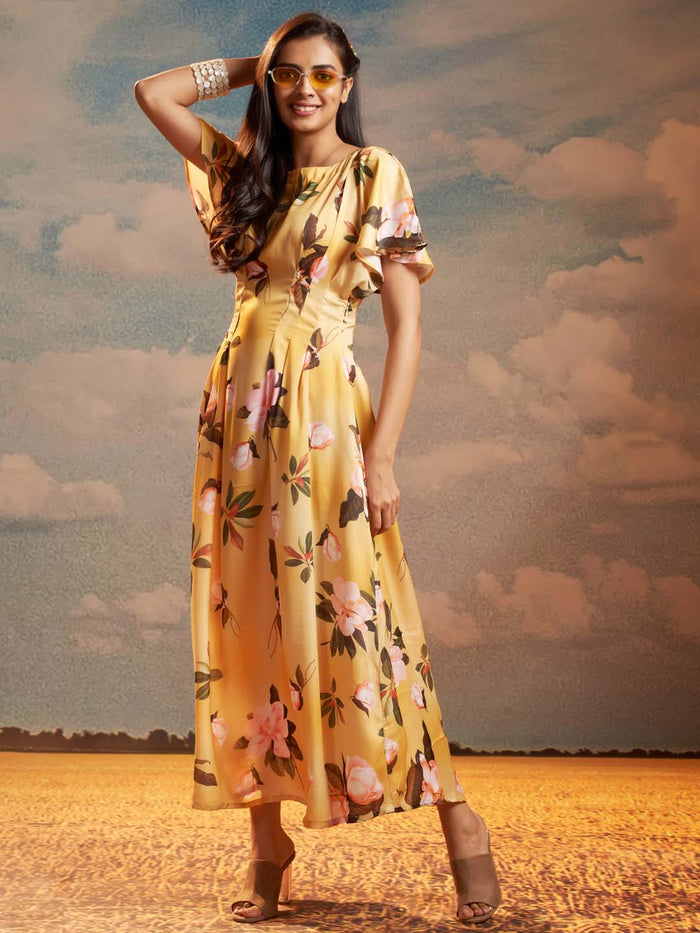 The Yellow A-line maxi dress exudes a vibrant and cheerful energy, perfect for a daytime outing. If you prefer a shorter length, the solid purple A-line midi dress offers a chic and sophisticated option. 
Alternatively, you can also try co-ord sets, which consist of matching tops and bottoms, offering a trendy and coordinated look. Add some delicate accessories and a pair of cute flats or wedges to complete your brunch-ready attire.
Apart from a brunch date, if you're considering a romantic beach date and wish to craft a fabulous look that will mesmerise your partner, explore our ideas for special occasion dresses by clicking here!
3. Vacation Outfits
When planning for a beach vacation, it's important to curate outfits that perfectly capture the laid-back and breezy atmosphere. Opt for a white flared mini dress for a fresh and summery look that effortlessly captures the beach aesthetic.
Alternatively, a navy blue floral print A-line maxi dress brings a touch of romance and elegance to your beach ensemble. Don't forget to accessorise with a wide-brimmed hat, sunglasses, and comfortable sandals to create the perfect beach-ready outfit.
4. Birthday
When attending a birthday party, it's time to showcase your personal style and celebrate in fashion. Consider opting for a stylish jumpsuit or a playful party dress. Jumpsuits offer a trendy and modern option, while party dresses can range from flirty and fun to sophisticated and classy. 
Want to get more ideas for such special occasion dresses? Don't forget to check out our blog titled " 10 Casual Birthday Outfit Ideas To Ace Your Special Day"
What Not To Wear In Casual Events?
Avoid wearing overly formal attire that is more suitable for formal events

Steer clear of clothing with offensive or controversial messages or graphics

Skip wearing wrinkled or unkempt clothing; opt for clean and well-pressed garments

Avoid overly casual or sloppy attire, such as sweatpants or pyjamas, that may appear too relaxed for the occasion

Refrain from wearing uncomfortable footwear that may hinder your mobility or enjoyment of the event

Avoid excessive accessories or jewellery that may overpower your casual ensemble

Stay away from clothing with stains, holes, or excessive wear and tear that may give a dishevelled appearance

Avoid wearing clothing that is too tight or ill-fitting, as it may be uncomfortable or unflattering
Party Outfit Ideas
Explore an array of stunning party outfit ideas for events like cocktail parties, kitty parties, or any other special occasions. Stand out from the crowd with glamorous ensembles that will make you the centre of attention!
1. Cocktail Party
For a cocktail party, elevate your style with our jacquard Banarasi brocade jacket pant set. This ensemble exudes sophistication and elegance, perfect for an evening of celebration.
The intricate brocade detailing adds a touch of luxury, while the tailored jacket and pants provide a flattering and polished look. Complete your outfit with statement earrings, a sleek clutch, and heels to make a stunning impression at the party.
To enhance your cocktail party ensemble, discover our captivating cocktail party collection that offers stunning outfits bound to mesmerise you!
2. Kitty Party
For a themed kitty party, there are two outfit ideas to consider. For a formal kitty party look, opt for a velvet blazer pant set. The velvet fabric brings a luxurious and glamorous feel, while the tailored blazer and pants provide a refined silhouette. Pair it with elegant accessories and heels to complete the sophisticated ensemble.
For a fun-filled kitty party look, try a mini skirt co-ord or an A-line skirt co-ord.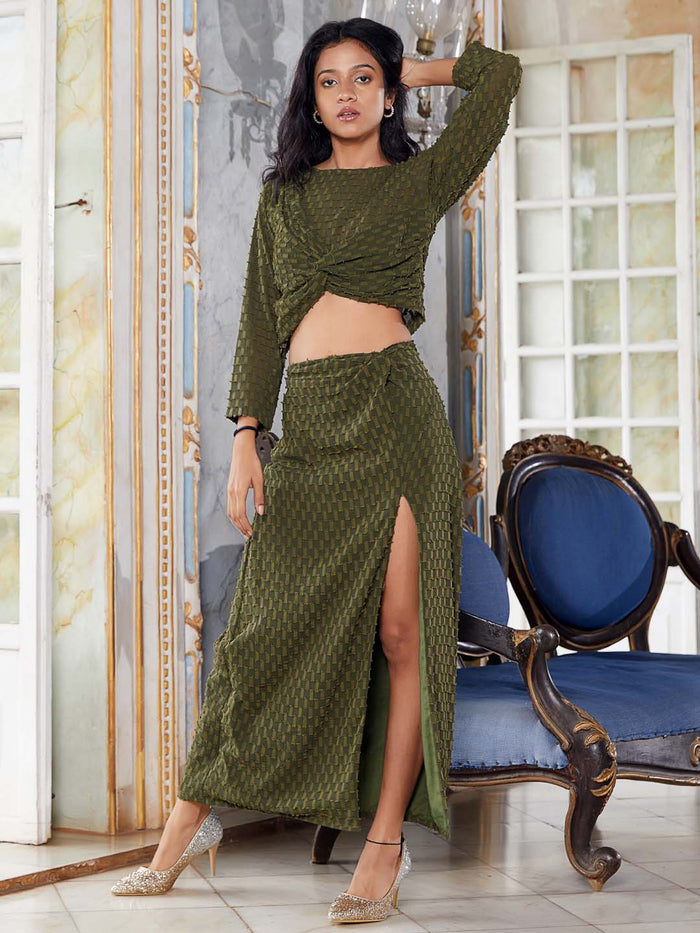 These sets typically include a matching top and skirt, creating a cohesive and playful look. Choose vibrant colours or bold prints that match the theme of the party. Accessories with statement jewellery, stylish heels, and a trendy clutch for a chic and fashionable outfit that's perfect for a lively kitty party.
Summing Up!
We Hope that these 10 inspiring outfit ideas for every occasion are sure to help you dress confidently and appropriately for any event. Whether it's a casual gathering, a formal affair, or a lively party, you can now bid farewell to the days of feeling puzzled about what to wear. With these versatile suggestions, you'll be ready to participate in any event with grace and style. Remember, dressing well not only leaves a lasting impression on others but also boosts your own confidence and self-assurance. 
So, go ahead and embrace these outfit ideas for different occasions, and let your fashion choices speak volumes about your personality and elegance. Dressing up for any occasion has never been easier!