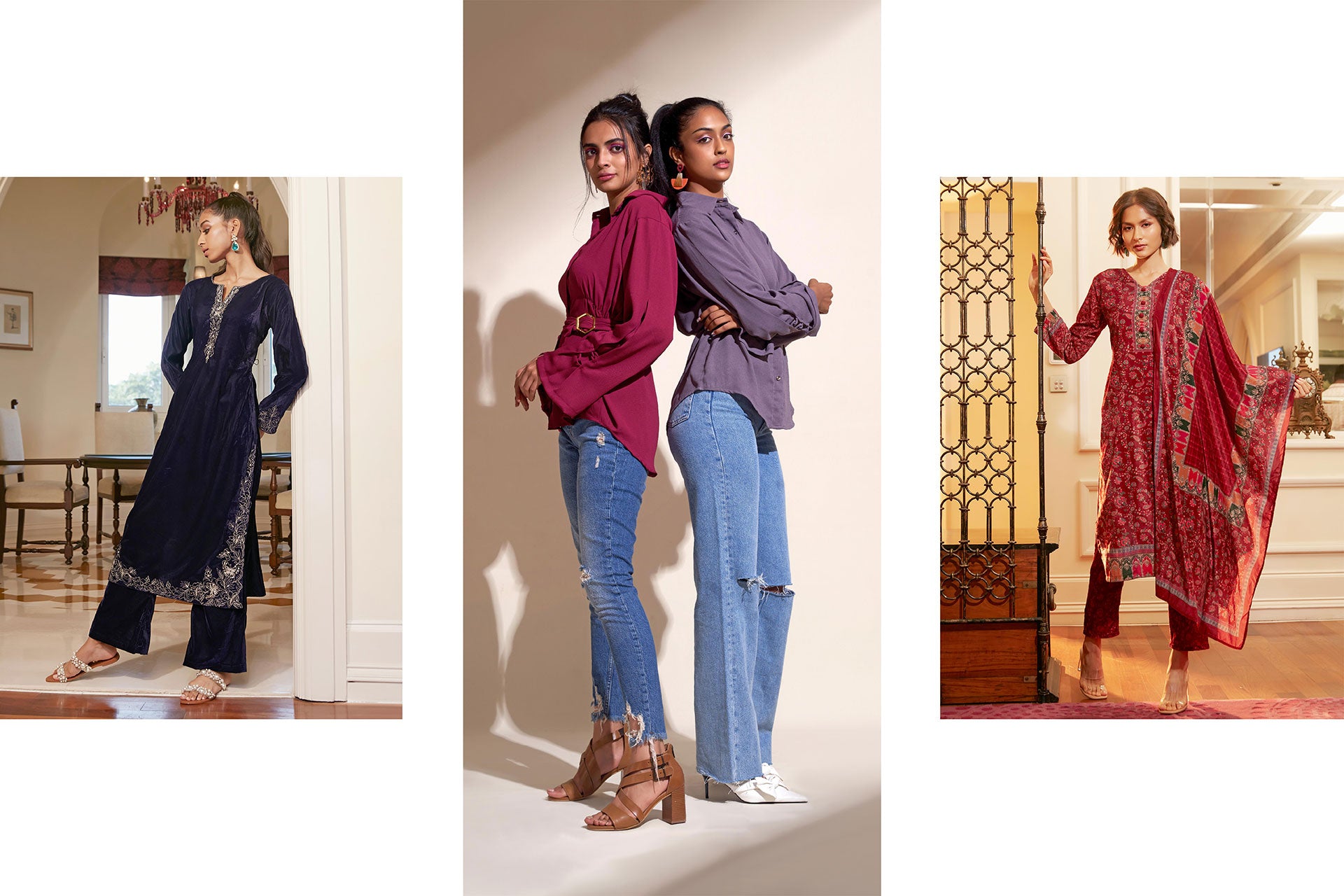 Raisin: Your Style Guide For The Upcoming Winters!
People have mixed feelings when it comes to winter. Some like it a lot, while others wish they were birds who could fly away to warm lands to skip winters altogether. Whatever your take on winter may be, it is evident that it will occur for a good 3–4 months in India, and therefore you have to adjust to it.
When seasons change, the one thing that most definitely changes with them is your style and, of course, the clothes in your wardrobe. Pretty tops are replaced by heavy jackets, and skirts are replaced by thick bottomwear. But in the process of keeping yourself warm, you don't have to compromise on your style.
Therefore, in this blog, we are telling you how to dress warmly and stylishly in winter.
Read this blog till the end and collect the outfits that will free you of the compulsion of looking like a big ball of clothes in winter.
Let's get started.
How To Dress Warm And Stylish In Winters?
In the winter, styling becomes difficult because you need to layer a lot of clothes. This makes you look like a round ball of clothes, which absolutely does not look very appealing, and none of us likes it.
But what if we said that you don't need to hide under so many layers to stay warm? Isn't that something you'd enjoy?
Raisin presents to you its winter fashion 2022 collection, which will make you look stylish and keep you super warm at the same time.
Heer : Perfect Velvet Kurta Set Collection
One of the latest collections launched by Raisin is Heer. Heer is the collection of
velvet kurta sets
that is curated keeping in mind the winter fashion. The silhouettes, the colours, the rich velvet fabric, and the detail of embroidery or embellishment makes this collection a perfect pick for you to flaunt your winter fashion.
For winter fashion 2022 we recommend these contemporary pieces which are our favourite
A classic piece which can be worn in both formal as well as informal functions during winters is this beautiful Black Embroidered A-line Kurta Pant Set.
Grey is the colour of the season but did you ever imagine that you could get the comfort of a kurta and pants set in winters? Well, your desire has been fulfilled and this kurta and pant set with dupatta will keep you both comfortable and warm during winters.
If you are someone who likes a little blink as well as bright colour outfits then this is the perfect match for you. Don't dull your vibe because of winters, shine like always in this Magenta Embroidered Kurta And Pant Set.
This collection also contains Blazer sets in the same luxurious velvet material. Raisin has made a new 2022 winter fashion trend that you need to follow to look the most stylish among your friends.
Just to show you the colour range of the
Blazer Sets,
here's a list of all the pieces that are available in this collection. This means that now your winters will not be boring anymore. With these vibrant colours, you will totally rock the winter fashion trends.
Keya : Perfect Velvet Printed Kurta Sets
Keya is another latest collection from Raisin. This is also a
velvet collection with print design
but is very special in its own way.
Keya literally means a Flower. The collection denotes the blooming of flowers even during winter in the form of the beautiful women who will wear these velvet suit designs.
The royalty of these latest velvet suit designs, when combined with the pretty floral kurta sets brings out a never-seen-before amalgamation of traditional and modern, which gives rise to the contemporary style that the world currently is going gaga over.
Let us show a few of the marvellous pieces of this collection -
Who said winter outfits cannot be colourful? Shop the look now !
The 2022 fall/winter fashion trends you would absolutely love. There is something for everyone.
Be ready to make heads turn when you step out in winters wearing this.
What Else?
We get it that not everybody would like wearing contemporary clothes and would often levitate towards western style in winters. We have got you covered.
We all know that your jackets and coats are waiting for you to play dress up with them but to really keep warm you need to layer your
western outfits.
But again, why should these layers be boring and not-so-stylish? Make these layers stylish by these tops and shirts from Raisin.
Rust is the colour which looks super cosy and stylish during winters. Imagine a monotone black outfit and your rust top breaking that monotony. Oh! How stylish!
Wear this shirt. Layer it with a front open sweater. On top of this wear a front open jacket. Super skinny and thick jeans, sneakers, beanie or ear puffs, and a muffler. You are sorted!
Do you know summer dresses can be styled in winters too and they look super stylish, trust us. Layer a turtleneck under this dress. Or wear a chunky sweater over this dress, just don't forget to cinch your waist with a wide or thin belt as per your style and preference. Then, wear stockings and boots. Take a long overcoat on top and you are good to go outside like a boss lady.
Are You Ready For Winters Now?
We hope you now have a fair enough idea on how you could look stylish and keep warm at the same time during winters.
If you have some more ideas do try them out with Raisin clothes. Share your pictures with us by tagging us on social media with a hashtag
#raisin.
We love to see you in Raisin clothes styled in your unique ways.
www.raisinglobal.com
is your one stop destination for all the stylish and trendy clothing requirements. So hurry! Grab the styles that we have recommended and show us your party pictures. We are waiting!