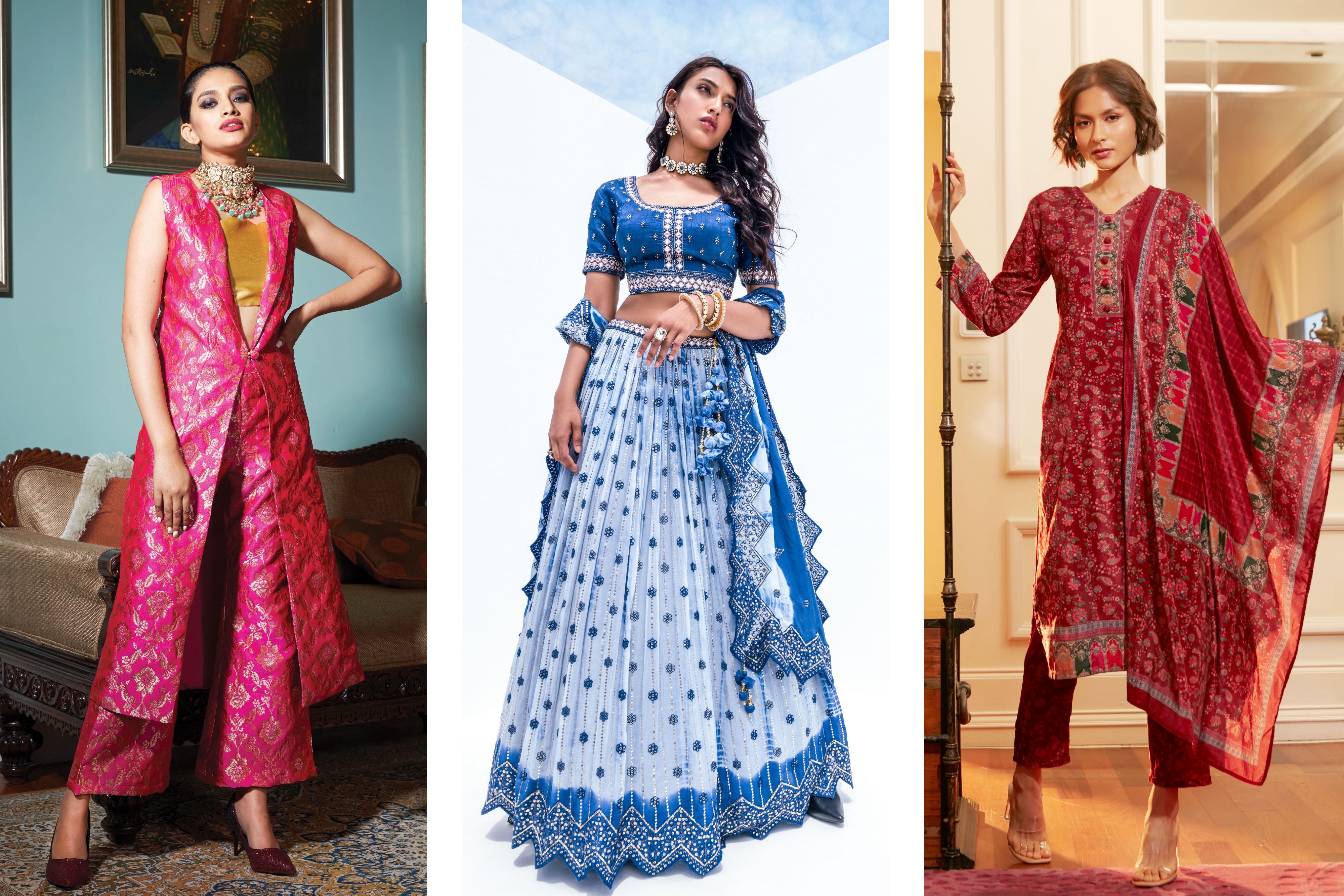 Raisin Presents 2023 Innovative Contemporary Fashion Trends
You all know that as soon as a new fashion trend comes up, Raisin comes up with information on that trend and gives you tips on how you can make that trend comfortable.
Another such Raisin tradition is to tell you the latest fashion trends in India that you'll be seeing in the upcoming months of the new year.
This blog is exactly that! This blog is going to tell you the contemporary fashion trends that will be trending in 2023 as well, so that you can stay ahead of the times and look fashionable as well as better than the rest.
Read this blog till the end because our customary recommendation of Indian ethnic wear fashion has gone to another level on the occasion of New Year's.
What Fashion Is Trending? 
Let us tell you a very important thing right at the start of New Year 2023…
YOU DON'T HAVE TO FOLLOW THE TRENDS ALWAYS TO LOOK FASHIONABLE 
Yes, this is a common misconception, and that is why people take Indian ethnic wear for granted because of the common misconception that ethnic wear is never trendy and fashionable.
You don't have to search for - WHAT FASHION IS TRENDING?
Because the answer is simple, INDIAN ETHNIC WEAR FOR WOMEN
So, without further ado, we will tell you about the ethnic wear for women that women all over the world are loving, so that you can grab them as well and make every appearance in this New Year like a fashionista.
From Raisin's Heer Collection
Don't forget to add "New colours of Indian ethnic wear" to your "New Year, New Me" resolution. This kurta and pant set is set to make you stick to this resolution till this year's end.
How about also trying out the colours that you previously found too bright for you? Make this year a revolutionary one for your style.
How about challenging yourself with styles you've never tried before? How exciting life will be when you have so many new options.
From Raisin's AIKA Collection
This collection will satisfy you, and you won't have to search for "trending fashion" on the internet.
Just see the versatility of this collection.
Starting with the Aika Banarasi pant sets from this collection
The one with the A-line short blazer and wide-leg pants.
The one with the 3/4-length sleeves and wide-leg pants.
The one with the sleeveless long jacket and wide-legged pants.
The one with the A-line short jacket and pants.
The one with a straight jacket and pants.
The one with 3/4 sleeves, an A-line blazer, and pants.
Moving on to the Aika Banarasi dresses of this collection
The sleeveless V-neck dress.
The 3/4-sleeved V-neck dress
The boat-neck sleeveless dress.
The round-neck, 3/4-puffed-sleeve dress.
The strappy dress.
The V-neck, half-sleeve dress.
The dress that comes with a jacket.
From Raisin's Wedding Collection - AKIRA
Your "Indian ethnic wear trends for women" search ends here.
This is the latest fashion trends in India. Don't miss getting your hands on this latest fashion trend.
This trending traditional dress is all you need to make the upcoming wedding season a memorable one for you.
The latest trending dresses for ladies are all inspired by wedding collections like this one from Raisin. Hurry and make this Indian ethnic wear all yours.
Grab Them Else They Are Gone!
All of these latest Indian fashion for women could be yours.
BUT DON'T WAIT!
You will have to hurry up!
Grab these trending traditional dresses and the contemporary fashion trends now or you'll miss out on them.
HURRY!
Click on the respective links of the dresses whose style you like best and order them for yourself right away.
Check out Raisin to find more styles and the latest fashion trends for women.
IT'S NOW OR NEVER!