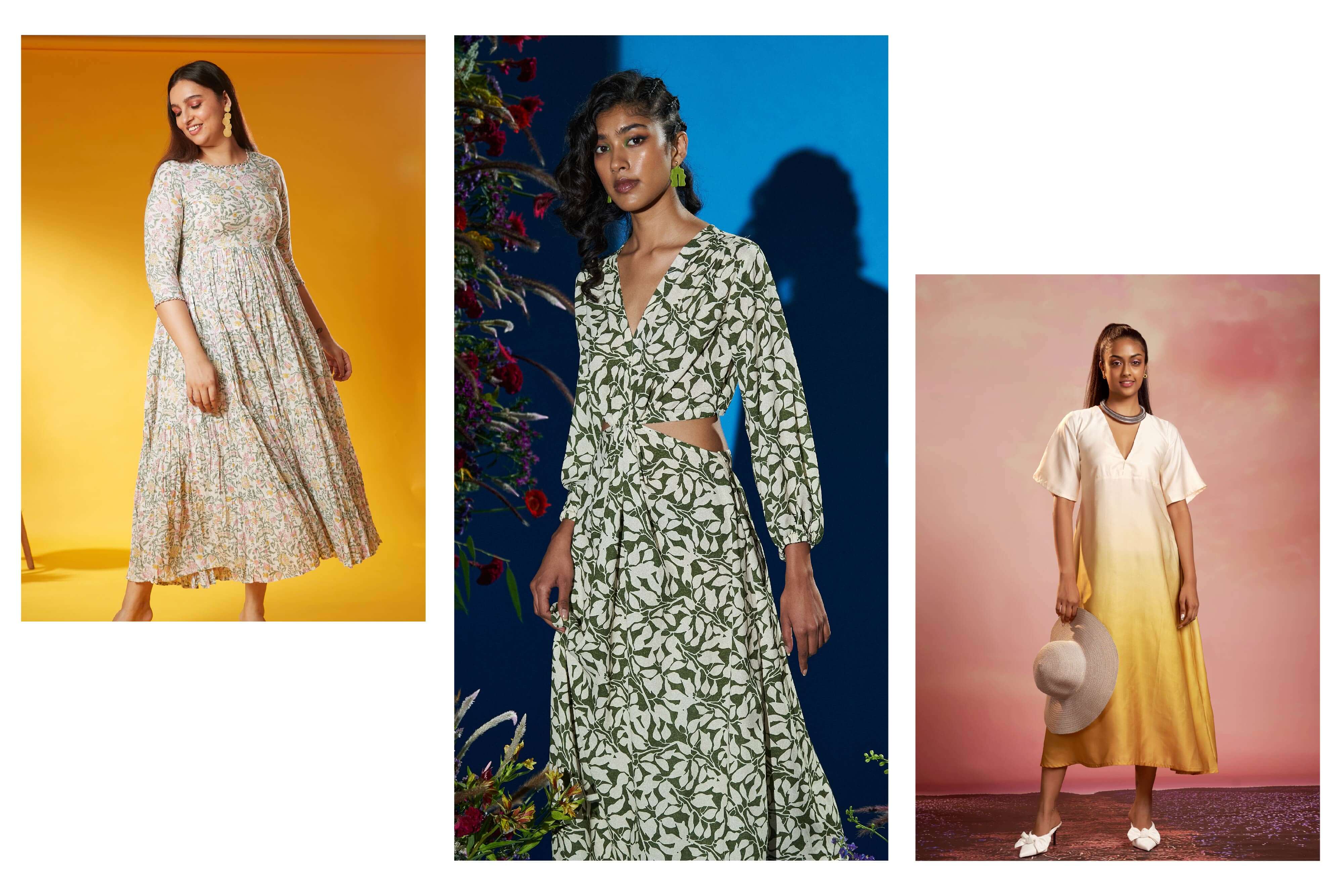 Raisin Clothing: Where comfort meets style for all seasons
Are you ready to flaunt your sense of style blending it with ultimate comfort? If you say 'Yes' then you land on the right page, stick around till the end as we've got some great suggestions & style tips for you.
So, let's get started & have your sense of style blended in perfect harmony.
While it's good to dress up depending upon a particular occasion, It's also necessary to include those versatile dresses in your wardrobe that can be paired in all seasons.
Raisin has strived to weave modern designs with a touch of ethnicity bestowing you with a quintessential outfit that blends comfort and style altogether.
"Comfort and style have been a staple for women's wardrobe for centuries, and Raisin has thrived in embodying these fundamental elements while weaving its dresses where comfort meets style."
Raisin is also committed to adhering to its tenets so that it can empower women for their femininity and versatility. And why not, after all, it is the ultimate 'comfort' and 'style', which enables women to feel comfortable, so that they can be confident wherever they step out. While there are many brands out there that claim comfort, when it comes to fabric Raisin has been unrivalled as Raisin's fabric is premium, comfortable, and always in trend.
Raisin offers varied comfortable fabrics for all seasons
Rasin's clothing values comfort in a true sense where it strives to embolden women for their femininity as well as versatility.
In its endeavour to empower women, Raisin has established itself as a comfort clothing brand in India.
Raisin embodies the essence of femininity and versatility, empowering women to embrace their unique style and feel confident in their skin regardless of their age.
With its vision to provide women with 'comfort clothing' Raisin has seamlessly blended it with modern style. The brand's collection features a wide range of comfort clothing items, including sarees, dresses, tops, pants and bottoms that are crafted from soft and breathable fabrics making them perfect for everyday wear. Whether you're lounging at home or running errands, Raisin's collection of comfortable and stylish clothing will keep you looking your best.
Modal Satin Fabric:
Raisin's Modal satin fabric is a luxurious and comfortable material that has become popular among women who prioritise both style and comfort. This fabric is made from a blend of Modal and Satin fibres creating a soft and silky texture that drapes beautifully on the body. Modal is a type of rayon that is made from beech trees making it eco-friendly and sustainable. The combination of Modal and Satin fibres in Raisin's Modal satin dress results in a fabric that is breathable, lightweight, and moisture-wicking making it ideal for warmer weather. The fabric's smooth finish and lustrous sheen add a touch of elegance to this outfit making it perfect for both casual and formal occasions.
Chanderi Fabric:
Raisin's Chanderi fabric is a traditional handwoven fabric that is known for its sheer texture and intricate designs. This fabric is crafted from a combination of silk and cotton giving it a lightweight and breathable quality. The fabric gets its name from the town of Chanderi in Madhya Pradesh, India, where it has been produced for centuries.
Raisin's collection of chanderi silk kurta sets features a range of stylish and versatile pieces, including dresses, kurtis, and skirts, that are perfect for both casual and formal occasions.
The fabric's delicate texture and intricate designs make it a popular choice for Indian ethnic wear, while its comfortable and breathable nature makes it ideal for everyday wear.
Velvet Fabric:
Velvet is a type of woven tufted fabric that has been traditionally used in high-end fashion due to its luxurious texture and rich appearance. Velvet is very comfortable due to its soft texture and ability to retain heat making it cosy and luxurious to the touch. Velvet is in trend because of its luxurious and elegant appearance that comes with plush texture and rich colours adding depth and sophistication to any outfit.
Raisin has a very premium Velvet Kurta Set collection 'HEER' that is a luxurious & stylish outfit perfect for special occasions or formal events.
The set includes a kurta, a pair of palazzo pants, and a dupatta, beautifully crafted from plush velvet fabric that is soft to the touch and has a lustrous sheen. Whether you're attending a wedding or a formal dinner, Raisin's Velvet Kurta Set is sure to make you stand out and feel like royalty.
Here Are Your Ultimate All-seasonal Picks That Will Turn Heads:
These floral maxi dresses transport you to the Garden of Eden (Our new collection straight from the heavenly abodes). The grandiose design and rich green hue exude an air of majesty and sophistication. The maxi length of the dress adds a sense of refinement and elegance ensuring women make a striking impression in any setting. The vibrant green colour encapsulates bold & daring choices exuding a sense of vitality that is sure to captivate everyone. The intricate design of the dress showcases meticulous attention to detail—with each seam and stitch—expertly crafted to create a stunning and cohesive whole. The Grandiose Green Maxi Dress embodies grace, poise, and elegance becoming a testament to the transformative power of fashion to uplift and inspire women.
The white print and handwork viscose cotton flared dresses are a testament to the skilled craftsmanship and refined taste that characterizes haute couture. The blend of viscose and cotton materials imbues the dress with a sumptuous texture exuding elegance and sophistication. The intricate handwork adorning the dress attributes meticulous attention to detail and artistic flair that is synonymous with premium fashion. The dress is an embodiment of grace and poise, with its flared design accentuating the wearer's silhouette to create a striking visual impact. Truly, this dress is a masterpiece that will captivate and enthral everyone around.
This dress is a celebration of understated elegance and sophistication. The Ombre design and solid mustard hue create a timeless aesthetic. The modal satin fabric is luxurious to the touch imbuing the dress with a regal air that empowers femininity. The A-line cut of the dress is a testament to its versatility allowing this dress to be worn with grace and ease in a variety of settings. The midi length is a classic touch that adds a sense of refinement and poise to the garment. Overall, the ombre mustard solid modal satin A-line midi dress is a testament to the power of simplicity, a dress that is both stylish and sophisticated without being ostentatious.
This dress is a masterpiece of haute couture. The coral hue and foil-printed design exude a vibrant & captivating aura. The Chanderi silk fabric is luxurious to the touch, and its supple texture allows the dress to flow gracefully with each movement. The Empire cut of the dress is a testament to its timeless and versatile design, which has been a staple of fashion for generations. The dress is available in plus size ensuring that women of all shapes and sizes can experience the refined beauty and sophistication of this magnificent attire. In every way, the Coral foil printed Chanderi silk Empire dress is a true marvel of the fashion world embodying the grace, poise, and elegance that are synonymous with premium attire.
This dress stands for a new-age Indian girl, someone who aspires to independence, someone who is fun-loving yet traditional. The navy blue hue and solid design exude a refined & understated aesthetic. The vitamin fabric adds a touch of luxury and softness to the garment imbuing it with a sense of refinement that is sure to captivate all who behold it. The flared skirt top is a versatile and classic design that is both comfortable and stylish allowing women to move with grace and ease in any setting. The navy blue colour is a timeless touch that exudes a sense of poise and sophistication making this skirt top a perfect choice for any occasion. In every way, the navy blue solid vitamin flared skirt top is a stunning piece of fashion that exemplifies the timeless beauty of simplicity & elegance.
Do check out our new launch 'Garden of Eden' where you find a variety of dresses tailored to your sense of fashion ranging from maxi dresses for women, and co-ord set to playsuit for women.
Wrap-up: Raisin is the definition of comfort and fashion for all
Raisin's clothing is versatile and can be worn for different occasions and seasons. They offer comfort and style, making them a must-have in every woman's wardrobe.
You can dress them up or down, depending on the occasion, and still look fashionable. In this blog, we discussed how Raisin's dresses offer comfort and style for all seasons.
Raisin Women's Clothing is perfect for every season. They are available in various designs, colours, and prints, making it easy to find one that fits your sense of style.
Our popular categories are: Blazer Set For Women, Kurta Pant Set, Kurta Sets
So, if you are looking for an outfit which is comfortable and stylish, then, you are at the right place.