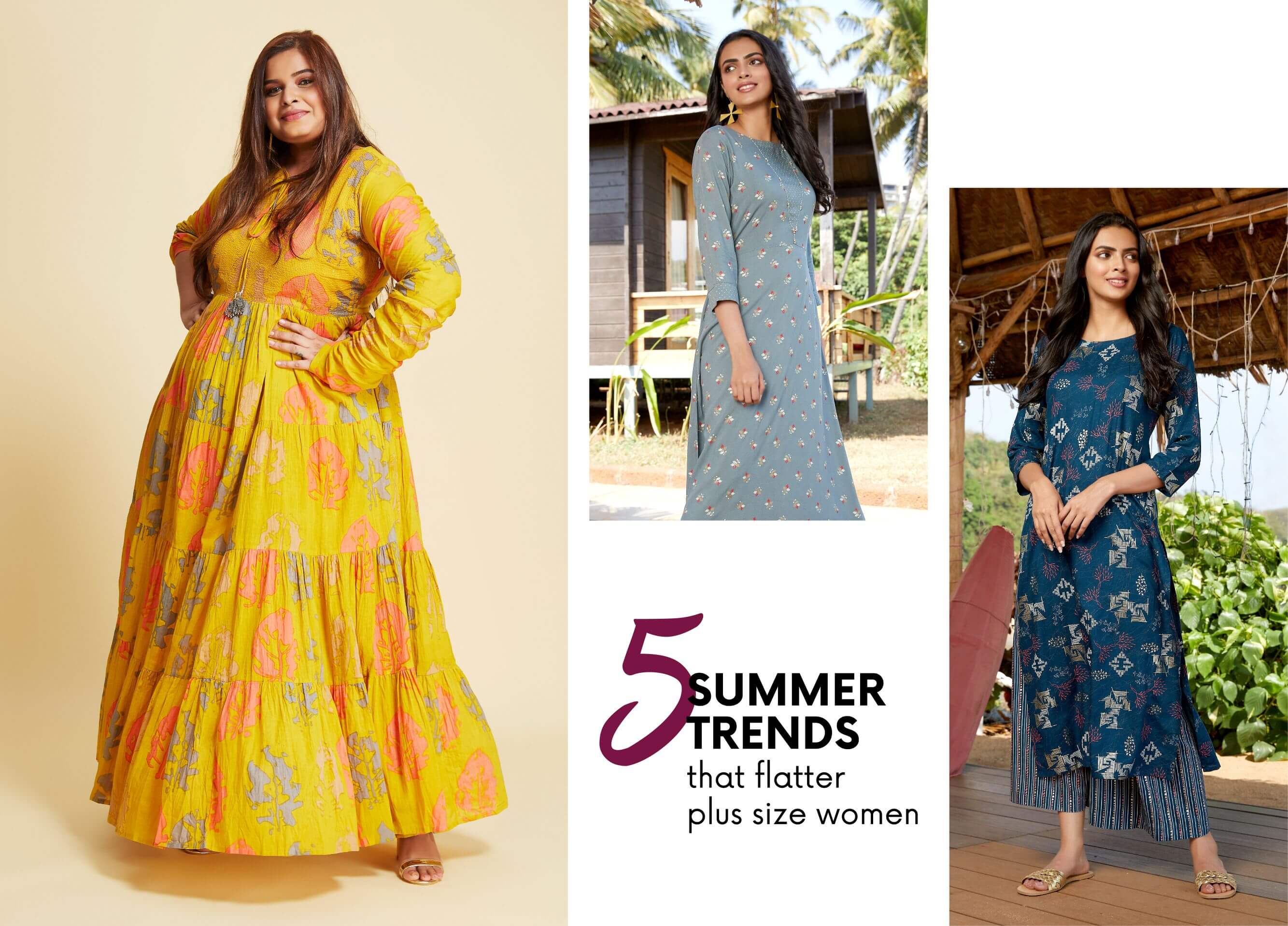 5 Summer Trends That Flatter Plus Size Women
Hey there fashionista! Summer is here and it's time to update your wardrobe with some new dresses. However, if you've put on some weight recently, you may be feeling a bit discouraged and unsure about finding perfect plus size dresses that flatter your body type and keep you comfortable and stylish. But don't worry! It's time to ditch the old-fashioned belief that plus-size women can't look and feel fabulous in summer outfits. Gone are the days when we have to settle for unflattering, shapeless clothes.
We at Raisin, believe that fashion should be inclusive for all body types! That's why we've put together a list of five summer trends that are not only chic but also designed to enhance and celebrate the beauty of plus-size women like you!
So, continue reading to explore a wide variety of stylish and trendy plus size dresses for women from Raisin!
Debunking The Myths About Plus Size Fashion
Before going to disclose the summer perfect plus size dresses, let us break the myths and misconceptions regarding plus size fashion!
Plus-size fashion has long been misunderstood and misrepresented. One of the biggest myths about plus-size fashion is that it's limited and unflattering. This simply isn't true. Plus size fashion is all about finding the right fit and style that flatters your curves and makes you feel confident.
Another misconception is that plus-size women should avoid certain types of clothing, such as crop tops or bodycon dresses. But why should anyone be limited by their size?
We believe that plus-size women can rock any outfit they want with the right styling and confidence. It's time to break free from these outdated beliefs and embrace the fact that fashion is for everyone, regardless of size or shape!
Exploring The 5 Plus Size Summer Dresses That Will Make You Look And Feel Fabulous!
Summer is all about fun, sun, and fashion! As a plus-size woman, it's essential to embrace your curves and feel confident in your skin. This season, we're seeing a variety of trends that cater to plus-size women, from bold prints and bright colors to flowy fabrics and flattering silhouettes. Whether you're headed to the beach, a barbecue, or a night out on the town, there's a perfect summer dress out there for you.
So, it's time to explore the top five plus size summer dresses that will make you look and feel fabulous!
Printed Maxi Dress

Looking for plus size long dresses that will make you stand out this summer? Look no further than the printed maxi dress!

Maxi dresses have long been a popular summer fashion trend due to their effortless style and comfort in the heat. And when it comes to plus-size women, printed maxi dresses are especially flattering. The bold patterns and prints draw the eye away from any areas you may feel self-conscious about, while the flowy fabric skims over curves and creates a sleek silhouette.

Whether you choose a bright yellow-colored floral printed flared maxi dress or a sophisticated blue-colored floral printed A-Line maxi dress, you will feel confident and fabulous wherever you go! For a more chic look pair your printed plus size long dress with strappy sandals, a denim jacket, and some statement earrings!
Straight Maxi Dress

When it comes to refreshing your summer wardrobe, you might be dreaming of a dress that gives you a slimming effect. Right? Well, you are in the right place! Raisin has introduced straight maxi dresses for plus size women!

Try our soft pink embroidered straight maxi dress or delicate cream coloured straight maxi dress! The straight cut flatters plus-size women by elongating the body and creating a slimming effect. Dress it up with some statement jewelry and heels for a night out, or keep it casual with sandals and a denim jacket for a daytime look.
High Waist Maxi Dress

Imagine: It's a summer evening and you're off to your friend's birthday party. You want to look casual, yet chic, but your wardrobe is failing you when it comes to plus size casual dresses. No need to fret!

Discover our elegant light blue coloured high waisted maxi dress for a stunning and sophisticated look. Not only is it stylish and chic, but it's also incredibly flattering on plus-size women. The high waist cinches in at the smallest part of your body, creating an hourglass figure, while the flowing skirt adds a touch of elegance.

So why wait? Say goodbye to uncomfortable waistbands and hello to this comfortable high waisted stylish plus size casual dress!
Plus Size Midi Dress

Are you planning for a romantic beach getaway with your beloved and searching for a stylish plus size dress that suits your body type?

Why not consider stylish A-Line plus size midi dresses? We have a versatile collection of plus size midi dresses for you!

You can opt for a vibrant sky blue coloured bold printed A-Line midi dress or keep your style statement classic with a simple light beige coloured A-Line midi dress!

This classic style is a perfect option for you, as the A-line silhouette skims over curves and creates a defined waistline. Dress it up with a pair of comfortable sandals or flip-flops and a wide-brimmed hat to protect your skin from the sun. Accessorize with a straw tote bag and some oversized sunglasses to complete the look!
Bright Coloured Plus Size Kurta Sets

Are you feeling down because you're struggling to find the perfect summer office attire that complements your curves? Don't worry, your solution is here! You can still slay the office look with the bright coloured plus size kurta sets. Don't let your insecurities hold you back from feeling confident and comfortable in your workplace. Show off your style and professionalism with Raisin's trendy kurta sets, specially designed for plus-size women like you!
Beat The Heat And Boost Your Confidence With Raisin's Plus Size Summer Dresses!
Embracing your body and feeling confident in your skin is the key to rocking any outfit. With Raisin's plus size summer dresses, you can elevate your fashion game and stay comfortable during the hot summer days. From printed maxi dresses to high waist maxi dresses, and A-line midi dresses to bright color kurta sets, there are plenty of options for you to choose from.
Start shopping plus size dresses online from Raisin!
Love yourself, step out in style with plus size dresses, and beat the heat in the most fashionable way possible!