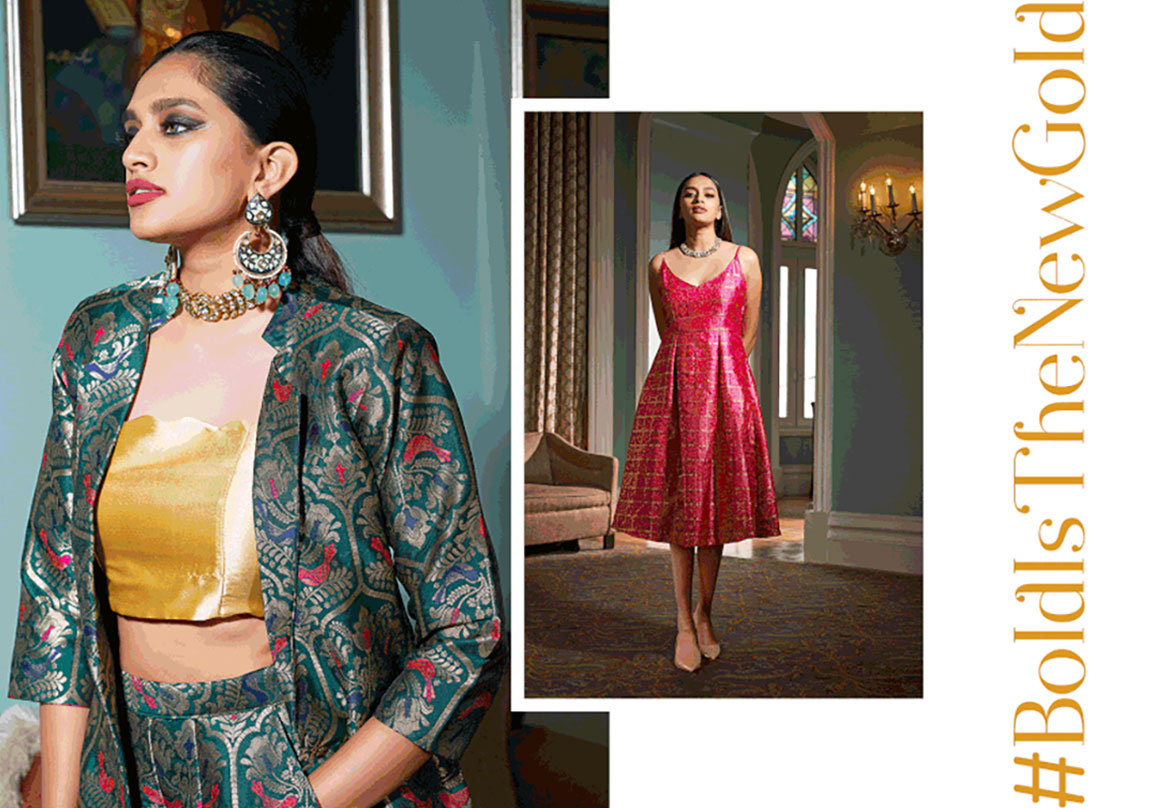 Introducing AIKA #BoldIsTheNewGold
The newest collection ushered in by Raisin is AIKA. As unique as it sounds, the garments of this collection will make every person wearing them stand out from the crowd.

AIKA is a reflection of many moods bringing together a feeling of solidarity. It is a graceful Weave Of traditional and modern unifying contemporary style.

#BoldIsTheNewGold stands for the idea that being bold and different is the newest trend and Standing out is the new gold than blending in. Rise above the ordinary this festive season and reflect on your own style.

We have seen a lot of traditional weaves being transformed into contemporary fashion wear but this collection oozes urbanity.

Transforming the traditional Indian Banarasi weaves into contemporary wear like dresses, pant suits and skirt-blazer co-ord set, while doing full justice to both the styles makes this collection a timeless masterpiece.

Raisin stands with the idea of providing comfortable traditional and contemporary wear garments for the new age women so that she continues to shine in her world. Women are already loaded with a lot of responsibilities and tightness, therefore, wearing clothes that are uncomfortable on a daily basis should not be an added stress in her life. Hence, Raisin has been determined on providing all the comfortable traditional and contemporary clothing that are stylish and comfortable.

This collection screams style that will suit every woman because whatever your style may be, it always has some connection with your roots and the designs and material of this collection has been curated in a way that takes us back to our very strong roots. These outfits can very efficiently be worn as a day outfit and with proper accessorizing can look very well as night outfits. Wear this outfit at festivals, parties or even at special meetings in the office. The versatility of these outfits makes this collection a must-have for every woman.

Some of the pieces that have been revealed from the collection include -

Yellow Jacquard Banarasi Brocade Dress - Made with the utmost finesse, this dress is a whole outfit in itself. The traditional Banarasi weave in yellow colour attracts all the attention. This dress screams class. You can daunt this dress at an office party or even a wedding function.



Black and Green Jacquard Banarasi Brocade Jacket with Pant - Solid pant suits are out of fashion. It is now time for pant suits with a twist. This jacket and pant set is an ideal match for the boss lady in you.



Yellow Jacquard Banarasi Brocade Dress - This A-line Dress is a perfect mix of traditional and modern with a touch of Royalty. Feel proud about the rich weave culture of our country and make people envy you in this dress.


Navy Jacquard Banarasi Brocade Dress - For all the girls who love blue, here's your chance of flaunting it in the most stylish way. This dress is everything that a woman needs to feel beautiful.



Golden Jacquard Banarasi Brocade Blazer with Pant - The most powerpack and the showstopper of the launched collection so far is this pant suit set. The flower pattern on the golden suit overall makes it look rich.


Get your hands on the most trending and fashionable collection launched by Raisin. Head on to our website to have a look at the other collections that we offer. Choose from Bhumi Pednekar's favourite styles and step out of your homes in style with Raisin