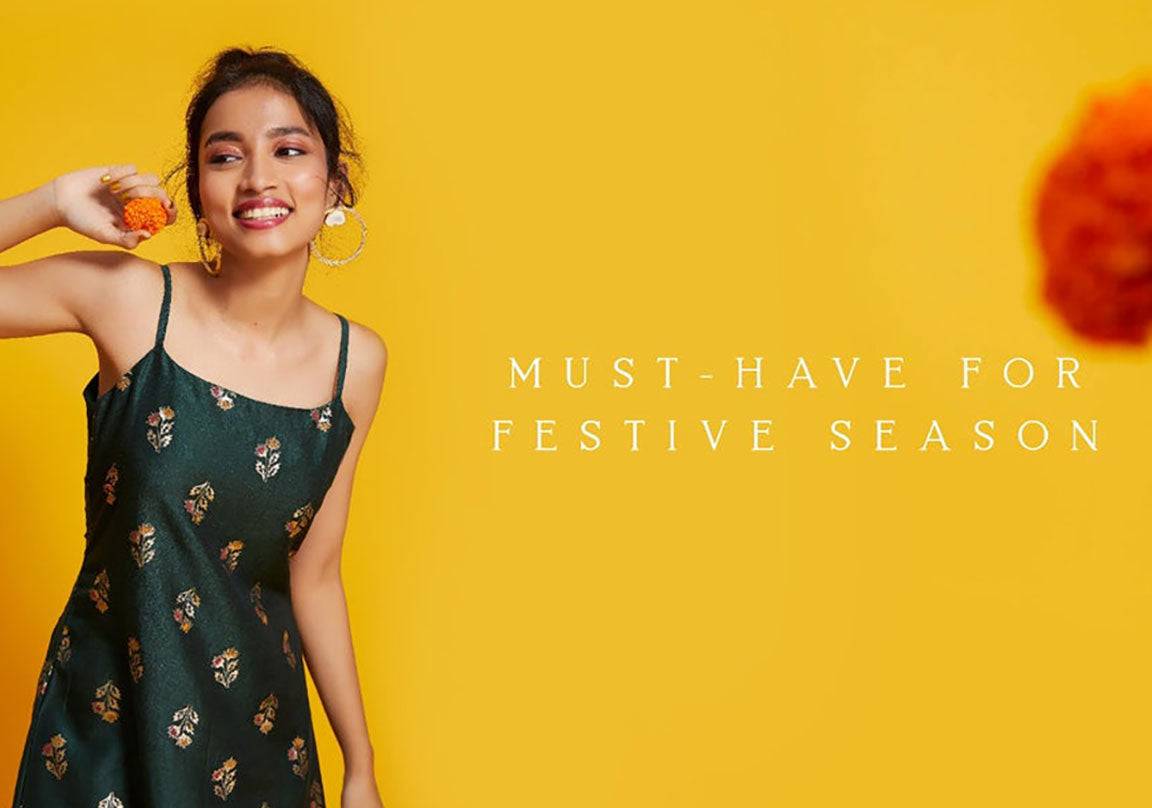 Outfits That You Must Have For The Upcoming Festive Season In 2021
It's that time of the year again when all of us are excited about all the upcoming festivals.This time of the year brings in the most exciting festivals like Dussehra, Diwali and Ganesh Chaturthi.. So, you need to be ready for them. Unlike last year, this year's festivals are actually exciting. So, get a little excited and let us plan your festive outfits for this year. We have brought out the latest designs which will make you truly enjoy the festivals.

Let us show you all our recommendations for you, this festive season - 
Kurtis

1. Navy blue Embroidered Viscose Long Kurti

Blue in itself is a very royal color. It is a color of festivals, specially for night pujas like we have on Diwali and Krishna Janmashtami. The embroidery of the kurta brings in the intricate detail but it is not too heavy to be overshadowed by it. Pair it up with contrasting bottoms and dupatta and make heads turn on the festivals.
2. Yellow Viscose printed Kurti

What better color could one opt for, for Ganesh Chaturthi than yellow! Well, we need not convince you of this color but we will definitely convince you to buy this kurti from Raisin. It has a very traditional flower print with white which instantly brings in the festive vibe. It is comfortable so that you can dance and move around comfortably. When styled in your own unique way, this kurta will attract a lot of compliments for you.
3. Off-White Printed Rayon Kurti

For all the people who are stopped from wearing white on festivals because it is not a very festive colour, Raisin brings to you this kurta. This kurta is off-white, it has prints of very traditional designs and is a perfect combination of white with festive colours. Flaunt this look on one of the Navratri days and tell the world that white is a festive colour too.
4. Purple Embroidered Muslin Cotton Kurti

Festive season doesn't mean you have to compromise on your comfort. This cotton kurti is the perfect example of comfort and style. Cotton fabric is the most comfortable fabric, we all are aware of this, but it can be tailor-made into something so stylish and festive is what Raisin has proved with this piece. Get your hands on this piece for this festive season and make people jealous.
5. Brown Embroidered Viscose Long Kurti

On most of the festivals when people will be wearing those same festive colors, you can opt to look different and better than the rest of them by daunting this very earthy brown coloured kurti from Raisin. The embroidery adds the perfect festive touch to the kurti. This kurti is, in our view, a must-have for this year's festivals.
Kurta sets

1. Maroon Printed Rayon Straight Kurta With Pant

Printed kurtis are the latest trends of the season and why not flow with new waves, right? This maroon, printed kurta is so festive that it could be a safe choice for you if you have not yet decided on your outfits. If you want to make a safe choice for a festival and not go too much out there, just choose this kurta.
2. Beige Embroidered Viscose Cotton Straight Kurta Set

Beige is a very classy neutral colour. It goes very well with the excitement of the festival. If you are looking to look classy and elegant for card night at your friend's house, opt for this kurta set. You don't even need to carry a dupatta with this set as it looks like a complete piece in itself.
3. Green printed Muslin Straight Kurta With Pant

If you are that kind of person who is never able to mix and match their kurtas with bottom and dupatta, then you should go for a kurta set like this which comes in a set but is so stylish, that it feels as if it is custom-made for you. Green is yet another festive color but this kurta is special as it is printed with all the traditional work. This kurta set screams festive season.
4. Purple Solid Cotton Straight Kurta Set

When on some festivals you don't feel like dressing up in an all traditional wear, you can opt for this kurta set. The purple shade of this kurta adds freshness to the entire festive vibe. You can however make this kurta more festive, to make your relatives happy, by adding traditional earrings and a contrasting yellow or orange coloured dupatta with this look.
Indo-Western outfits

1. Navy Embroidered Cotton Peplum Tunic

For all the girls who do not like dressing up so much and hate wearing traditional clothes, we have got you covered too. Go for a relaxed look with this cotton peplum tunic and pair it with your favourite bottoms ranging from straight pants to dhoti pants and even jeans. Accessories can play a big role in amping up this look.
2. Off-White Maxi Dress With Pink Checkered Flared Cape

Who said we cannot wear a dress on festivals. We make our own rules, right? It is an undeniable fact that the entire feel of any festival is very traditional and the modern vibes of a dress doesn't go with it. But you can still wear a dress if it is an indo-western dress like this one. This dress is comfortable like a dress but has all the feels of a kurta. Also, the colors of this dress are so vibrant that it looks perfect for a day event.
3. Mustard Printed Jacquard Flared Skirt Top

This Garba, ditch your regular ghagra-choli and go for this crop-top and skirt combo. This indo-western look is somewhat of a similar style as a traditional ghagra-choli but the print makes it stand apart. The mustard color is a very fresh color in a clothing piece like this. You should definitely choose this style this festive season because what is life without trying new things, right?

4. Red Bandhani Woven Design Silk Saree

We have taken this year's style game a notch higher and are presenting before you Raisin bandhani saree. This saree being in the traditional red colour, is without a doubt, the best match for any festival. Go all out and traditional by wearing a saree on one of the festivals. You sure will get a lot of compliments.


These were some of our recommendations for you to ace the upcoming festive season. These styles from Raisin will not only make you look appropriate for festivals but will also make you stand out with your style. Head on to our website to have a lot of other options and the latest trends.