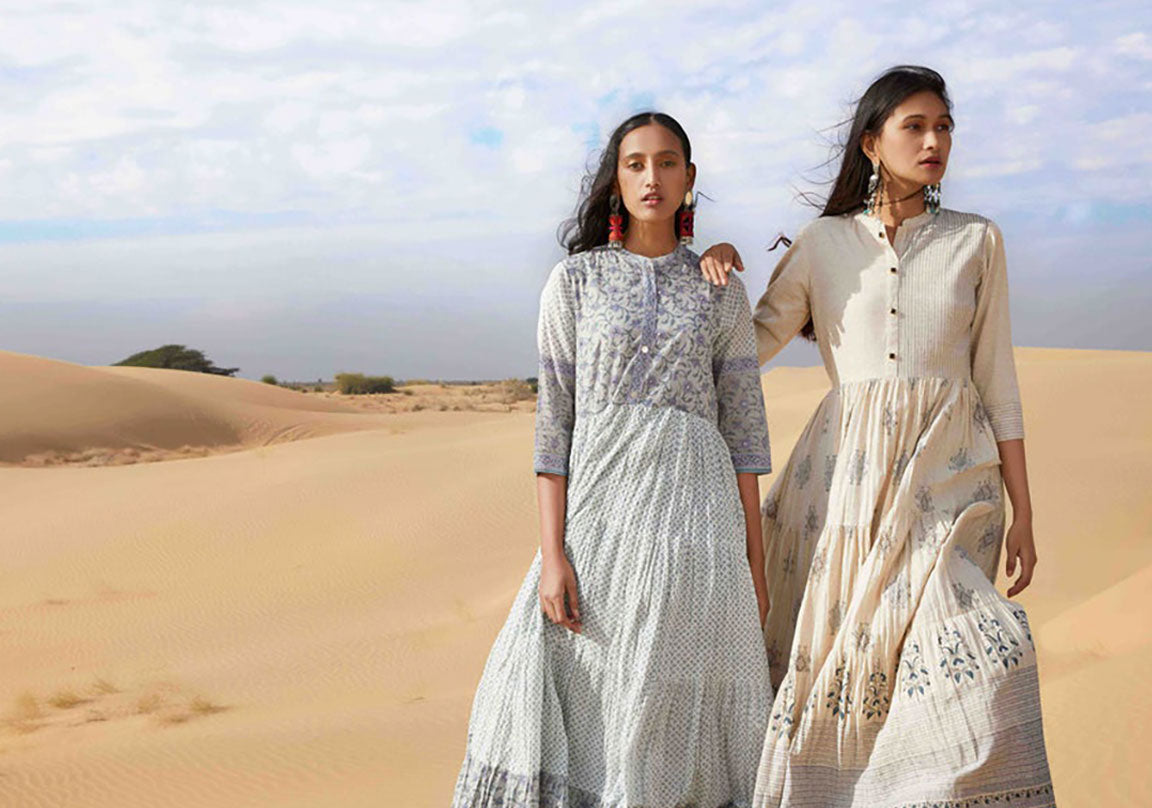 Fabrics that keep you cool during Summers in India
Every weather brings with it certain advantages as well as disadvantages.
And summers are no exception. Summers are enjoyable as we no longer need to cover ourselves under multiple layers of clothing as in winters that make us look bigger than our actual sizes, we can wear all our favourite colors, we have the liberty of wearing different styles and categories of clothes and, in summers, clothes are airy and loose. But we also cannot turn a blind eye to the fact that summers can be harsh. The scorching summer sun and the unmerciful rise in temperature along with humidity can be sapping. Well, summers will always be here and we somehow have to live through it but if we follow the simple rules of summer styling then it is no herculean task to stay fresh and cool in summers all day. The fashion pragmatists would advise you to wear only those fabrics that would be summer appropriate and will keep you cool. Fabrics, as we all know play a very crucial role that is why certain fabrics are proverbial for summers. 
So, here we are to list all those summer appropriate fabrics that will keep you cool and fresh all through the harsh Indian summers -  
Cotton 
Cotton is declared the uncontested winner of the best fabric for summers. Nobody in the entire world could deny that cotton turned out to be the best discovery for the fashion industry. Cotton is available in abundance, is inexpensive and can be moulded according to your needs. It is soft, light weight and porous. Cotton soaks up all the sweat and allows heat to escape the body which is why it is the most breathable and airy fabric. A lot of men's undergarments and women's lingerie are made out of cotton. More recently we have seen cotton masks gain wider popularity and preference than the ones made of some other material. Newborn babies are wrapped in cotton towels as cotton is far less toxic than any other fabric. Cotton anyways rarely causes any allergies or infections. The best quality of this fabric is the fact that it can be dyed in any color of your choice, which is why it is the best fabric to experiment with a new design or tailoring and most of the new fashion trends are made using this fabric. Raisin Global's Cream Embroidered Cotton Dress is our top recommended garment for this season. The cotton fabric, when used to make the most comfortable garment, which of course, is a dress, makes a fantastic combination. The color of the dress is also summer appropriate.
Rayon 
Because of it being a synthetic fabric, many people think that Rayon is unfit to be worn in summers. It was a preconceived notion that rayon does not have the required qualities of being porous and good soaking capacity like Cotton but then people eventually understood how good this fabric is, to wear in summers. Rayon is a synthetic fibre made from the natural sources of regenerated cellulose as of wood and related agricultural products. Synthetic fibres are the fibres made by humans through chemical synthesis, not like natural fibres that are directly derived from living organisms. Rayon was invested in being the cheaper alternative for silk. Opposite to the initial impression of people, Rayon has thin fibres like cotton, which allows it to be light and be breathable. The lightness of any fabric prevents it from sticking to the body when the person starts sweating. All these qualities make it a good summer fabric option. Due to its comfortable fit, it is specially used for sportswear as well. Raisin Global's Flycatcher Brown Printed Rayon Jumpsuit is our pick for this fabric. A jumpsuit is anyhow the most comfortable among all the other styles. The color of the jumpsuit is summer appropriate and in trend right now.
Denim 
Surprising enough but denim has secured a place for itself in this list. The main reason for this can be credited to the fact that denim is made from cotton fibres. The weaving of the fibres is done in such a way that the fabric becomes sturdy and therefore, gets the look and feel of what we recognise as the denim fabric. First produced in France to be worn by workers due to its high durability, it found a way to the USA where it got a wider audience for its typical Blue color with a new name 'Jeans'. Jeans are therefore nothing but cotton pants. Due to being originated from cotton, denim has certain qualities same as that of cotton. Firstly, denim is super durable. Hardly any of our jeans had ever got torn because of which we would have discarded it. Jeans are the garment that goes on in the family from older sibling to younger sibling and maybe across generations too and after wearing it for years, people finally donate it where needy people use them. It would be safe to declare it the most durable fabric. Denim, like cotton, is very breathable. It absorbs sweat and gives a cool and comfortable feeling. It can be moulded into thick denim jeans or thin denim kurta and skirts according to the need. Raisin Global has introduced Teal Blue Printed Denim Kurti for the rising popularity of denim. The tea blue color of the kurta gives the denim a different dimension. The printed design is also very attractive.
Natural Silk 
We all have studied in our schools how silk is produced by the mulberry silkworms through a cycle of maturation of larvae known as metamorphosis. However, there are other insects too, who continue to make silk all through their life but the type of insect that makes it dictates the demand of that silk and the price quoted for it. Being a  natural protein fibre, silk is made part of our list of ideal summer fabrics. The absorbency power of silk makes it comfortable to wear both during summers and winters. Silk has a smooth and soft texture, unlike any other fabric. It is also considered one of the strongest fabrics. This reason has given rise to the birth of yet another tradition in India to hand down a very heavily embroidered silk saree from one generation to another. Natural silk is without a doubt super expensive because of the fact that it is naturally derived and its weaving needs the ultimate finesse and supreme quality labor expertise.  Why else do you think your mother does not allow you to even touch her silk sarees? Well, you would never be allowed to invade that part of your mother's wardrobe ever but you can have your own silk without having to spend a fortune. Raisin Global brings to you Green Woven Cotton Silk Saree that would make your mother want to wear it at least once. The fresh green color will complement any occasion in summer. 
Viscose 
Viscose is a man-made fabric. It is the distant cousin of rayon as it is made in the same fashion as rayon. Viscose is made from wood pulp like beech, pine or eucalyptus tree and can also be made from the bamboo tree. It can be said to be semi-synthetic due to the use of a lot of chemicals in the process of manufacturing it. Viscose is inexpensive to produce and is a very versatile fabric that can be used to make not just clothing material but also upholstery and curtains and even carpets. Viscose is a great option if you are looking for a material that is lightweight and has a beautiful drape. It can be dyed into a lot of colors too. Apart from all these qualities it also possesses all the qualities of rayon as well such as breathability, good absorbing power, softness and light in weight quality. The Blue Embroidered Viscose Rayon Peplum Tunic is our recommendation for viscose. The blue color used in the tunic is very summerish and looks very elegant and classy.
Summers can be taxing but don't let this weather get the better of you. Ace this weather with all the freshness and teach the world how it is done properly.
This was our list of top summer fabrics that would keep you cool in the Indian summers. But we would love to receive your list too. Tell us - 
Which fabrics are your favourite?

Did you like our recommendations?
Raisin Global has a wide variety of clothes in their various categories that come in a lot of fabrics, colors and designs. You would surely find some or the other interesting and pleasing outfit for yourself in the collection. Head on to our website to have a look at the various styles we have in store for you.