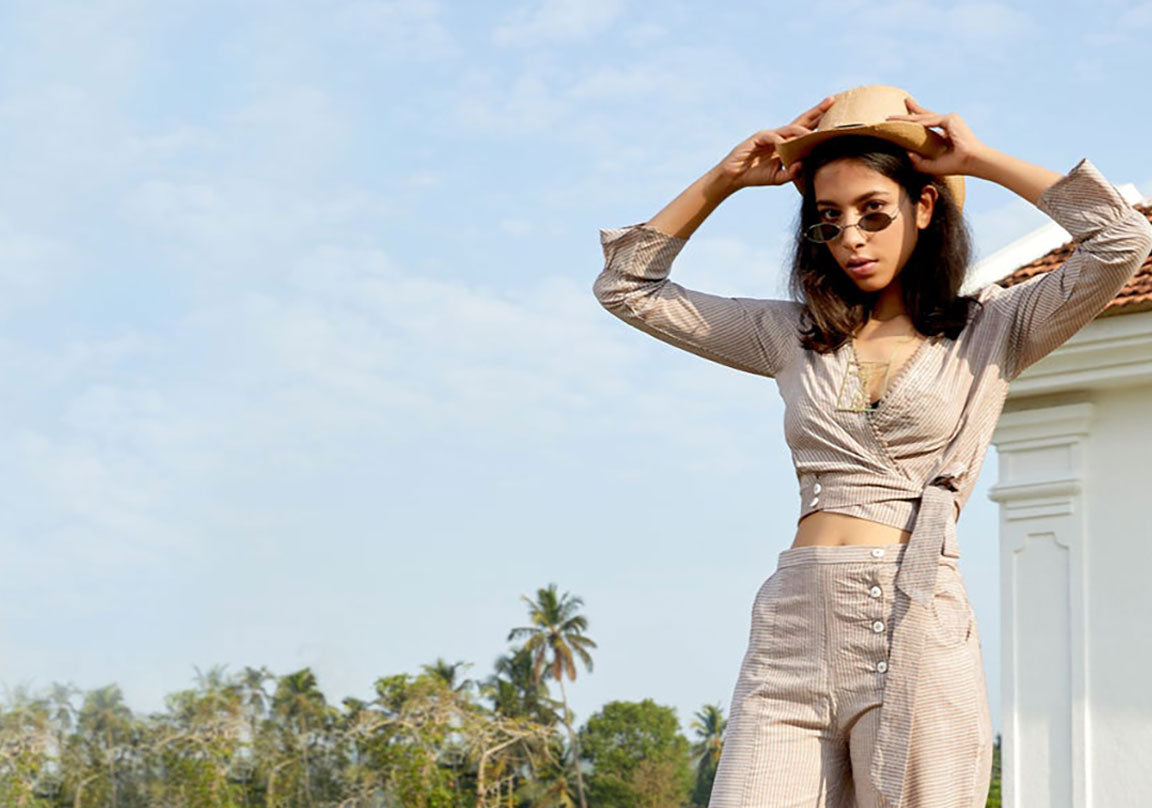 Must have summer styles this season
Summer is the celebration of everything bright and beautiful.
The rich hues of blue that the sky wraps itself into, the golden rays of the sun which when falls on anything makes it glimmer and shine, and the exotic blooms that adorn the gardens are just some of the things that summer brings with it. But summer also brings along the scorching heat, constant sweat and unpleasant body odour.
Well we can not skip summer altogether but we can surely pass over the disadvantages it brings with it, such as  the sweat and smell. But exactly 'how' is the question? 
Our clothes play a substantial role in maintaining our ideal body temperature. And therefore, the choice of the material, color and style of your clothes, in summers, is crucial so that they don't end up giving you added-on heat and an uncomfortable feeling. It is crucial to stay cool in summers and not let the heat get the better of you. And to do this, the best way is to dress up according to this savage weather. 
So, here we are to help you. Mentioned below are some of our favourite fabrics and styles that are summer appropriate, popular and time-tested and these will definitely give you "a place in the sun" - 
Cotton / khadi / linen co-ords set for the fresh beach look -
Put your guards up against the heat and humidity of the summer season with a cotton or linen or khadi co ords set. This ultimate summer essential will make you both look and feel cool. The crop top and pants combo is the best combo in a co-ords set. This, when worn, does not need much styling but makes you look dressy without putting in a lot of effort. Cotton / linen / khadi is the best material to be worn in summers as they are light fabrics and absorb sweat like magic. They do not trap body heat and their texture makes them airy. What else does one actually need, right? Raisin, through it's 'songs of summer' collection has launched a wide variety and styles of co-ords sets that are summer appropriate so that you don't have to compromise on looking like a diva anyday. The Light Brown Woven Straight Crop Top With Pant is our top pick for you. The color is subtle and earthy and brings a cool vibe yet stylish vibe. The woven pattern of the set gives the solid color set the depth it needs. The crop top looks stylish with the collar and button detailing. The knot detailing on the pants looks casual- chic. The pants end right above your ankle that makes it look well finished. You can quirk it up according to your style.
Kurti to continue your fashionista vibe in office -
Office wear can get boring with the stripes and checks. But you can now amp up your style game in the office without breaking the dress code. Raisin's Light Blue Embroidered Viscose Plain Long Kurti is just what you have been looking for. The gorgeous blue shade of the kurti won't give you monday blues and the muslin viscose material will keep you fresh all day. The embellished detailing on your kurta will sweep you off your feet. The round neck makes it comfortable to wear and the ¾ sleeves give the whole kurta a very finished vibe. The kurta is long and ends below your knees which makes you look taller. The A-line cut of the kurta compliments all the body types and is therefore, the safest style to carry off. Pair it up with your favourite jhumkis and complete the look with a  heel or jutti and make heads turn at your office.
Kurta set for running errands in style -
In today's time when we hardly step out of our homes, making a stylish appearance once in a while, when you need to run errands is the kind of positivity the world needs right now. No matter what, you should always dress up and look your best even if you just have to go out for grocery shopping. And therefore, a kurta set like Raisin's White & Blue Cotton Rayon Printed Kurti & Pants Set is your match made in heaven. This casual kurta set screams summer to us. Rayon is anyway the top summer fabric and when it comes in such a vibrant combination of white and blue then who can resist it? The mandarin collar of the kurta gives it a relaxed vibe while the pattern and the patch work makes it look quirky. The pattern of the pants with the solid kurta is simply irresistible. So just grab on a white sneaker and complete this look with a sling bag and there you are, absolutely ready to make an appearance in the world again, though not without a mask of course.
Dresses for Brunch Dates -
Catching up with you gals after a long time? Don't do it without the charisma of your unique style. Raisin's Red Plain Weave Cotton Dress with Printed Jacket is just the right thing for you this summer season. Cotton dresses are in fashion these days and when they come in such attractive colors, one can hardly miss this offer. The world accepts cotton supremacy in summers, so the checkbox of comfortable fabrics is ticked off. Pinkish red solid A-line dress - check, mandarin collar for the extra comfort and style- check, the perfect calf length for ultimate convenience - check, a colorful printed jacket on top of the dress for all the vibrant vibes- check. Did we miss anything? Nothing at all! This dress is just perfect. Make your girls envy you a little. Dress it casually with white sneakers and dainty earrings and make a splash all this summer.
Tunic for a casual movie date - 
Raisin's Olive Green Embroidered Viscose Rayon A Line Tunic is a good option if you are planning a casual movie date. Viscose whisks the moisture and heat away and is therefore a good choice for summers. The fresh Olive Green color is a very attractive color. The embroidered detailing on the tunic gives it a bohemian vibe. This button down, full sleeves tunic is slightly A-line. Unleash your inner model and make the world a runway. Leave behind the conventional way of styling and style this tunic in your own unique way. Comfort should never be compromised upon and this tunic would make you feel wrapped in a blanket of clouds. After wearing this tunic, you are surely making it worthwhile for them because people are definitely going to stare at you.
Crop Top and Skirts for all those family functions -
You cannot skip all those boring puja ceremonies and unending family functions, but you can definitely make them enjoyable by wearing Raisin's Grey Bead Work At Yoke Naysha Unique Jacquard Flaired Skirt Top. You are definitely going to enjoy every family function because you will get another chance to adorn yourself with these beautiful clothing pieces. Whoever declared grey as a dull color must not have seen this top and skirt set. The textured embroidery going on the entire skirt as well as on the top makes it look classy. The V-neck of the top gives it an Indo-Western look. The unique shape of the sleeves gives a beautiful finish to the entire outfit. Without putting in a lot of effort, you will look put together. Just grab your favourite earrings and rings and surprise your family members with your glam.
Sarees for your best friend's wedding -
Weddings are a common occasion during the summers and you can look better than the best by draping Raisin's Coral Floral Woven Design Art Silk Banarasi Saree. Coral is the color of the season and when it comes in a saree with floral design on it then who could resist? The artificial silk makes it a very light and airy saree. It comes with a blouse that is also of the same material. Even young girls can carry off this saree because of its bright colour and design and it's light fabric. Enjoy your best friend's wedding in this beautiful saree without any hassle.
Keep your body and mind cool this summer and enjoy summer like never before by wearing Raisin Global. Our quality speaks for itself.
We would like to hear about your favourite summer fabrics and clothing items. Tell us what do you think about our suggestion? 
Raisin has a wide variety of material and style of clothes in different categories. Check out www.raisinglobal.com to see all the latest collections and designs.