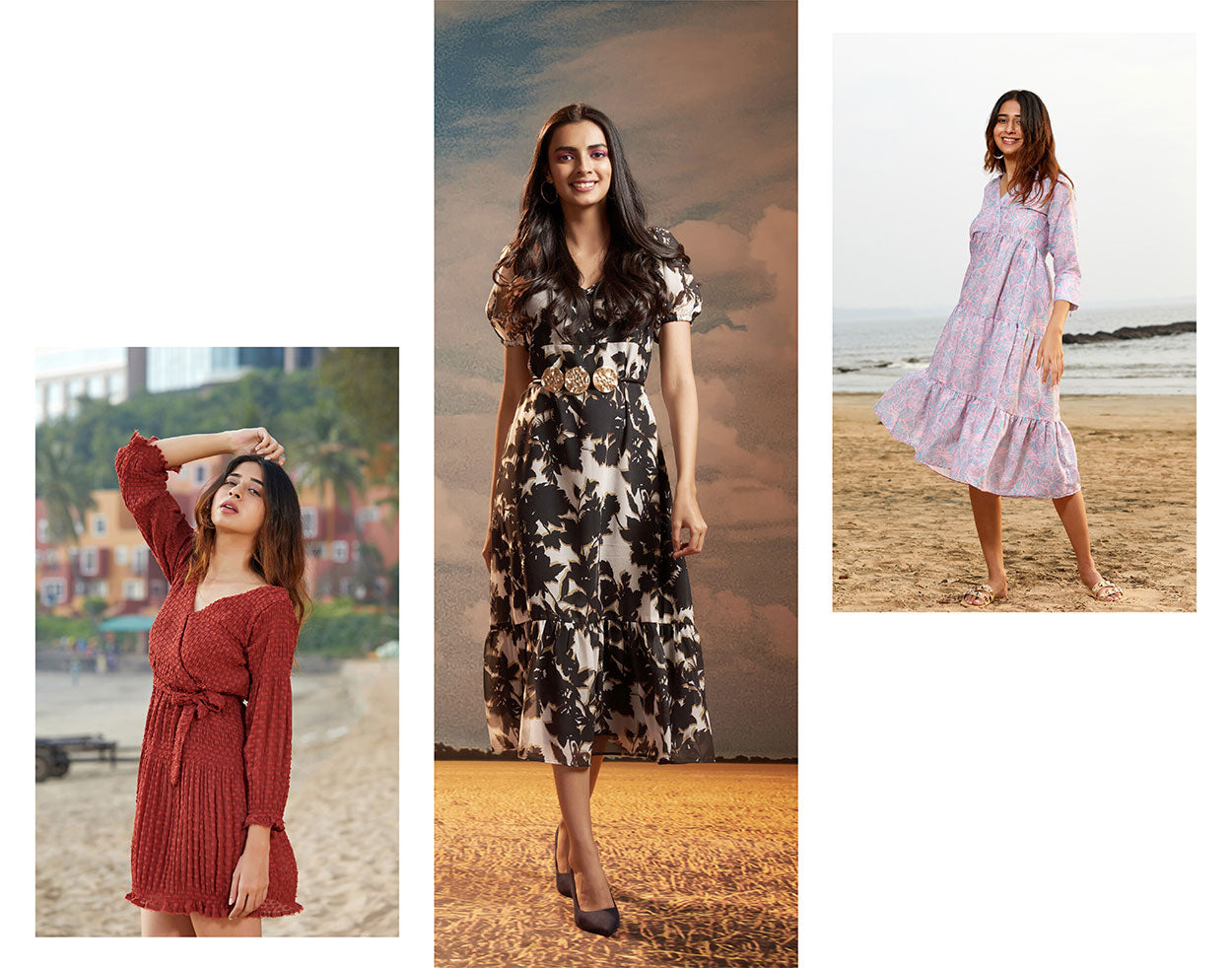 Dopamine Colours - A Guide Towards A Colour Palette To Get Through In 2022
When it comes to fashion, the colour palette plays an important role.

You might have noticed that some colours instantly make you happy. The reason behind this is the fact that some colours come in the category of dopamine colours, which means that they make you feel happy by secreting the happy hormones in your body.

Gosh! That is some serious information. Talk about colour psychology!

On a lighter note, colours do have a major impact in our lives (leave alone our impression when we step out among the fashionistas who are ready to critic us from head to toe). In this blog we will be giving you guidance on the colour palettes that are trending in 2022.

With each colour that we will be suggesting, we are going to recommend some outfits from Raisin.

So let's get started with the blog now -

Earthy Tones -

Earthy tones are becoming more and more popular each day (and honestly! Who is complaining?) This trend is surely going to stay for a while.

It is better that you start getting your favourite style of clothing in all the earthy tones so that you will look the trendiest in all your friend groups.

Our recommendations from Raisin are -


Teal Dress - We all love Teal colour, don't we? And if we say you can get a comfortable dress in this beautiful earthy colour, then? Oh what a steal! So what are you waiting for?
Rust Dress - Rust has been ruling the fashion industry since last year and we hope that it sticks to its position for more years to come. This colour honestly suits everybody and we just can't control buying clothes in this colour!
Muted Pastels -
Pastels are our saviours. Whenever we feel we don't have anything to wear, or we can't decide between two things, we go with pastels. It is a secret rule going on with all the women across the globe. But muted pastels are on another level of WOW!

Check out our recommendations from Raisin and you will know why we are a fan of this category -


Purple Dress - Soothing is the word! This dress is the perfect combination of soothing+comfortable. And honestly girls, what else do we need, right?
Mint Dress - Mint colour obsession is real and we are not complaining. The calming effect this colour brings is unexplainable.
Light And Airy -

The hot summer days need exactly this category of colours. With the mercury reaching new heights every day, we would be living in these colours for the rest of the summers for sure.

Hurry up and get yourself these recommended clothing from Raisin -


Mint Flared Dress - "A flared dress in mint colour? What are you saying!! This has to be in my wardrobe!!!!" fashionistas, this should be your reaction after checking out this dress on Raisin's website.
Purple A-Line Dress - believe us or not but an A-line dress complements every body type and suits everybody. So go and grab this silhouette in the most beautiful purple shade.
Vintage Flower Power -

With trends constantly changing, people are levitating more towards vintage things. And no wonder, vintage floral patterns are gaining wide popularity.

Get in the vintage feels with the right designs. Our recommendations from Raisin -


Floral Flared Dress - A flared dress in vintage floral pattern like this is the perfect mix of vintage design but modern silhouette. Who can ignore such a masterpiece?
Floral A-line dress - This dress gives the perfect vintage vibes with the black floral designs and A-line cut. Step out in this dress and make heads turn, because you deserve all the compliments girl!
These were all the dopamine colours that we wanted to tell you. But hey! Tell us which colour do you like the most?

Check out the wide range of Raisin global. They have both contemporary as well as western wear in their collection. Their collection is surely going to increase your dopamine levels.

And if you like being the talk of the town because of your awesome fashion sense, then shop your favourites from their website now!