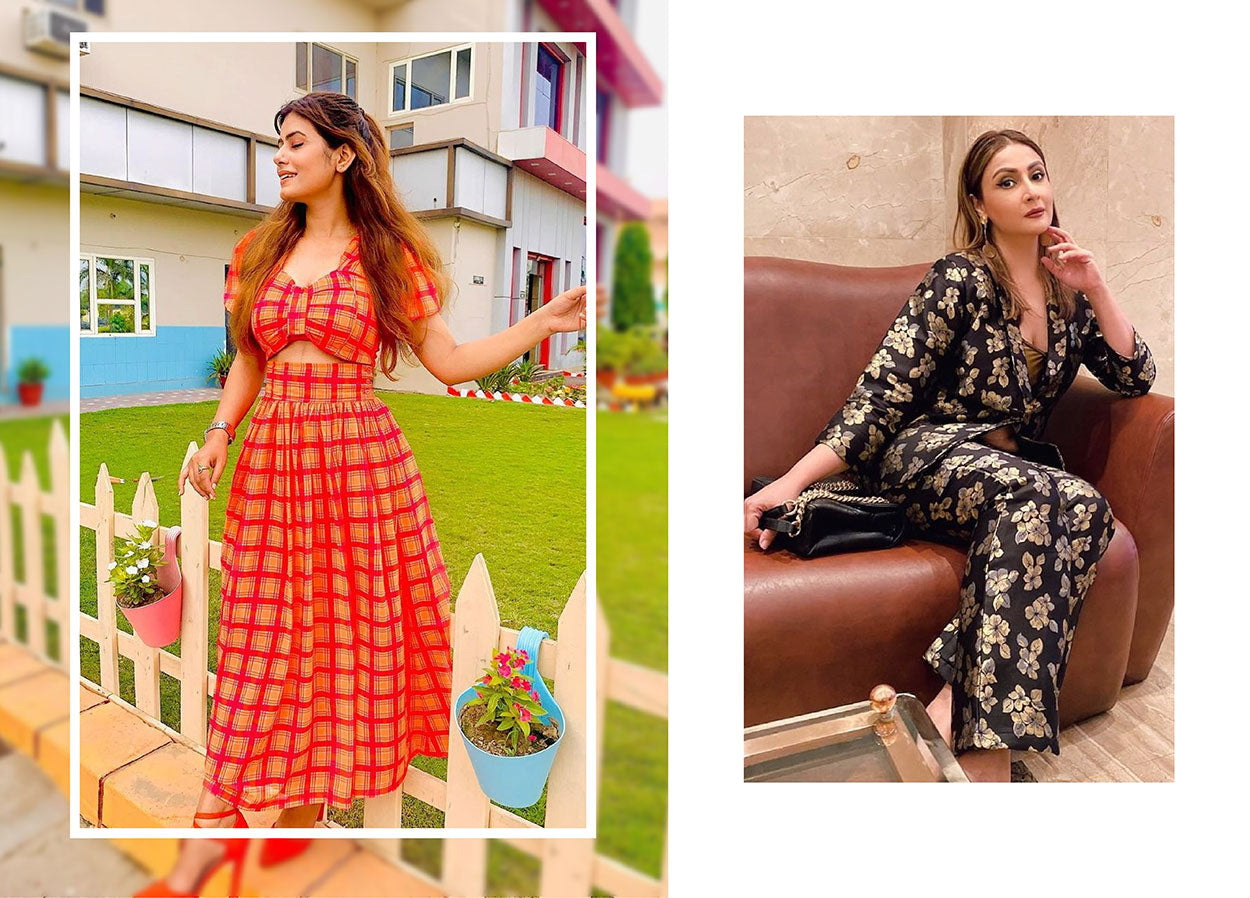 Everybody follows the influencers to get outfit inspiration and also to learn about the new trends in the fashion business.
It is not possible to wear the same clothes that influencers wear and flaunt on their social media handles, right? Of course not! You can definitely get the same vibe, same dress, and in your budget. In this blog, we will be guiding you through the latest trends that your favourite influencers chose and will also recommend Raisin's collection from which you can shop your favourite looks.
So let's get started.
1.
Dr. Ridhima Madan
looked all pretty in Raisin's beautiful pink kurta set. She is a sight to behold and you can look equally stunning like her in
Raisin's Kurta sets.
The kurta sets are specially designed keeping in mind that comfort is your first priority. Style+comfort is the definition of these kurta sets.
2.
Bhuwika Ranglani Kheris
looking all stunning in this orange co-ord set on a hot summer day. If you are planning a trip and need a pretty beach outfit, check out
co-ord sets by Raisin
. Giving you tatal beach vibe is this co-ord set.
You don't have to stress about dressing appropriately on the beach now.
3. Urvashi Dholakia
is one of the most stylish and well dressed influencers ever. And this look that she has carried off has a vibe so strong and sensual at the same time. You could get this vibe and a similar look through the
blazer and pants sets
from Raisin from their AIKA collection.
The Banarasi brocade fabric of this set will attract all the eyes towards you.
4.Jasleen Taluja
is spending her Sundays comfortably in floral dresses. You can hop on this trend and look stylish even while chilling at home on Sundays with
maxi dresses
from Raisin.
Floral dresses are trending these days and find a comfortable one for yourself only at Raisin.
Now you might think
Why Raisin?
Raisin is one of India's fastest growing fashion brands. It has gained popularity and trust through its quality and variety of clothes.
Contemporary wear of Raisin has been serving the needs of the working women of today since its inception and now they have launched their western collection which is making waves in the industry.
A brand that is progressing at such a fast pace is worth your time and money. You won't be disappointed by the collection. If you want to look stylish and remain comfortable at the same time then Raisin is the brand you need to check out. Check out our contemporary and western collections from our website
www.raisinglobal.com