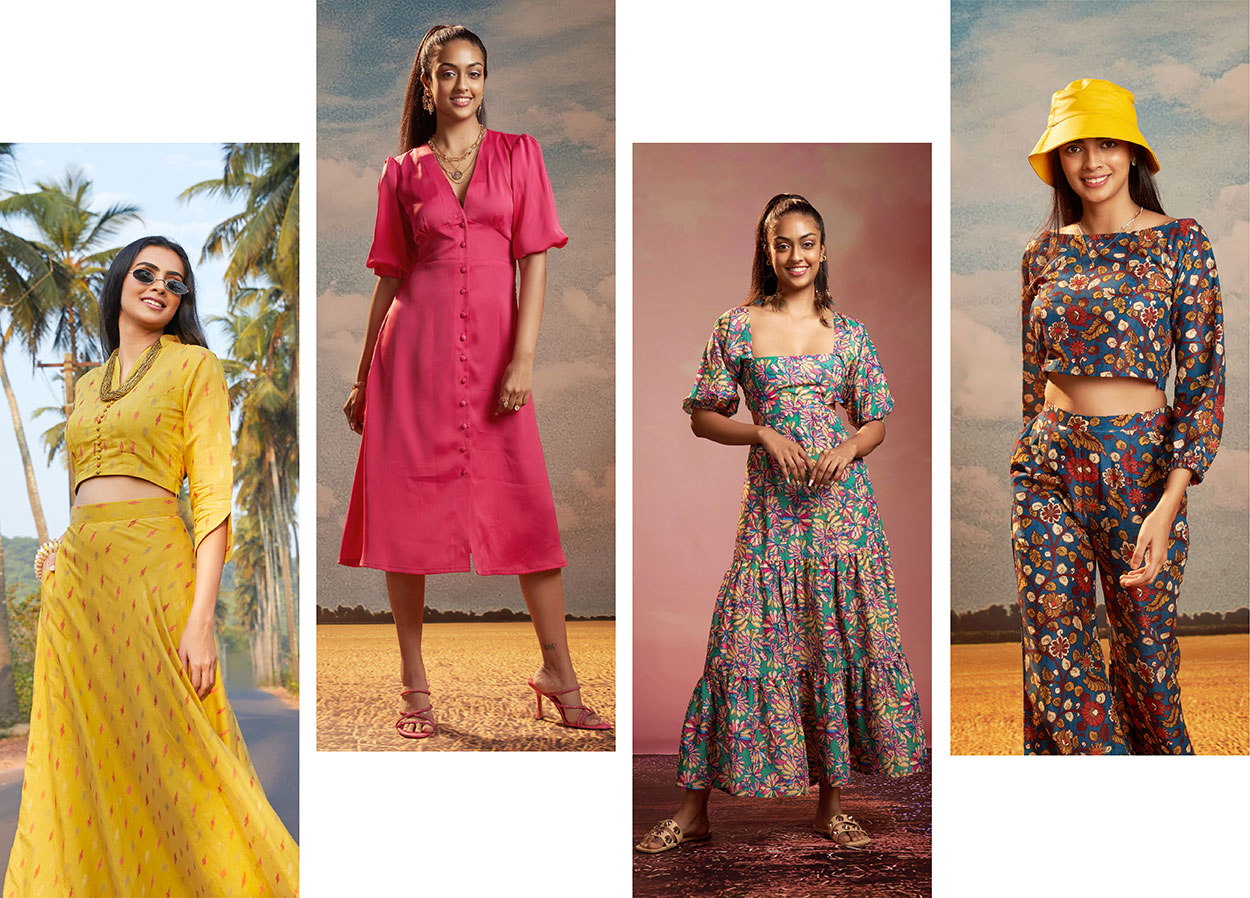 Move Fast But Embrace Slow
Summer is the time when you feel energetic and active.
Unlike in the winter, you don't have to wait for the sun to feel positive. Right early in the morning, when you wake up, you feel like the world needs your energy, and that is when you decide that today you will be super productive. Be it the morning positivity, the afternoon productivity hours, or the evening jam packed schedule, you have to give your best in the season that makes you feel alive, and happy.
But apart from the happy vibes that summer gives, summer fashion also pushes us to be happy and energetic all day. As a result, in this blog, we will discuss some summer clothing ideas that will not limit your active nature but will definitely keep you going throughout the day.Not only will these clothes be comfortable but also be super stylish, because a fashionista like you should not have a dull day.
Let's get straight into the recommendations -
1. A midi dress -
What else could come first in the list of summer clothing other than midi dresses. Summers call for the bubbly little happy person in you, and we envision you in a bright coloured midi dress.Raisin's Fuschia solid pink midi dress is one such dress.
2. Maxi Dresses -
For people who don't like showing their skin too much in summers, we have recommendations for you too. Feel at ease in Maxi dresses this summer and take an endless number of pictures in them. To bring summer vibes in your wardrobe, Raisin's Multicoloured floral maxi dressis here for you.
3. Co-ord sets -
these are by far the most comfortable kind of clothing. In summers especially, co-ord sets are the best things you could go for, if you are trying to look trendy as well as want to stay comfortable. Raisin has a lot of options for co-ord sets, but Multicoloured floral print top and pants co-ord set is what we would like to recommend to you today.
And who said only western clothes are suitable for summers, our contemporary section have pieces that will satisfy your inner ethnoc lover, but will also keep you cool and comfortable. Take a look at pour recommendations -
4. Kurtis -
Every woman knows that a kurta is our last resort when we feel we don't have anything to wear. And this is not because it is the last option, but because it isthat one thing on which we rely, as we know it is a foolproof option to look good and stay comfortable. Raisin's contemporary section has kurtas that you are going to love. Our recommendation for you is - Rust Solid Straight kurta. Style it in any way you like, and you are ready to turn heads.
5. Crop top and skirt set -
Summer day weddings can be enjoyed without having to load yourself with heavy materials. You just have to grab Raisin's Mustard Crop top and skirt set. Look pretty, feel pretty is the whole vibe of this set.
These were our recommendations, but you need to check out the Raisinwebsite to select for yourself your favourite styles and patterns. Check out both our contemporary as well as western sections and explore our wide collection.
Say goodbye to sweat and irritation; say hi to comfort and happy times this summer.
Shop now and let Raisin bring you compliments