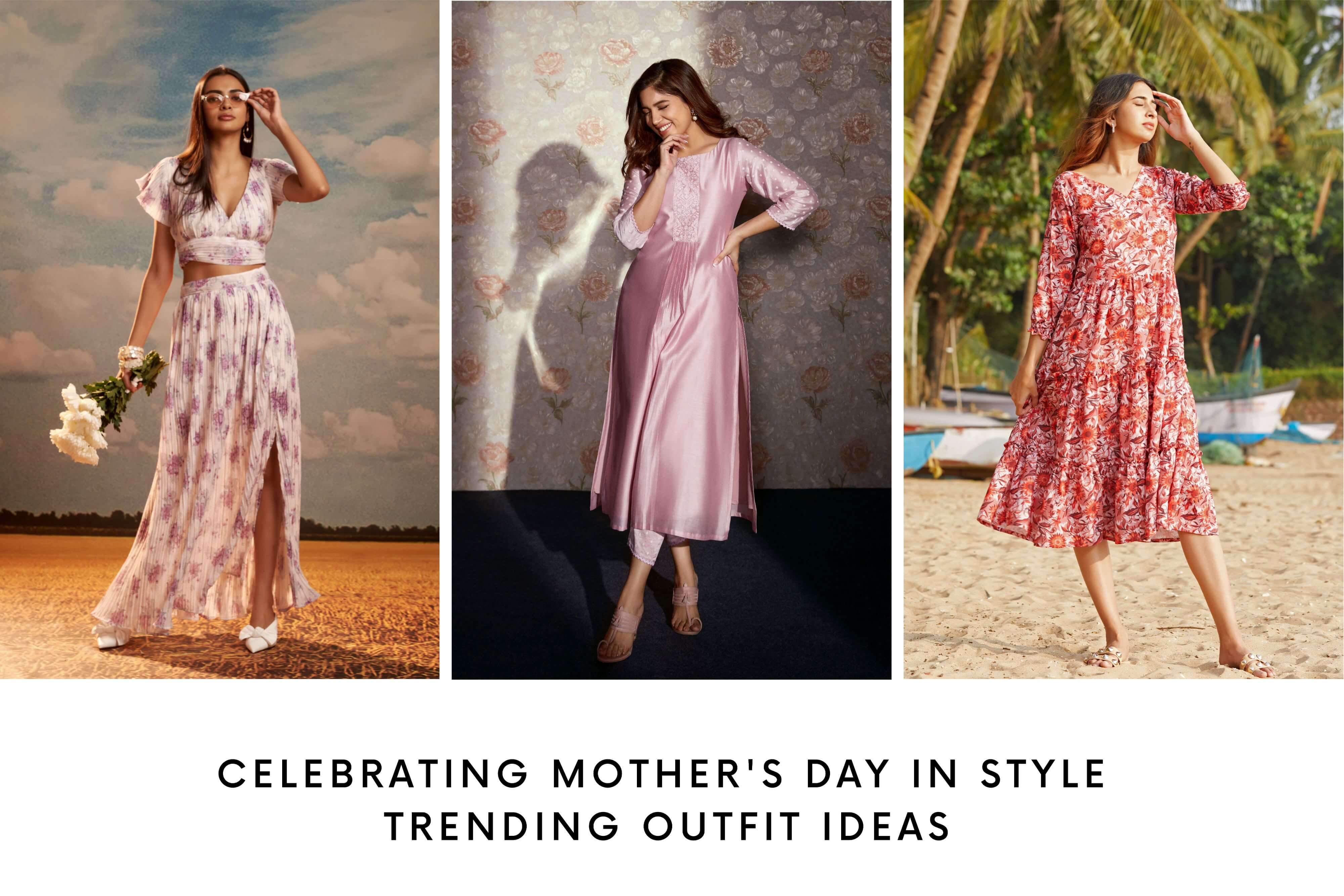 Celebrating Mother's Day in Style: Trending Outfit Ideas
Mother's Day is a special occasion that is celebrated every year as a way to honour and appreciate the wonderful mothers in our lives. Mother's Day is special because this day provides an opportunity to show our love and gratitude to these amazing women who have played a significant role in shaping our lives.
Over the years, Mother's Day has evolved from a simple celebration to a grand occasion marked with elaborate preparations and festivities. And what else could be a better way to celebrate this special day than by surprising her with a perfect Mother's Day gift and making her feel special; this would also reflect your love and admiration for her.
Finding a perfect Mother's Day outfit can be challenging, but it's worth the effort because the effort that you put in to find the perfect dress for your mom will make the occasion even more special and cherishable for both you and your mom.
So, let's take a closer look at some trending Mother's Day outfit ideas for 2023 that are sure to make your celebration even more special.
Elevate your Mother's Day style game with trending kurta sets
Take your Mother's Day celebrations to a whole new level of comfort and style with kurta sets, the go-to choice of discerning fashion enthusiasts. The combination of a kurta and pants, often accompanied by a dupatta, lends an air of elegance and sophistication that is hard to beat.
At Raisin, we believe that a well-chosen kurta set can be the perfect outfit for any occasion, and Mother's Day is no exception. Our exquisite collection of kurta sets is designed to cater to the diverse tastes of our customers, so whether you prefer a classic, traditional look or something with a contemporary twist, we have something that's bound to catch your eye.
But choosing the perfect kurta set for your mom is only half the battle. Styling her to perfection and getting her out of her comfort zone is equally important. Here are a few tips to help her nail the look:
Accessorise wisely: opt for statement jewellery or a pair of Jhumkas to add a touch of glam to her outfit.
Experiment with different footwear: pair her kurta set with sandals, juttis, or flats to create a look that suits her style.
Mix and match: don't be afraid to mix and match different pieces to create a unique look that is tailored to her personal style.
With these tips and our wide range of kurta sets, you can create a perfect Mother's Day outfit that is not only comfortable and stylish but also perfectly suited to her unique personality.
Celebrate Mother's Day in Feminine Floral Print Dresses
This Mother's Day, floral print dresses will be in trend, as floral print dresses have always been associated with femininity and beauty making it the perfect choice to celebrate and honour mothers. This dress could be an absolute head-turner on mother's day 2023 for a reason. Raisin understands the appeal of these dresses and the power they hold to make women feel confident, stylish, and feminine.
Floral print dresses come in all shapes, sizes, and styles. Whether you prefer a maxi, midi, or mini length, our collection of floral print dresses is sure to aid in every mother's style. From bold and vibrant prints to subtle and delicate ones, our range of floral print dresses is designed to cater to every mother's sense of style.
Floral-print dresses can be dressed up or down to create a chic and feminine look. For a more casual look, we recommend mother's pair their floral-print dress with statement earrings. Alternatively, for a more formal event, they can add some statement jewellery and a pair of heels, and they'll be ready to become a charmer.
Some of the current trends in floral print dresses include off-shoulder designs, A-line cuts, and flowy silhouettes. Raisin offers a range of floral dresses that incorporate these trends to help mothers create a fashionable and sophisticated look that is perfect for Mother's Day.
Add a Touch of Sophistication to Your Mother's Day Outfit with Blazers
When it comes to adding a touch of sophistication to any outfit, blazers are a must-have, and to glam up every mom's style for mother's day, it's even better. Raisin understands the power that a well-tailored blazer can have to transform any outfit into a fashion statement. That's why we're excited to offer our collection of blazers that are perfect for Mother's Day 2023.
A blazer is a versatile piece that can be worn with a range of outfits to create a chic and fashionable look. Whether moms choose to wear it with jeans and a t-shirt for a casual look or pair them with a dress for a more formal event, a blazer is the perfect way to add a touch of sophistication to every mother's outfit. When it comes to styling blazers for your mom, there are a few things to keep in mind.
Choose a blazer that fits her well and complements her body type. This will ensure that her outfit looks polished and put-together.
Experiment with different colours and fabrics to create a look that is unique for your mother. A pop of colour or a statement print can go a long way towards making her outfit stand out.
Some of the current trends in blazers include oversized silhouettes, bold prints, and bright colours. Raisin offers a range of blazers that incorporate current trends while still maintaining a timeless and sophisticated look.
Versatile and Stylish: Celebrate Mother's Day 2023 in Co-Ords
Co-ords, also known as matching sets, are on trend this Mother's Day, and it's not hard to see why. Co-ords are an excellent way to effortlessly create a cohesive and fashionable look for your mother. They consist of two or more pieces that are designed to be worn together and come in a range of styles. The best part about co-ords is that they take the guesswork out of the equation for mothers by putting a cohesive look together, so she can focus on enjoying her special day.
When it comes to styling co-ords for your mother, there are many ways you can do it. You can get her to dress them up with heels and statement jewellery for a formal event or dress them down with sneakers and a denim jacket for a casual look. The key is to find a style that suits her body type and complements her personal taste.
Some of the current trends for co-ords include bold prints, bright colours, and playful silhouettes. At Raisin, we offer a range of collections for co-ords that incorporate trending looks for mothers.
Wrapping it up
Celebrating Mother's Day with your mom can be fun and effortless with the right mother's day outfit. We've discussed several outfit ideas that will be trending on mother's day 2023, including kurta sets, floral print dresses, blazers, and co-ords. Each of these options offers a unique style and can be customised to suit her sense of style and body type.
Raisin offers a range of outfits that have a modern style with a tinge of ethnicity to help you celebrate Mother's Day in style. From our trendy kurta sets to our elegant blazers, our collection of outfits is designed to make every mother feel confident and fashionable.
We recommend you experiment with different outfit options and find the perfect look for your mother that represents her signature style. Whether you prefer a traditional or contemporary style, there are plenty of options available for styling your mom. So why not celebrate Mother's Day in style with Raisin? Explore our collection now and notch up your Mother's Day style by finding the perfect outfit for this special occasion. Happy Mothers Day!