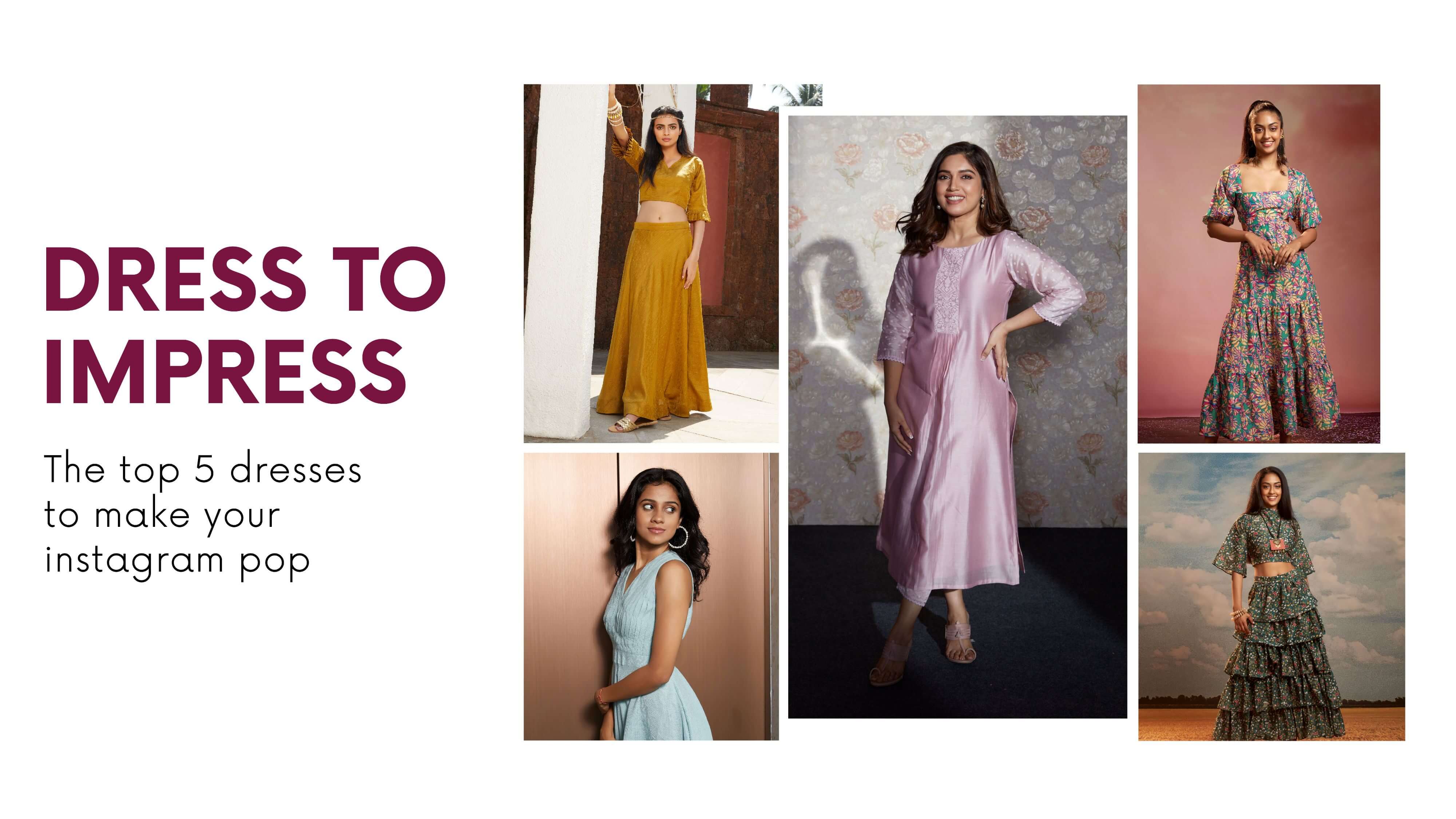 Dress To Impress: The Top 5 Dresses To Make Your Instagram Pop
In a world where Instagram reigns supreme, fashion has become a major player in the game of gaining more followers and increasing engagement. Your outfit choices can make all the difference in how your followers perceive you, and it's no secret that fashion-forward Instagrammers tend to attract a larger following.
Do you want to stay on top of the latest Instagram fashion trends and slay the style game? Look no further! We have curated a list of the top 5 Instagram dresses! Whether you are an influencer, blogger, or someone who loves to show off their style, these dresses will surely make your followers hit the heart button with awe and admiration. From fashionable kurtas to flowy maxi dresses, and edgy mini dresses, these dresses are sure to elevate your style game and leave a lasting impression on your followers.
So, get ready to show off your fashion prowess and become the envy of all your Instagram followers with Raisin!
Unveiling The Latest Instagram Fashion Trends
Instagram fashion trends are constantly evolving, and 2023 is shaping to be an exciting year for fashion enthusiasts like you! And when it comes to summer fashion, there are a few trends that are set to take over your feeds and leave your followers swooning.
Firstly, a trend is going for bright and bold colours that will make a statement wherever you go. Think neon pinks, electric blues, and vibrant yellows that will make your outfits pop and your followers double-tap.
Secondly, there is a resurgence of vintage fashion, with 70s-inspired silhouettes and prints making a comeback. From flowy maxi dresses to bell-bottom pants, these retro pieces will add a touch of nostalgia to your wardrobe and give your Instagram feed a boho-chic vibe.
Another trend to watch out for in Instagram-worthy summer fashion is ethnic wear! The trend is to get modern with traditional outfits. Expect to see a mix of classic silhouettes and contemporary designs, as well as bold colours and intricate prints that will make a statement. From fashionable kurta sets to ethnic dresses and everything in between, ethnic wear is going to be a must-have in your wardrobe.
So, now it's time to discover the top 5 dresses to stay ahead of the Instagram fashion trend game and gain more followers with your style!
Double-Tap Worthy: Discovering The Top 5 Instagram Dresses You Need in Your Closet
Elevate your Instagram fashion game to new heights with the following dresses and discover different ways to style them for a truly unique and eye-catching look.
Fashionable Kurtas

Whether you're headed to a wedding, a brunch with friends, or just looking to add some elegance to your work wardrobe, our collection of fashionable and designer kurtas has got you covered!
From a bright mustard-coloured A-Line Kurta Pant Set, delicate Light Pink Chanderi Kurta Set to bold indigo blue straight kurta set, every style is available for you!

One of the key features of these kurtas is the intricate embroidery, which adds a touch of elegance and sophistication to the design. Made from a luxurious silk blend, these kurtas are also incredibly comfortable to wear, ensuring that you not only look great but feel great too.

For a casual daytime look, pair this kurta with some white sneakers and your favourite pair of jeans. Or, dress it up with some statement jewellery and heels for a more formal occasion.

So, why wait? Snap a photo and post it on Instagram—we are sure that your followers won't be able to resist the charm that these kurtas bring!
Maxi Dress

Are you planning to take a summer evening stroll by the riverside to feel the cool breeze, or are you heading on a romantic cafe date? If yes, as a true fashionista, you surely think of ways to showcase your style statement and make your followers awestruck!

So, to make your Instagram post more attractive, try our casual yet stylish maxi dress.
With its flowing silhouette and eye-catching design, this dress is the perfect way to make a statement and turn heads wherever you go. From an A-Line Maxi Dress, a cute Floral Print Maxi Dress, to a gorgeous Embroidered Maxi Dress, we have everything you need! These dresses are made from lightweight, breathable fabric that will keep you cool and comfortable even on the warmest summer evenings.

Imagine posting a photo of yourself in this gorgeous dress, with the sun setting in the background and a smile on your face. Your followers will be double-tapping and commenting in no time!
Mini Dress

If you're looking to flaunt your edgy style during your next day out with friends or beach vacation, our collection of mini dresses is perfect for adding some bold and unique style to your wardrobe.
Whether you prefer classic A-Line Mini Dress, delicate Floral Print Mini Dress or bouncy Flared Mini Dress, there's a style out there to suit your taste! These dresses are also incredibly versatile. Pair them with some sneakers and a denim jacket to make a bold fashion statement that your friends and followers won't forget soon!
Crop Tops And Skirts

Amaze your Instagram followers during the festive season with our stunning crop top and skirts!
The dress features a vibrant colour palette, with a flared skirt and a matching crop top. The top of the dress is designed to hug your curves, while the flared skirt gracefully flows down to your feet, giving you a stunning silhouette. To style this dress, pair it with a statement necklace and some chic strappy heels to complete the look.
Co-Ord Sets

Last but not least stay aligned with the latest Instagram fashion trends with our exquisite Co-ord sets!
What do you think? If you style with these stunning co-ord sets doesn't it impress your followers?
Unleash Your Inner Fashionista And Elevate Your Instagram Fashion Game With Raisin's Collection!
With Raisin's stunning collection of dresses, you can unleash your inner fashionista and take your Instagram fashion game to the next level. From trendy floral prints to classic silhouettes, there's something for everyone.
So why settle for ordinary when you can showcase your unique style and elevate your Instagram feed with these statement-making dresses? It's time to embrace your individuality and make a lasting impression with Raisin's collection!