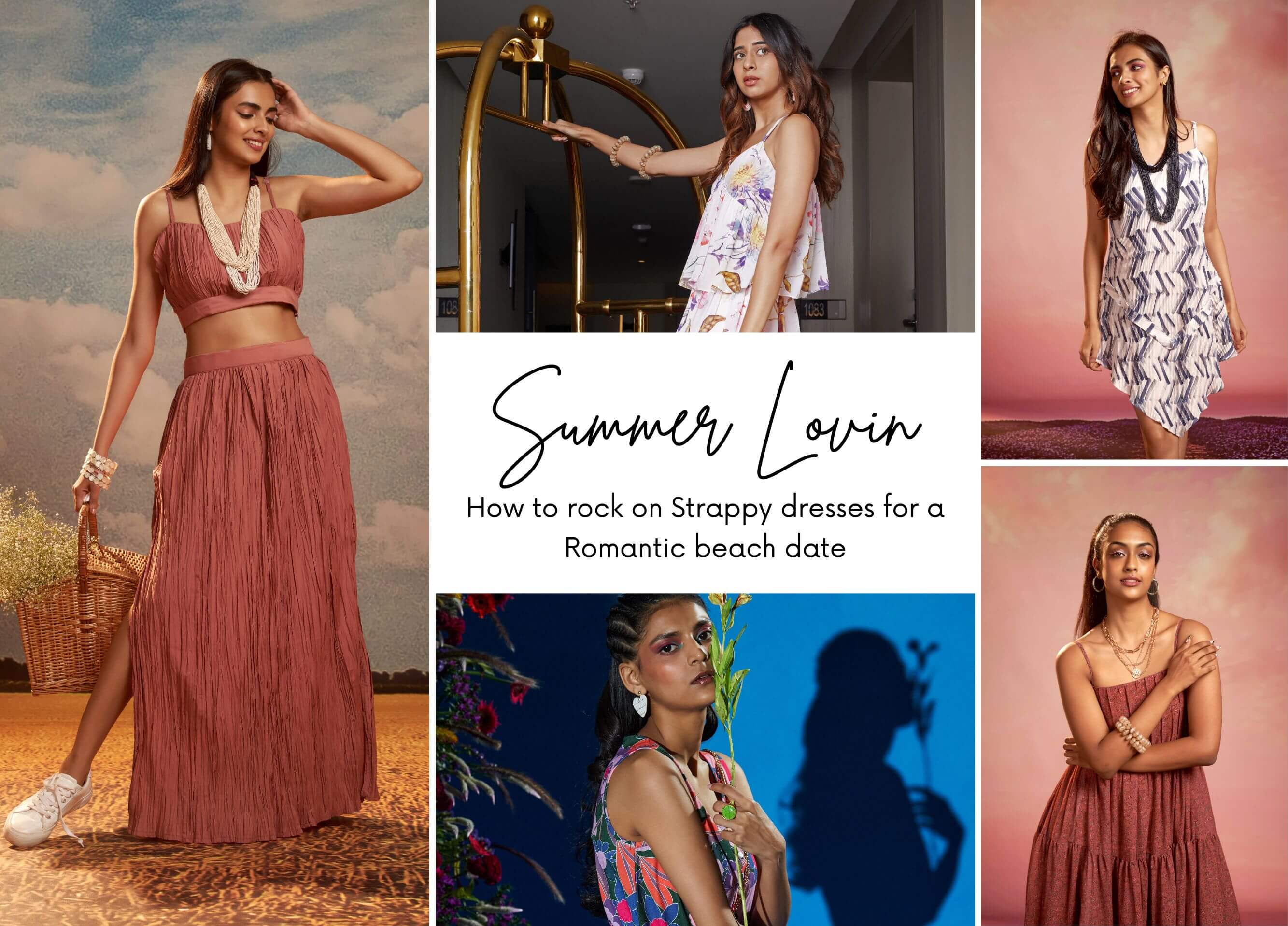 Summer Lovin: How To Rock On Strappy Dresses For A Romantic Beach Date
Imagine the warm breeze in your hair, the sound of waves crashing against the shore, and the sun setting over the horizon. There's nothing quite as romantic as a beach date during the summer months. Whether you're planning a first date or celebrating an anniversary, the beach provides the perfect setting for a romantic getaway!
And what better way to showcase your summer style than with a stunning strappy dress? But with so many styles and patterns to choose from, how do you know which one is right for you?
Let's continue reading to discover the stylish strappy summer dresses from Raisin and to know how to style and accessories these dresses like a pro to enhance your romantic date look!
The Irresistible Charm of Strappy Dresses for a Romantic Beach Date
When it comes to choosing a romantic beach date outfit nothing would be better than a stylish and comfortable strappy summer dress! Strappy dresses are the epitome of summer fashion, with their playful straps, breezy silhouettes, and flirty patterns. Whether it's a flowy maxi dress, an edgy mini dress, or a playful summer jumpsuit, not only do they keep you cool on a hot summer day, but they also showcase your feminine curves and make you feel confident and gorgeous. Plus, the versatility of strappy dresses allows you to dress them up or down with ease, depending on your beach date plans.
So, don't you think the strappy dresses are the perfect choice to heat your summer romance?
Discovering The Perfect Strappy Dresses For A Romantic Beach Date
When you are planning a romantic beach date, don't worry about your beach date outfit! Because Raisin is with you, it offers a diverse range of strappy summer dress collections to choose from. Take a look at their stunning options and find the perfect attire for your beach date.
Strappy Maxi Dress

With the flowing silhouette and breezy fabric, the maxi dress is perfect for a romantic brunch date!
Explore our A-line maxi dress that offers a flattering fit that accentuates the waist, while the white floral strappy maxi dress for a more relaxed and playful look. Whether you're looking for something elegant or casual for brunch a strappy maxi dress is the perfect addition to your beach date attire.
Strappy Midi Dress

If you're planning to take a long walk along the shore with your partner, then a midi dress is the perfect choice for you. This dress is not only stylish and comfortable, but it also allows for ease of movement, making it perfect for a stroll on the beach.
Mini Dress

Imagine sitting beside your partner and feeling the calming sea breeze against your skin. You can't resist the temptation to dip your toes in the refreshing water! And what would be a more perfect outfit than the mini dress this time?
A light-coloured abstract print A-Line mini dress or delicate multicoloured animal print A-Line mini dress will be perfect for you! We hope that you are truly grateful for the lightweight and flowy fabric of your mini-dress, which keeps you cool and comfortable in the heat! Moreover, the flirty, playful design makes it perfect for twirling around in the sand, while the short hemline highlights your sun-kissed legs and adds a touch of sultry elegance to your look.
Co Ord Sets

If you're looking to add some flair to your beach candlelight dinner outfit, consider a co-ord set! This stylish two-piece ensemble is perfect for creating a chic and coordinated look for your special night.
Strappy Summer Jumpsuits

Adding a touch of extra romance and whimsy to our beach date outfit with our strappy summer jumpsuits! From vibrant purple coloured floral print playsuit to dark forest green floral print playsuit everything is there for you! These outfits offer both style and comfort, allowing you to focus on enjoying the moment with your special someone.
The floral pattern and the vibrant colours complement the natural beauty of the beach, making you and your date look like a picture-perfect couple straight out of a romantic novel!
Simple Tips: How To Perfectly Accessorise Your Beach Date Outfits To Elevate Your Look?
Accessorising strappy dresses for a romantic beach date is all about keeping it simple and effortless. A delicate necklace or a pair of statement earrings can elevate a simple midi or mini dress, while a cute straw hat and sunglasses can add a touch of glamour to a strappy co-ord set. A pair of strappy sandals or espadrilles are a must for any beach outfit, and a light scarf or wrap can provide both warmth and style as the sun goes down. Keep the accessories minimal and let the dress do the talking - after all, the goal is to look effortlessly chic and relaxed for a romantic beach date.
Summing Up!
With the perfect strappy summer dress and a few simple accessories, you'll be ready to rock your romantic beach date in style. Whether you opt for a chic midi dress, a playful mini, or a stylish jumpsuit, the key is to keep it effortless. Remember to choose accessories that complement your dress and enhance your natural beauty without overpowering it.
So go ahead, step out in confidence!
And as you take in the stunning views and enjoy the company of your loved one, may you cherish the moment and create beautiful memories that will last a lifetime.
Keep styling with Raisin!