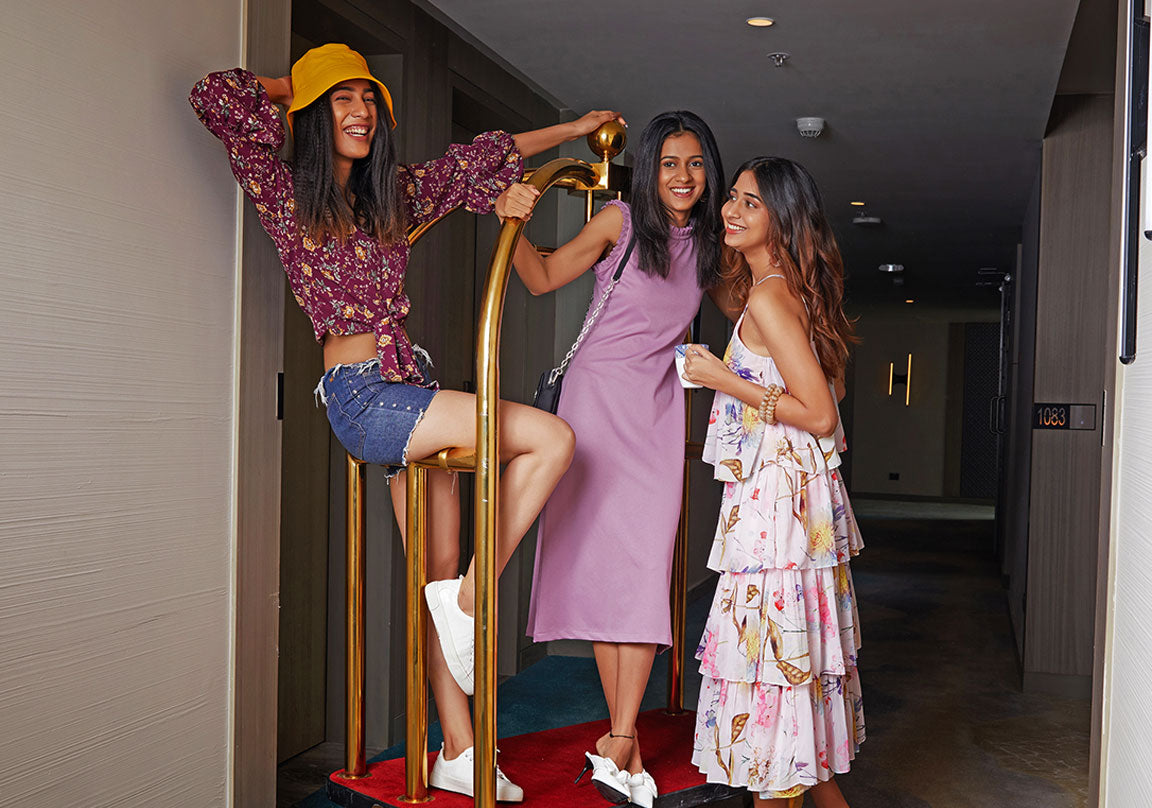 A solution to fashion problems you are experiencing
A woman in her lifetime has to face a lot of challenges, but fashion problems should not be one of them.

When asked a bunch of women about their thoughts on their wardrobe, the reply that we got was no shock. The fact that the silent struggles that women face each day has led to the world famous declaration - I-DON'T-HAVE-ANYTHING-TO-WEAR. But before you have any further breakdown, we are here to your rescue. We are going to solve your fashion problems that you may be facing in life everyday.

Here are some of the most common wardrobe problems that the ladies are facing all around the world. Let us tell you solutions for all of those -

1. How to Incorporate more colours in my wardrobe? -

Women do have the tendency to collect clothes in their favourite colours. The most common of all the colours are blacks and pinks (not generalising). Also, sometimes it so happens that a colour really suits their complexion and personality, and then that colour is all over their wardrobe. But they generally get fed up with their wardrobe in a little span of time.

The easiest solution to this would be to find different hues of the colours that you know suits you. After you incorporate a variety of shades of your favourite colours, you can slowly try out the colours that you don't like on yourself in a way that they don't overpower your look. For example, you can use an accessory of the colour you don't like so much and pair it with an outfit that has your favourite colours. Make sure that the colours compliment each other well and you will be good to go.

2. How to go with the trends? -

A lot of people find it difficult to keep up with the trends. "Fashion keeps on changing" is a famous saying but the trends in today's time change more quickly. Be it the trending colours, patterns or style/ silhouette, going with the trends and updating your wardrobe accordingly is important.

A solution for this problem could be to follow a clothing brand from which you buy on a regular basis. Brands make sure that they produce clothes according to the new trends and that will help you keep a track on what is going on in the market.

Another solution would be to build a wardrobe with pieces that are timeless and evergreen. These clothing items could be styled in a way you feel fit. The pieces would suit all the occasions and would not look outdated as the trends change.

3. How to find accessories for daily use? -

Accessories play a major role in your overall look. A person who hasn't accessories looks weirdly blank. Accessorising, and in the right way is important for you to look presentable everyday. There might be arguments that women find it difficult to find the right accessories that they can wear everyday. On top of that, the accessories should be affordable enough for them. Finding affordable everyday jewellery for women that is not too flashy, should be comfortable to wear all day and is not so common can be a task for people who don't know the exact place where they could find the perfect jewellery.

Raisin has their very own line of jewellery which has a lot of varieties of jewellery that are ideal for you to accessorise on an everyday basis. These jewellery pieces have been exclusively designed for women to wear all day during work or even at home while doing household chores. They being lightweight enables you to not keep getting irritated by them. Raisin jewellery designs are unique and you will not find these designs anywhere else.

4. How to bring variety in my wardrobe? -

If you are a western wear lover, there always come some moments in your life when you feel at a loss that you don't have enough Indian wear to dress for a function or a wedding. The same goes with the people who wear only Indian wear, they feel that they should have at least some of the western wear. The problem of not having variation in the wardrobe is common. A lot of times we tend to buy only one type of clothes.

A simple solution to this problem would be to experiment with your styling. First of all, explore your comfortable region of styling, whether it is western or Indian wear. Next, try to find and buy clothes that lie in between your comfortable and not so comfortable kind of styling, for example, Indo-Western. Slowly, try expanding your range and try your hands on some of the pieces that you don't feel comfortable in. This way you will be able to expand your wardrobe and challenge your limitations and try new things.

These were some of the most common fashion problems that women face on an everyday basis. We hope that the solutions that we have given above will help you in some way or the other. Tell us more of your fashion problems so that we could find the solutions for them too.

Check out www.raisinglobal.com to have a look at their vast range of clothing. Their products are exclusively curated to suit the women of today. Their clothes are affordable and suit women of all ages and sizes. They also have their own accessory range from which you can choose your daily wear accessories. Raisin deals in contemporary and Indian wear. Do check out our website and let us know one outfit that you liked from the western wear and Indian wear clothing items.