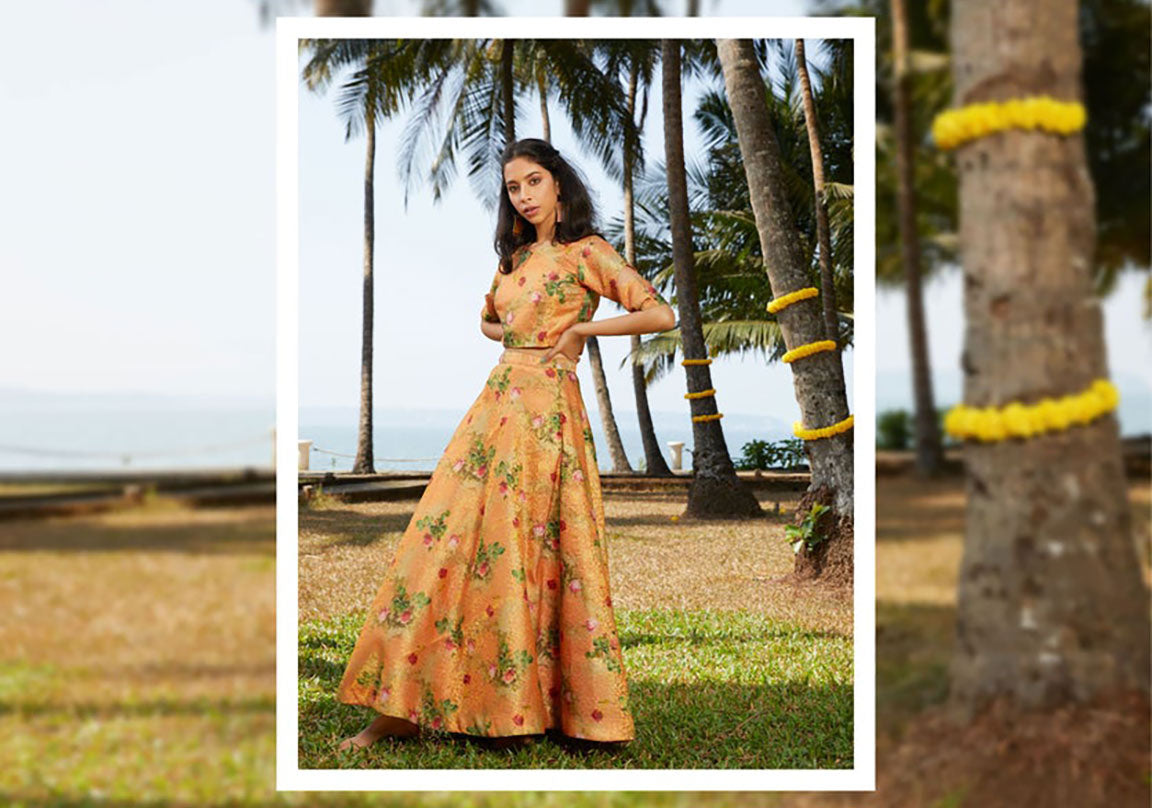 Top outfits for this wedding season
Weddings in India are a serious affair. No other wedding in the entire world is five days long. The functions of an Indian wedding hold great importance in the life of the bride and groom. Weddings have become a trending topic because of social media. From the decor of the wedding to the outfits of guests, everything today should be worth putting on social media. If you have a wedding in your family soon then there must be a lot of pressure on you to choose outfits for each and every function. We are here to help you with choosing your outfits. We will recommend outfits for you from Raisinfor all of the functions. So let's get started.

1 Roka ceremony - Roka ceremony is probably the first function of the wedding. It officially marks the beginning of the weddings. It is the first time when the families of the bride and groom meet. Therefore, to form an impactful first impression, you need to wear something that is elegant yet festive. Raisin's Cream embellished chanderi a-line kurta set is perfect for this function. It is a kurta set that comes with a beautiful a-line kurta along with pants. The material is chanderi which in itself is a very rich look and feels fabric. The colour of the set is cream, which again is a neutral colour, which would make you look elegant and chic. It will also help you choose your jewellery according to your wish as neutrals can be paired up with different kinds of accessories. The kurta has a high-low design. There is also a bit of embroidery on the kurta that gives the feel of a customised outfit. The 3/4th sleeve of the kurta and round neck ensure your comfort. This kurta set is perfect for both day and night functions. Accessorize with your favourite jewellery and you will make a solid first impression.

2 Mehendi ceremony - Mehendi is another ceremony in which your outfit matters a lot. Both the bride and groom apply henna on their hands and feet in this function. Green is generally the theme of this ceremony if the theme is not changed. All of the bride and groom's relatives also put the "shagun ki mehendi" on their hands as well. This is a ceremony full of fun, dance and enjoyment. For this ceremony we recommend you to go with Raisin's green printed muslin straight kurta with pants. This suit set has a kurta and pant set. The fitting of both the kurta and pants is a straight fitting. The dark green colour of the set will go perfectly with the theme of the mehendi function in general. The kurta is printed with a beautiful floral design that goes all over the kurta. The design of the neck along with noodle straps makes the kurta look extremely beautiful and attractive. You will be able to show off your collar bones or may even go for your favourite set of necklaces with this kurta. The pants are also printed but with a different design. This is done to break the monotony. This kurta is simple yet super special because muslin fabric has a sheen and flow of its own. It is extremely soft and lightweight. You will be able to dance and have fun in this kurta set.

3 Haldi ceremony - Haldi ceremony is another fun ceremony of Indian weddings. It is a ceremony in which haldi or turmeric is put on the face, hands and legs of both the bride and groom. Applying haldi to the bride and groom makes them glow. But the applying of haldi is not just restricted to the pair. The actual fun starts when people start putting haldi on each other. This function might become a little messy, therefore, you can opt for an outfit that is simple. For this,Raisin's Yellow Embroidery Viscose Rayon Kurta Setis a perfect choice. The kurta set comes in this very pretty shade of yellow that would suit perfectly to the day function of Haldi. The neck of the kurta resembles an angrakha kurta. The detailing on the kurta around the neck is also done in yellow to make sure that the monotone vibe is continued. The kurta cinches at the waist and then flares out. There are 3/4th sleeves to give maximum comfort along with a decent look. The pants are made in an interesting shape. They resemble harem pants but are much more compact than that. The pants are of the same shade as the kurta. The viscose rayon fabric of the set will prove to be a comfortable fabric. The best part about this kurta set is that it is simple yet very chic.

4 Sangeet ceremony - Sangeet ceremony is a function on which you have a blast. The bride and groom's side of the family and friends have a competition to dance to the most trending songs. This is a night function and requires you to be in comfortable clothing so that you can dance freely and enjoy to the fullest. Since sangeet is also about being the most trendy and beautiful, you need to be all dressy for it. Raisin's mustard printed jacquard flared skirt top is our top recommendation. This skirt and the top set come in a bright and unique mustard colour. The set has a floral print overall. The top has a round neck and an interesting cut on the sleeves. The top is not too long or short, it is of the perfect length. The skirt is flowy. This set will turn out to be super comfortable for you to dance around and have fun all night. The jacquard fabric will shine and look expensive on stage. This outfit suits the occasion and functions completely. Accessories with your favourite jewellery and go for a sleek low pony to complete the look.

5 Wedding ceremony - It is that function for which all of the above ceremonies were conducted. A wedding is a solemn occasion. It is an occasion that is super emotional for both the bride and groom and their family and friends. For this most special ceremony, you need to look special. Therefore,Raisin's coral floral woven design art silk banarasi saree are perfect. This saree is in this very beautiful and unique coral colour. This saree is perfect for a day as well as a night wedding. The saree is a banarasi heavy design saree and has gold foil detailing. The pallu or the draped end of the saree has heavy work. It also has fringe endings. The saree has a wide border. The most unique part of this saree is that it screams celebrations. The colour is unique and you would probably not find anybody else wearing this shade. You would make a lot of heads turn in this saree. Make a matching or contrasting blouse. The blouse can be simple as the saree in itself is heavy. Accessorise with polki jewellery or some other stone.

These were our top recommendations for a wedding. Visit our website, www.raisinglobal.com to have a look at the wide range of products that we offer. We have an elaborate list of collections that you can choose from.