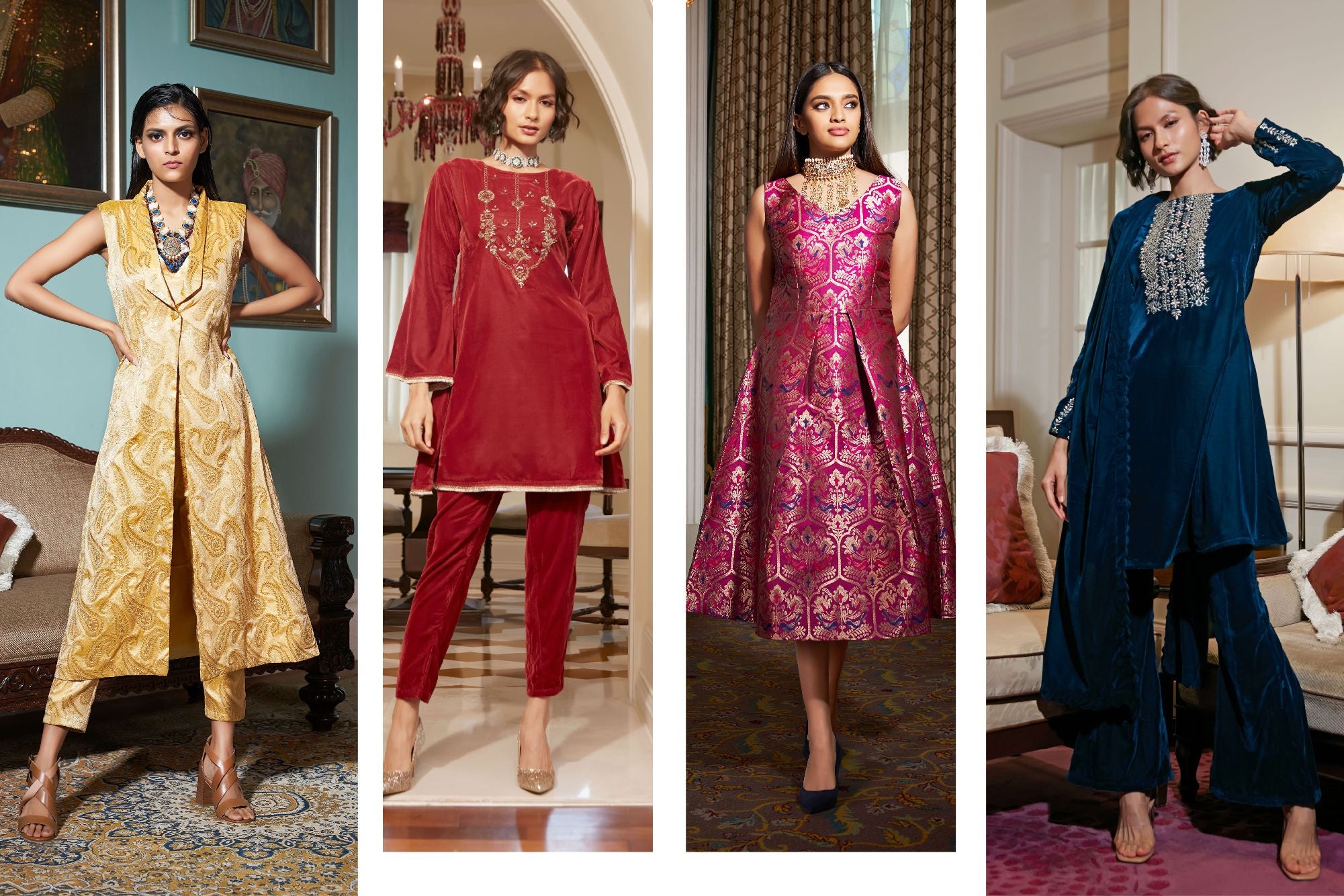 Styling Guide: 5 Tips for Nailing the Perfect Indian Party Wear Suit Look
An Indian party-wear suit is a staple in every woman's wardrobe. It's timeless, elegant, and versatile enough to be worn for any occasion. From traditional weddings to glamorous evening parties, the perfect Indian party wear suit look never fails to make a lasting impression.
But with so many styles and designs available, it can be difficult to decide which look will work best for you.
To help you out, we have 5 bonafide styling tips that will help you nail the perfect Indian party wear suit look. With these tips, you'll be sure to stand out at your next event with style and grace in some elegant yet simple party wear Indian dresses!
What to Consider When Styling Your Indian Fusion Wear
When it comes to styling your suit for an Indian party, there are a few key things to keep in mind.
Contrast is cool! Two contrasting colours in your ethnic top and western bottom fashion choices can look quite elegant when done well. Consider the colour of your suit. A dark suit is more formal, while a lighter one can be more fun and peppy.

Second, pay attention to the fabric. Choose a correct fabric that makes you feel confident while also being comfortable and has a nice drape.

Third, Combine the traditional Indian elements with modern styles and cuts.Try mixing and matching different pieces to create a unique look.
Styling Tips For The Perfect Indian Party Wear Suit Look
Assuming you already have the perfect Indian party wear suit from Raisin, here are a few tips to help you style it for maximum impact.
Make sure your Indian party wear fits well -

This is probably the most important tip when it comes to styling any outfit, but it's especially important for suits. A well-fitting suit will make you look polished and put-together, even if you're wearing a shirt or blouse.

Choose the right shirt or blouse -

The shirt or blouse you wear under your suit should complement the colour and style of the suit itself. If you're going for a more traditional look, opt for a white or cream-coloured shirt; if you want something more modern, try a colourful printed top.

Accessorise wisely -

Again, less is more when it comes to accessories with a suit. A simple necklace or pair of earrings will do the trick; anything too flashy will take away from the overall look of the outfit.

Pick your footwear well -

Heels are always a good choice with a suit, but make sure they're not too high or stiletto-esque; something more sturdy and comfortable will be easier to walk (and dance!) in.

Be confident! -

No matter what you're wearing, carrying yourself with confidence is always stylish, so stand up straight and own that party look!
The Different Styles of Indian Party Wear Suits By Raisin
Indian party wear suits are the perfect way to add a touch of elegance to your wardrobe. They come in a variety of colours, fabrics and designs, so you can easily find one that suits your taste.
No matter what the occasion is, nailing the perfect Indian party wear suit look is always a challenge.
But don't worry, Raisin is at your rescue! In this styling guide, we'll go over the different styles of Indian party wear suits of Raisin's Indian wear for women so you can pick the right one for any event.
The Black Plain Velvet Embroidered A-Line Kurta Pant Set - The perfect Indian party wear combination of fierce and elegance that will turn heads!
Biscuit Spanish Velvet Embellished Straight Blazer Set - An Indian party wear that is simple yet impactful which will surely make a mark!
Black And Golden Jacquard Banarasi Brocade Straight Blazer With Pant - A bold and classy Indian fusion wear that is sure to make you dazzle!
Coral Jacquard Banarasi Brocade Straight Jacket With Pant - A Indian Fusion wear with mesmerising colours and bewitching pattern!
Conclusion
We hope this styling guide has not only given you some fashion intel but also some handpicked pieces for you to get started with creating a look that is sure to be the centre of attention at any Indian party. From choosing luxurious fabrics, bold colours and intricate details to picking the perfect accessories, these tips will have you looking like a million bucks! With an eye for detail and sharp tailoring, your party wear suit will definitely set you apart from the crowd.
Now go ahead and turn heads with your style with Raisin's sprawling collection here!